Summer has finally arrived, and it's time to deep clean those patio cushions hiding in the back of the garage. Read on to find out all the how-tos, the don'ts, and even storage ideas for your outdoor furniture cushions needs.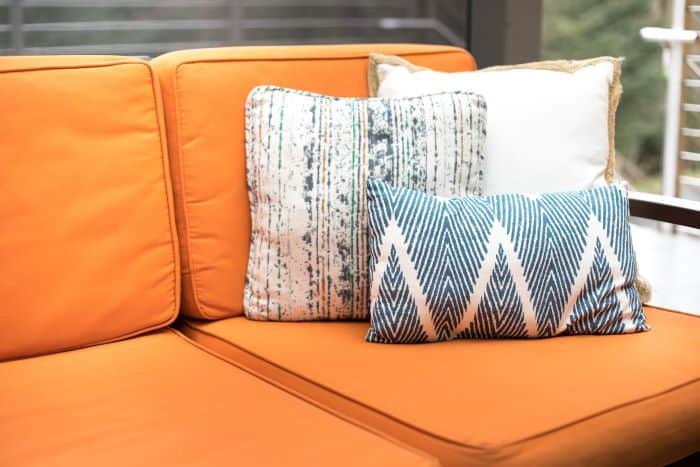 While most outdoor furniture has removable cushions, you can easily throw in with the next load of wash; a majority require a bit more direct care and good ole fashioned elbow grease. When using the washer to bring your cushions back to life, always remember to follow the manufacturer's directions on the inside tag to ensure you wash them properly and use suggested detergents
Gather Your Materials
Whether your cushions have been exposed to the wrath of Mother Nature or been the main attraction at one too many barbeques, mildew, dust, dirt, and stains can be overwhelming to the best of us. Before you start the cushion cleaning process, make sure you have all of your materials ready to go.
Here is a list of all the materials you will need to start the process when cleaning cushions manually:
Water
Toothbrush
Corn starch or Baking Soda
Where To Start
Always make sure you choose a place that isn't going to create more of a mess than you already have. Areas that are not free of dirt and debris that can potentially turn into mud aren't the best places.
A concrete or blacktop driveway, a patio, deck top, or even inside a garage would be optimum for cleaning cushions. If none of those places is an option, our trusty friend, the bathtub, can always do the trick.
Pre-Game Wash
Using your vacuum's attachable upholstery head, go along the entire cushion top to bottom. Don't forget to give some extra TLC to the nooks and crannies of the seams.
If the vacuum isn't doing the trick, grab a toothbrush to brush away any dirt hidden in the crevices and around any decorative extras like buttons. If you don't own a vacuum, a bristled brush can also work just as well to remove large pieces of dirt and debris.
Mix the Cleaning Solution
Using a bucket, drop in about 1-1 ½ tablespoons of dish detergent with ¼ cup of Borax. Dawn holds the top spot for hands-down best grease and dirt cutter for a dish detergent. It is gentle on all fabric but packs a punch getting through stains and any oily dirt.
That plus the enhancing cleaning powers of Borax, you have whipped yourself up a cleaner that will have your stains saying "bye, bye, bye."
Get To Scrubbing
Time to put that scrubber to work and grease up the elbows! Scrubbing in circular motions instead of abrasive side to side may prevent fibers from coming loose and possible tears.
After you've done all the scrubbing you can to get those stains out, you can leave the solution
Rinse and Repeat
Here's the fun part! Take out the good ole backyard hose and rise away all that soapy solution. Ensure you thoroughly rinse all the cleaning products off of the cushions, so rinsing twice may do the trick. If you see some spots that need a repeat scrub, go back to Step 4 until those cushions look good as new. Once you feel they are to your satisfaction, rinse again and move on to Step 6.
Let Mr. Golden Sun do the Rest
If it is possible, manually squeeze out any excess water from the cushions. Otherwise, try laying the cushion on a flat surface and using your fists to release extra moisture. Leaving the cushions standing upright is optimum for total surface drying.
Then let the sun do its job for a couple of hours. Make sure they are completely dry before use as not to accidentally re-dirty or encourage mildew growth.
Alternate Cleaning Solutions
If you are more of a natural cleaner kind of person and using Borax feels a bit too harsh, a gentler solution can be mixing ½ cup of vinegar with about 3 cups of water as a surface scrub.
Alternatively, baking soda and corn starch are also great replacements for natural cleaners. Just mix with vinegar or water along with a scrubber as a solution. Again, make sure the cleaner is thoroughly rinsed off before drying.
Pre-Treaters and Fabric Protectors
Most furniture manufactured to stay outdoors all year is typically pre-treated with the sun, water, and dirt pre-treaters. As with all things over time, this protectant coating may lose its potency after a while.
After cleaning cushions and fully allowing them to dry, treat cushions with an outdoor fabric protectant spray for that extra boost in stain and dirt resistance.
The Don'ts of Cleaning Outdoor Cushions
Now that you know exactly what you need to do to clean your outdoor cushions, there are a few majors don'ts to keep in mind during the process to help ensure you're not making the job harder than it needs to be.
Here's a list of three things to avoid when cleaning outdoor cushions:
Try not to use a pressure washer on the fabric. As tempting as it may sound, it may damage the cushion material and cause tearing and shredding of fibers.
Refrain from using bleach on stains as a "quick fix." Using bleach may, in fact, cause discoloring of fabric that may be impossible to restore.
Do not clean cushions if they are still attached to rusted or corroded frames. Scrubbing cushions so close to rusted frames may cause more stains, damage, and a mess you may never recover from. It is best to remove all cushions first and then clean them. If that is not possible, try spot treating with a scrubber and rinsing off with a sponge instead of the hose.
What To Do If There Are Tears In Fabric
If you're a DIY'er and great with a pin and needle, sewing the tear in the outdoor cushion fabric will be a breeze.
For the other half of the population that still can't get the thread through the needle, inventions such as Tear-Aid, Tear Mender, and a fabric upholstery repair kit are the products for you. All can be found on Amazon, and most do not require heat to use.
However, if heat is needed, a blow dryer is the perfect tool. For items such as missing decorative buttons, head over to your local Micheals' or Walmart and pick up a glue gun and buttons of your choice.
How To Store Cushions to Minimize the Amount of Cleaning Needed
If you don't plan to use your outdoor furniture all year round and don't want the hassle of cleaning them every summer, here are some simple storage ideas:
A zipper storage bag can be your answer. These durable, lightweight bags come with handles and are designed to fit most outdoor cushions.
For a cost-effective storage solution, using large, heavy-duty garbage bags can also do the trick. Make sure they are tightly sealed and have no tears before storing. Either option, cushions should be stored in dry, cool places, free from moisture, the elements, and humidity.
Plastic containers with lids are a two-fold option. They are cost-effective and moisture protection, while also easy to store away in attics, garages, and closets.
Making sure your backyard is summer-ready doesn't have to be something you dread.  Taking these simple steps to clean and store your cushions will save you effort and time every year, so you spend more of it sipping fruity drinks lying poolside on your pristine outdoor cushions.
If you need help deciding which type of cushion you want in your backyard, be sure to check out our article were we go over the differences between olefin and sunbrella cushions, as well as outdura! We also have more cleaning tips on our website that you may find useful such as, cleaning a hot tub without draining it.