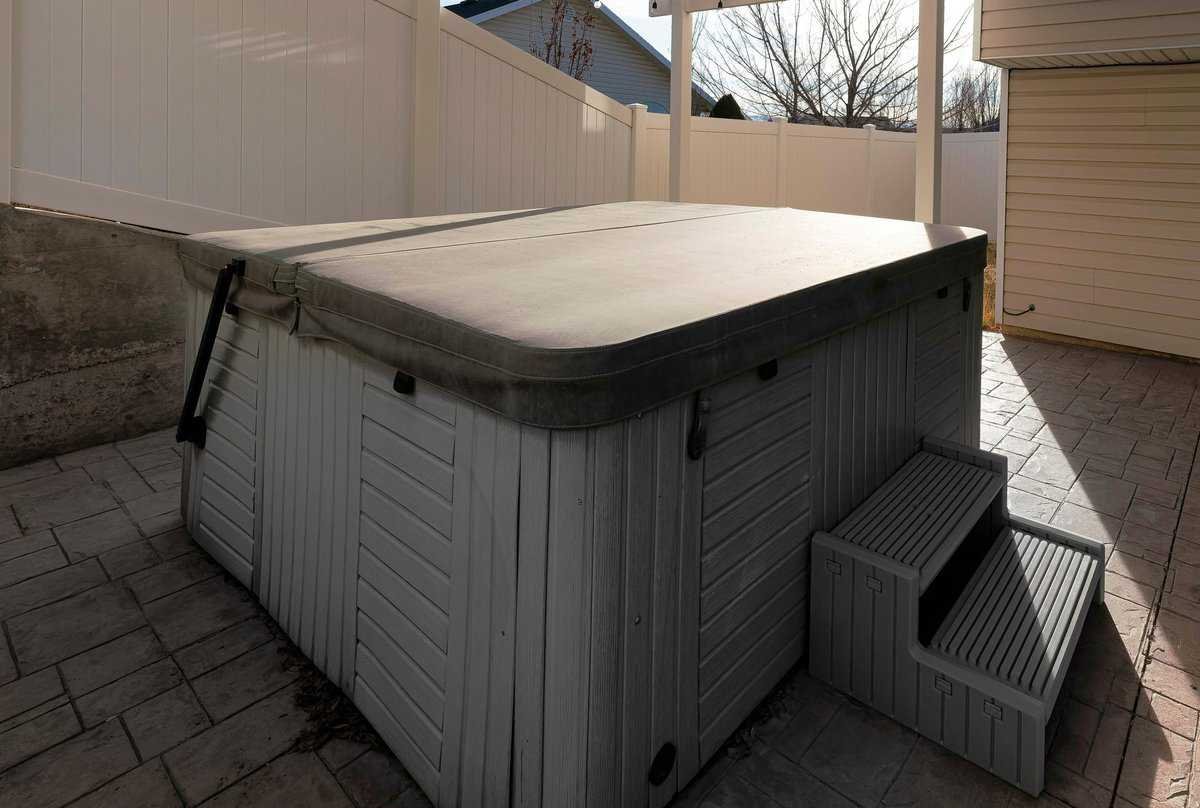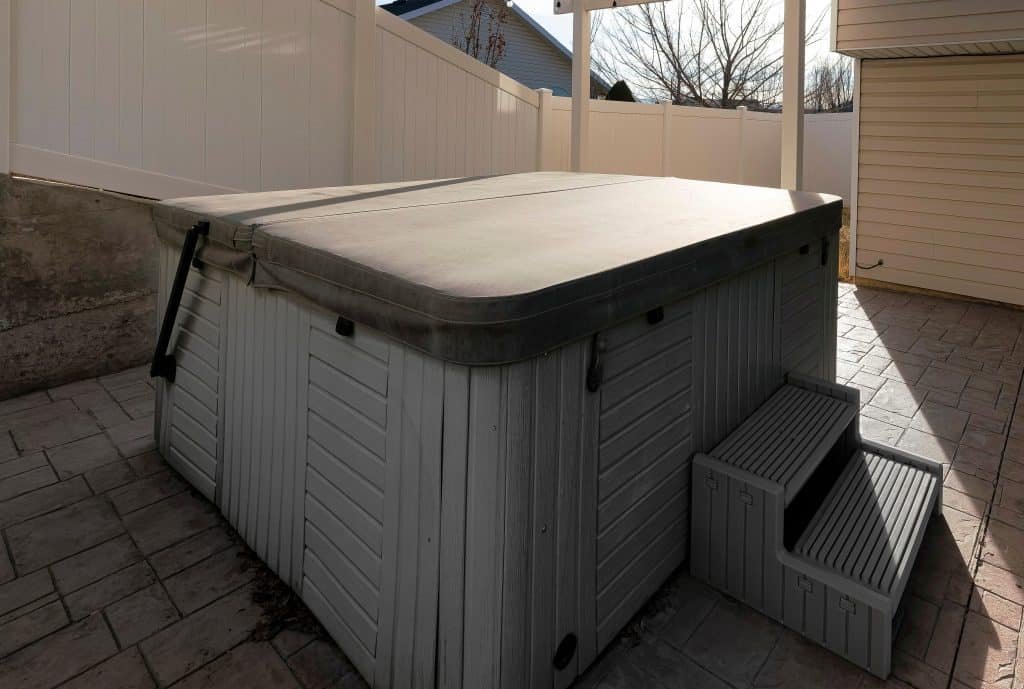 A hot tub cover helps keep your hot tub clean. It protects the hot tub from debris, animals and harsh weather conditions. But, how do you keep the cover clean? It's important to do so, that way your hot tub can remain clean, too. Cleanliness will promote the longevity of your hot tub cover and hot tub.
How do you clean and care for a hot tub cover? It doesn't take a lot of effort to upkeep your cover. Make sure you clean it thoroughly every once in a while. Wipe off any debris that might have fallen on it. Check the cover for scratches or tears, and fix them before they affect the quality of the cover.
Hot tub covers are necessary for all hot tub owners. They can also be costly, and even more so if you have to buy multiple replacements. That's why it's important to maintain your cover so it is useful for as long as possible.  
Cleaning Your Hot Tub Cover
One of the first steps is clearing off your cover from debris such as leaves, branches or snow. This will help keep the cover cleaner for longer, as well as prevent damage from the weight of the debris. After you clear the cover off, make sure to wash and rinse the top of the cover, too.
This helps to keep dust and dirt from caking onto your cover. You can rinse it with water from a hose, nothing fancy needed.
You should probably do this every two weeks or whenever your hot tub cover needs to be cleaned, such as after a storm or snowfall. It's just as important to clean your hot tub cover as it is to clean your hot tub itself.
When using a cleaner on your cover, make sure it is made for your hot tub cover. Some regular cleaners can mess with the vinyl in your cover, which won't help matters much. It's cheaper to buy the specific cleaner than it is to purchase a new hot tub cover.
Don't forget to put a protectant on after cleaning your cover. A protectant will protect your hot tub cover from debris and UV rays. These things can cause discoloration to your cover, resulting in needing to buy a replacement one sooner than normal.
Unless you're made of money, a protectant is the way to go even if it is an extra step. You won't have to worry about this as much if your hot tub is covered by a gazebo.
Finally, clean the bottom of your cover as well as the top. While the top has weather conditions and dirt to contend with, the bottom of your cover has to deal with heat, moisture and chemicals.
You can simply wipe the bottom of your cover with a bleach solution to clean it as well as deal with the water treatment chemicals. It'll be easier to clean if you take off the cover, too.
You can set up a hot tub cleaning schedule and do this the same time that you clean your hot tub filter.
Inspecting Your Hot Tub Cover
Make sure you check over your hot tub cover after cleaning it to look for possible damage.
Rips or tears. Rips and tears can let weather inside your hot tub, which would be a bad time. Debris can also get caught in the rips and make them even larger if blown off with a heavy gust of wind. You should fix these as soon as possible. If the tears are severe, you may be better off replacing the cover.
Vapor barrier. It pays to check the vinyl inside the cover from time to time. Look it over carefully for holes or breaks, and repair it with a vinyl repair kit. There is also a plastic moisture barrier around the vinyl that protects it from water.
If there are any rips in the plastic, that too can be repaired. You can easily wipe down the plastic with bleach solution to stop mildew from growing inside.
Take your hot tub cover off. While this may sound counterproductive, since you bought your cover to "cover" your hot tub, it helps to let out the vapors within your hot tub. This will prevent your hot tub cover from being damaged by these vapors.
These vapors form from the humid layer that forms between the hot tub water and the underside of your hot tub cover. If left alone, these vapors will become dangerous to your hot tub cover. It can lead to damage, and is the common cause of underside cover damage.
When you turn your hot tub on and let it run for a bit, leave the cover off for an hour or so to release these vapors. If you use your hot tub regularly, you won't need to turn it on as often as if you do not use it at least once a week.
Extra Equipment
Your hot tub cover is not strong on its own. It needs help to operate properly, so it's important to get a few extra items. An example is a cover lock, which helps keep the cover closed from weather conditions or snooping children.
A cover cap is essentially a hat for your hot tub cover. It will protect your cover from the sun, and you won't need to do vinyl cleanings as often. This is a good investment if you do not use your hot tub often. Even if you do use it often, and aren't a fan of cleaning, this is the product for you.
Wind straps are your best friends if you live somewhere with lots of wind. Also known as hurricane straps, they are key tools to keep your cover on your hot tub and not in your neighbor's yard.
They are easily attached to your hot tub cover which makes it easy to take on and off when you want to use it. But you can rely on them to hold your cover down in high winds or even hurricane weather.
If a hurricane is on the way, make sure you clear your patio of any furniture. Any of these things can be lifted and dropped onto your cover, effectively breaking or tearing it open. Your wind straps won't be able to protect your cover from a projectile table. Invest in a storage shed to secure all your items.
Protect your cover from the sun with a hot tub umbrella. A gazebo works just as well, if you have extra money or are extremely handy. A plus for a gazebo is that you could put bug screens up or even enclose it to keep bugs and wildlife at bay. Either an umbrella or gazebo would look nice in your yard as well.
Measuring Your Hot Tub Cover
You may also need to measure your hot tub if you need a new hot tub cover. If your previous cover fit well, then you can use that size when buying a new home. However, if you do not remember the size or threw the cover away already, measuring will help make sure you purchase the right replacement cover.
To measure the corners of your hot tub, you can use an L-shaped ruler or two rulers held together at their zero ends, or a printable diagram. Whichever you choose, make sure you use it throughout your measuring so everything is measured in the same way.
Length: The best way to measure length is to measure across the longest part of your hot tub. You should take two measurements to confirm your numbers. If the numbers are different, take the longer one. It's better to overestimate than underestimate the length.
Width: Opposite to the length, this time you will measure the shorter side for the width. You should also measure twice to make sure they are accurate for the width. Similar to the length measurements, take the longer measurement as the true one. The cover can have some give when going over your hot tub, so bigger is better than too small.
Corner Radius: Corners can be hard to measure, and hard to cover correctly. If you are using the L-shaped ruler, put it on one of the corners to measure the radius. Unlike the length and width measurements, you want to round down rather than up. A smaller radius will help the cover fit better than a larger one since that will make the corners of your cover sharper.
Skirt Length: The skirt may not appear to be useful, but it helps the cover to seal over your hot tub. The length of it will either help create that seal or cause gaps in your cover. So the measurements should be taken with care. Measure from the top of your hot tub to the wooden part, which is usually half-way down from the top.
Fold Direction: Make sure that your cover doesn't deny you access to your hot tub controls. Each cover has specific folding patterns, so be sure the one you choose folds away from your controls. That way, you can still access them when you lift up the cover to use your hot tub.
When To Buy A New Hot Tub Cover
When hot tub covers were first made, they were all only 2-inches thick. Hot tubs were mainly used indoors or in warmer climates.
So, things such as insulation or load capacity weren't added into the equation. Since hot tubs can now be used in all climates, hot tub covers have had to change to meet the new demands.
So one solution to making covers last longer is simply by not letting things sit on top of the cover for long. We're talking about removing snow and rain and keeping them from pooling on the cover.
However, current hot tub covers are still not resilient against chemicals. Chemical damage created by the mixing of vapors from within your hot tub will damage your cover. This is why it is important that you open your cover to release these cover destroyers. Unless you want to be constantly buying new hot tub covers.
Maintaining Chemical Balance In Your Hot Tub
A gas cloud created by the chemicals in your hot tub get trapped under your cover. These clouds are a mixture of condensation and hot tub chemicals such as chlorine getting trapped in a small space. There is no way to prevent this from damaging your cover unless you clean it regularly and leave it open for at least an hour.
If this gas cloud is left unchecked, it will eat away at the material in your cover. It will not go away over time, and leaving it trapped will only make it more dangerous to your hot tub cover. The biggest part of the cover that gets the most traffic and pressure is the poly wrap that keeps moisture out.
If you want to find out what happens to your hot tub cover in some expensive experiment, the material around the foam insulation will dissolve.
With nothing covering the foam, it will start to soak up the gas and moisture. That will weigh it down, which will pull the rest of your cover with it. Eventually the weight will be too much and your cover will break.
You don't need to worry about this if you use your hot tub regularly. You will naturally remove the hot tub cover to use it, which will release any gas clouds forming underneath it.
So push yourself to go out for a quick soak regularly if you don't, or invite some neighbors over for a dip. Tell them they are helping you save some money!
How To Save Your Hot Tub Cover
If removing your hot tub cover is too much of a pain, buy yourself a hot tub cover lifter. The cover lifter will also increase the lifespan of the cover because it will keep your cover clean and tear-free. Plus, it won't get folded up or twisted like it might if you take it off by yourself.
What other ways can you keep your hot tub cover healthy?
Get in the hot tub as much as possible!
Take off your hot tub cover regularly to let gas clouds out.
Get some help from a hot tub cover lifter to take your cover off.
If you're going on vacation or will be away for more than a few days, you should drain the hot tub of water. That way, you won't need to worry about the hot tub cover.
Use a cover cap in the winter months to further protect your hot tub cover.
Balance your hot tub chemicals correctly and keep tabs on how it is doing.
Find gentle sanitizers that will still clean your hot tub, but won't use strong chemicals that can damage your hot tub cover.
Hot Tub Cover Thickness
Hot tub covers provide safety and retains heat for your hot tub. The cover will protect your hot tub from leaves, dirt, dust and snow. The insulation of the cover helps to keep the heat in, so that your hot tub water is nice and toasty for your soak.
A poorly made hot tub cover will let heat escape rather than keep it in. It is a waste of energy and money having to reheat the water each time you try to heat your hot tub. The cover may be cheaper upfront, but it will cost you in electrical bills.
A well made hot tub cover will have insulation in it. The thicker the insulation, the better it will work at keeping the heat in. If you live in colder climates or want to use it in the winter months, you should get a cover with thicker insulation.
Your hot tub cover should also keep your hot tub safe, and there are a few things you need to consider when thinking about its safety.
Check out the child safety locks to be sure they work. You should have them regardless if you have children or not. There is always the possibility that children may come in the future, or visit from time to time. It's better to have these locks in place to keep them safe. That way, you will be ready rather than it be an oversight.
The quality of your hot tub cover and how it is made is worth the investment. Your hot tub cover will last longer with better materials and construction. Even the best constructed hot tub cover will only last so long with poorly made materials. It's better to spend more money for a better cover than more money on multiple cheaper covers.
Types Of Hot Tub Covers
The biggest factor in covers designed for different climates is the thickness of the cover. All covers are made to be used in the outdoors. They are waterproof, so water will slide right off rather than stick and mess with how the heat underneath is retained.
They are resilient in rain, snow, wind, and dust. Some are made for harder weather conditions than others, and it comes down to how thick the cover is. The thicker the cover, the stronger it will be in the weather.
A Standard cover is the thinnest hot tub cover option. It is great to use for an indoor hot tub, or if you live in warmer climates. This cover will provide basic protection and heat retention without needing anything extra. This might not be a good option if you experience all four seasons of weather. This cover will most likely not stand up to heavy snowfall.
The Deluxe cover is thicker than the standard, and made for weather resistance. This cover is an option if you do experience all four seasons with your outdoor hot tub. It can withstand snow coverage and downpour. This cover could also hold a person on it, in case you need to climb up to get debris or shovel snow off of it. This is also the perfect cover to keep kids and animals safe around your hot tub. This cover can withstand nails digging in or little feet running across it.
The Extreme cover is the thickest hot tub cover option. This is perfect for snow heavy climates or frequent exposure to extreme cold. You're allowed to have a hot tub in these environments. A soak in a hot tub on a super cold day is one of the best experiences, not to mention fun!
Check out this article by The Cover Guy to get more information about cover thickness.
Hot Tub Cover Lifters
Hot tub cover lifters can help you move your cover with little effort. It will protect you from injury while lifting the cover, or needing more than one person to lift the cover. It will also protect the cover from being strained or ripped when moving it. You can adjust where your lifter is around your hot tub that will work best for you.
There are 3 types of hot tub cover lifts you can purchase:
The difference between these lifters are how much they cost, space they need, and how easy they are to operate.
Types Of Hot Tub Cover Lifters
First, the manual lifters are a cheaper option that will still help you move your hot tub cover easily. It is a one-person lifter that you can use manually with little difficulty. There is a metal bar that folds around the hot tub cover and can be lifted to take the cover with it for easy removal. It can be mounted on any side or even on top of your hot tub for easy access or to account for limited space.
The hydraulic lifter is the most expensive, however it is the best option out there. You still lift the cover like you do with the manual lifter, however it does all the work for you. You don't need to put any force into lifting it up, which helps with heavier covers or if you are worried you aren't strong enough to lift it on your own.
Finally, the shelf lifter is the cheapest of the three but it also doesn't do much of the heavy lifting. A shelf is set up to the side or back of your hot tub where you can slide the cover into while in the hot tub. This is the only lifter that you need to be in the tub to push off. You also provide all the man (or woman) power when moving the cover, instead of getting help like you do with the other lifters.
You can also install wheels under the cover to help push them into the shelf. If the cover doesn't feel very heavy to you, or is a lighter cover, this can be the lifter for you. This lifter can take up a lot of space, though. So, be aware of how much space is around your hot tub before installing the shelf lifter.
To Summarize
There are a lot of factors that go into caring for your hot tub cover. It is important to keep your cover clean so that it will last longer. This can be as simple as wiping off debris, and as complex as washing the entire cover with various chemicals. Either way, consistency is key for all cleaning tasks with your hot tub cover. It will also help to keep your hot tub clean, as well.
It is also important to take care of your hot tub cover into account. We covered the various extra equipment you can buy to further protect your hot tub cover. Equipment such as cover lifts or umbrellas to protect your hot tub cover. From simply cleaning off the top of it with cleaners to taking the cover off to prevent chemical damage.
We also covered what to do if you need a new cover. Perhaps your old one was too damaged to save, and you need to buy another one. Factors to take into account, such as cover thickness and hot tub measurements, will affect how effective your hot tub cover will be for your hot tub.
So, the next time you go to clean and care for your hot tub cover, remember these points! It will help promote the longevity of your cover, as well as your hot tub.