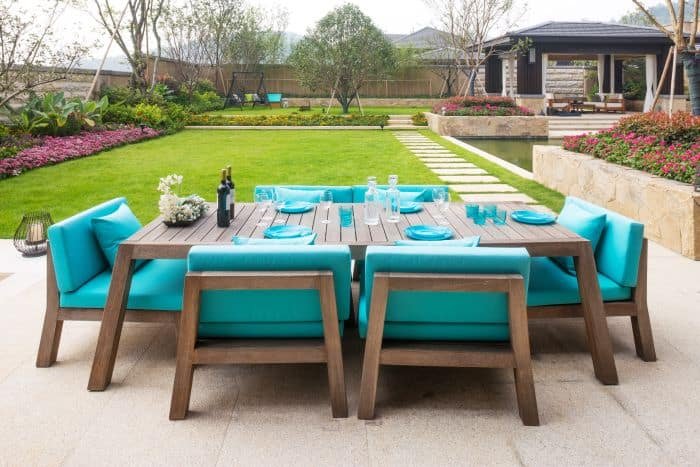 When we're looking at ways to improve our backyard areas, it's easy to overlook the simple things we can do ourselves and which cost little or nothing but have a major impact.
It's possible to enjoy your backyard area more completely without calling in a contractor or taking out that second mortgage to remodel.
You can make family cookouts or social gatherings more enjoyable and even impact your home's overall value by simply paying better attention to routine cleaning and maintenance.
Fortunately, when it comes to Sunbrella fabric, neither is particularly difficult. If you have Sunbrella fabric cushions on your patio furniture, let us show you the best way to clean them.
How Do I Know If I Have Sunbrella Fabric?
Sunbrella is a brand name, so if you've got it, it's probably right there on the label or on the box you brought it home in. Sunbrella is a very popular fabric for outdoor patio furniture.
It's made from an acrylic material that's quite durable and holds its color well over time. Sunbrella resists moisture and staining under most circumstances, meaning that even when it does get dirty, it's easier to clean than it looks. (If you happen to have Sunbrella inside your home, or on your boat or other watercraft, the process is largely the same.)
As with so many things, though, the longer you let the problem go, the harder it is to deal with. The best time to take care of stains or other discolorations is the day you first notice them.
You shouldn't have to interrupt your family time or social event to panic over every dropped olive, but don't wait until it's time to bring things inside for the winter, either.
In the long run, you'll spend less time and energy cleaning Sunbrella fabric if you handle things as they occur.
How To Clean Sunbrella Fabric
If your Sunbrella fabric gets dirty, stained, or spilled on, don't panic. Try the easiest solutions first. For dry messes, lightly brush off dirt or debris before it has time to settle or work its way into the fabric.
Pay attention to crevices or curves where particles might hide. There's no need to go to extremes; the key is not to let dirt set for longer than necessary.
Avoid rubbing it into the fabric while trying to wipe it off. If it doesn't come off relatively easily, skip down to the instructions for dealing with stubborn stains below.
Many liquid spills can be easily handled with a soft absorbent cloth. Blot, don't wipe – just like you would with most carpets or fabrics inside the house.
If that doesn't do the trick, try a simple mixture of water and liquid dishwashing soap – the kind you probably have sitting in the kitchen right now.
Apply it to the stain and agitate the fabric in a circular motion with a soft bristle brush. It's the motion, not the pressure, that's going to do the cleaning.
You're not trying to sand down the seat cushions; if light pressure doesn't do the trick, move on to the next approach.
Here's a pro tip: don't just clean around the stain itself. If the spill was on a seat cushion, for example, treat the entire cushion. It's not that big and won't take significantly longer, and doing the entire cushion reduces the chances of water rings or noticeable discoloration over time.
If your furniture gets heavy use, you want whatever minor wear becomes noticeable over the years to be as even as possible. Besides, there's no harm giving your cushions a light cleaning from time to time even without spilling a drink or someone's dinner on them first!
Lightly rinse with water when completed, then blot excessive moisture with dry towels. Make sure you've completely rinsed away the detergent mix.
If you notice a few remaining soap bubbles as you rinse or pat dry, repeat the rinsing process. Once the surface appears clean and free of detergent and you've blotted away the excess, let it air dry before using it again.
Dealing With Stubborn Stains
Very stubborn stains may require introducing a small amount of bleach to the mixture, but this is rarely necessary. Double-check the label to make sure there are no special instructions for your particular patio furniture or whatever your Sunbrella is covering.
Just because you don't want to let stains set for longer than necessary, that's no excuse to get in a hurry and do something reckless.
If you get oil-based stains on your backyard furniture, try something absorbent like corn starch on the stain. Let it sit for ten to fifteen minutes, then carefully scrape off using a ruler or other straight edge.
(Obviously you should avoid using anything actually designed to cut or slice.) Then clean following the steps above until the stain is removed.
How To Clean Sunbrella Fabric With Mold Or Mildew
Sunbrella fabrics are made to be mold and mildew resistant. Nature has a way of asserting itself, however, and in some climates and circumstances, you may discover traces of mold or mildew on your patio furniture.
We live in Florida, so everything in our backyard seems to grow mold or mildew because of how wet the backyard stays. Decking, fencing, patio furniture covers and sometimes our furniture cushions.
Usually this occurs because the mold or mildew has found its way onto another substance which in turn has managed to find its way onto your patio furniture. That's OK; it's easy enough to remove either way.
First, get a clean bucket and fill it with a gallon of fresh water (it doesn't matter what temperature). Bring that same soft bristle brush you use for other patio furniture cleaning.
(A sponge or clean towel will do if you don't have a brush.) You'll also need a clean, empty spray bottle and some protective household rubber gloves.
Add one cup of bleach and one quarter cup of that mild dishwashing detergent we mentioned above. Lightly stir.
Fill the spray bottle with the mixture and spray it over the entire area. Don't try to just cover the mold or mildew. If it's on a seat cushion, get the whole cushion. If it's something larger, spray the whole thing.
Let it soak for about fifteen minutes. You want it to work itself into the fabric before you start brushing.
Put on those gloves and clean the area with your soft bristle brush (or sponge, or towel). Remember that you're not trying to work your way through the furniture – you want to agitate the material and help the nasty stuff come out.
If you think of what you're doing as "scrubbing," you're probably pushing too hard. Think of it as exfoliating your skin or bathing a pet. You want it clean, not stripped for priming.
Rinse thoroughly and air dry. If it's an option, avoid direct sunlight for this part. Ideally, your Sunbrella fabric should be allowed to dry thoroughly, but gradually.
Other Cleaning Options
When in doubt, revisit that tag. Special instructions will usually be easy to find there.
If your Sunbrella fabric is removable, you may be able to use the delicate cycle on your washing machine. Wash on cold with a normal amount of mild laundry detergent.
You can add a small quantity of bleach for mold or mildew removal. Do not put Sunbrella in the dryer. Let it air dry just like you would if you'd washed it by hand.
Some local professional cleaners can handle Sunbrella, but you shouldn't assume. Ask them specifically about their experience with the material and how they'd handle it. In most situations, this shouldn't be necessary, however.
Finally, there are commercial products available which work very well on Sunbrella. If the above solutions don't seem to be giving you the results you want, Sunbrella recommends 303® Multi-Surface Cleaner, Dawn® or Resolve® as safe, effective options.
Conclusion
Most of the time, maintenance of your Sunbrella fabric should be fairly quick and painless, leaving you plenty of time to actually use your backyard for the things you love. Don't forget to stop along the way and enjoy your time out back with your family, friends, or a cold drink and a good book. If you need to keep your teak furniture in tip top shape, check out our best teak sealers.
Then, keep doing the small things that make your back yard look and feel better. They add up more quickly than you think. We have some other cleaning tips you may find useful like how to clean a concrete patio, or how to pressure wash a deck.