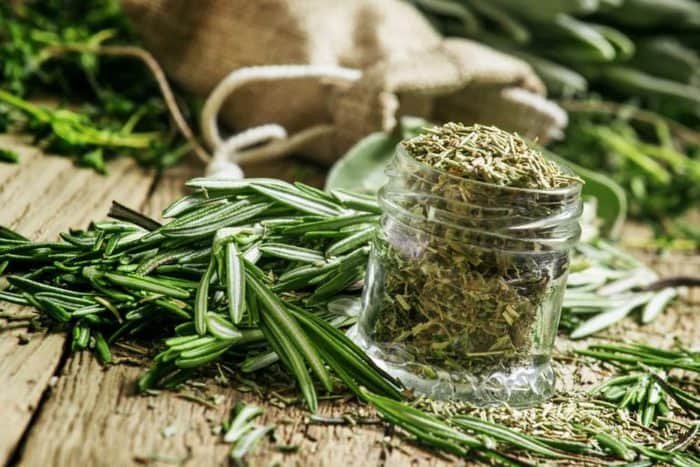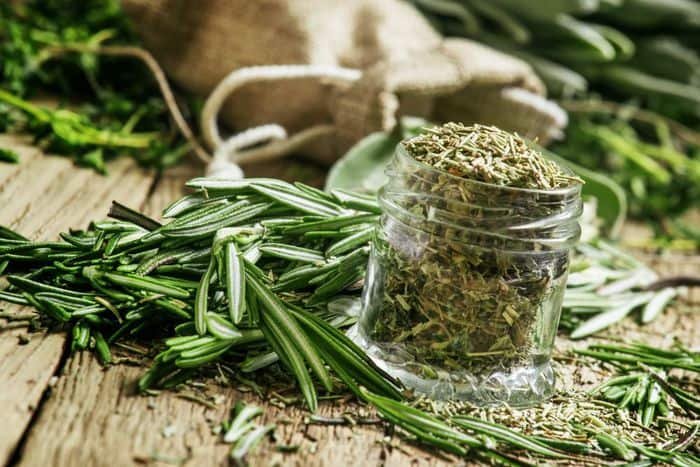 As an herb, rosemary is wonderful when dried. However, you might wonder how to dry it properly so that you preserve its freshness and aroma. There are actually many ways to do this effectively, but you will want to take your time doing it so that you can enjoy your rosemary to its fullest.
There are other ways to dry rosemary as well. The important thing is to refine the process that works for you and make sure that you keep an eye on it so the herb does not turn brown and appear to die. You will want to continue reading so that you can learn better how to dry rosemary and prepare it for your own use.
Will Rosemary Dry if You Hang it Up?
Rosemary can dry if you hang it up in the right location. The key is first to remove as much moisture from the herb as possible. Once you have done that, you can tie up the sprigs, hang them up, and then wait for them to dry. This will take a few weeks, so you will want to make sure you have time to spare.
When removing the moisture from your rosemary, the key is to be gentle. You do not want any of the herbs falling away from the sprigs. The best practice is to take a paper towel and gently pat the rosemary until as much of the water that was on it has disappeared.
Once you have done this, you can use a rubber band to tie together your rosemary sprigs. Now, it is time to hang them up. You can do this either inside or outside. Wherever you choose, you will want to use a paper bag that has been ventilated to cover up your herb. This will help keep dust off it and prevent pests from enjoying it.
Next, allow it about two weeks to dry thoroughly. However, make sure that you do not forget to check up on the sprigs from time to time. You can want to make sure the sun is not damaging them or that they are developing mold. When they are dry, store the leaves in an airtight container.
How Do You Dry Rosemary in a Dehydrator?
Using a dehydrator is an effective way to dry rosemary. You will not need to wait weeks for the rosemary to dry, as a dehydrator will do the job in a matter of hours. It is important to rinse off the rosemary and pat it dry before placing it in the dehydrator. It would be best if you also spread them all around.
You might notice that your rosemary does not at first fit in the trays that are included with your dehydrator. All you need to do is cut them down a bit so that you can lay them flat and be able to close the trays without damaging the rosemary. As you place the herb in the trays, make sure that you spread them out to separate each sprig.
When you are ready to begin the drying process, close up the trays and turn the dehydrator on to between 95 and 115 degrees Fahrenheit. You can increase the temperature to as much as 125 degrees Fahrenheit if you are in a really humid environment.
You should find that your rosemary is completely dry in as little as one hour, but it could take as much as four. You will know the process is complete when the needles become brittle and fall off with a simple touch. Once your rosemary is dry, take the sprigs off the stem and then store your leaves in a container that is airtight.
Can You Really Bake Rosemary?
Baking is an effective and quick way of drying rosemary. You will want to make sure the temperature in the oven is not set very high and that you do not overcook the rosemary. If you follow the proper procedure, you will have dried rosemary in only a few hours, after which you can sprinkle it on your food.
When you go to preheat the oven, make sure it set it to the lowest possible temperature. Setting it too high will have the effect of cooking the herb, and that is not what you want to do. Before placing the rosemary in the oven, go ahead and snip them and arrange them on your baking sheet in two-inch increments.
You are looking at only two to four hours in order to dry the rosemary out. Once this is done, you will be able to safely store the herb and use it on your next meal. Make sure that you use the proper airtight container and that you keep in a location in your house where moisture or sunlight is not likely to be an issue.
How Long Can You Store Dried Rosemary For?
When done properly, you can safely store rosemary for as long as one year. The key is to store the herb in an airtight container and place it in a location that remains relatively cool and dark. The ideal place is a kitchen cupboard. This will prevent moisture from getting into the rosemary.
Before you go to use rosemary that has been stored for quite some time, you will want to check it out to make sure it is still fresh and edible. If it is still dry and has not turned brown, then are you are good to go. If there is any moisture at all in the container, then there is the potential for mold, so you will need to be careful.
Wrap-Up
One of the beautiful things about dried rosemary is that you can store it away and keep it fresh for quite some time. Once you perfect the drying process, you will find that you always have access to a fresh herb when you need it most. It really is not difficult at all, and everyone around you will be amazed that you always seem to have perfectly dried rosemary. 
We have more articles that you maybe interested in taking a look at such as, how to propagate aloe, how to propagate lavender, and how you can transplant monkey grass!