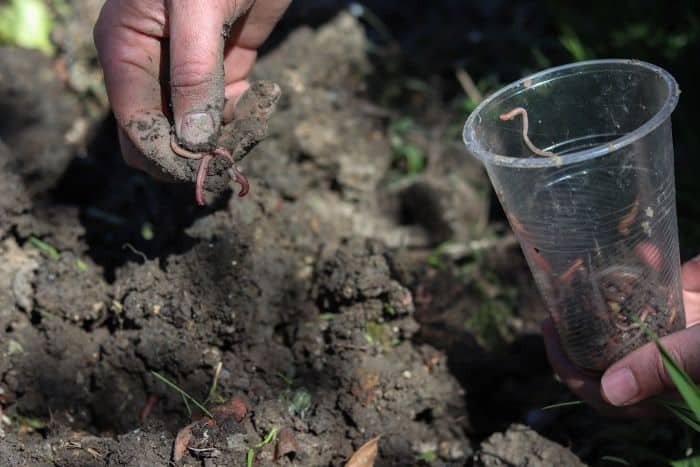 If you've spent a lot of time in your backyard, you are probably aware of the animals that make it their home. There are birds and squirrels moving around, but there are also all sorts of worms and insects that live in the soil. Worms are incredibly useful to keeping your lawn looking good, but can also come in handy for other purposes.
If you are looking for easy ways to find worms in your backyard, read on. We'll discuss the reasons people dig up worms, some tried and true methods for worm collecting, and the tools you should have to help.
Why You Might Want To Find Worms
Worms are not everyone's favorite animal. Slippery and squishy, most people try to avoid them. However, there are several reasons that people look for worms in their backyard.
Worms are Essential for Composting
As people become more environmentally aware, more are turning to backyard composting as a way to reduce their waste. Food waste is a major problem around the world, but composting is a great way to turn that waste to a useful product, rather than sending it to a landfill to rot.
While people can compost without worms, adding worms to the bin greatly improves the process. Worms are very good at digesting organic matter. When they eat composting material, it gets broken down physically by grinding and by the digestive juices. This means that when the worms pass the material, it is richer and better for use in your garden.
Additionally, worms tunnel through the composting material. This allows air and water to circulate through the bin, which encourages the bacteria to decompose the compost. This speeds up the composting process, leading to faster results. Be sure to checkout our list of the best tumbler composters we could find that you're sure to love!
Free Bait for Fishing
There are many bait options for anglers, but sometimes the fish prefer a simple worm. Bait can be expensive, but if you know how to find worms, a backyard is a free source for bait. Recently collected backyard worms can be fresher than the ones at the bait shop, which could be more attractive to a fish.
Food for Chickens
If you are wondering what to feed your backyard chickens, they love eating worms. It's a protein packed source of food for the chickens. Did I mention they love worms. Our chicken Sunny, gets so excited when she we give her worms or she finds them in the yard.
Once You Start Looking, They're Everywhere
It can be hard to imagine, but underneath the topsoil of your backyard is a whole world of living creatures, from worms and insects to moles and chipmunks. As long as you have the right conditions, it's not hard to find worms – they're everywhere!
Go Out in the Rain
As anyone who has walked across a grassy area after a rainstorm, worms love to come to the surface when it is wet. The main reason for this is that they have trouble breathing when the ground is saturated. Under normal circumstances, soil has an even mix of air and water, which makes it easy for the worms to absorb oxygen. When there is more water, worms struggle for air.
This makes a rainy day the best time for worm hunting. It's best to look after dark because the sun can dry the worms out. Take a shovel to lift up the soil and loosen it with your hands to find the worms. If you live in an area that doesn't get a lot of rain, check your lawn after you run the sprinkler. You'll probably see worms pop to the surface then.
Dig Near Bodies of Water
As stated earlier, worms need a good amount of water to keep from drying out. If you have a stream or pond in your backyard, that is an excellent place to look for worms. They are especially likely to be found under piles of decomposing leaves or logs, so prepare to do some digging to find them
Attract Them With Wet Cardboard
If you've ever left a cardboard box outside for an extended period, you've probably noticed that there are all sorts of creatures underneath it when you pick it up. Worms are attracted to wet cardboard and if you leave a sheet out overnight, you are sure to find a bunch in the morning.
Lay the wet cardboard out on the lawn at night. In the morning, all you need to do is lift it up, do a little digging, and you'll have your worms. If you don't want to do too much digging, collect the worms at night when they'll be near the surface.
Use Vibrations to Coax Them Out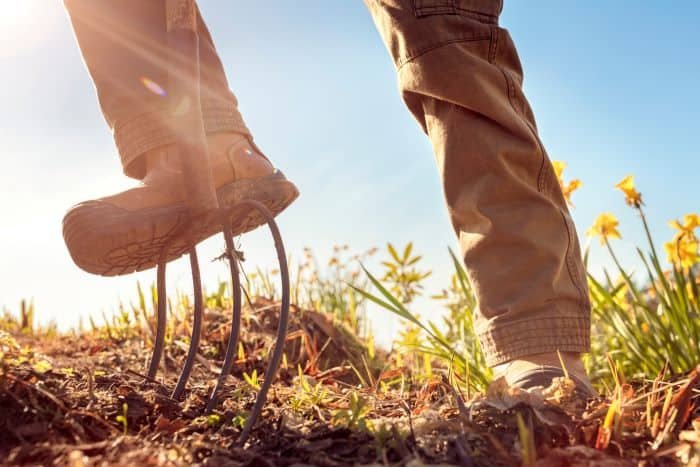 For centuries, fishermen have collected worms for bait using vibrations to lure them out. The technique is also known as fiddling, worm grunting, or worm charming and, if done correctly, can be an effective way of catching worms. Try these methods to charm the worms into your bucket:
Drive a wooden stake into the ground and run a metal file or saw over the top of the stake at a medium pace to create vibrations.
Drive a pitchfork down into the soil and "twang" the handle.
Take a chainsaw and remove the chain. Either place it against the top of the stake or put the rounded end directly against the soil and run the saw. This will create vibrations.
The vibrations you are making mimic the sound of burrowing moles, one of the worms' natural predators. Trying to escape being eaten, the worms will make their way to the surface. Be ready to collect them, as they will emerge quickly.
Check Wood Piles and Flower Beds
Just as with piles of leaves and logs near bodies of water, worms are also attracted to wood piles and flower beds. Worms love rotting material, so the smell of the wood decomposing and the potting soil or compost in your flower bed is where they will want to be.
Wait for Ideal Conditions
Just like with hunting any other animal, some times are better than others for finding worms. We've already discussed a few of the ideal conditions above, but for the best success in finding worms, go hunting when it is:
Just rained, as worms will be near the surface
At night, because worms don't like the sun
Two hours after sunset, when worms are looking for a mate
When nighttime temperatures are between 55o and 65o F. In the northern hemisphere, this will be in the spring and early summer. You will be able to find them other times of the year, but this is when it is easiest.
The saying about the early bird catching the worm is true, so avoid looking in the early morning to avoid competing with birds for worms.
Have the Right Tools for Collection
Before you go hunting for worms, you should make sure you have the right tools to make collection easier. The most important things to have are:
A container: Your container can be made of plastic, metal, Styrofoam, cardboard, or glass. Fill it ⅔ full with soil and cover with damp leaves. This will keep the soil moist and the worms happy. To provide oxygen, poke holes in the lid.
A shovel or spade: You'll need something to turn the soil and bring the worms to the surface. A shovel or a spade will be enough to get to them.
A flashlight with a red bulb: Although worms are blind, they are sensitive to light. Red light is lower and harder for them to detect while still giving you visibility. If you don't have a red flashlight, cover the light with red cellophane. Make collection easier by investing in a headlamp and go hands free.
Latex gloves: Worms are slippery and easy to drop. Keep control of them by wearing latex gloves. Rubbing sawdust on your hands is another way to increase the grip. We prefer Reusable gloves since they are better for the environment than single use gloves.
Finding Worms is Easy
Now that you know how easy it is to find worms, collecting them should be a breeze. You will be all set for whatever your plans are, whether it is maintaining the compost bin or having a relaxing day out on the water. Who knows, while finding worms you may just stumble upon treasure!