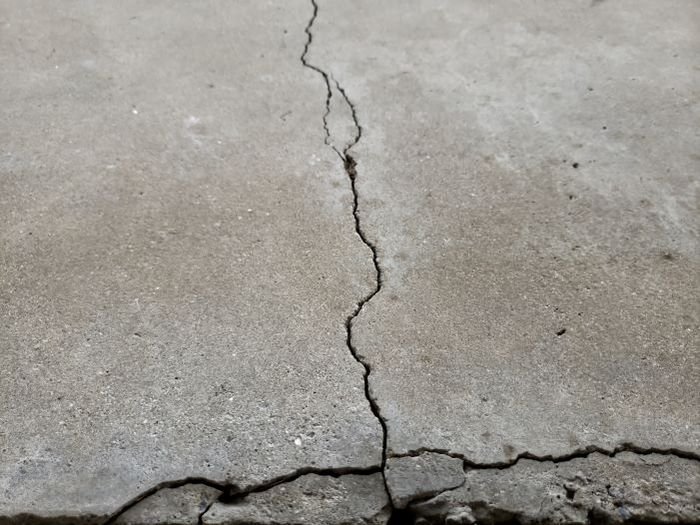 When you go out to sit in your backyard, the last thing you want to see is a cracked patio. Cracked patios are an eyesore and most people have no idea what to do to fix it.
We'll go through why your patio gets cracks and what you can do to repair it so you can start enjoying your backyard again.
How Do Cracks Form in a Patio?
There are a few different things that can cause a patio, or concrete of any kind, to crack. Famously, tree roots will disrupt nearby concrete, and push it upwards.
However, the most common thing that can cause a crack in concrete or a patio, is shrinkage. That shrinkage itself occurs when the concrete hardens.
Now, normally, one would think that concrete only hardens when it dries, but this isn't the case. Excess water is going to evaporate from the concrete over time, causing further shrinkage. With this will come those cracks.
Furthermore, if you live in a cold climate, it's important to know that concrete will expand and shrink with the seasons, causing cracks in the patio as well.
Furthermore, if the concrete is poured with the improper strength, then it can crack from that. The wrong mix will lead to long-term problems for your patio, so make sure you have the right mix before you initially pour your patio's concrete.
You also need to have enough control joints that your concrete stays where you want it to stay. Without those control joints, you are going to be at risk of cracking.
What Types of Cracks Can Occur in a Patio?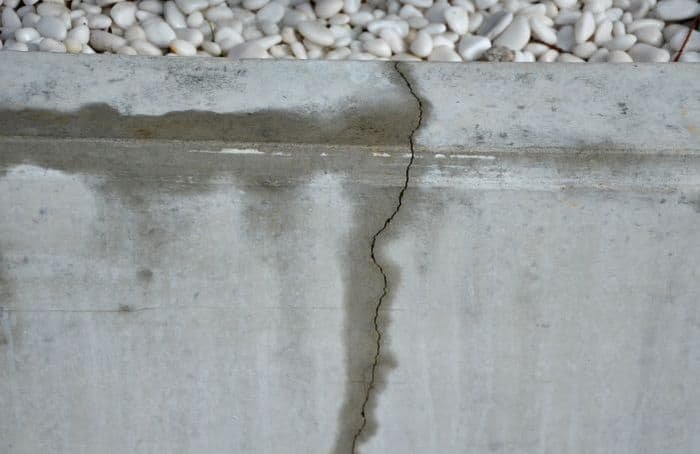 There are four basic types of cracks that can occur in the concrete of your patio. The first is a hairline crack, which occurs at the surface and is unsightly. If they are growing over time, they can also become dangerous.
Secondly, there are shrinkage cracks. These actually occur while the concrete is curing, and they can be fixed during that process by using more control joints to fix the position of the concrete.
Next, there are settlement cracks. As that name implies, settlement cracks occur due to issues in the ground the concrete was poured on top of. If that ground isn't packed properly, then the concrete can actually sink, creating cracks.
Finally, the fourth different type of crack that can form is a structural crack. These are known for being at least wider than a credit card and often going the length of the concrete.
Are Cracks in a Patio Reparable?
Cracks in your patio are absolutely reparable. To get them repaired you may want to bring in a handyman or someone who is a professional that works with concrete on a daily basis.
However, you're also able to fix concrete yourself, without needing to bring in anyone to help do it.
How Do You Fix Cracks in Your Patio?
There is some variation to how you would need to approach fixing cracks in the concrete of your patio, depending on what type of crack has formed and how big it is.
However, there is a tried and true approach to take when fixing cracks in your concrete. This process starts by using a cold chisel and a hammer. You would need to use them to create what is known as a backward angle cut.
After that, you will need to use a wire brush to clean off the space around the crack of any extra debris that was kicked up by your chiseling. You're also going to want to clean out any natural dirt and debris from the area.
The next thing you're going to do is to use a bonding adhesive on the entire space of the crack. It's best to apply this layer with something like a paint brush.
From here, you will use a trowel to fill the crack with a vinyl reinforced patching compound mix. This should stick to the adhesive. As you fill, it's important to make sure the mix is flat with the surrounding concrete. This way that the concrete dries evenly and you don't have to worry about tripping over uneven ground.
In the case of a larger crack, you will likely need to make variations to how you repair the crack. If the crack is more than an inch wide, you will need to fill it with sand before you add your concrete mix, to properly fill the hole. Otherwise, your concrete is likely to sink and re-crack.
What If A Crack Can't Be Fixed?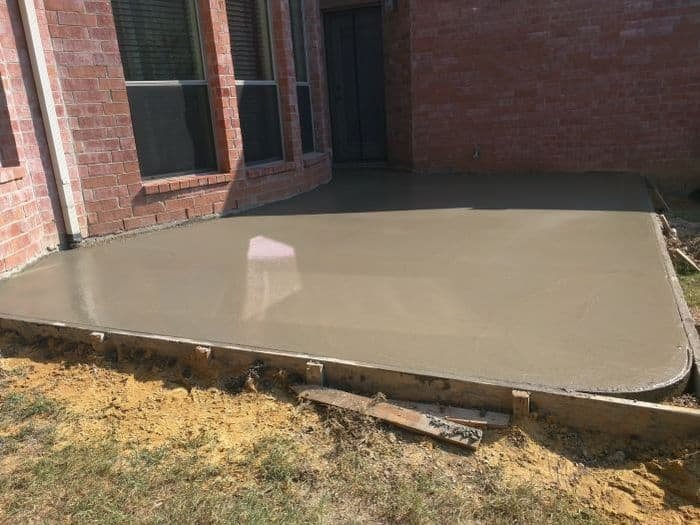 There are going to be stubborn cracks that can't be fixed for one reason or another. Maybe the crack is too big to fill, or the concrete was poured so poorly to begin with that new cracks are continually reforming.
However, if the cracks are unmanageable, instead of continually re-patching the concrete, it may be best to completely replace the patio.
It's up to your own discretion, but if the cracking is severe, it is likely going to be easier to replace the patio entirely for you.
When it comes to fixing things around the house, there are things that can be intimidating for people. Plumbing and electricity are pretty good examples of this.
However, for many people, you can add anything involving concrete to that list. This really shouldn't be the case, though. It is a fairly simple process to manage repairs to cracks in a patio.
So, approach the challenge with confidence and make sure that you take your time on every step. If the cracks turn out to be too severe, or you fail to fix them properly, then it may be time to get a new patio for your backyard.
In its own right, getting a new patio is an exciting adventure in upgrading your yard. Be sure to check out are other articles that also deal with concrete such has how you can make concrete countertops for your outdoor kitchen, as well creating a base for your hot tub sit on and how you can pour it over grass.
There are many different uses for concrete, especially now that you know how to fix a crack in your concrete.