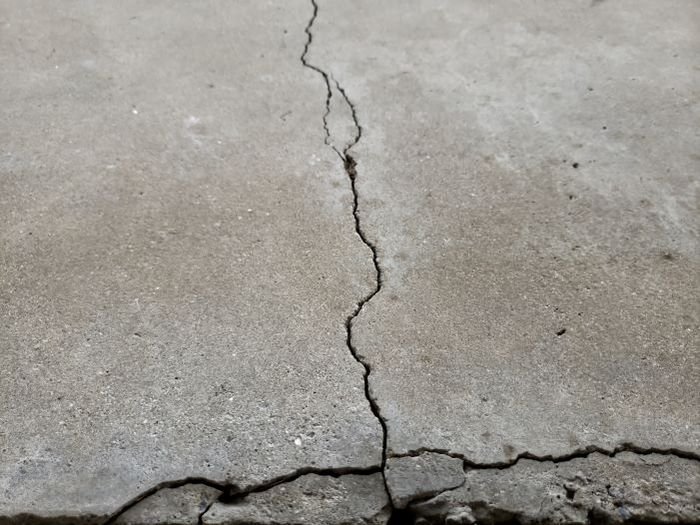 A concrete slab is a sturdy and easy way to go when choosing a patio material. Concrete can outlast most wood decks and the options to customize your patio are endless. Concrete is sturdy but every material can eventually crack. You may find yourself wondering how to keep your patio in good shape.
When you go out to sit in your backyard, the last thing you want to see is a cracked patio. Cracked patios are an eyesore and most people have no idea what to do to fix it.
To fix cracks in a concrete patio you will need to follow these basic steps.
Clean the area of debris – weeds, grass and excess sand needs to be removed
Fill the cracks properly – use the proper sealer that will bond with the concrete
Sand the surface – you may need to use an angle grinder to sand the surface flat after repair
While there are more in-depth ways to fix damaged concrete minor cracks can easily be repaired with products found at any hardware store.
How Do Cracks Form in a Patio?
There are a few different things that can cause a patio, or concrete of any kind, to crack. Famously, tree roots will disrupt nearby concrete, and push it upwards.
However, the most common thing that can cause a crack in concrete or a patio, is shrinkage. That shrinkage itself occurs when the concrete hardens.
Now, normally, one would think that concrete only hardens when it dries, but this isn't the case. Excess water is going to evaporate from the concrete over time, causing further shrinkage. With this will come those cracks.
Furthermore, if you live in a cold climate, it's important to know that concrete will expand and shrink with the seasons, causing cracks in the patio as well.
Furthermore, if the concrete is poured with the improper strength, then it can crack from that. The wrong mix will lead to long-term problems for your patio, so make sure you have the right mix before you initially pour your patio's concrete.
You also need to have enough control joints that your concrete stays where you want it to stay. Without those control joints, you are going to be at risk of cracking.
What Types of Cracks Can Occur in a Patio?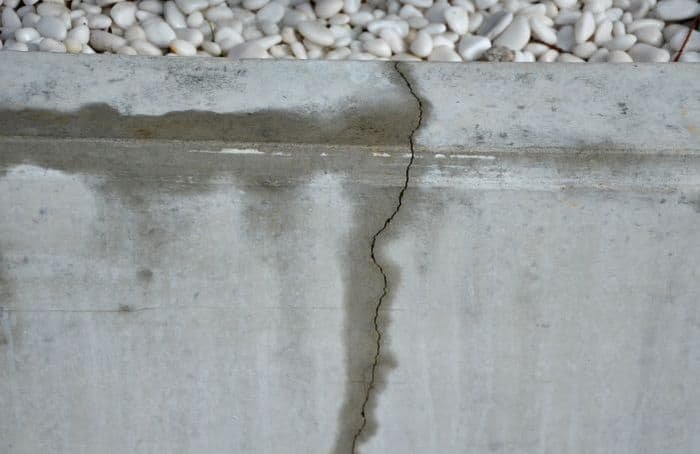 There are four basic types of cracks that can occur in the concrete of your patio. The first is a hairline crack, which occurs at the surface and is unsightly. If they are growing over time, they can also become dangerous.
Secondly, there are shrinkage cracks. These actually occur while the concrete is curing, and they can be fixed during that process by using more control joints to fix the position of the concrete.
Next, there are settlement cracks. As that name implies, settlement cracks occur due to issues in the ground the concrete was poured on top of. If that ground isn't packed properly, then the concrete can actually sink, creating cracks.
Finally, the fourth different type of crack that can form is a structural crack. These are known for being at least wider than a credit card and often going the length of the concrete.
Are Cracks in a Patio Reparable?
Cracks in your patio are absolutely reparable. To get them repaired you may want to bring in a handyman or someone who is a professional that works with concrete on a daily basis.
However, you're also able to fix concrete yourself, without needing to bring in anyone to help do it.
How to Fix the Cracks and Chips in Your Concrete Patio
To fix your concrete patio, you will need to pick up your favorite filler and follow the directions on the package. For the most part, fixing the chips and cracks in your concrete patio will consist of:
Clearing away any debris and giving the patio a nice wash
After allowing the patio to dry check over the spots that need to be fixed
If there is any loose concrete, you will need to remove it
Apply the filler as directed on the packaging
After cleaning your patio to see all the cracks properly, the process starts by using a cold chisel and a hammer. You would need to use them to create what is known as a backward angle cut and to take out any loose concrete.
After that, you will need to use a wire brush to clean off the space around the crack of any extra debris that was kicked up by your chiseling. You're also going to want to clean out any natural dirt and debris from the area.
The next thing you're going to do is to use a bonding adhesive on the entire space of the crack. It's best to apply this layer with something like a paint brush.
From here, you will use a trowel to fill the crack with one of the mixes highlighted below. This should stick to the adhesive. As you fill, it's important to make sure the mix is flat with the surrounding concrete. This way that the concrete dries evenly and you don't have to worry about tripping over uneven ground.
What Is the Best Material to Fill Cracks in Concrete?
There are many ways you can repair your cracked or chipped concrete but the easiest is to fill the damaged spots. Let's look at some of the best filters you can use to fix minor damage to your concrete patio.
Each of these fillers is an inexpensive way to fill any small cracks or chips that are in your concrete patio. It will keep the cracks from getting bigger which would eventually create a permanent crack through the patio floor.
Once the cracks are are filled and sealed, you might consider painting your concrete patio to hide those imperfections.
Can You Pour Concrete Over Cracked Concrete?
When a concrete patio has minor cracks and chips you may not want to fill every crack individually. Pouring a self leveling concrete topping over an existing patio is a cost-efficient method compared to fully replacing the patio. In most cases, you will need a professional to lay the new concrete over your patio.
If you have the right tools, it can be done on your own. The new concrete compound can be from 1/4 to 3/4 inch thick or up to 2 inches thick with more aggregate.
It will require a temporary border, usually 2x4s, being placed around the existing patio to not allow the new concrete to run over the edges. You also need tools to smooth the surface over, this is why it is easier to allow a professional to handle it.
What If A Crack Can't Be Fixed?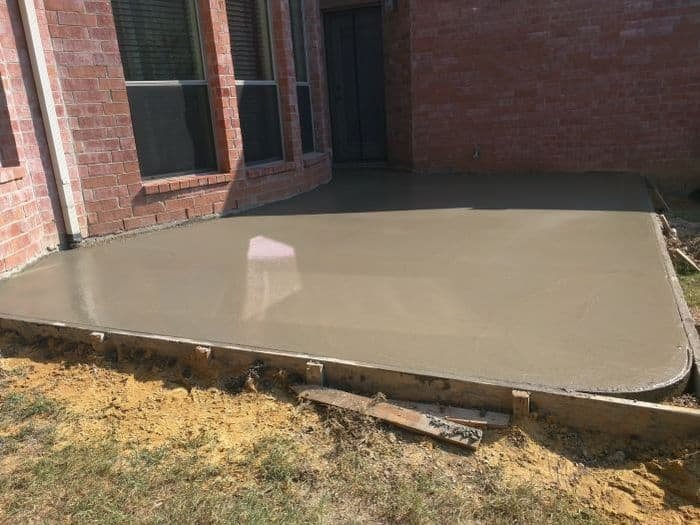 There are going to be stubborn cracks that can't be fixed for one reason or another. Maybe the crack is too big to fill, or the concrete was poured so poorly to begin with that new cracks are continually reforming.
However, if the cracks are unmanageable, instead of continually re-patching the concrete, it may be best to completely replace the patio.
It's up to your own discretion, but if the cracking is severe, it is likely going to be easier to replace the patio.
Signs You Should Replace Your Damaged Concrete
Many concrete patios can be easily repaired while other times they may need to be replaced. If the damage gets too bad it will be safer to replace the whole concrete slab compared to putting band-aids on a large problem. There are certain signs to look for that will let you know your concrete patio should be replaced such as:
A patio that is starting to sink on one side will need to be replaced as soil may be settling underneath which can cause an accident if left to sink more.
If you are spending more time repairing cracks than enjoying your patio
When the surface is starting to get chipped away and become rough this can be caused by shrinkage, this could mean it was not laid properly.
If you are not able to handle the project, it is best to hire a professional. Hiring a professional can save time and money as you will are less likely to have damages happen as quickly. We detail the cost to demo a concrete patio as well as the cost of pouring a new concrete patio in a separate article.
Giving Your Concrete Patio a New Life
There are many ways to not only fix your concrete patio but to help maintain its life. If your concrete patio is laid properly, you will most likely only have minor repairs to fix over time.
Fixing your concrete patio as you now know is quite easy. Make sure to keep up on your patio maintenance to keep it lasting as long as possible.