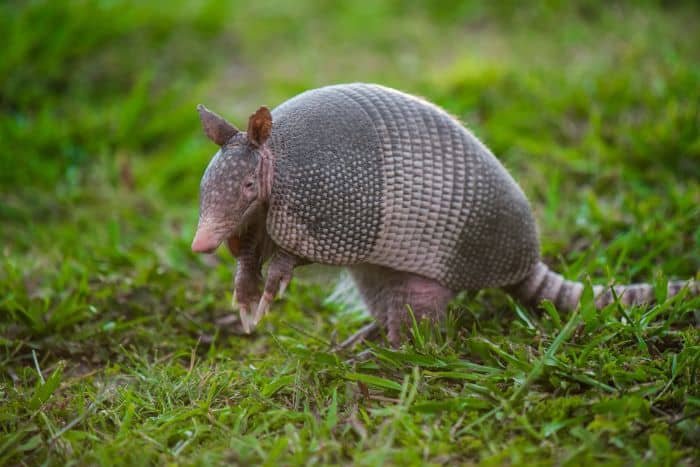 In the vastness of the animal kingdom, there are few creatures like the distinct looking armadillos that make them fascinating creatures. However, most people prefer to observe them in their natural habitat, on an animal reserve, or in the zoo, not on their personal property.
These pesky creatures have been known to dig up yards, eat plants, and even burrow into houses, as well as carry serious diseases like leprosy, tuberculosis, and salmonella. As a result, many people want to know how to get rid of them. 
Fortunately, there are many safe and humane ways you can get rid of armadillos that don't involve harming the animal or destroying its natural habitat. In this article, we're going to give you our top recommended methods for removing and deterring these animals so they don't become a regular and potentially dangerous nuisance in your life.
Observe the Armadillo and Locate Its Favorite Spot
In order to successfully remove your armadillo in a time-efficient manner, you're going to have to do a little reconnaissance first to gather information.
When you've determined you have an armadillo problem, the first step is to observe the animal in order to discern how it is getting onto your land, whether it comes and goes, and where it likes to stay. You can do this by setting up cameras or merely watching the armadillo from a distance when you notice it's on the move.
There are a few reasons why you want to do this. The first being that it will inform you where to place any future traps in order to catch the armadillo quickly rather than placing one in a random spot, hoping it'll wander inside. 
The other reason why you should observe the armadillo's movements is to ensure it isn't making a home somewhere on your property. This could prove problematic by enticing other armadillos to your land or becoming the home of the current invader's offspring. After removing the armadillo, you'll want to remove its old habitat as well so as not to entice future visitors.
Use a Humane Live Armadillo Trap
Once you know where your armadillo likes to hang out or how it gets onto your land, you can set up a trap to safely contain the armadillo for removal.
Armadillo-specified traps are undoubtedly one of the safest ways to remove an armadillo efficiently and humanely. You'll want to make sure the trap measures 12" x 10" x 30" and is made of a durable material like steel. 
When purchasing your armadillo trap, make sure it is labeled as a "live" or "catch-and-release" trap to ensure it merely contains the animal when the door closes rather than exterminating them.
With your armadillo-friendly trap in hand, find the best place in your yard to position it. Some helpful tips would be to place it near a more confined space they frequent since they'll actively avoid open spaces.
You'll also want to refrain from placing any bait in the trap since most armadillos acquire food through burrowing, and so they wouldn't be enticed by this unnatural food offering. In reality, it's far more likely to attract scavenger animals like raccoons.
Call a Professional Armadillo Trapping and Removal Service
In the event that the armadillo evades your traps, you have too many armadillos to deal with, or a trap simply isn't an option, the next advisable way to remove these critters is to hire a professional service. 
Most regions that are home to a significant armadillo population will have several professional armadillo trapping and removal companies available for hire. While this is always the safest, most humane, and time-efficient option, it can be costly.
Generally speaking, hiring professional animal removal services will cost anywhere from $200 to $1,000 or more, depending on the animal. When removing armadillos, the cost tends to be below $500 but varies significantly by company and largely depends on how many armadillos have to be trapped and removed.
The more armadillos are infesting your home, business, or yard, the more it will cost to have them all safely relocated. This is why it is always wise to be proactive if you notice an armadillo is frequenting your property, or worse, seems to have made its habitat there.
Now that we've discussed our two most recommended methods for removing armadillos, we'd like to cover two ways you can ensure they stay off and out of your property. The first precaution we suggest is to install an in-ground fence.
Dig DeFence animal barrier will help ensure an armadillo doesn't leave its natural habitat and find refuge in your property. This is a thick galvanized metal barrier that is easy to install and will keep any digging animals in or out of your yard. 
Armadillos might not be gifted jumpers or climbers, but what they are good at is digging. These critters are known as burrowers that need to dig deep holes in search of food and shelter from predators.
Because they are used to digging underground, it isn't uncommon for armadillos to simply dig underneath fences that are only installed mere inches in the earth. 
Reduce or Eliminate Its Food Source and Potential Shelters
While a fence is always a reliable way to keep armadillos out, as long as it's installed properly, not everyone can afford to go out and purchase a brand-new fence. In their case, the best plan of action is to make your property less enticing to armadillos, starting with their food and shelter.
A majority of armadillos are drawn to a specific area because they have discovered there is a surplus of food there that they can reliably gorge on rather than scavenging for it in the wild. Reducing the number of insects on your property, as well as eliminating potential shelters, could discourage armadillos from frequenting here because the area has little to offer them.
As far as food is concerned, armadillos will often dig in yards for earthworms, grubs, and other insects they can feast on. If you aren't particularly attached to your lawn or garden, you could use safe pesticides to ensure there aren't excessive numbers of these food sources for armadillos to find.
Unfortunately, this method does come with a catch. Removing many of these insects could inhibit the soil aeration and water infiltration in your soil that your grass and garden plants rely on to survive. It could also affect the surrounding ecosystem, such as birds and other animals that obtain their food from your soil. So, if you prioritize either of these, you might want to leave the insects as they are.
Shelters, on the other hand, can be easily removed by ensuring there are no areas with protective covering where the armadillos can hide. Removing brush, rock piles, and tall grass will make it difficult for an armadillo to feel safe on your property, effectively discouraging them from frequenting the area.
Conclusion
Hopefully we've given you a couple of different ways to get rid of armadillos that have invaded your yard and a couple of ways to keep them out of your yard. Good luck and let us know how it goes.