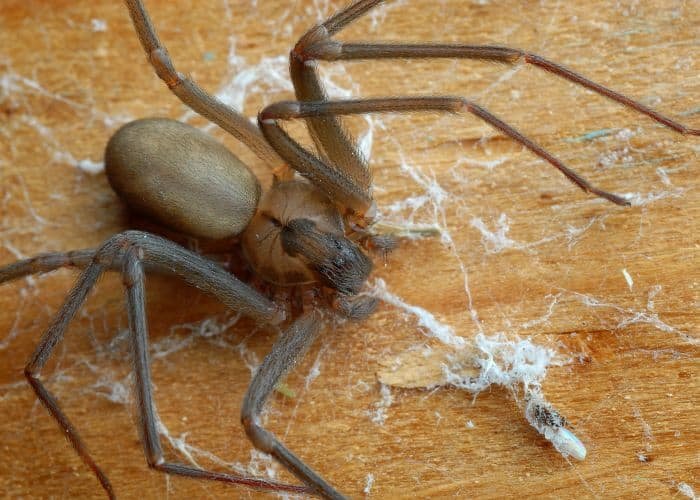 There is nothing worse than an unexpected encounter with a spider, especially when that particular spider is a brown recluse. If you frequently see brown recluse spiders in your home, you may be wondering how to safely annihilate them. This article will discuss this matter in greater detail so you can stop looking over your shoulder in fear.
There are multiple tactics you can use to get rid of a brown recluse infestation. Chemical and all-natural approaches can be helpful and may be necessary to fully eradicate them from your home or property. Other precautions can also be taken to keep them from coming back.
If you would like to know more about how to get rid of a brown recluse infestation in your home or on your property, continue reading this article for some helpful suggestions.
How Do I Correctly Identify a Brown Recluse Spider?
Firstly, you must be able to distinguish a brown recluse spider from other spiders. There is no point in panicking over a simple wolf spider or another common garden spider.
The brown recluse has a prominent fiddle-shaped identifier on its back. The other types we just mentioned may give you a bit of a scare if you are not expecting to see them, but they will not harm you.
Although spiders can certainly give you the heebie-jeebies, most of the spiders you encounter in the U.S. are not poisonous. That is not to say that it won't hurt if you are bitten, just that it is unlikely that you will have a serious reaction unless you are highly sensitive to their venom.
If you can get past your fear of spiders, you will actually find that they can be quite helpful to have around. Spiders eat all kinds of insects and flying pests that aggravate us on a daily basis.
Physical Differences Between the Brown Recluse and the Wolf Spider
This table will show the physical differences between the brown recluse spider and the wolf spider. These two spiders are most commonly confused with each other.
| Brown Recluse Spider – Physical Characteristics | Wolf Spider – Physical Characteristics |
| --- | --- |
| Has smooth body with fine hairs covering its body | Has coarse, thick hairs covering its body |
| Has six eyes (who are we kidding, no one is getting that close!) | Has eight eyes |
| Is smaller than a wolf spider | Larger than a brown recluse spider; usually over an inch in diameter |
| Known as the fiddleback spider because of the fiddle-shaped marking on its back | Typically has a multi-colored striped pattern on its back |
| They are approximately the size of a U.S. twenty-five cent piece | |
| They have an array of shades varying from light brown to dark brown | |
Wolf Spider For Comparison
You can also learn how to get rid of wolf spiders here. The next section will briefly discuss the behavior of a brown recluse. 
Understanding Brown Recluse Behavior
Before you can eliminate a problem, you must first understand it. If you have a better understanding of how a brown recluse thinks and functions, you have a better chance of getting rid of them and keeping them away from your home and other areas where you spend your time.
Brown recluse spiders are nocturnal. They prefer to do their hunting at night while we are tucked snug in our beds and drifting off to dreamland.
Brown recluse spiders can survive for months without a meal which means you need to be super careful if you are entering a space that has not been inhabited for a while, such as an attic, basement, or old barn.
Brown recluse spiders survive by trapping and eating the pests that plague us the most:
Flys
Mosquitoes
Moths
Other annoying insects
Brown recluse spiders typically only bite or attack if they feel threatened. This can happen if you accidentally come across one and startle it.
The next section discusses how to get rid of brown recluse spiders so you can have peace of mind that you and your family are safe from these poisonous arachnids.
Getting Rid of Brown Recluse Spiders – What You Need to Know
Now that you know how to correctly identify brown recluse spiders, you can take the proper steps to eliminate them from your environment.
The following list will give you multiple suggestions for repelling and killing brown recluse spiders from your home and property so everyone can feel safe:
Keep your home and other buildings free from spider webs especially focusing on corners and dark places where they can hide while preying on their next meal. Having a clean home will definitely help to reduce the population of any pest that may be a nuisance or danger to you and your loved ones.
Use an all-natural homemade spider repellent spray. This can be done by mixing vinegar and water in a spray bottle. The vinegar will kill the spider because the acidity of the vinegar will kill it after a short time.
If you don't want to make your own spray, there are an overwhelming amount of chemical options available online or at your local big-box store that will surely do the trick.
If you cannot stomach the thought of handling a brown recluse or any other pest problem on your own, call an exterminator. They know how to handle these pests and keep them from coming back. It may be costly, but it saves you the hassle of dealing with these creepy creatures and gives you peace of mind that a professional has handled the situation.
Essential oils can be mixed with water and sprayed as a repellent as well. Some of the essential oils that brown recluse spiders (and many other insects) hate are as follows:
Citronella oil
Eucalyptus oil
Lavender oil
Lemongrass oil
Mint oil
Peppermint oil
For these essential oil mixtures to be effective, you must spray them generously in the areas in which you do not want brown recluse spiders or other insect pests to inhabit. This is not a one-time application. You will need to repeat the process every few days to ensure that they stay away.
Try to reduce the number of ways that a brown recluse can access your home. For example, fill in any cracks or holes in the walls or around the foundation.
The next section will discuss other poisonous spiders to watch out for if you live in the United States.
Other Poisonous Spiders in the United States
If you are worried about the brown recluse spider, then you may also be wondering what other spiders are poisonous in the United States.
There are two other species of spiders that Americans typically have to worry about
The black widow – The black widow can be easily identified by its black body and the red hourglass shape on its back.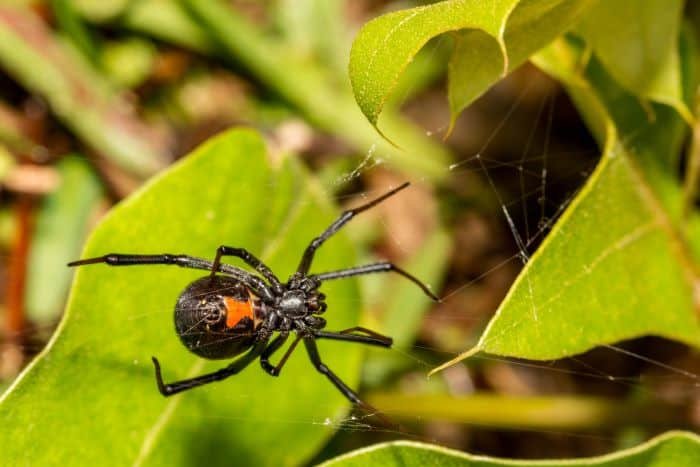 The hobo spider – The hobo spider is difficult to identify because they favor the appearance of many other common house and garden spiders. They have long legs and brown and yellow markings. They are easier to identify if you can spot their web. They form a funnel shape web to catch their prey. Be sure to check shoes or boots as they like to hide in dark places.
Fortunately, the tactics mentioned above regarding the eradication of brown recluse spiders also apply to these two spiders.
Reduce Risk and Exposure to the Dangerous Brown Recluse
Being able to correctly distinguish the difference between the brown recluse and other spiders is important. Learning what they look like, where they hang out, and what they eat can help you to rid them from your home and property, so you and your loved ones do not have to worry about an unexpected and possibly dangerous encounter with these poisonous pests.
Be sure to checkout our others you may find useful like, how you can get rid of june bugs, and how to stop birds from nesting on your porch.