Getting swarmed by flies outside is one of the most irritating things in the world. They buzz around annoyingly, and they are disgusting and unsanitary. It is worse when you are someone who enjoys spending time in your yard entertaining friends and family. So, how can you get rid of the flies that are outside of your house?
The best way to get rid of flies outside is to figure out where they are coming from and what is attracting them to your home. Once you can identify their source and what they are attracted to, you will have the ability to get rid of those pests once and for all.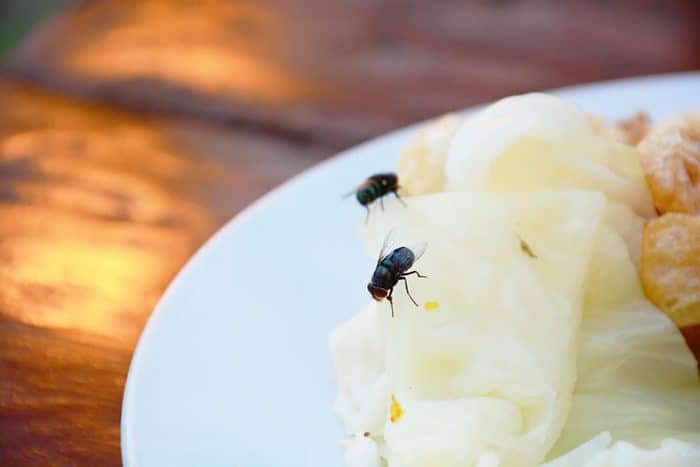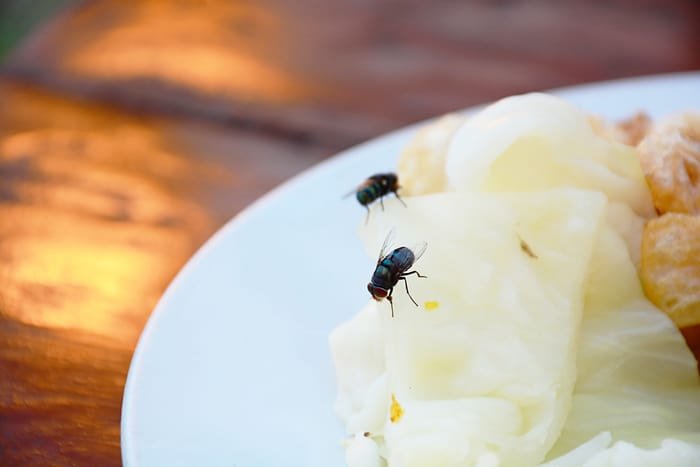 To rid yourself of the flies outside of your home, you must be able to determine where they are coming from outside of your home. Are they coming from something that has died nearby, or are they coming from a garbage can with a tight-fitting lid? Read on to find out how to get rid of flies and keep them gone for good.
Get Rid of Flies
Before you can get rid of flies, you have to understand where they are coming from. Flies do not just appear out of thin air. Flies are attracted to specific things. Once you can get rid of those specific things that are attracting the flies, they should leave you and your home alone.
What Attracts Flies?
The majority of flies are attracted by some type of food source or something rotting and decaying. Flies approach whatever may be causing the smell and lay their eggs on it and then leave you to deal with the aftermath.
After a certain number of days go by, the eggs hatch and maggots come out to feed on whatever food source they were laid on. Once they reach maturity, the baby flies take off in search of another suitable environment and food source. So, what could be near your home that is attracting the flies?
Garbage cans
Decaying animal
Pet food
Plants
Garbage Cans
Your most likely culprit will be a garbage can without a tight-fitting lid, either yours or a neighbor's. When food is discarded into an outside garbage can, what is left will start to decay until it is eventually picked up by the garbage company.
When you have a fly infestation outside of your home, check your garbage can to see if that might be the source. If you find that your garbage can is infested with flies, pour bleach into the can or spray poison to kill the maggots and flies that are inside. Be careful doing this so that you do not get bleach or harmful chemicals on you.
If the source of the flies is your neighbor's garbage can, speak to them to see what they can do to eliminate the problem. Most likely, your neighbor will be more than willing to help as they will probably want to be rid of the flies as much as you are. You can also build an area to seclude your garbage cans to one area, out of view.
Decaying Animal
Again, flies will be seeking out the smell of a food source or something that is rotting. If there is a dead animal near your home, the odds are that it is full of flies and maggots. Look around your house to determine if there are any smells or signs of a dead animal.
If a dead animal is the source of the flies, the best bet would be to remove the issue altogether. Of course, this is not a pleasant experience to do yourself, so contact your local animal control to take care of the problem. Once the source of the flies has been removed, the fly population will begin to die down near your home.
Pet Food
Flies are not just attracted to smelly and vile things, like dead animals. They are also attracted to pet food that may be accessible to them. If you or a neighbor leaves out a bowl of food for a pet, check it to see if there are flies inhabiting it. If there are, remove the food and clean out the bowl.
Additionally, pet food storage in your garage could be another source of the flies. If you store your pet's food outside or in the garage, check the area to see if this could be the source. If it is, make sure that you secure the food more properly to prevent flies or other pests from entering the bag or storage container.
Amazon sells pet food storage containers that seal tight when they are closed. They can be purchased from their website for roughly $25 and up, depending on how large of a container you buy.
Plants
Outside gardens can also be a source of flies around your home. Check the garden to determine if there are any signs of a fly infestation, like around any fruit that may be growing.
If you determine that the source of the flies around your home is your garden, go to your local hardware store to purchase chemicals to kill and prevent flies from eating and living there. Pesticide can also be purchased from Amazon, which is designed to prevent and kill any pests in your garden, for about $22 and up.
Deter Flies
Once you have rid yourself of the fly infestation, there are several different ways that you can work to prevent them from coming back. Some examples of how to deter flies from infesting the outside of your home are:
Remove any wet organic material
Remove pet feces from the yard
Install bug lamps
Wet Organic Material
In addition to the above, flies are also attracted to any wet organic material that may be around your home. Flies seek this out as a fine place to lay their eggs. Make sure that you check your vicinity for any wet organic material to ensure that you minimize any attraction a fly might have to your home.
If you do find that there is a puddle on your property that may eventually cause flies to come by, cover the area in dirt to dry it up. If the wet organic material is something you can remove, like a rotting board, remove it to lessen any opportunity a fly has to come on your property.
Pet Feces
If you have a dog that you take outside on your property to defecate, make sure that those piles are picked up and discarded regularly. Flies are attracted to the smell of feces and will lay eggs on the fecal matter. Plus, it is common courtesy to keep pet waste out of the neighborhood.
Removing the feces is not difficult and can be done as simply as using a shovel to pick it up and discard it. If you do not want to get your shovel dirty with feces, you can opt to purchase a pooper-scooper from Amazon, where they sell for $15 and up.
Install a Bug Lamp
Another sure-fire way to cut down on the fly population around your home is by purchasing a bug lamp, or "bug zapper." Bug zappers are relatively inexpensive and easy to use outside of your home.
If you decide to go with this option, you can hang the bug zapper, or you can just sit it down on the ground. Either way will work because bugs cannot resist the light that comes from the bug zapper. Flies are no exception.
There are several different options to choose from when it comes to bug zappers, and they can be purchased in most hardware stores. They can also be purchased from Amazon for about $25 and up, depending on what brand and size you prefer.
Bugs that will be drawn to the bug lamps are:
Flies
Moths
Flying beetles
Gnats
Even crawling insects like ants
Final Thoughts
No one likes to have flies near their home. If you are someone that likes to spend a lot of time in your backyard entertaining, this is especially true. Thankfully, there are several ways in which to rid your property of pesky creatures. Just decide which one is best for you.
Flies aren't the only annoying the roaming about your backyard. Learn how you can get rid of pesky intruders, such as skunks, and well also get rid of fungas gnats.