Having mushrooms in the yard can be a treasure to some people but an eye-sore and stinky disaster to others. Mushrooms can even be a danger to curious little children. Luckily, getting rid of mushrooms is an easy thing to do.
If you still notice mushrooms growing back after picking them all the time, then we will give you some great information on how to kill them and be rid of them once and for all.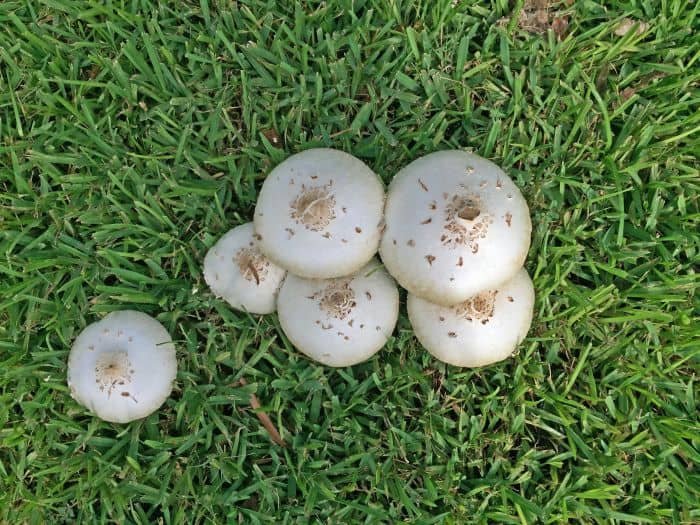 How to Get Rid of Mushrooms
Mushrooms may appear to be smelly, nasty little things that can be extremely deadly, but they actually do so much good for the soil. If they pose no more threat to you than an occasional eyesore, consider letting them be for the health of your lawn, garden, and local ecosystem.
However, there are certainly situations where getting rid of backyard mushrooms is a necessity, whether it be for safety reasons or not.
Thankfully, they can be quite easy to get rid of, considering you are willing to check the lawn often for newly grown mushrooms.
Pick and Remove All Visible Mushrooms
The first step you will want to take in getting rid of mushrooms is removing all of the visible mushrooms from your yard.
If you have children or pets, then this step should be taken, anyways, to avoid any ingestion of an unknown variety of mushroom.
Start by going walking around in your yard with a bag so that you have a secure place to put them. Throwing them in their own pile in your yard can actually cause for more mushroom growth since mushrooms release airborne spores, which are like seeds.
Place them in a plastic bag that can be closed tightly, then throw the bag into the trash or burn them.
Trying to use your lawn mower or a rake to clean up the mushrooms may seem like an easier, better way to do this, but it actually can cause the mushrooms to release spores, which will grow into new mushroom, eventually.
Apply a Solution to the Lawn to Kill Spores and Remaining Mushrooms
Once you have removed all of the mushrooms that you can visibly see, you will want to apply some type of solution to kill any mushrooms you may have missed and prevent the spores from growing into full-sized mushrooms.
There are several solutions you can use on your lawn for a mushroom problem, but the most recommended is a nitrogen-rich fertilizer. Fungicides are not recommended because they only prevent mushrooms from releasing spores.
A nitrogen-rich fertilizer will speed up the decaying process of organic materials—which mushrooms thrive on—which can significantly slow down or completely prevent mushrooms from growing back because the mushrooms will have less to feed on.
It should be noted that this will need to be completed once a year and you should steer clear of water-soluble and slow release fertilizers.
Some people say that you can also choose to spray vinegar on mushrooms to kill them. Vinegar is a natural fungicide because of how acidic it is.
The best type of vinegar to use for a mushroom problem is an industrial strength vinegar concentrate because it has much higher pH levels than regular vinegar. You can find strong vinegar on Amazon.
All you have to do is spray the mushrooms with your diluted vinegar solution and check the areas daily for returning mushrooms or damaged grass.
Clean All Decomposing Organic Materials Out of the Yard
Once you have cleaned the mushrooms and applied your preferred solution to the yard, it is now time to start thinking about cleaning up the yard. This will help to prevent the growth of new mushrooms in the future.
While cleaning up your yard, you will want to look for any decomposing and decaying organic material. These is likely the areas where you see a lot of mushrooms.
Here are the types of things you should start cleaning up in your yard:
Leaves
Animal Feces-
Rotten pieces of wood
Grass clipping left from mowing the lawn
Not only do most of the materials decompose which feeds the mushrooms, but they also block sunlight from getting to the soil which will cause the soil to be moist constantly and mushrooms can begin to grow, easily.
Removing these materials will help to dry out the soil and leave a clean area where mushrooms find it hard to thrive.
Trim Tree Limbs for Maximum Sunlight
The next thing you will want to do is trim any tree limbs that you feel may need it. Allowing for more sun to come into your yard will help to keep the soil dry and not constantly moist.
You want to trim as many limbs as you can for maximum sunlight. If you feel it is absolutely necessary, hire a professional to do this for you or hire someone to cut some trees down for you.
Once you have your limbs or trees cut down or back, all of the trimmings and leftover materials will need to be cleaned off of the yard.
These materials will begin to break down and prevent the sunlight from getting to certain areas, so not doing this will have caused you a lot of work for nothing! The mushrooms will start growing again pretty quickly if left untouched.
Try to Keep the Yard as Dry as Possible
The last thing you need to do is try to keep your yard as dry as possible to prevent mushrooms from growing.
This can be done by cleaning up materials from the yard, trimming a few trees, and aerating your yard with an aerator.
An aerator will poke tiny holes into the ground which will allow air to circulate throughout the soil rather than leaving the soil tightly closed up and hard to dry out.
Another thing you can do to keep your yard as dry as possible is to install a drainage system. Some people recommend a French drain.
This would be the option for someone with a severe mushroom problem that has water just piling up in their yard for days at a time.
One more tip to keep in mind to keep your yard dry without being unhealthy and thirsty is to water your lawn in the mornings. This will allow the Sun to dry up excess water throughout the day. If you water at night, then the excess water is just sitting there for hours making the soil very wet.
You should also try to water shaded areas heavily and only about once every week or so, rather than watering them a little every day.
By following all of these instructions, you will be able to get rid of those mushrooms that you would rather not be seeing. It is important not to go too overboard, though, because mushrooms are very helpful in keeping soil healthy.
Conclusion
In conclusion, mushrooms can cause our yards to look dirty, smell bad, and cause fear anytime small children are around.
If you want to get rid of those mushrooms, then all you have to do is this:
Remove all mushrooms at the base
Apply a solution to kill them, whether natural or store bought. Remember that fungicide only prevents the mushroom from releasing spores.
Do some work to your yard to allow for maximum sunlight and perfectly moist soil.
Checking your yard for new mushrooms daily will help to prevent the growth of more mushrooms and keep your grass blemish-free! There are plenty of other things you want to prevent from growing. Be sure to checkout our articles on getting rid of pokeweed and getting rid of dandelions.