Skunks can be a bit of a nuisance, not only for their smell but also because they will eat half your garden in a night.
They get into garbage cans too, which can be a pain to clean up. Luckily, there are several methods to keep skunks away from your garden or yard without harming them. 
Because skunks can be dangerous and could be rabid, it is best to avoid contact with them as much as you can.
The best ways to remove skunks are to modify your landscaping, to use scare tactics, or to just hire professionals to take care of them for you.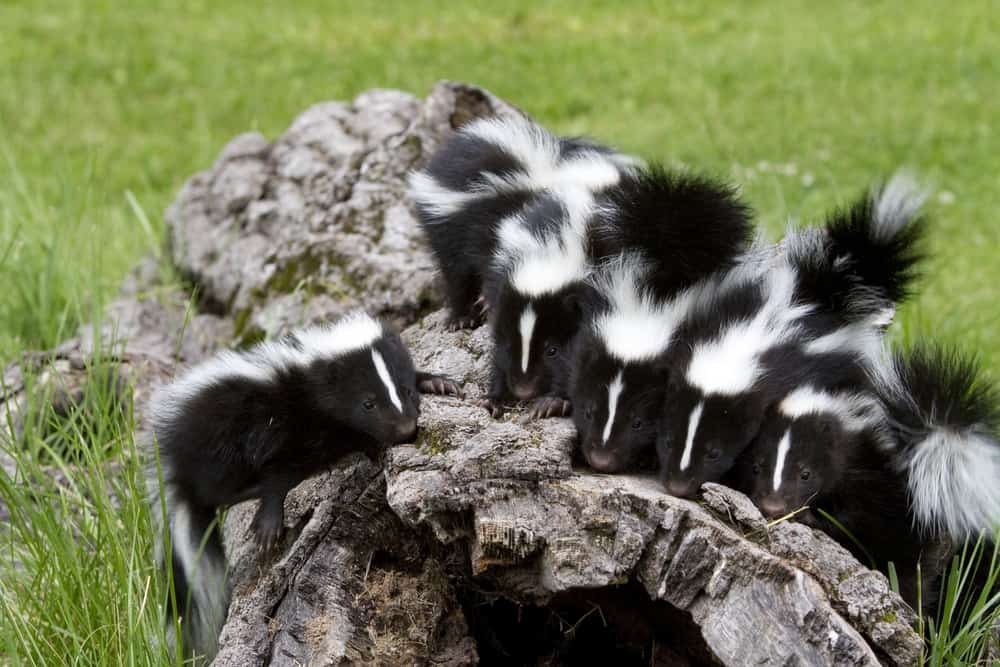 Whether a skunk has found its way into your basement, has burrowed under your home, or frequents your garden for late-night snacks, this article will help you to identify the best removal methods for your situation.
Getting Rid of Skunks
One method of keeping skunks off of your property is to use skunk deterrents.
You can either use store-bought products, (such as Safer Animal Repellent or Thornell Skunk-Off) or you can create DIY skunk repellents at home. 
To create a DIY skunk repellent, you can boil a chopped onion, jalapeno, and (a lot of) cayenne pepper in some water and load the solution into a spray bottle.
Once you have either created or bought a solution, spray it in areas of your yard that normally attract skunks. You can spray it along garden fences, woodpiles, trash cans, etc.
Because skunks are nocturnal animals, they do most of their scouting and raiding at night. To deter them from your property at night, you may want to install a motion-detecting flood light into your garden.
The sudden flood of bright light will scare the skunks away and deter them from illuminated areas in your yard.
Other effective skunk repellents are ammonia and predator urine. Predator urine can be purchased, or you can just have your dog pee in different areas of your yard.
The pungent smell of ammonia will also deter skunks. You can rub ammonia or predator urine on fences, garbage cans, or any other places that can withstand the chemicals.
Modifying Your Landscaping to Get Rid of Skunks
Skunks can be attracted to a number of different things in your yard. If they can find food and a good place to hide, they are likely to return again and again or even make a home on your property.
Some of the most common things that attract skunks are: 
Garden produce
Birdseed
Fallen berries/other fruits from trees
There are changes you can make to your yard and property that will make it less appealing for skunks. First, you can put up a short fence around your garden.
Because skunks do burrow underground, you will need to make sure that this fence goes deep enough into the ground so that they cannot burrow beneath it. 
If you have a produce garden, make sure that you harvest all fruits and vegetables right when they become ripe. If you let your produce sit out too long, this will attract unwanted creatures looking for a feast.
If you have bird feeders, make sure to clean up spilled birdseed regularly. Skunks love birdseed and will return if it is accessible.
You will also want to clear your yard of any fallen berries or fruits. Fruit-bearing trees will drop their fruit into your yard and it will begin to rot, thus attracting the attention of skunks.
Be sure to rake and mow your lawn regularly to prevent this.
Secure Your Garbage Cans and Compost Piles
Skunks are attracted to the smell of rotting food and will be interested in your garbage bins and compost piles. If you are having issues with skunks getting into your garbage, then you may want to consider moving your outdoor garbage cans into your garage.
If you don't have a garage, then consider securing the lids of your cans.
Compost piles are another issue. If you want to maintain a compost pile without attracting skunks, you may want to consider either purchasing a compost shelter or making one yourself out of plastic or wood. Your compost will still be able to decompose as it normally would, but skunks will not be able to access and raid it.
On the note of rotting food, it is also important to not leave cat or dog food out for strays if you are having problems with skunks.
Skunks will eat just about anything, so they will be attracted to any organic/edible matter that you leave out, no matter if it is meant for other animals. 
Removing Skunks From Your Basement/Under Your House
Sometimes skunks will take refuge in the warmth of your basement, or will burrow their way under your home.
While the best protocol is to call animal control (to avoid as much contact as possible), there are a few ways to coax these critters out of unwanted areas by yourself.
Although not all are, some skunks can be rabid and vicious, and it is hard to tell how they will react when they see you.
Because of this, use trapping as a last resort. But sometimes, trapping is the only way to remove a skunk family that has taken refuge underneath your house.
If a skunk has taken up residence underneath your house, you will want to take a look at its nest and identify the entry hole.
Then, purchase a trap that will allow them to enter, but not exit. Set it up at the entrance of the hole and put some food in the trap to lure them out.
These traps will not harm the skunks, but capture them for safe removal.
If a skunk has wandered into your garage, just leave the garage door open a bit so that it can wander back out.
You will want to do this at night, as skunks are nocturnal and active at dark. Check up on the situation a few times during the night to see if it has exited.
When it has, shut the door and be sure to keep all of the entrances secure. 
Make Potential Shelters Inaccessible/Nonexistent
One of the major things that will attract a skunk to your property is good shelter options. Some skunks' favorite shelters in your yard are:
Woodpiles
Brush
Tall weeds and grass
Underneath houses and sheds
Woodpiles and brush piles make excellent shelters for skunks, so you want to move these kinds of makeshift shelters as far as you can from your home.
You may want to even keep your wood piles/timber in an enclosed area that will deter bugs and worms and make these piles less appealing for skunks.
Another tip is to keep your lawn well maintained so that wandering skunks have as few hiding places as possible.
Clear out weeds and brush regularly and keep your lawn mowed to help combat this issue. If you do not have much space or cannot get rid of these potential shelters, then treat these areas with a skunk repellent.
It is also important to make sure that skunks cannot burrow under your home. You will want to make sure that the perimeter of your house is sealed, and there are no breaches in your siding.
If you do not have concrete house basing, then you may want to consider installing a wire "dig defender" in the ground around your house.