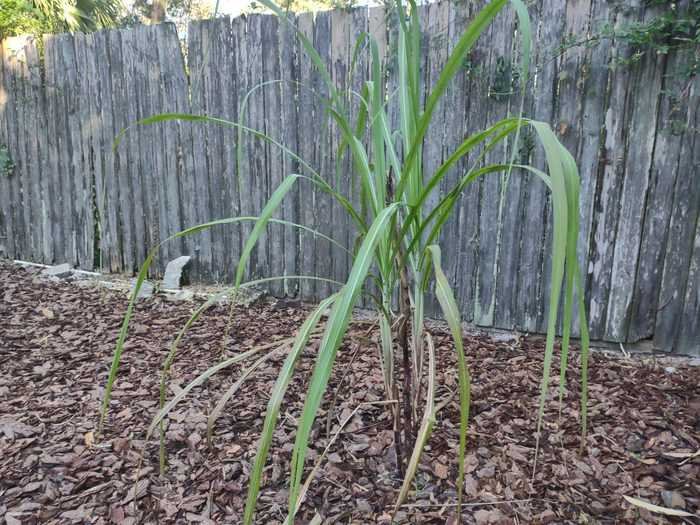 The cultivation of sugarcane has given us an abundance of sweetness. Wouldn't it be fantastic to grow your own sugarcane in your backyard and enjoy the beauty and benefits of its unprocessed and natural sweetness?
In this guide, we will get you started with how to grow sugarcane. Then, we will discuss if you are able to grow sugar cane in your area and the difficulty involved with growing sugar cane.
When we first moved into our current house, a friend gave us a stalk of sugarcane that she purchased at our local produce stand. At first, we thought we'd just cut it up to put in our mojitos, but then we discovered that we could grow our own from that one stalk.
Since that first year, we have sugarcane in our backyard and love it. If you live in a warm climate, read on to learn how to grow sugarcane.
How to Grow Sugarcane
Growing sugar cane is easy. You will need
Sugar cane stalk
Soil
Sunlight
Water
Provided you give it the care and accommodations needed, you should have harvestable sugar cane within fourteen months of planting. Let's take a deeper look into propagating sugar cane.
How To Plant Sugarcane Outdoors
To start sugarcane in the ground:
Choose a location that has full sun most of the time. In addition, the soil should be easy to work.
Dig a small trench that is about four to eight inches deep
Place a sugarcane cutting horizontally in the trench and bury it
Moisten the soil well
Water daily to stay moist
The sugarcane will shoot up sprouts while the roots take hold in the earth. Within a year, you will be able to harvest your sugarcane.
Sugar cane requires a lot of sunlight. If growing sugarcane outdoors, it grows best in tropical environments that stay well above freezing year-round. It can be grown outdoors in other zones. However, it will not grow year-round. If you want the sugarcane to grow all year, plant it in pots that can be brought inside for the winter months.
If you live in zones 9 to 10, which is where we live, you can easily plant your sugarcane outdoors. However, if you still want to grow your sugarcane outside of these zones, it is best to start them with indoor pots. Then, transplant the sugarcane into the ground when the threat of frost has passed.
Sugarcane can make a great windbreak for gardens. It is also a wonderful deterrent to keep people out of certain areas. The sharp-cutting leaves make it a nuisance to walk through. You can strategically plant your sugarcane where it will best benefit you and your needs.
Can You Grow Sugarcane as a Houseplant?
Sugarcane does very well as a houseplant. To plant in a pot:
Plant the cane in pots that are at least twelve inches deep and long enough to accommodate the sugarcane
Use a good, well-drained potting soil
Keep your sugarcane pruned to make it more attractive.
The container you choose will need drainage holes because your sugarcane doesn't like to sit in water.
If you want or need to grow your sugarcane indoors, it will make a very nice and easy to care for houseplant.
When growing sugarcane indoors, you will also need to keep the indoor temperature between 70 to 90 degrees Fahrenheit. Keep your plants in a sunny location because sugarcane does not do well in dark or shady areas.
Sometimes you may not have a sunny location, or the light cycle is not adequate for growing sugarcane. This can be especially true in the winter months. If this is the case, buy an LED grow light. This type of light will replace the sunlight that your plants need. It can also be attached to a timer that will cycle on and off on its own.
How Do You Prepare Sugarcane for Planting?
When collecting sugarcane for propagation look for a stalk that is about three feet or longer in length. The stalk should contain numerous nodules spaced about 6 inches apart. Leaves and buds will be sprouting from them. Cut the tip of the stalk off, then cut the stalk as close to the ground without cutting the roots.
If like us, you received or bought a stalk of sugarcane but unsure if it's still alive, you can cut it in sections and stick it in a bucket of water. After a couple of weeks, if roots are growing from the nodes, then it's ready to be planted. This is how we started our sugarcane since we had the stalk a few weeks before doing anything with it and we wanted to know if it would grow before just burying it and hoping for the best.
When starting your sugarcane, take care not to get cut by the sharp leaves. The leaves grow from nodules on the stalks. To propagate the sugarcane:
Find the nodules on the stalk that have leaves and buds.
Carefully remove the leaves leaving buds on each nodule.
Cut the cane into 18-inch sections that include two or three nodules with buds.
Lay the sugarcane horizontally in the soil and slightly bury it.
Water your sugarcane every day. You want the soil to remain moist but not flooded.
It is important to leave the buds. This is what your sugarcane plant will grow from. The bud will become a new sugarcane plant, and roots will shoot into the soil from the nodule. The extra sections of cane will provide nourishment for the growing shoot.
Once the sugarcane is cut into 18-inch sections, it will be ready to plant. Now we will investigate the proper type of soil and how to plant the sugarcane stalks.
Where Do You Find Sugarcane to Propagate?
Sugarcane can be found in tropical climates. It can also be purchased from nearby farmers and online. Local grocery stores may also carry sugarcane and a person may be able to grow their own from these stalk pieces.
Even though sugarcane thrives in tropical areas, it is grown in other areas as well. Finding sugarcane stalks that you can grow is not difficult if you know where to look. Some places you can find sugar cane are:
Growing wild in drainage ditches (in tropical climates)
Local farmers' markets often sell sugarcane.
Grocery stores will often carry specialty items such as sugar cane
It is best to find a local resource because local sugarcane is already acclimatized to your growing area. Sometimes this is not possible, and you will need to buy imported, precut sections of sugar cane from your grocery story, or buy it online.
What Type of Soil is Best for Growing Sugarcane?
Sugarcane thrives on well-drained soil types. This means the soil should contain large particles, such as:
These types of soils allow water to drain through them. It also likes soil with a pH balance of six to six and a half.
You can grow sugarcane in any soil, but it will grow best in soils that breathe. Aside from the above list, another good soil is volcanic cinder. It is filled with nutrients, and it will not hold the water tightly around the plant roots to cause root rot. Adding fertilizer will help your sugarcane plants get the nutrients they need.
What Are the Nutrients Required for Sugarcane?
For the best health and vitality of the sugarcane plant, the soil should contain certain nutrients. Sugarcane requires:
Nitrogen
Magnesium
Phosphorus
Sulfur
Silicone
Finding potting soil that contains these ingredients or adding them with plant food will help your sugarcane have a healthy start.
Sugar cane is a type of grass. The same fertilizers you put on your lawn can be used on your sugarcane plants. You want to be sure to fertilize at the correct times to prevent burning.
Give your sugarcane a light feeding when it has just started to grow. In a month or two you should give your sugarcane a plant food high in nitrogen, but also containing magnesium and phosphorus.
Once you do this, be sure to fertilize every month. Every time you fertilize, you need to give your plants plenty of water so that the roots can absorb the added nutrients. If you prefer a natural fertilizer, it is perfectly acceptable to use manure. Chicken manure is one of the best types of fertilizer for sugarcane.
Conclusion
Sugar cane is an easy plant to grow indoors or outdoors. It can be grown from seed, but it is most often grown from a section of cane. When growing sugarcane, one needs to monitor
Sunlight
Temperature
Water
Fertilizer
Monitoring these will help the plant to reach its optimum health at maturity. Growing sugarcane is fun, and it is a healthy way to get that sweet-tooth fix. We'll cover how to process your cut stalks into sugarcane juice in a future article.