Nothing beats relaxing on a hammock during those hot summer days. If you have a good pair of trees, you can kick back, relax, and enjoy the summer breeze. But what if you don't have trees in your backyard and you would love to enjoy this simple pleasure? Do you just lay something on the ground and pretend it's the same?
You don't have to. There are clever ways to hang a hammock in your backyard without trees. You just need a bit of creativity. To help you, we've rounded up simple ways to do this. Grab your hammock, and let's jump right in.
Invest in a Hammock Stand
The fastest way to hang a hammock without trees in your backyard is to use a hammock stand. There are several options to choose from. You can opt for a permanent stand or a temporary stand that you'll need to set up every time you need to hang the hammock.
This is the method we used for our backyard hammocks.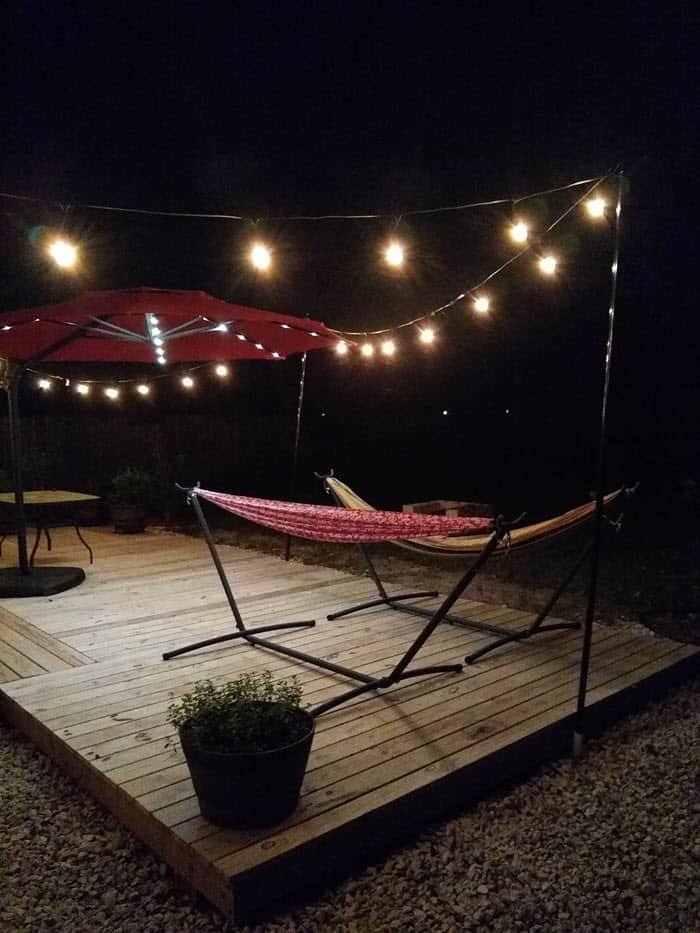 Consider the following when you're shopping for a hammock stand.
Design: Ensure the style of the stand matches your hammock. You don't want the hammock hanging too high or too low.
Weight: If you prefer a portable stand, it's best to invest in a lightweight option. This way, you not only get to use it in your home but also in other areas like camping sites.
Safety: It's also crucial to ensure the hammock stand can support your weight. It's best to test it and read the specifications before pulling out your wallet.
Durability: Invest in hammock stands made of durable materials like metal. This way, you don't have to worry about damage in the near future.
Put Up a Hammock Structure
If you'd like a set up that allows you to hang out with other people in hammocks, a hammock structure is the way to go. These structures are designed to accommodate several hammocks without too much spacing out. It's the perfect set up for families or friends who live together.
Posts and Poles Will Suffice
Posts and poles are also excellent tree substitutes. You have several options here. These include:
Porch posts
Fence posts
Telephone posts
DIY hammock posts
If you decide to use poles or posts, it's crucial to ensure they're sturdy enough to support your weight. Also, ensure you're using strong materials to secure the hammock. The last thing you need is to fall off your hammock.
Take Advantage of Nearby Buildings
If you don't have any sturdy poles or posts, you should consider using the nearby buildings. Buildings are an excellent option because they provide sturdy support for your hammock. However, not any type of building will work for this. You need sturdy outdoor structures like pavilions, rain shelters, or a side of a building you can use to support your hammock.
Your Car Can Offer Excellent Hammock Support
Cars and trucks offer additional support when you only need an extra anchor. For instance, if you've located a side of a building that can hold one end of your hammock and you don't have another post to secure it to, you can use your car.
A truck is the best option because it offers an effortless way of securing the hammock. If you're using your car, you need to be careful where you add the attachments because a slight mistake can cause serious damage. Follow these steps to hang your hammock using your car as a support point.
Park your car in the desired spot, paying attention to where you'd like your hammock to hang. Also, consider the distance between the vehicle and the other anchor.
Pick the right spot to tie the hammock on your car. If you have a truck, it's best to tie the hammock on the bed of the pickup. Avoid rearview mirrors and other fragile parts that may come apart when you hop on the hammock.
Secure the other end of the hammock to your second anchor.
Test the sturdiness of the setup. Placing your hands at the center of the hammock, lean in to add weight and observe to see if any parts of the hammock appear loose.
If everything seems secure, get onto the hammock and enjoy!
Additional Tips on How to Hang a Hammock Without Trees
Relying on other structures apart from trees to hang your hammock gives you a lot of freedom in terms of location and safety. However, to get the most out of your setup, there are several things you need to do. These include:
Maintain the Right Distance
Before you decide which structures to use to support your hammock, it's crucial to ensure you can achieve the desired distance for an ideal hammock stretch. The maximum distance recommended is 18 feet. However, you can use a distance from 10 feet depending on which structures you're using and how much space you have.
With this information, it's easier to choose which structures you can use to hang your hammock. What's more, you can tell if you'll need additional straps and accessories if the space is too wide or open.
Pick the Right Spot
The point of setting up a hammock is to relax. Therefore, as you pick your location, keep this in mind. Think about all the factors that may interfere with your comfort and find solutions. Some common problems you may run into include:
Rocky terrain: You need to ensure the surface below the hammock is smooth. This way, if you happen to fall, you'll have a smooth landing, and you're less likely to injure yourself.
Too much sunlight or wind: To ensure maximum comfort and relaxation, pick a spot that's not directly into the sun or completely in the shade. Find a spot that offers a good balance. Get a good hand held misting fan to keep you cool while relaxing in your hammock.
Maintain the Required Height
When you're setting up your hammock, it's also crucial to ensure you have the right height. Because hammocks have a lot of stretch, you don't want it to be too low that when you get in, your body is touching the ground. You should also not have it too high because such a setup may lead to serious injury if you fall.
Use Hammock Straps
You don't want to use ropes to hang your hammock because there's no guarantee that your knots will be strong enough to support your weight. Consider investing in hammock straps instead. These are strong and feature hooks that are easy to attach to your structures. However, quality varies from one brand to the next. Therefore, compare different options before choosing one.
Besides, most straps have loops, which make it easy to adjust the height and stretch of the hammock. This is an excellent feature if you have only a few structures you can use to secure the hammock.
Wrapping Up
As you can see, you don't need trees to set up a hammock. You can use structures already available in your backyard to secure the hammock and enjoy some relaxation time. If you don't have structures like posts and pavilions in your backyard, you can either put up hammock posts in your backyard or invest in store-bought structures.
Hammock stands and structures provide a hassle-free setup. However, they differ in terms of durability. Therefore, compare several options before settling for one. And remember, whichever method you chose, it's crucial to follow the recommended height and distance measurements. Don't forget to pick the right location and prep the area to ensure it offers a safe landing if you fall.