Are you wondering how to install drip irrigation for your garden bed and potted plants? In this article, I'll show you how we installed drip irrigation for our citrus trees, potted plants, and garden beds.
Drip irrigation is such a simple installation and easy to modify to add or remove any plants afterwards. We have several potted plants on our deck that I have been hand watering for about a year when I decided to purchase a drip irrigation. We have several vacations lined up and I didn't want to ask friends to come over just to water our plants.
Drip Irrigation vs Sprinkler Irrigation systems
Many of you may wonder why you would want to install a drip irrigation rather than a sprinkler irrigation system. For us, we would rather have more decks/patios, garden beds, sitting areas and pathways than regular grass in our backyard. I'd rather having something blooming or smell nice than grass.
The drip irrigation works better for garden beds and potted plants than a sprinkler system and it's far cheaper to install and maintain. We also like the fact that the drip irrigation system saves water vs the sprinkler system by delivering water directly to the plant roots rather than splashing the leaves and using more water.
If you are set on having the nicest lawn in the neighborhood, then a sprinkler irrigation system may be best for you. A sprinkler irrigation system is integrated into your outdoor plumbing and has buried pipes throughout your lawn and garden beds that pop-up sprinkler heads connect to.
The pop up sprinkler system is the best for watering lawns since they can retract to the same height as the dirt. The cost to install a regular sprinkler system is much higher due to the cost to install the underground pipes.
The ongoing maintenance will also be higher than a drip irrigation system since the sprinkler heads may need adjusting from time to time and underground pipes can become clogged.
Best Drip Irrigation System to Install
After doing a quick search to find out which brands people recommended, Rainbird kept coming up as a reliable brand.
They are a big name in regular irrigation products as well, so it makes sense that they would be involved with drip irrigation as well. Another concern was to make sure whichever brand I chose was easy to find locally in case I needed to change something the same day.
Our local Home Depot carries all the Rain Bird drip irrigation supplies which was a win win for me. Lowe's doesn't carry the brand, but they do have the Mister Landscaper brand in store.
Rain bird has several starter kits that have many different fittings if you're starting a brand new system. I chose the Rain Bird Landscape and Garden Drip Watering Kit as well as the Patio Plant kit since they both had most everything I needed to start my system.
I also added another 500 foot of 1/2 inch tubing and 100 foot of 1/4 inch tubing since my garden beds are spread out a longer distance. Note, there are two different type of drip irrigation tubing. Regular tubing without any holes and Emitter tubing that already has holes every 6 to 12 inches throughout its length. Be sure to get the tubing without holes when you first install your system.
The last thing I added to my starter set was a Rain Bird Electronic Hose Timer to automate everything so I didn't have to physically turn the system on or off when I was not home.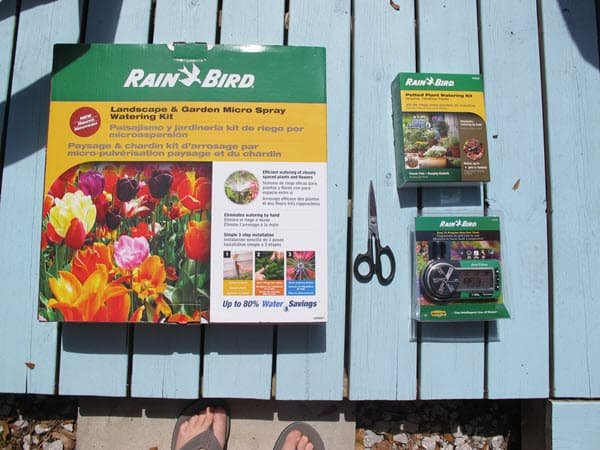 Installing drip system
Here are the items I used for the drip irrigation system install.
To begin the install I recommend unrolling the ½ tubing and lay it in the sun for about 10 minutes. This will allow it to get softer and more pliable, which will be easier to place it where you need.
Once the tubing has gotten softer, start placing it near the faucet you want to use and roll out the remainder to the area you want to cover. 1/2 Galvanized stakes are key to keeping the tube on the ground and not trying to curl back up in a circle.
Within the pack is a pressure regulator and connector to the ½ tubing. If you need tubing to go in two different directions, then you will need a split tee connector.
Connect the hose timer directly to the faucet, followed by the pressure regulator and then the ½ tube connector. Finally slip the ½ tubing in to the connector and then twist to secure it.
Now you can start staking the ½ tubing to keep it in place in your flower beds. If you need a longer length of ½ tubing, you can buy 50ft, 100ft or 500ft and connect them. Within the kit are several ½ tubing connectors such as a two way, three way or four way.
If you need to cut the tubing a ratcheting pvc cutter seems to do way better than regular scissors. One note to remember is to keep each faucet zone to less than 200 linear feet of ½ tubing. I have a brass four way splitter on my faucet which allows me to have two different lines for my drip irrigation with two automated timers.
Since I split my lines from my faucet, I was able to have more than 200 linear feet for my garden bed and potted plants around my deck. Any longer than 200 feet on one zone and you start to lose too much pressure. This also keeps one line available if I need to use for a regular hose.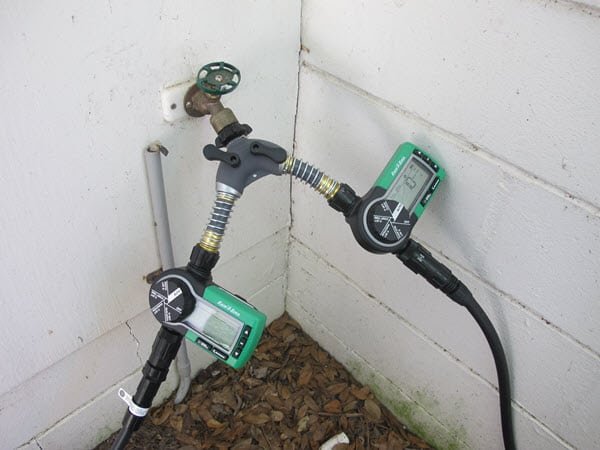 Once you have the length of ½ tubing you need, you can cap it off with the ½ end closure. Now you're ready to start adding your ¼ tubing to your flowers, trees or shrubs.
Within the kit, their is a tool to puncture the ½ tubing to add the different emitters. There are many different emitters that put out different amounts of water. Their handy installation sheet shows how much water per week different types of plants need.
This is the hardest part of the installation, figuring out which emitter to use for each flower. The kit includes 25 feet of ¼ tubing. I ended up getting these emitters for the trees and shrubs since they didn't seem to be getting enough water during the first two weeks.
They do a much better job of putting out more water for the citrus trees.
I actually needed more, so I bought another 50 ft of ¼ tubing. Once you have placed the ¼ tubing and emitters into your plants, now you can check that everything is working correctly.
There is a water now button on the automated timer that will go for 10 minutes allowing you to inspect each emitter after installation. Once you've made sure everything is working correctly, you can now cover up the ½ tubing with mulch.
In my case, I had some tubing across a gravel path that I wanted to hide. I simply moved a couple of inches of gravel away, staked the ½ tubing then moved the gravel over the tubing to hide it. Unless you look closely, you can't see the tubing anymore.
The great thing about the drip irrigation system is the low cost for the components and that you can do it yourself. The entire install including going back to the store to get more tubing and emitters was about two hours.
How Much Does it Cost to Install an Irrigation System
The total cost for all components to cover over 250 feet of irrigation for my backyard and deck area with two separate timers was less than $200. Including going to Home Depot, it took me less than two hours to get everything installed for my 250 feet area.
My next project is setting up patio misters now that I have a new patio cover.
I now have peace of mind that my plants are getting watered whether I'm there or not and it was another successful DIY project off my to do list! Good luck installing your new drip irrigation system!