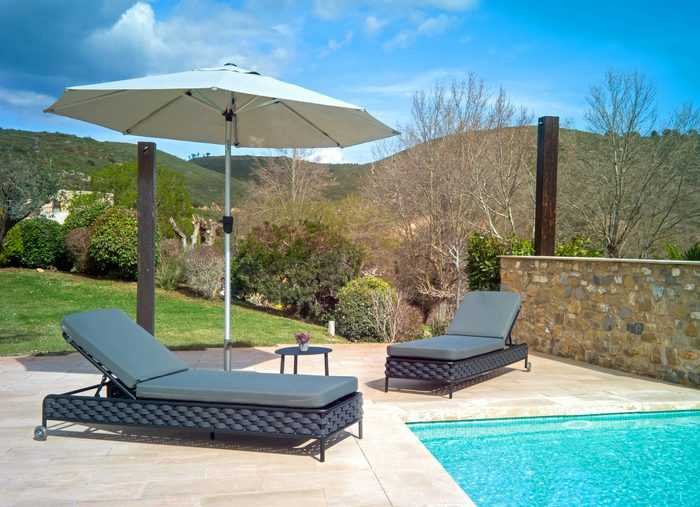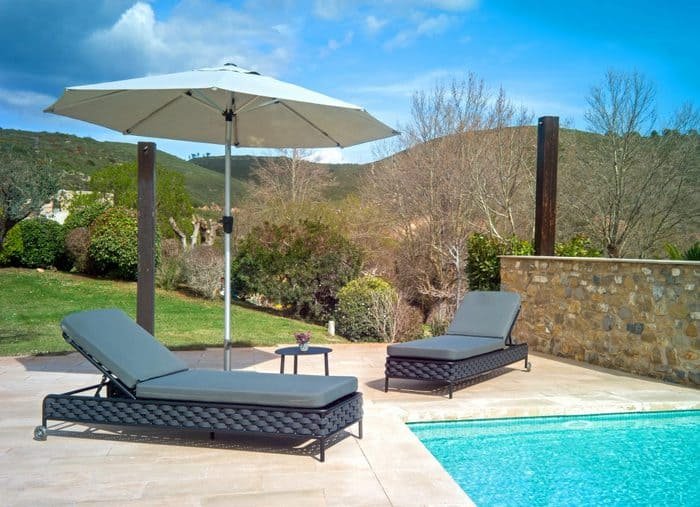 No matter how hard you try, it can sometimes seem impossible to keep your patio umbrella upright. Do you feel like you are always picking the umbrella off the ground and cannot enjoy your time outdoors? Are you worrying about your umbrella tipping over and hurting someone?
Well, there are a few ways that you can reduce the risk of your umbrella falling over. Here are some simple tips:
If you think that keeping your patio umbrella upright seems impossible, it may be because you are not utilizing the proper tools. Read on to discover how to keep your patio umbrella upright in working order and give you peace of mind.
Keep Your Umbrella Attached to a Table
When choosing a patio umbrella, you need to make sure the umbrella is attached to a table. Not only is the table suitable for outdoor dining and entertaining, but it is also security to keep your umbrella in place. Here are a few of the ways a table can help keep your umbrella in place:
Increased weight adds to the stability
Table hole stops umbrella from tipping over
Umbrella attaches to a heavy base
A table also makes it harder for the wind to knock over your umbrella, which can suddenly put your loved ones in danger. Having a table keeps everything in place and allows you to spend quality family time away from the sun.
Check for Air Vents
Before buying an umbrella, make sure there are holes in the top that can circulate air. If you live in a particularly windy area, look for the most amount of vents possible. Most umbrellas have at least one vent, but the more places for air to escape, the better! These are especially important to keep your umbrella upright.
In stormy/windy weather, having air vents can keep the air circulating out from underneath the umbrella. This can be especially helpful if a gust of air tries to lift your umbrella because it safely allows air to filter out without getting stuck.
These air vents can also help during this pandemic climate to keep yourself outside and socially distanced from other people to help keep you free from sickness. That is because the vents allow for improved air circulation.
Frame Materials
When first buying a patio umbrella and table, make sure they are made of robust and sturdy material. If you do not check, the patio umbrella might be more susceptible to moving and leaning.
There are many different kinds of materials, but here are the main ones you will encounter:
| | |
| --- | --- |
| Material | Durability |
| Plastic | Can incur wind damage; the cheapest option |
| Wood | Quickly snapped in half by the wind; also a cheaper option |
| Fiberglass | It holds up better than plastic or wood but also can be damaged by being knocked over |
| Aluminum | It is easily moved but can hold up decently in the wind |
| Steel | Best option! Provides the most strength and weight to hold up to wind |
To ensure your patio umbrella holds up in the wind, make sure you buy an aluminum or steel based frame umbrella. These materials add the security your umbrella needs and will hold up for many years!
Also, the joints of an umbrella are just as crucial to the stability. Ensure the joints are of similar heavy material, such as aluminum or steel, to ensure the umbrella stays together and does not break. Plastic or wood joints can become cracked and unusable, hindering the security and safety of your umbrella.
To keep your umbrella in perfect condition, look for weatherproofing and rust-resistant coatings on the frame. The elements will cause less damage to your umbrella, and the longevity of your product will increase!
Have a Strong Base
If you choose a steel or aluminum umbrella, there is a likely chance that it will come with a strong base. Sometimes though, umbrellas come without the base. So make sure you read about the accessories that come with the umbrella. If you do not have a base make sure you are researching the best base for you.
Sometimes a base is not enough to ensure your umbrella can stay up in windy/stormy condition; it may be best to add weight to the base.
The amount of weight added to a base depends on the size of your umbrella. For example, the larger the umbrella, the more weight needed to be added to the base. Adding weight ensures that the umbrella and the base's weight are equally distributed, ensuring that the umbrella will not fall over.
You can use a couple of different kinds of weights, such as supplemental weight bags or sandbags. It all depends on how much money you want to spend.
Companies make supplemental weight bags specifically for the bases of umbrellas. These bags can add up to 100 pounds of extra weight but can be costly.
The more cost-friendly option is to make it yourself sandbags. These bags can be customizable to your umbrella and can add the extra weight you need!
On your base, you also want to make sure there is a tightening knob. The tightening knob will hold the umbrella in place within the base. This creates extra security for the umbrella and makes sure the wind will not pick it up and knock it over.
Keep Umbrella Closed When Not Using
During the summer and early fall, you will probably use your umbrella quite often. Ignore the impulse to keep the umbrella up all the time to save you time in the future. If you give in to this impulse, you could be ruining your umbrella.
Not only will the rain rust the inside of your umbrella if it's left open, but keeping your umbrella latched tight can keep it from flying away in the wind or being damaged. You need to make sure your umbrella has a strap to keep it tight when you do not need it to keep enjoying the shade the umbrella provides!
Know Your Environment
If you live in an area that is very windy or gets many storms, you may want to pay close attention to where you place your umbrella. Depending on your location, keeping an umbrella in an open space can be difficult.
If you see many storms look for a place where your umbrella can be sheltered from wind gusts. Sheltering can be as simple as moving your table closer to the fence or house.
Also, keep track of the weather! If you notice a storm or wind gust is rolling into the area, make sure your umbrella is down and secure.
Storms might not be your problem if you live in temperate weather, but the sun may be a problem. If you live in a sunny climate, the umbrella will seem a haven for people, but it may become faded and bleached from the sun if left in the brightest spot. The umbrella will lose its comfortability and dependability.
Conclusion:
If you enjoy spending time outdoors under your patio umbrella, you want to make sure you are doing everything you can to protect it from falling over and getting damaged. By following these simple guidelines when choosing the perfect umbrella for you, you will be out enjoying the weather in no time, without dealing with pesky umbrella problems! Don't forget to check are article on how you can replace canopy on your umbrella.