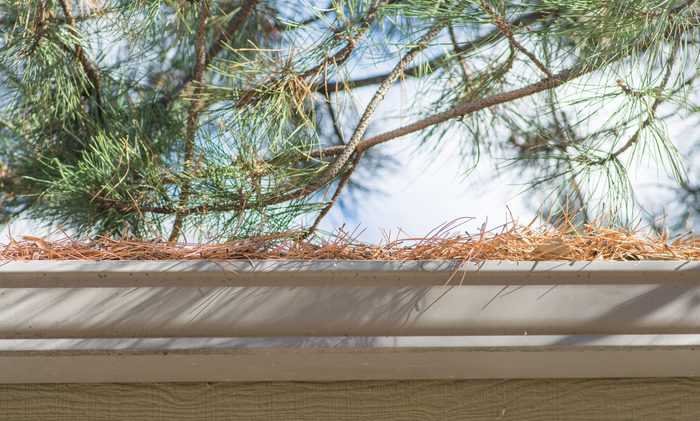 Keeping pine needles out of your gutters is an annual, on-going challenge. Gutter maintenance feels daunting and perhaps a little dangerous.
But there are some options that prevent debris from accumulating, even those pesky pine needles. 
There is only one option for keeping pine needles out of gutters, and that is to use a super fine mesh gutter cover.  Also called a micro-mesh system.
This extremely fine stainless-steel mesh allows water through but keeps debris out- even those annoying, thin pine needles. The needles will wash off the cover when it rains or during routine cleaning.
We'll explore fine mesh gutter covers and how they keep pine needles out of gutters. As well as look at the design features you need to consider and easy cleaning options that don't need a ladder!
Keeping Pine Needles out of Gutters using a Fine Mesh Cover
If you want to install one system that you know will keep your gutters free of pine needles, then it needs to be a fine mesh based gutter cover. These are also called micro-mesh systems.
The fine mesh cover allows water through, but solids and sediment sit on top of the cover until they get washed off. Other gutter covers will still allow the super-thin pine needles through and into your gutters and drains.
Structure of a Micro Mesh Cover
Most micro mesh systems have three parts
| | |
| --- | --- |
| Frame | The aluminum frame adds strength and durability |
| Brackets | Secures the system |
| Screen | Stainless steel mesh with tiny micro spaces that only allows water through |
The combination of aluminum and stainless steel makes the covers very durable.
What to look for in a Micro Mesh Gutter Cover
If you can, purchase a system based on an aluminum frame with stainless steel mesh, and avoid plastic mesh. The advantages of these metal micro-mesh systems include:
More resistive to UV damage than plastic covers
Show less rust and corrosion than other metals
Are less likely to sag if debris accumulates on the surface of the cover
Plastic mesh tends to warp in extreme temperatures
Choosing the Frame for your Micro Mesh Gutter Cover
If possible, buy an extruded aluminum system. This is more durable than sheet aluminum. Also, the extruded aluminum can be anodized (sealed) so that it does not corrode if used on copper or steel guttering.
Choosing the Mesh for your Micro Mesh Gutter Cover
For the stainless-steel mesh, the best grade is 316L, which is surgical grade and very corrosion resistant. And try to purchase a mesh that is rated 30 (or more) openings per square inch. Mesh with fewer openings means there's actually a larger hole size, and so there's the risk of small debris passing through the mesh.
Check How the Parts Are Connected
Look for a manufacturer that has glued the mesh to the frame using a rubberized adhesive. This allows some flex in the system and enables the covers to expand and contract with changing temperatures.
How Different Installation Methods Affect the Pitch of the Covers
Some manufacturers will install the gutter covers flush with the gutters so that the covers end up horizontal. This doesn't help the natural 'fall off' of debris.
Other manufacturers will install the covers under the shingles and at an angle that matches the pitch of the roof. This pitch assists with debris fall-off but might void the guarantee on the shingles.
You will need to evaluate what is best for your property.
Cost of Micro Mesh Systems
Micro-mesh covers are more expensive than other gutter guards. For installed gutter covers, you can expect to pay about $10-12 per linear to have them installed by a contractor; or $2-3 per linear foot if you install the covers yourself. You'll want to balance cost with effectiveness and durability. We cover the comparisons for gutter guards here, including micro mesh style.
Maintenance of Micro Mesh Gutter Covers
The main maintenance advantage with a micro-mesh gutter cover system is that you do not need to remove any parts for cleaning. Debris can accumulate on the cover, though, so clean the covers if debris sits on them. The outside of the gutter pipe itself should also be cleaned.
Remember, though, that any gap or small hole will allow small debris into the gutter. Therefore, you must check the covers regularly and undertake routine maintenance and cleaning.
Pine Needles and Standard Gutter Covers
There are three common types of standard gutter guard, none of which are effective against pine needles. The needles will still tend to accumulate and potentially block water flow.
| | | |
| --- | --- | --- |
| Plastic or metal mesh | Sits over the top of the gutter | Gaps are large enough to allow pine needles through |
| Solid metal cover | Edge curves beyond the gutter's edge and then turns back into the gutter | Water follows the metal and flows into the gutter. Thin needles can flow with the water |
| Foam filler | Foam within the gutter | Water soaks through, and other debris is kept out, but needles often stick to the top of the foam and block other debris from falling off the gutter. Needles will need to be lifted off the foam by hand. |
As said, none of these systems prevent pine needle from accumulating, but they do reduce the overall debris in your gutter. Most of these types of covers will need to be removed for cleaning. This will add time and will obviously involve lots of journeys up and down ladders.
Why is it Important to Clean Gutters?
Keeping gutters clear prevents them from becoming dirty and clogged with debris and standing water. If this rainwater doesn't drain away fully, it can cause water damage both to the interior and exterior of your home.
Insects, birds, and rodents are attracted to the nesting material provided by the debris. They'll set up home in your clogged gutters.
In cold climates, the standing water can freeze in the winter and create ice dams. These will further damage the gutters and potentially the roof too.
Regardless of the cover system you install, checking your gutters and cleaning when needed is a must. Even with micro-mesh systems, debris can sit on the covers and may need washing off.
Can I just Clean My Gutters?
If you clean your gutters quarterly, you might not need covers. Many homeowners are put off by the thought of climbing ladders and trying to clean gutters. However, there are several tools available that mean you can clean your gutters from ground level.
| | | |
| --- | --- | --- |
| Cleaning Applicator | Fits on the end of a painter's pole. | Used to clean the outside of the gutters |
| Vacuum | Angled tube that attaches to a Shop-Vac or leaf blower | Used to clean dry twigs, leaves, needles |
| Tongs | Attaches to a pole and is operated by a rope handle | Good if the debris has become damp |
| Flusher | Pole with angled end that attaches to a garden hose | Powerful spray moves debris |
| Rotary Cleaner | Connects to garden hose for washing and cordless drill for brushes | Advanced system that combines washing and rotary brushes, mixed reviews on effectiveness |
In Conclusion
You will need to balance many factors when deciding how to tackle your pine needle problem. If you can afford the time, then good maintenance and cleaning might be enough to keep you ahead of the needles. Alternatively, the micro-mesh covers provide a durable system that specifically prevents pine needles from entering your gutters.