Summer may be the best time to be outside, but with the summer sun comes the heat. The heat can sometimes be unbearable without ways to cool down. Luckily, there are many tips for cooling down your own backyard in the summer so you can spend more time outside.
Keep your backyard cool in the summertime by adding shade and water to your backyard's design. Creating shady areas, incorporating water elements, using trees and plants, and using furniture and fans are all great ways to cool down your backyard.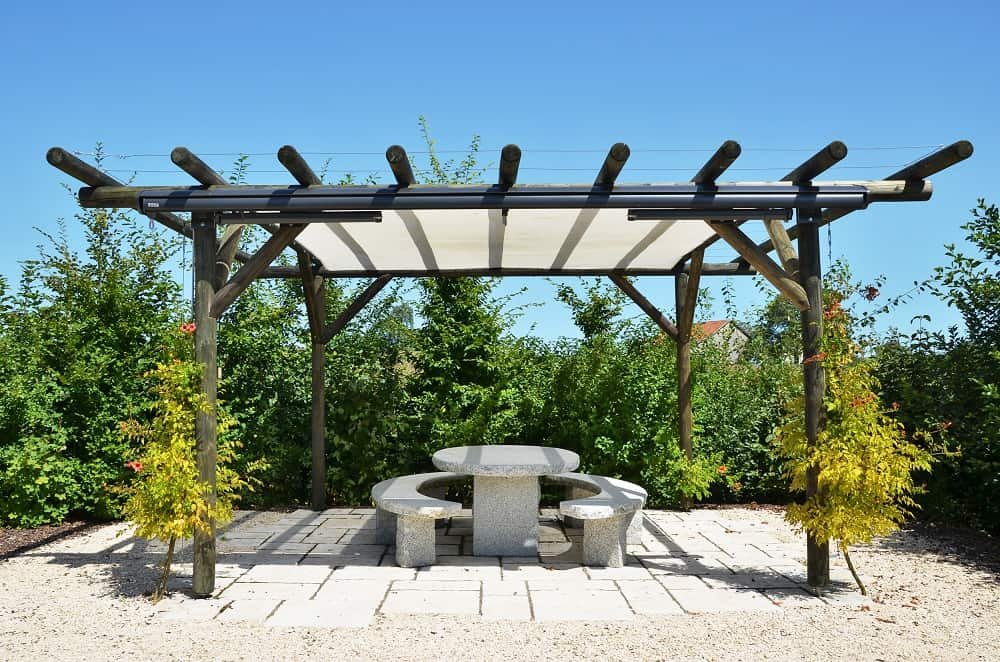 Within these four methods are several options to choose from. Read on to learn how you can make the most out of summertime in your own backyard while keeping cool.
Methods for Cooling Down Your Backyard
Don't let the summer heat stop you from enjoying the outdoors. There are four methods that you can use to cool your surroundings and increase the amount of time you and your family can spend outside.
Finding the right approach for your budget is just a matter of understanding how these changes impact the temperature in your backyard. Blocking out the sun can reduce the air temperature by several degrees and protect you from sunburn. Water impacts the air temperature through evaporation.
Create Shade
The simplest way to cool down your backyard is by creating shady areas. There are several ways to create shade depending on your budget and know-how. In some cases, just adding an umbrella or two can work wonders.
Here are a few examples of different ways to create shade in your backyard:
Set up patio umbrellas or beach umbrellas
If you have a pergola, cover the top with a sheet of fabric
Build or purchase a gazebo or patio
Install awnings
Install a shade sail
Umbrellas are the cheapest and quickest way to increase the shade in your backyard. Even if you don't have a table designed to hold an umbrella, many companies make stand-alone umbrellas that can be fixed in place or moved around. We showcase how to weigh your umbrella down if using a stand alone version.
Pergolas and gazebos are wonderful because they add style and decoration to your yard. Pergolas aren't usually covered completely, so purchasing a piece of fabric to pull over the top can increase shade cover, reduce sun contact, and protect you and your family from bad weather.
Depending on your budget and how your house is designed, awnings are a great way to extend the usable space immediately outside of your home. In many cases, awnings can also help cool the inside of your home by keeping direct sunlight from getting through windows and sliding doors.
Shade sails are an inexpensive way to create shade over a deck or any area in your backyard. You will need posts, trees or side of your house to hang the shade sail. We go in depth on shade sail ideas to cool off your backyard in a separate article.
Use Water Elements
Water elements can benefit your backyard in several different ways. For starters, adding moisture to the air through pools, ponds, and fountains can reduce air temperature through evaporation. This can reduce the air temperature by several degrees.
Some water elements like swimming pools also give you and your family something fun to do. Diving into a pool is a sure-fire way to cool off. A third benefit water elements can bring to your backyard is the decor factor. They can act as beautiful additions or even centerpieces.
The table below introduces several options for water elements and explains how they can add to your backyard experience.
| | | | |
| --- | --- | --- | --- |
| Type of Water Element | How It Cools Your Yard | Bonus Features | Cost |
| Ponds and fountains | Water evaporating into the air cools the surrounding area by adding moisture into the air. | Ponds and fountains are also beautiful to look at. They promote relaxation and can add value to your home. They have a little less upkeep than swimming pools. | The cost for installing a pond or fountain can vary drastically. There are simple versions you can purchase and place, or you can have one installed professionally. |
| Misters | If you've ever been to a theme park, you've seen a mister. They cool your yard by adding tiny water droplets into the air. | Depending on the type of mister you buy, you can also use them as a water feature to entertain kids. | Misters are probably the cheapest of the water elements and can be moved around easily. |
| Swimming pools | Swimming pools work like ponds, cooling the air via evaporation. | Pools can add to the visual appeal of your backyard, but most importantly they provide wonderful play spaces. | There are three types of pools: kiddie, above ground, and in-ground pools. A simple kiddie pool is very cheap, while an in-ground pool is a big investment. |
Water elements often serve more functions than just cooling your yard. They can provide activities, promote relaxation, add to the beauty of your backyard, and often they increase the value of your home.
Plants and Trees
Another method of cooling your backyard that also has other added benefits is planting trees, bushes, and plants. Trees have the largest impact. They can create shady areas but also add to the moisture in the air.
There are a few types of trees known for being great shade trees:
Oak Trees
Elm Trees
White Birch
Poplar Trees
Maple Trees
Evergreen Trees
Trees aren't the only plants that can cool down your yard. Bushes and shrubs also create shade, and even the addition of small plants and flowers helps retain moisture in the soil and adds moisture to the air.
Plants and trees have added benefits as well. Besides just providing shade and cooling the air, they add to the beauty of your yard. Trees can also help keep your home cool, and they are great places to hang a hammock.
Design Choices
The last method of cooling your backyard down can be described as using man-made objects. Fans decrease the air temperature with airflow, special paint manipulates how heat is reflected, and certain furniture absorbs heat differently. These methods are usually the easiest and most affordable ways to cool off your backyard in summer.
Fans
There are several types of fans to choose from. There are ceiling fans, deck fans, and umbrella fans. In any situation, make sure you are buying a fan that is designed for outdoor use. They are often referred to as damp-rated fans. If you think the fan will be subject to direct rain, you will need a wet-rated fan.
The only real difference between a ceiling, deck, and umbrella fan is how and where it will be mounted. Ceiling fans and umbrella fans need to be installed under a ceiling or umbrella. Deck fans can be placed anywhere and are rarely used as permanent fixtures.
The way fans cool your backyard is simply by moving air around. They do not necessarily cool the air, but the movement does create a cooling sensation. Fans are also great for dispersing flies and other bugs that are prevalent in summer.
If nothing else, a hand-held misting fan will cool you off while in the backyard.
Paint
Believe it or not, the paint you use on your deck and the exterior of your home can impact the air temperature. Use paints that are designed to repel heat. The sales associates at your local hardware store can point you in the right direction.
Furniture
The furniture you choose for your backyard can have a massive impact on how cool it feels. Always pick furniture that does not retain heat. Metal furniture holds on to heat when it's directly in the sun. This not only adds heat into the air but can be really uncomfortable for sitting. If you plan on going with metal outdoor furniture, make sure its under a canopy.
Furniture also adds to the comfort and visual appeal of your backyard. Furniture made from wood or wicker is often the best choice for outdoor environments. Just be sure that the wood is treated for outdoor use. Here's some the best outdoor furniture brands and find out when patio furniture goes on sale.
Conclusion
Summer brings with it the opportunity to spend more time outdoors and with your family and friends. Depending on where you live, summer may also bring sweltering heat.
Fortunately, there are many ways to cool down your backyard and increase the amount of time you can enjoy yourself outdoors. Most of these ways have the added bonus of increasing your home's beauty, as well.