Tree stumps can be unsightly, especially if they are in inconvenient places on your property. They are difficult to mow around and sometimes continue to sprout and grow, despite having the tree been cut down.
To help you avoid spending money on professional tree stump removal, this article will cover all of the ways that you can kill a tree stump easily and by yourself. A tree stump can be killed in several ways, such as:
Poisoning it with household products or store-bought solutions
Depriving it of sunlight
Burning it
Killing a tree stump may take time, depending on how large and rooted it is, but it is possible and we are going to look at some of the best ways.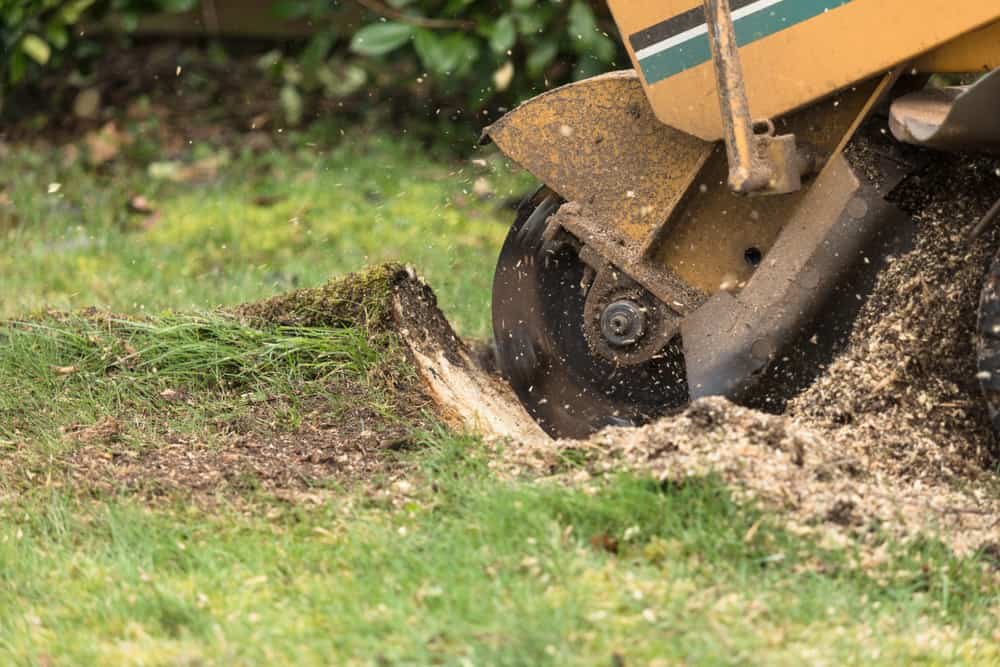 Deprive the Stump of Sunlight
An effective and easy way of killing a tree stump is to cut off its sunlight supply. Even though the entire tree has been cut down, the stump is still alive, growing, and taking in sunlight and water. Oftentimes stumps will even sprout new shoots, a desperate attempt at trying to increase their surface areas to receive sunlight.
If you see shoots on your stump, cut them off. These are aiding the stump to survive. You will want your stump to be as low to the ground as possible, with as little possible of the stump showing. If you cannot further cut your stump, that is fine, but it will likely take longer to rot and die.
A black garbage bag will work best to deprive the stump's sunlight. You will need a heavy, non-breathable material. Cover the stump with the bag and secure it with bricks or other heavy items. Try to make sure that no drafts are getting through to the stump. If its air supply is cut off, then the bag will condensate and the stump will die more easily.
This technique will likely take a few months, as it is a slow and natural process. To speed it up, you can combine the above methods (of drilling and adding salt) with sunlight deprivation.
Dig the Stump Out of the Ground
The most obvious, and fastest way to kill a stump is to dig it up. This can be a laborious process, though, and is not for everyone. The smaller the stump, the shorter amount of time this will likely take. All you need is a shovel and some gloves, to prevent blisters.
To effectively dig out and kill a stump, you will need to dig out a majority of its roots as well. If you only dig out the stump and not the roots, the roots may continue to try to sprout out of the ground. Be sure to dig pretty deeply right beneath the stump, as the majority of its roots are there. Try to dig about a foot deep.
The process of digging out the stump and surrounding areas may leave your yard looking a mess. To prevent this, dig up shovelfuls of grass first, digging deep enough to capture their roots. Put the shovelfuls of grass to the side. Once you have dug up the stump, refill the hole with soil and then cover it with the grass sods.
This method will be easier where there is softer, less rocky ground. If the dirt where you live is extremely tough and difficult to dig, you may want to stick with another method.
Apply DIY or Store-Bought Stump Killers
An effective, easy and cheap way to kill a stump is to poison it with a toxic solution. Poisoning a tree trunk suffocates it and hinders its ability to draw and process water. Most remedies, such as rock salt, will dry out the remaining stump, causing it to die. Toxic solutions that will kill a tree stump include:
Rock salt solutions
Epsom salt solutions
Store-bought solutions, such as Spectracide or Hi-Yield
Most poisoning methods will require you to first drill holes in the trunk so that the poison can reach all the way through it. These holes will need to be at least half an inch wide and as deep as your drill will go. If possible, drill through the stump until you reach dirt. Once you have drilled at least five or six holes, you can begin to pour in your solution.
Two eco-friendly and natural compounds for killing stumps are rock salt and Epsom salt. You can find these at any drug store or grocery store. Rock salts dry the stump out, while Epsom salts deposit an excess of minerals into the stump, causing it to rot and die. Salts should be made into solutions with water before being poured into the holes.
There are also stump-killing solutions on the market that work as or more effectively than salt methods. These can be found at home improvement stores or garden stores. Applying these will require you to first drill holes in the stump, as mentioned above. All you have to do is pour the solution into the holes and wait.
Burn the Stump
Because stumps are so dense, they will not burn all the way down if you simply douse them in lighter fluid and set them aflame. For the flames to eat the stump away, you will need to drill or cut into it. Doing this increases the surface area for the flames to burn and will also allow oxygen flow throughout, causing the fire to grow.
You can cut crosshatches into the stump with a chainsaw or hand saw. They will need to go all the way to the ground for maximum effectiveness. If your stump has already been cut to ground level, you can always drill into the stump. This will create the same outcome. It is recommended that you let the sawed stump dry out before you burn it.
Because the stump still likely contains water, you will need a form of kindling and some lighter fluid. Douse the sawed stump with lighter fluid and then add some kindling, like dry twigs and grass. You can also douse rags with lighter fluid and stuff them in the cracks of the stump. This will keep the flame going much longer.
If your stump is still very moist and will not catch flame, you also have the option to stuff the slats with charcoal and set that ablaze. The charcoal will burn and naturally burn down the surrounding stump. This process will take longer. Be sure to monitor the stump the whole time it is burning, as you do not want the fire to get out of control.
Other Ways to Kill a Tree Stump
If none of the above methods will work with your situation, here are a few more ways to kill a tree stump. First, you can try pounding copper nails into the stump. This includes the top and the sides. The copper will get into the stump's circulation system and cause it to get sick and die. This method will likely take months to work effectively.
You can also pour bleach on the stump. This works best if the stump has been freshly cut and is fully exposed to the air. For maximum results, you can drill holes into the tree beforehand and allow the bleach to run through the stump.
You can also use the tried and true method of grinding a stump down all the way into the dirt. This method, of course, will require a large grinder, something that many people do not have on hand. Grinders can be rented, or you can hire a professional to come in and grind down the stump for you. This is the fastest method of killing a tree stump.
Be sure to checkout how you can hang a hammock without trees, as well as learning how you can get rid of carpenter ants in your trees. We also have an article about what plants grow under pine trees that you maybe interested in!