Killing mosquito larvae is a task for any homeowner who has standing water in their landscape and wants to enjoy a mosquito-free summer. The pesky bugs leave irritating bites and can carry bloodborne diseases, potentially posing health threats to those enjoying the backyard.
Mosquitoes lay their eggs in standing water where they incubate and grow into larvae. It's at this point, there are a number of ways to kill them before they grow into adult mosquitos:
Mosquito eating fish
Mosquito Dunk
Larvicides
Vegetable oil or cinnamon oil
Dish soap
Apple cider vinegar
Bleach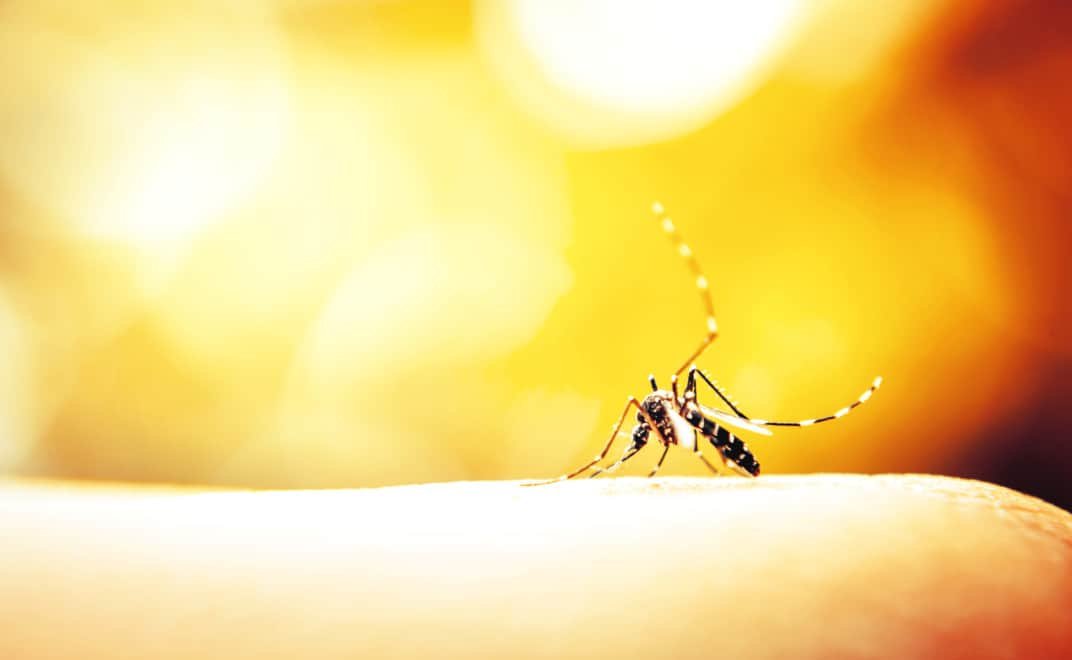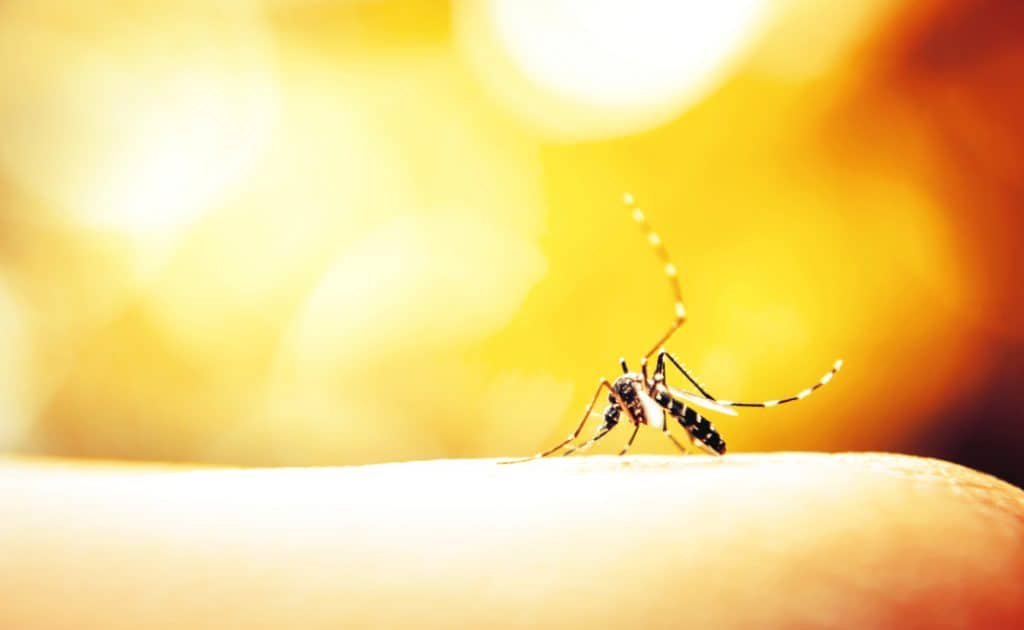 In this article, we'll discuss each of these options in detail so you can decide which option is best suited for your needs. We'll also discuss a few simple prevention methods so the mosquitos will go breed elsewhere after you've taken care of the existing larvae.
First, Identify the Larvae
Step one is determining if there are even mosquito larvae in your yard to kill. You'll want to check your yard, especially if there is a spread of the West Nile or Zika viruses. Look for any locations with standing water, since this is where the adult mosquitoes lay their eggs. Obvious ones would be
Decorative ponds
Birdbaths
Rainwater Collection Bins
If you have these features in your landscape, then checking for mosquito larvae is probably already part of your summer upkeep. If not, consider it.
Keep in mind that there might be standing water elsewhere in the yard that may need to be addressed. Think:
Buckets or landscaping bins behind the shed
Puddles near areas of poor drainage
Clogged gutters
In these cases, the best bet is to just get rid of the water. Removing the water thus removes the environment in which the larvae grow, problem solved. But if the water belongs there as part of your landscape, then read on.
If it's been warm, and the water is completely still, there's a likely chance of mosquito breeding going on. The process of going from egg to adult mosquito takes about a month. During the month-long cycle, the mosquitos spend about two weeks in the larvae stage. The point is, by the time you find larvae, you have less than two weeks to kill them before they fly away and start biting people.
So how to identify them? The larvae are easier to find than the eggs because the larvae wiggle around. Here's how the pros over at Terminix identify them.
Look for little worms wiggling around near the surface of the water. During the summer months, in standing water, there's not much else these little guys can be misidentified as.
Alright, you found the buggers, and the two-week clock is ticking… now what?
Suggested Methods For Killing Existing Larvae
As the old saying goes, there's more than one way to bake a cake. Similarly, there's more than one way to kill mosquito larvae, all of which are less pleasant than baking a cake…
The following measures are all effective at killing larvae, so the main decision factors to consider are eco-friendliness and the end use of the water. If you want to go easy on the environment, you won't be choosing bleach. And if the water is for drinking, chemical larvicides should be ruled out.
So here are the pros and cons of each of the top options. Our goal is to inform you on the effectiveness and the impacts of each so that you can decide which is best suited for your situation.
Try Using A Mosquito Dunk
The Mosquito Dunk is probably the most effective, and least toxic pesticide available for killing mosquito larvae. They are safe enough to be sold directly to homeowners, and can be bought at any home store.
These products are little floating pucks that can be floated on the surface of any standing body of water. They work to kill mosquito larvae within hours and can treat up to 100 square feet of water surface.
This makes them ideal for treating decorative ponds or anything smaller. The active chemical in Mosquito Dunks is called Bti. Bacillus thuringiensis subspecies israelensis (Bti), is a type of bacteria that is found naturally in some soils. The toxins this bacteria produce have been tested and shown to only harm the larvae of:
Mosquitos
Black flies
Fungus gnats.
The CDC reports that BTI does not pose any toxicity to any creature other than those listed above. This means it's not toxic to:
Humans
Pets or other animals
Fish
Other insects, including honeybees
Crops or lawns
This means that Mosquito Dunks are pretty safe to use in water that will be used for lawn and garden irrigation, like a rainwater collection bin.
Another benefit of the Mosquito Dunk is that it works over a longer period of time. After killing the initial larvae, it will work for up to 30 days to prevent more. This product is pretty much the safest, most effective chemical option available.
If you're dealing with ponds larger than 100 square feet, your best bet is to call a pro for aerial spraying of Bti. That, or skip ahead to read some larvae prevention methods.
There Are Other Larvicides Out There, Though
Bti is probably the most popular type of bacterial larvicide. The other, more toxic yet just as affective types are more traditional types of pesticides known as insect growth regulators.
These products feature chemicals such as:
S-methopryne
R-methoprne
Pyriproxyfen
Products with these active chemicals will likely come in a spray or dunk tablet, and they work to kill mosquito larvae by inhibiting their growth cycle. These chemicals are actually insect hormones that stunt the development of larvae into adults.
They are also toxic to a broader range of insects, and can actually be found in some flea and tick products for pets. The National Pesticide Information Center reports that neither methopryne nor pyriproxyfen are toxic to adult honeybees, though they can be toxic to bee larvae.
They are also relatively low in toxicity to humans, but children are more at risk than adults. If it gets in your eyes there will probably be some irritation. Otherwise, the EPA has ranked these chemicals as safe for use on food crops… so there should be no huge issue using them in your backyard.
However, avoid this option if you are treating a pond with fish. There are less toxic options available for fish, many of which are listed in this article.
Coat The Water Surface With Oil
Some larvicide products contain oil to be sprayed on the water surface. However, you can cut out the middleman and just go straight to buying the active ingredient. Chances are you may already have some natural solutions lying around the house.
Oil kills mosquito larvae by suffocating them. The larvae have little siphons that breach the surface of the water and allow the buggers to breathe. They are just strong enough to break the surface tension of the water, but not strong enough to break through a coat of oil. There are a few different household options you can go with:
Vegetable oil
Mineral oil
Cinnamon oil
Olive oil
While vegetable oil and mineral oil are probably more common, cinnamon bark oil is also pretty easy to get a hold of.
In most cases, one teaspoon of oil per gallon of water will put enough of a coat on the water surface to kill the mosquito larvae. It should take between 20-30 minutes for mosquito larvae to die by suffocation.
As you can probably tell by looking at the list of products above, these oils do not pose much of a threat to pets or kids. In fact, the cinnamon oil has a noticeably pleasant smell that might actually attract kids!
Do keep in mind that using oil to kill the larvae in a pond with fish is not good for the fish. The film of oil hinders the absorption of oxygen into the water, which ultimately disrupts the fish's breathing as well. If there are no fish though, oils like these will have no adverse effect on your backyard ecosystem… Only bad news for the mosquitos.
Dish Soap Works Similarly to Oil
Dish soap is another effective option for killing mosquito larvae. The way they work is pretty much two pronged:
The soap itself is toxic to many insects and larvae
The oil in the soap coats the water surface and suffocates the larvae
One drop of soap per gallon of water and the larvae will be dead in a few hours. Just remember not to use this option if you're concerned with fish or any other wildlife/pets. Soap is not the most toxic thing in the world, but there are less toxic options available for killing the larvae, most of which are on this list.
Vinegar Is Acidic Enough to Kill Larvae
Apple cider vinegar or really any other household vinegar has a high enough acidity level to be toxic to mosquito larvae. In the right concentration, all you need to do is add it to the water and wait.
Use about 2.5 cups of vinegar per gallon of water to create a solution toxic enough to kill the larvae.
This is a safe option for pets and kids, but it will likely lower the pH of the pond enough to kill any fish living in there. Also, this is not the best option for rainwater bins that will be used to water the lawn or garden.
As A Last Resort, Bleach Kills Just About Everything
Liquid chlorine bleach is toxic to just about every living creature on this Earth. This is definitely not the recommended option if kids or pets will be around the body of water. Also, don't use it near plants that you want to remain alive.
To kill mosquito larvae with bleach, use the ratio of 2 tablespoons per 1.5 gallons of water. Double the concentration of bleach if the larvae are older (longer than a quarter inch).
Use with caution. This will definitely kill the larvae, but it will also kill everything else in the water. Definitely not the option for a pond with fish or a birdbath.
Suggested Methods for Preventing More Larvae
They say an ounce of prevention is worth a pound of cure. While the options above are all highly useful for those with an immediate need to kill mosquito larvae, imagine never being in that situation at all.
Keep some of these options in mind as you're maintaining your yard during the summer, and you likely won't need to run to the hardware store for Mosquito Dunks the morning of a barbecue.
Just Remove the Water
No standing water, no problem. In many cases, standing water is not supposed to be in the yard anyway. So if it is, and it can be removed, just remove it before mosquitoes lay their eggs.
Your best bet is to check places that are likely to collect water right after it rains. If you have buckets stored outside, flip them upside down. Same with landscaping bins. Regular gutter cleanings will prevent clogs, which is where standing water can build up.
Pool covers always collect rainwater. The pool will probably be uncovered for most of the summer, so this is not a huge deal, but remember to check it during unseasonably warm spells in late spring or early fall.
Areas of poor drainage in the yard are a bit trickier. There's not much you can do to remove the puddles after it rains, but during dry weather you can be sure not to over water this area.
The best practice is to survey your property after a recent rain. Remove any standing water that isn't supposed to be there, and your mosquito worries are gone!
Mosquito-Eating Fish Balance Out the Ecosystem
In most cases, the standing water in question is a decorative pond. If the pond is big enough to house fish, consider this option the most eco-friendly one.
If this option sounds like the move for you, stock the pond with one of these breeds of fish:
Goldfish
Minnows
Koi
Guppies
These fish eat mosquito larvae. So, if mosquitos do lay eggs in your pond, chances are you'll never notice the larvae because the fish have been eating them… nature's way of making the problem go away.
Granted, you will need to start caring for the fish, and the pond needs to be deep enough for them to survive winters. This is why we've put fish on the list of prevention methods. If you've noticed mosquito larvae on your pond surface, chances are you'll want a quick solution and not a trip to the fish store.
Remember to consider the size of the fish. Smaller means better when controlling mosquito larvae. Smaller fish have an easier time maneuvering into the nooks and crannies of a pond, so they're more likely to sniff out the mosquito larvae.
If you have a pond, or are considering putting one in, think about stocking it with these fish to keep mosquito larvae from growing their wings.
Keep the Water Moving Somehow
If you can't get rid of the standing water, a good preventative measure is to aerate or move the water around. In the wild, mosquitos don't lay their eggs in flowing rivers. They look for perfectly still water.
If a pond is part of your landscape, aerating it is highly recommended. Especially if no fish are living in it.
This is relatively easy to do with a solar powered pump, no wiring to the house required. There are even smaller options available for birdbaths, too. At a bare minimum, these pumps will circulate the water but won't do anything fancy. But that's all you need to keep mosquito larvae away.
If you do want to get fancy, decorative waterfalls or fountains accomplish the same thing and also add a nice aesthetic to the yard. They also provide a pleasant sound.
The goal is to make the environment uninhabitable to mosquito larvae. Simply moving the water around does the trick.
Bonus Tips for Keeping Adult Mosquitos Away
If you didn't catch the mosquitos in the larvae stage, don't fret. While it's harder to kill them when they're adults, there are a number or ways to keep adult mosquitos away.
Citronella
DEET
Smoke
Lemon eucalyptus
Lavender
Tea tree oil
All these options keep the adult mosquitos away just as well as they do for any other insect, so they are useful in that regard. Did you know fire pit smoke does help keep mosquitos away?
However, killing adult mosquitoes is generally a much more difficult task than killing the more vulnerable larvae. It is just way more effective to control them at the source before they grow to adulthood and start carrying bloodborne diseases like West Nile and Zika.
Mosquito's aren't the only annoying thing you'll come across outside. Find out how you can permanently kill weeds safely as well and how you can kill unwanted tree stumps.