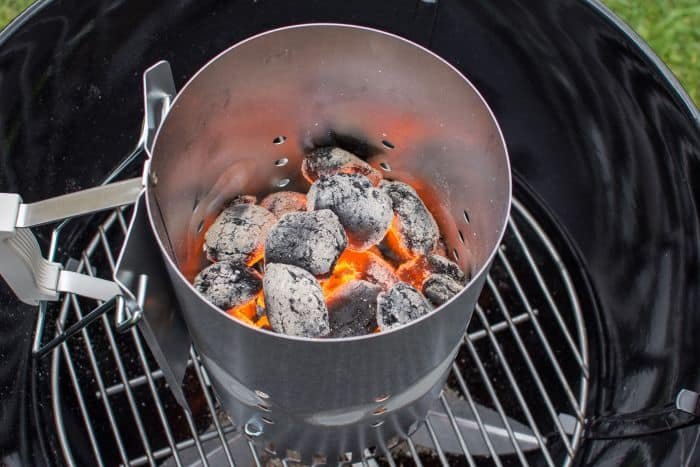 Lighting charcoal is a staple for cooking on the grill as well as an alternative way to provide heat during camping or in a cabin. Although lighting them is simple enough, there are proper methods and several ways to do so.
Below are several ways to use to light charcoal. Furthermore, it is important to note the amount of charcoal you are using, and probably the most important one, learn safety tips beforehand.
Ways to Light Charcoal
As mentioned before, there is more than one way to light charcoal. Especially since technology is available to us, modern tools can make lighting charcoal so much easier. Below are methods to light charcoal, beginning from the traditional way, all the way to the use of modern tools.
Paper and Twig
Going back to traditional methods, you can light charcoal by simply using paper and twigs. The issue will just be lighting the papers and twigs long enough for the charcoal to ignite.
Simply grab some paper and light it on a bundle of twigs. Keep adding twigs until it's strong enough for you to put charcoal around it, and maybe even a little bit on top of it.
There is a 50 percent chance that it may die out. But if it doesn't and your charcoal begins to ignite, blow on it, so the charcoal ignites even more. By then, it'll slowly spread, and you just have to mix and stir the charcoal around.
Lighter Fluid
If using chemicals is not a problem for you, then lighter fluids is the easiest way to do so. Many people don't mind using lighter fluid to ignite their pile of charcoal. Personally, I can taste the lighter fluid on my food so this is my least favorite way to light charcoal.
Furthermore, lighter fluid can be easily found in a lot of places, such as:
Grocery
Convenience stores
Outdoors shops
Sports stores
Although using lighter fluid is the easiest way to light the charcoal, it is probably the worst way to do so as well. This goes for the other counterparts of lighter fluid, including kerosene.
When using these types of liquids, they'll soak into the coals. Once it is soaked and ignited, the coals will produce harmful vapors that are not healthy to inhale or even cook with as it gives your food you are cooking a chemical-like after taste.
Another thing to note is the platform or tool you are utilizing when you use lighter fluid. For example, you should never use lighter fluid on ceramic because, as a porous material, the chemicals from the lighter fluid will absorb into the ceramic. If you happen to do so, then every food you cook on the ceramic will give out that after taste. You might as well throw it away.
Chimney Starters
The Chimney starter method is one of the best techniques as well as the most popular methods to fire up your charcoal. Many people have begun purchasing the chimney starter as it is incredibly easy to light up a large amount of charcoal.
The first thing you should do is to fill the top section of your chimney starter with charcoal. Now at the bottom, use any combustibles to light the coals up.
How a chimney starter functions is designed in a way that the model creates an updraft. From there, the fire increases in intensity and automatically ignites the coals on the top. Between 10 – 15 minutes, the coals temperature begin to rise and should be turning white. At that point, the coals are ready to use.
Looftlighter
The looftlighter is another popular tool that makes lighting charcoal very easy. To put it simply, a looftlighter is basically an oversized lighter designed specifically to light charcoal. Before placing the looftlighter in the charcoal, make sure that the charcoal and the grill are set as to how you want it. 
Next, you need to put the looftlighter into the charcoal, specifically the center of it all. Once you've positioned it, go ahead and activate the looftlighter. The looftlighter will ignite and heat the charcoal up, where it eventually lights.
Electric Starter
Electric starters look sort of like a coil or a branding tool used in cattle. The end of the electric starter heats up when you activate it.
Before using the electric starter, make sure you arrange your coals how you'd like them. After that, stick the electric starter, specifically the heated coil, into the charcoal pile. Leave it there for several minutes, and the coals should start heating up and ignite.
Once the center starts heating up, pull the coil out of the pile and mix the charcoal together, to distribute the heat. The electric starter will only ignite the coals that the coil touches, which is why you should mix the coil up to touch as many briquets as possible.
How Much Charcoal to Use?
There's a rule when it comes to using charcoal. Basically, the more charcoal you pile up, the hotter your fire.
Furthermore, it also depends on what method you are going to use and how you are going to use it. Main reasons to use charcoal include:
Cooking
Providing heat & warmth
Source of light
For example, you only need to fill the charcoal halfway when using a chimney starter for cooking some burger patties and grilling some vegetables. However, if you are looking to grill some ribs and thick steaks, then consider filling the chimney starter all the way up. Thicker meat cuts require more charcoal to cook.
If you are using a looftlighter or electric starter, the more charcoal you put, the more patience you will need. You just have to keep stirring and mixing the charcoal until all of them are equally ignited.
Once you are done using them, make sure you dispose of the charcoal ashes every time you are done using them. Leaving ashes after grilling reduces the capability of heat escaping. If so, this can coat your food with charcoal residue, which is unpleasant to consume. 
Fire Safety & Disposal
Probably the most important thing to take into account when you are trying to ignite your charcoal is fire safety. Grilling fire safety tips are crucial and created by the National Fire Protection Association to reduce the risk of any fire-related accidents.
Below are some safety tips to keep in mind:
Be extremely cautious when using lighter fluid, especially the amount you are using. Use a little bit at a time
Never add additional fluid when your charcoal has already ignited
Dispose of hot ashes carefully, and be mindful of where you are disposing of them
Ashes must also be disposed of properly but should be cool to the touch before putting them elsewhere. Make sure to properly dispose of the ashes in areas where children or pets can't get to them. Yes, the yard is out of the question and be mindful that wet ashes can be very harmful as well. 
Conclusion
Heating up charcoal is a simple task with the right tools. Even if you do not have modern tools to help you out, you can always use resources throughout your yard or campsite to do so.
But just because it's simple, doesn't mean it's not still dangerous if you're not sure what you're doing. Please make sure you are aware of all precautions and always have a fire extinguisher nearby.