Chainsaws are one of those great inventions that helped usher us into modern times with fast wood cutting, but they're far from perfect and need a lot of maintenance.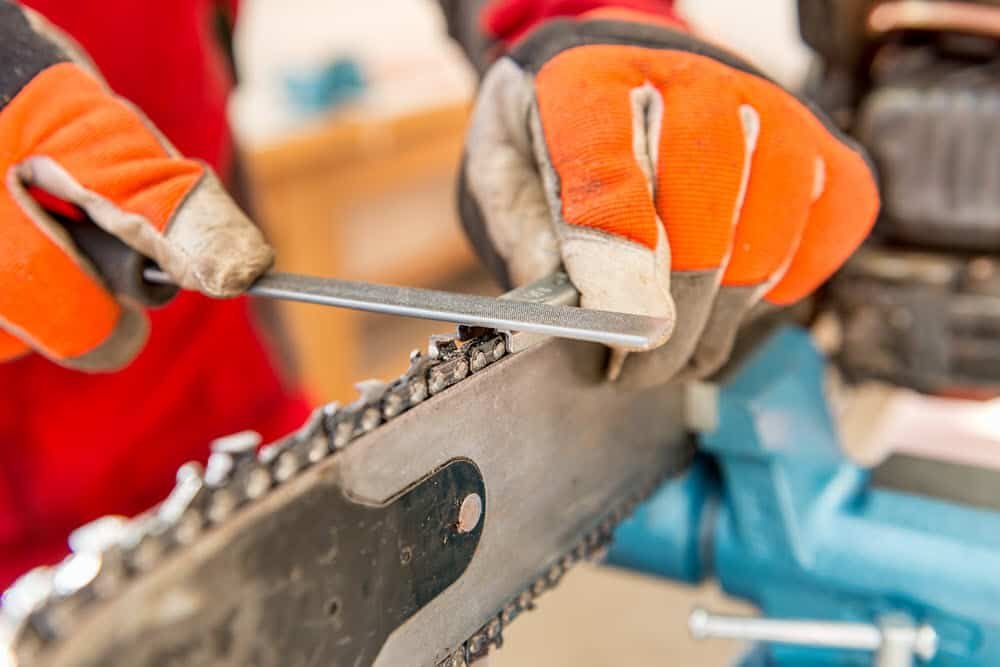 Proper, frequent sharpening can extend the life of your chain, but there's also a point where the edges are just too worn, the links start cracking, the saw starts smoking, and you know it's time to change the chain.
The good news here is that this is a fairly routine task. Chainsaws are easily dismantled, and bars adjust to allow you to change a chain out without needing a ton of expertise.
However, you need to measure the chain to ensure not only that you're buying the right size, but also that it fits properly for your own safety and the functionality of your saw.
When to Replace a Chain
It's important to know when it's time to actually replace your chain rather than just sharpening your chain's teeth. A small, round file can get your chain razor sharp and really extend its life. In fact, sawing with a dull chain will leave you needing a new one quicker than anything else you do with your chainsaw.
But at some point in the life of your saw, you're going to need an outright chain replacement.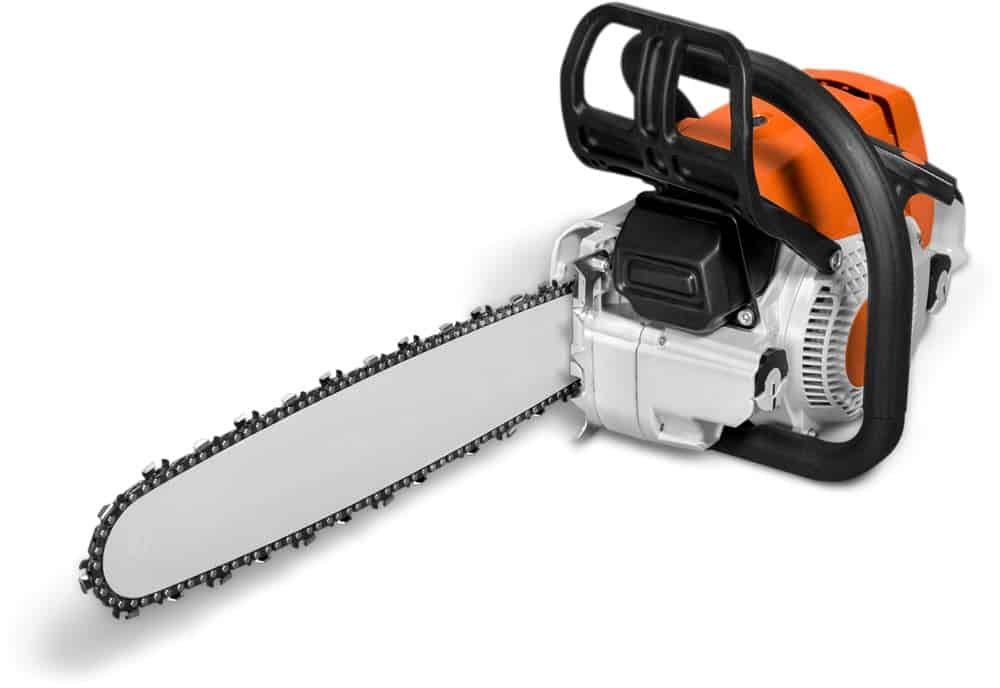 How You Know When to Change the Saw Chain
Here are a few tell-tale signs for which to watch when it comes to knowing when it's time to put the file down and actually change the entire chain.
The teeth of the saw are worn down, misshapen or outright broken off

No matter how much you increase the tension, the chain keeps becoming loose again

You burn through wood and get smoke, even when you've sharpened the teeth

You start spitting out sawdust, finely ground, rather than chips of wood

The chainsaw rattles on you, won't stay straight, and feels out of balance
What You're Going to Need to Replace Your Chain
A few common items that you probably already have around the house are all you need to properly change the chain of your saw. Here's what you're going to need.
A tape measure, preferably flexible and retractable

A few coins (quarter, dime, penny)

Tools: A socket or crescent wrench (size of the bolt), and/or screwdriver

A flat, stable surface on which to place the saw

A second pair of hands to assist, if you have a large chainsaw
Don't worry if a few of these items seem a little odd to you; you'll find out exactly what they're for as you continue reading.
Getting an Accurate Measurement
It should go without saying that you want a chain for your saw that's an accurate length. It's not as if chains are sold in long, one-size-fits-all fashion, and you whittle them down by removing links.
That not only requires a lot of work and expertise, but it's also very dangerous, considering new teeth on a saw are razor sharp.
So here's how to accurately measure your chain.
1: Measure the Bar's Length
The first step here is to measure the size of your saw's bar, the part of the saw around which the chain wraps and moves. This is the length of your saw, not a chain measurement, but when purchasing a new chain, you're still going to want the bar length. It gives you a general guide on where to look for chains that fit your saw's bar length.
This is pretty simple to do. Just measure from the very front of your saw, and stretch it to the furthest tip (the roundest part of the bar). If you get any fractions of an inch, just round it up. This is likely due to how your bar is tightened.
2: Measure the Pitch
To measure the pitch of your chain, you want to measure the distance between three consecutive rivets, those round knobs on the face of the chain links. It is very important that you focus on the pitch of your chain, if you want the new chain to perform the same as the old chain.
Longer spaced pitches take much bigger bites of wood, and are used for bigger, tougher wood varieties. Whereas if you're using your chainsaw for cutting limbs, brush work, etc., your pitch is likely shorter, and so you'd want a shorter pitch for a new chain.
3: Measure the Gauge
To ensure that the chain fits inside of the bar's grooves and works properly, you want to measure that groove inside of your bar, called the gauge. You can purchase a new chain with the exact length and pitch you need, but if the gauge is too thin or too thick, the chain won't work.
Understand here that the gauge difference is a matter of millimeters, but this small space can make all the difference. This is where the coins come into play. A quarter is a thicker gauge, usually around .063"; a dime is the most common gauge, at .050"; lastly, the penny is .058", not that unusual, but still important to know. Just fit the coins into the groove to find out.
4: Count Your Links
Counting the links is something you want to do beforehand, so that you can count them again for your new chain. For instance, if you get the length of the chain, and the pitch of the chain, and have X number of links on your old chain, you'll know something's not right if the new chain supposedly has the same pitch and length but more or fewer links.
Terminology That May be Useful for Chainsaw Owners
We went over some of this terminology above, but let's make sure we get it in full detail now, so that you know exactly what these parts are for. You definitely do not want to go into a chain replacement uninformed.
Even if you successfully put on a new chain, if you're not aware of all the parts and what they do, you could have the wrong gauge, the wrong pitch, and your sawing could end in disaster.
Bar: Of course, you likely know what the bar is. This is the long metal part that protrudes from your saw and actually holds the chain. It has a groove running all the way around it, where the chain will sit inside of it and spin around.

Drive (Chain) Links: The links of the chain are also pretty self-explanatory, but you need to really understand how the teeth work. For instance, there are actually a lot of people who end up putting their chain on backwards, or who don't tighten it up enough. This can result in real danger.

Gauge: That groove that runs around the bar we spoke about above is the gauge of your saw. The width of this is important to note because the chain will actually rest in it. If the new chain is too wide, it can stall, smoke, lock your motor and break the chain. If it's too thin, the chain can fly right off when cutting. Either way, this is bad news for the operator.

Pitch: The pitch of the chain is the distance between the rivets that are used to hold the links together. They will have an identical spacing. Understanding the pitch of your chain allows you to understand whether the chain will rip through big wood, or is better suited for smaller wood and brush.
Safety Tips
Before you put a new chain on, let's go over some safety tips for this particular procedure, and also tips to ensure that you are extending the life of your chain.
Watch Those Teeth: Be very aware that even dull teeth can tear your skin wide open. It's best to use some comfortable, form-fitting gloves when dealing with a chain. Many people don't realize how sharp they are and end up with stitches.

Find a Flat, Sturdy Surface: Even if you have gloves on, holding the saw freehand or sitting it on an angled surface can result in the saw slipping on you, which could eat into your arm, fall off and hit your legs, or worse. Get a flat, sturdy surface before starting.

Run Proper Maintenance: Knowing how to take care of your saw will ensure that you won't have to replace that chain again any time soon. Proper chain sharpening is a must, as well as keeping the tension correct, and never sawing through materials that tax your saw too much.
Conclusion
Knowing the correct chain length will help with all facets of keeping your chain saw running properly.
Once you cut all those limbs down with your new chain, you'll need to dispose of those limbs. Renting a wood chipper makes quick work of getting rid of excess wood debris as well as making mulch for your backyard area.