Although autumn leaves can be beautiful, they can also be a nuisance when they pile over your yard, especially once they start to decay. Raking them into giant mounds and arduously bagging them can be an immense process, but if you don't have a lawnmower (or prefer not to use it), you have no other choice, right? Not necessarily. 
Lawnmowers are not the only method necessary to mulch leaves. Several alternatives, such as a stand-alone leaf mulcher, a weed whacker, a wood chipper, or relocating them to high-traffic locations, such as driveways and walkways, are all viable options.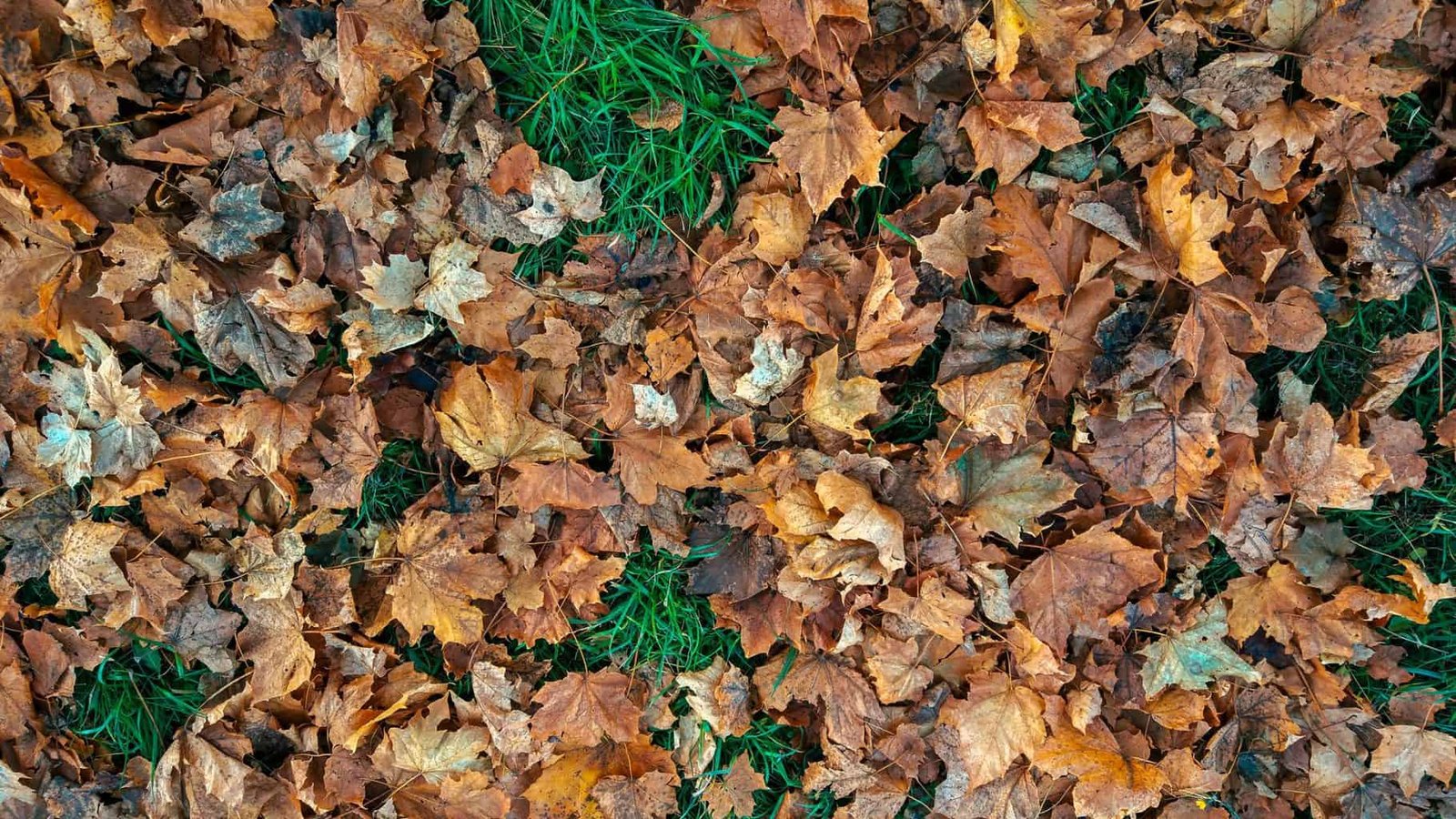 Read on for advice regarding which of these alternatives might be most suitable for you, in addition to the general cost of our recommended equipment you can easily find on Amazon.
Alternative Methods to Mulch Leaves Without a Mower
Mulching your leaves can be highly beneficial to your lawn or gardens as they can be repurposed into compost.
Although these four methods are guaranteed to help you break-down those pesky leaves, the best method for you will largely depend on two elements: whether or not the leaves are dry and the quantity of leaves you are trying to mulch.
Stand-Alone Leaf Mulcher
Investing in a stand-alone leaf mulcher is guaranteed to make the process of mulching leaves in any standard residential yard significantly easier. These products have simple designs, so you can get the job done quickly and efficiently.
To use a leaf mulcher or shredder, plug the machine into a basic power outlet, turn the motor on, and dump the leaves into the funnel. Not only will the motor mulch the leaves in seconds, but some also have an attached bagging system for added ease.
There are also alternative designs built into leaf blowers that will have the same effect. This is best if you prefer to mulch leaves as you walk through your yard rather than gathering them up first to dump them into the machine.
Best Leaf Mulcher for Wet Leaves
Product: WORX WG430
Cost: $169.99
Best Leaf Mulcher for Dry Leaves
Product: WORX WG512 Trivac 2.0 Electric 3-in-1 Vacuum Blower/Mulcher/Vac
Cost: $99.99
Weed Whacker for Mulching Leaves
Weed whackers, also known as weed eaters and lawn trimmers, are a fantastic alternative for mulching leaves that will have the same effect as a lawnmower but are far more lightweight and mobile.
You could take your weed whacker and waltz through your lawn, shredding leaves in organized rows, or you could purchase a large plastic bin, similar to an outdoor garbage can, to create your own leaf mulcher.
To do this, you would fill the garbage can with leaves, place your weed whacker into the garbage can and then let the weed whacker run. While it is in the garbage can, it will effectively shred the leaves while the garbage can ensure everything is contained.
Of course, you want to cause minimal damage to the garbage can and your weed whacker, so do your best to keep the weed whacker in the center and away from the can sides.
Best Weed Wacker for Dry and Wet Leaves
Product: Ryobi RY253SS 25cc Straight Shaft 18″ Lawn Grass Weed Trimmer 2 Cycle Gas Power
Cost: $150.96
Wood Chipper Leaf Mulcher
Like a leaf mulcher, wood chippers tend to be much more powerful and suitable for any heavy-duty task. Since they are built to shred hefty branches and logs, leaves are easy to work for this machine.
Although leaf mulchers tend to be cheaper, if you happen to already have a wood chipper at home, it is more than capable of mulching your leaves rather than a lawnmower.
One benefit of wood chippers is that they tend to be significantly large in order to effectively shred large branches. Therefore, if you have a substantially large yard, or vast acreage, as typical with farms, this might be the best option for you.
Of course, their size can pose its own challenge. Although many wood chippers are portable, this is done by setting them on a wheeled frame that can only be towed with a truck, ATV, or similarly suitable vehicle.
Best Small-Scale Wood Chipper
Product: YARDMAX YW7565 Chipper Shredder
Cost: $870.46
Best Large-Scale Wood Chipper
Product: Detail K2 6inch 14HP Gas Powered Kohler Engine Commercial Chipper with Tow Hitch
Cost: $2,589.99
Leaf Mulching Through Foot or Vehicular Traffic
Although this alternative might not be the quickest or most effective when the leaves are wet, it is still a common method that numerous people use to break-down their autumn leaves.
The best way to use this method is to first ensure that the leaves you want to mulch are dry so that they will crackle and crumble easily. Wet leaves tend to turn into piles of mush and decay slowly, so it often takes significantly more treading to break them down.
To use this method, gather your desired leaves and sprinkle them in locations that experience high foot or vehicular traffic. This could be a walkway, porch, deck, driveway, or even the street if it is privately owned.
Over time, as individuals walk or drive over the leaves, they will eventually break-down into tiny pieces that can be scattered by the wind or collected as mulch for future use.
Alternatively, you can gather the leaves and have local kids play on them, or you can bag the leaves and continually stomp/dance on the bag. This should pulverize the leaves and provides a fun family activity and a fantastic workout.
Best Shoes for Mulching Leaves
Product: Caterpillar Men's Second Shift Steel Toe Work Boot
Cost: $74.95
Why Mulch Leaves?
Mulching your autumn leaves can help you create a natural product known as leaf mold. This is a dark compost that will form after the leaves have decomposed.
Leaf mold functions similarly to a condition, meaning it enhances soil, particularly due to its ability to increase soil water retention.
Some studies have shown that leaf mold can increase the water retention of soil by as much as 50%, which is highly beneficial to plant growth and sustainability.
There are several benefits of leaf mold around your yard and garden, including:
Digging the mold into the ground for increased structure
Add to the soil to improve water retention
Spreading the organic material on top of soil or plants as a mulch alternative
Using the mold as the base for potting soil mixtures
Unfortunately, this material does not offer much nutritionally, so it is best to pair your leaf mold with fertilizers as necessary.
Once you have sufficiently gathered and mulched your leaves, create a leaf mold cage with posts and chicken wire. Fill the cage with your mulched leaves and make sure they are thoroughly wet.
Continue to mix and wet the leaves over several months as they decompose into the perfect leaf mold.
This process can take up to about two years because, unlike other composts, leaf mold relies on fungal decomposition. However, if you set up multiple leaf mold cages and rotate the product over the years, you will always have a fresh batch of leaf mold available.
Final Thoughts
Mowing leaves with a lawnmower might be the most common piece of equipment used for mulching leaves, but it is by no means the only option. Stand-alone leaf mulchers, weed whackers, wood chippers, and simple foot traffic can yield the same results as any mower. 
Be sure to reap the fruits of your mulching labor by repurposing your leaves into leaf mold that is beneficial soil amendment to all types of plant growth, from flowers to fruits and vegetables to basic lawn grass.
There maybe more landscaping to do, so be sure to checkout our other landscaping articles, such as best shady landscaping ideas, and some really great landscaping ideas if you reside in Florida.