When you have an aloe plant that has grown either too big for the pot or has been taken over by offsets or pups, you may be thinking about using a propagating method to create more aloe plants by themselves. This will leave you wondering how exactly you propagate an aloe plant?
Other methods can be used to start another from the mother plant. Read on in the article to find out all the methods that can be used to propagate your aloe plants and to find out why propagating an aloe plant can be good.
Propagating Your Aloe Plant
Once your aloe plant has reached a mature age, you will begin to notice that there are offsets, or pups, that have begun to sprout. These may be beside or even hidden under a mother plant's leaves. Removing these offsets can help your aloe plant continue to grow and lets you spread, repot, or even gift aloe plants to others.
Knowing when to propagate your existing aloe plant can be important. Since aloe plants are succulents, they are generally very hardy plants. These are great for beginners but can make it easier to separate. Typically a good time to separate your aloe plant offsets from the mother plant is in late winter to early spring. 
However, aloe offsets can still grow in the growing seasons. The growing seasons are typically in the summer and fall, so limiting the pups' light can be important for their growth.
How To Propagate Aloe
Besides just using a quick method of taking the offsets out and placing them in a new pot and hoping they grow, there are some methods to use to ensure that your new offset aloe plants grow into big adult plants. There are two different methods discussed in this article to propagate aloe: leaf-cutting and division.
Propagating your aloe plants is possible and can be done. There are materials and methods that you can use for your aloe plant to ensure that it grows. 
| Materials Needed | Process |
| --- | --- |
|  Healthy aloe plant that has pups or offsets | Make sure the plant as pups on stem |
| Clippers | Remove the entire plant from the pot and brush away as much dirt as possible. |
| A new pot or container | Gently remove pups, or offsets, from the mother plant |
| Garden soil for succulents | Repot offsets in the new pot with well-draining soil |
| | Replace mother plant in the original pot, or a newer pot if desired |
Leaf Cutting Method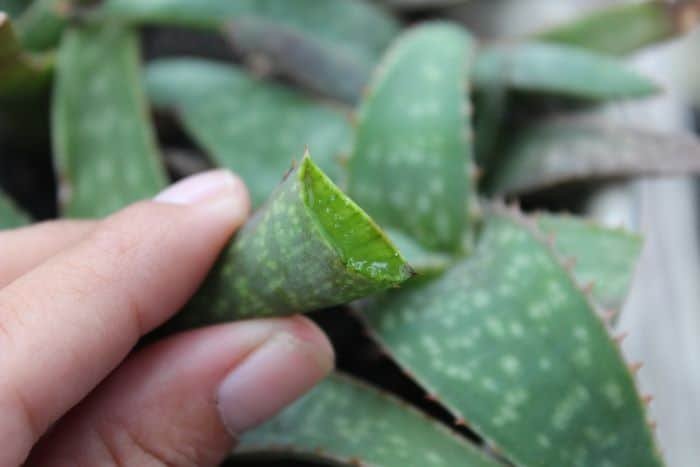 Using a leaf-cutting method to propagate your aloe plant is possible. However, it's not a sure-fire way to ensure you get a new plant. Sometimes using this method can cause your leaves to turn yellow and, simply put, not grow into new plants. This method is good to try when a leaf has broken or fallen off.
There are four steps in this method:
Take or cut off a leaf from the mothering plant, ensuring that the leaf has a cleanly cut edge.
Allow the cut line of the leaf to dry out. Make sure to check that the leaf looks dry at the cut line and not rotted.
Fill a container with well-draining soil, sticking the cut end of the aloe leaf inside the potting soil in an upright position.
Use a misting method of watering to keep the soil moist or slightly damp; this will allow roots to take effect.
Once a root system and new leaves start, you will start back to a normal watering schedule.
This method can work if, and only if, your aloe leaf is not starting to rot or turn into a shade of yellow. If you use an unhealthy leaf, there is a good chance that this method won't work.
Division
The division method is the most successful of the two. Division is done by removing pups or offsets from the mothering plant. It benefits the mothering plant in a couple of ways.
Since the offsets take up much of the nutrients from the parent, removing these allows the parent plant to gain back the nutrients and continue on with its growth. This also allows the mothering plant the chance to be planted into a bigger pot or area to further its growth and allow for other offsets to form. 
Steps for the division method:
After searching and locating any pups or offsets, check to see if they have a root system. 
Remove the parent plant, offsets as well, and brush away as much extra dirt as possible.
Untangle the offsets from the mothering plant gently, only using a knife to cut free any hard to unloosen areas. Make sure not to cut any roots.
After untangling, or cutting, check for damage. You can cut away any damage done to the offsets that look unhealthy.
Pot the offsets in a new area with dry soil. Since the roots need to breathe, it is important to use a well-draining and loose soil to allow the new offset roots to get adjusted to the new soil and area. 
Put the mothering plant back in its pot or area. You can use this opportunity to upgrade pots or move to a new location. Ensure that you put the parent plant back to the same depth.
There are some tips to remember when using this method. When you are about to repot or set your offsets into a new area, you can dip any few or damaged pup ends into a rooting hormone. This will help them establish new roots and help them grow. Using a rooting hormone can be a great option if you want to ensure that the offset roots are healthy. 
It is important to note that after you have planted any and all offsets that you do not want to overwater them. They will need to be misted or kept slightly damp until they have established a set rooting system and are well adjusted to their new home. 
Conclusion
While there are many methods to propagate your aloe plant, it is important to note that one method will provide more successful results. Division allows the offsets to grow on their own and give the parent plant the ability to regain their nutrients and growth without sharing.
When leaf-cutting is used, this is an iffy way to grow new aloe plants. While it is the least successful, there is a good possibility for it to work and begin a new rooting system from the aloe plant leaves. It is usually best to use broken or cut leaves from the already existing plant instead of leaves that have turned and fallen off. This will better your chances of a successful growth.
Aloe plants are very hardy, so have fun propagating with one method or both. This can help you learn more about your plants and about how they grow.