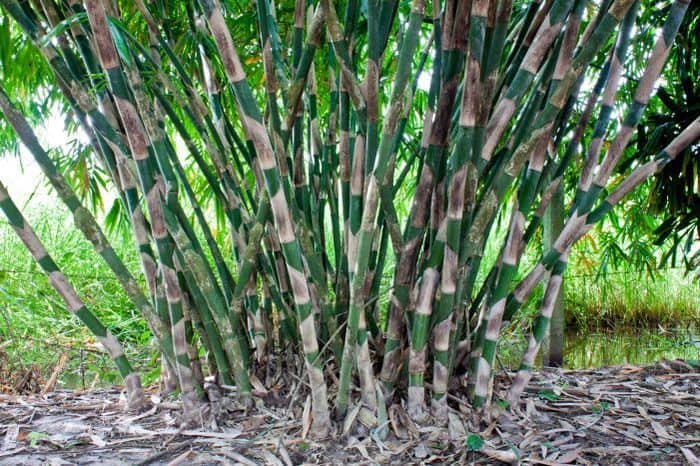 Bamboo is a versatile and beautiful plant. It is often used to create windbreaks and fences. However, when you do not want it in your backyard, it can be difficult to remove.
The main problem is that bamboo has no concept of boundary lines, which means that it runs after walls, patios, and even under fencing. However, it does not mean you cannot remove it – you just need a strategic battle plan.
If you need this wild beauty gone completely, here is this guide for you with a number of methods you can try to eradicate this plant completely.
How to Remove Bamboo From Your Backyard
In order to remove bamboo from your backyard, you can try the following methods:
Digging It Up
This method is considered one of the quickest. Its purpose is to eliminate as much of the root system of the plant as possible. However, it may not be as easy as you expect.
You may have to use special equipment, such as a bobcat excavator, a small bulldozer, and others. However, using equipment is possible only if there is access to the grove.
You can cut down all the culms and then dig down to the depth of the rhizomes that are usually found in the top 10 inches of soil.
Make sure that you remove all the rhizomes, but you can leave the roots because they do not propagate. Instead of the equipment mentioned above, you can also use other stuff, such as crowbars, levers, chainsaws with an old chain, machetes, etc.
Using Herbicides
Since this method includes using harsh chemicals, most gardeners turn to this method as a last resort. Therefore, if you decide to use it, it is important to know about the harmful effects that herbicides have on the environment, nature, and even humans.
These effects can be either acute or chronic. According to the United Nations report published in 2017, there are over 200,000 deaths annually due to acute poisoning worldwide.
In order to use this method for bamboo removal, here is a list of tools you will need:
Herbicides
Work gloves
Goggles and mask
Protective clothing
Paint brush or garden sprayer
Before using herbicides, make sure that you use them according to the manufacturer's instructions. When you spray them, be very careful in order not to spray other plants.
Using a brush as a tool is safer because there is no risk of accidental spraying drift. After you apply herbicides, the bamboo will turn yellow, then wither, and finally die.
When it is dead, you can cut down the stalks. You may have to repeat this method again if you notice that the plant emerges again. In most cases, after repeating this method a few times, bamboo dies completely.
Mowing the Area Regularly
Mowing regularly can help reduce the culms. If you cut the culms frequently, then bamboo does not receive a proper food source, which helps reduce the rhizomes.
You should mow the area as often as you can. Every time when you are done with mowing, make sure you water the area thoroughly. If you notice that the plant is growing again, keep mowing the area until the growth is stopped completely.
Boiling Water
It is one of the most simplistic methods for killing bamboo. All you need to do is to pour boiling water over the bamboo plant.
In order to make this method more effective and get better results, you can dig around the plant in order to expose the roots. Then you can pour scalding water onto the bamboo's root system and kill it.
Starving the Plant
Depleting the bamboo's stored food is another effective method of getting rid of it. The first step will be cutting down the stalks below the soil line. Then you should place a thick piece of plastic or dark tarp over the top of the area. This will cut the bamboo off from the sun, air, and air, which will kill it eventually. If you notice there is a new growth coming up beyond the perimeter of the tarp, you will need to cut it down or spray with herbicides immediately, and put a piece of new tarp over the area. It is also important to know that this method may take time, so you have to remain patient. You will have to leave the tarp for at least a month, but it may take up to a year to completely remove the bamboo.
Killing Bamboo With Vinegar
Using distilled white vinegar is one of the best organic methods to kill bamboo. It is a good alternative to using such harsh chemicals as herbicides.
The easiest and most effective recipe is to use vinegar at its full strength without adding anything else. Since vinegar is highly acidic, it kills new growth effectively.
Here is a list of tools that you will need if you decide to opt for this method:
A gallon of distilled white vinegar
A pair of work gloves
Shovel
Garden loppers
You should start with cutting the plant as close to the ground as possible by using garden loppers. Then you should use a shovel to dig around the bamboo to expose its root system.
Then pour the vinegar over the exposed roots. You can also try to remove as many roots as possible and then soak the soil with vinegar. It will help prevent the plant from growing again.
Just like other methods, this technique takes time, so you may have to repeat the process several times. Once the root system is removed completely and there are no more stalks, you will need to mow the area regularly.
How to Choose The Best Method for Killing Bamboo
You have several effective methods to get rid of unwanted bamboo in your garden. All of them are effective but may take time before you see the results.
It is recommended to try different methods during different seasons or combine a few methods. We also have articles on if mums are perennials, that you may find interesting.