Looking for an easy way to sharpen your pruning shears? In this article, I'll cover the basics of what it takes to keep your pruning shears nice and sharp to make gardening easier. A sharp pruning shear makes cutting small branches easier and cuts cleanly for a healthier plant.
What You Will Need:
Safety Gloves
Safety Mask or Eye Protection
Dull Pruning Shears (but not for long)
Sap Cleaner
Rag
Steel Wool
Rust Protection Spray
File or Other Sharpener
Bench Vice (Optional)
Damp Towel or Sponge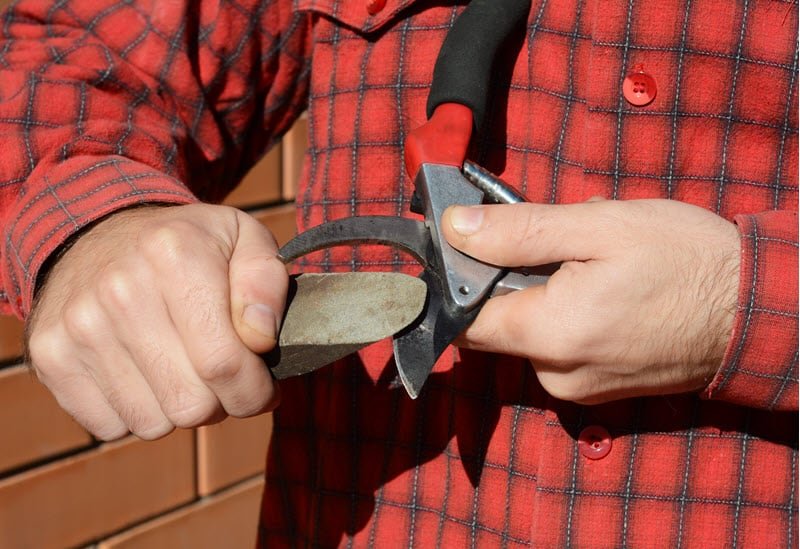 Step-by-Step Instructions:
1. Gather your Materials and Choose your Tools
The first thing you should do is gather the above list of items you will need for this project. Possibly the most important thing is to choose the right sharpener or file to use on your shears.
There are a few options when it comes to methods of sharpening a pruning blade. You can use a grinder, but this takes special skills and expensive equipment, so it's best to choose another option if you've never worked with a grinder before or don't own one.
You can buy specific pruning shear sharpeners, but this can also get expensive and if you get the wrong one it can put pressure on the wrong part of your blade and damage the overall integrity and effectiveness of your shears.
The best thing to use is a medium or course diamond hand file. This will allow you to have more control over how and where the pressure is applied and is relatively inexpensive when compared to the other available options.
2. Clear and Set Up Your Area
Sharpening pruning shears will produce small metal fragments and shavings so be careful to keep them contained so you can throw them away. The last thing you want to do is step on any of them with bare feet.
Putting down a towel or something similar will make clean up easier, but you can also use a damp cloth or sponge to clean up any shavings afterwards.
If you are using a bench vice – which is highly recommend – you should set that up now and make sure it is firmly secured so it won't slip or fall when working on your shears.
3. Put on Your Safety Gear
When handling sharp blades (which you will get by the end of this!) you should always be extra cautious and take preventative measures so you don't accidentally cut yourself.
Thick, cut-resistant gloves are the best choice as they will protect your hands and wrists while still leaving you a lot of dexterity. If you don't have cut-resistance gloves you can use thick gardening gloves or thick leather gloves to help cut down on the chances of an accidental injury.
Safety goggles and a mask are also a good idea as they will keep you from inhaling metal shavings and can protect your eyes from any stray metal shards or pieces of rust that may fly off as you clean and sharpen your shears.
4. Clean Your Shears
This is where a bench vice will come in handy. If you use a vise to hold and stabilize the shears, it will be much easier to use both hands and you greatly decrease the chance of dropping the shears or potentially cutting yourself on them.
When you position the shears in the vice you should open them as wide as possible to allow full access to the blade, then clamp the handles of the shears firmly in the vice to make it as stable as possible.
Before sharpening your shears it's important to thoroughly clean them. If you don't, sap and other debris can be transferred to your file which will decrease its effectiveness and make it much harder to use.
A sap cleaner will get any particularly stubborn residue off your shears, but you can also use various household products like nail polish remover, vinegar, or baking soda.
If there is any rust on your shears, you will need to remove this as well before sharpening. Medium-course steel wool is a great way to buff off rust spots. Be sure to rinse any cleaning residue and loose rust off your shears and dry them thoroughly before you start sharpening them.
5. Sharpen the Angle
Bypass pruning shears have two sides that slide over each other, only the largest side is an actual blade. This is the side you will need to sharpen starting with the side that is angled or beveled. If you're working with non-bypass shears, you'll need to sharpen both blades.
It's very important to sharpen a blade by going with the angle. You should never sharpen against the angle or directly on the edge of the blade as this will damage the structure of the blade itself, possibly to the point where you may need to replace the shears all together.
You'll want to begin by applying a medium amount of pressure as you draw the file along the cutting edge of the blade, being careful to hold the file at the angle already set into the blade.
You should only file in one direction, starting at the inside of the blade closest to the hinge of the shear and drawing the file along the blade in one smooth motion towards the tip.
Be sure to always file away from yourself. Pulling the blade toward your body increases the chance of accidentally injuring yourself.
Continue this motion until your blade is sufficiently sharp. This will likely take 10 to 20 strokes, depending on the state of your blade and the desired sharpness you're working toward.
When you think you've filed your shears enough, it's time to test them. Test the sharpness on a small plant branch or something similar to test how well the blade slices.
If it doesn't cut as well as you hoped, keep filing until you're happy with the sharpness of the blade. Be careful not to over-sharpen though. A razor thin edge will be the sharpest but is very brittle and won't last long.
You don't need to be able to shave with your shears, just try to get them sharp enough to cut through the plants you will be working on without too much extraneous effort on your part.
6. Smooth the Back
Once your blade is the level of sharpness desired, you'll need to smooth the burrs off the back side of the blade. These burrs are caused by the removal of material on the other side, and if they are not removed, they can catch and snag on things as you try to use the shears.
It's also possible you could scrape your own skin against any remaining burrs and potentially hurt yourself.
To smooth out the back side of the blade, turn the shears around – if you're using a bench clamp you will need to take them out and re-clamp them so the other side of the blade is facing you.
Once you have them positioned correctly, draw your file down the back side of the blade in strong even strokes. It should only take a few strokes to smooth things out, but you can test this side carefully with your finger to ensure the spurs are removed.
Do this carefully to make sure you don't accidentally cut your finger on the sharp side of the blade. The surface should feel smooth and sleek. If it's not, continue filing until the backside of the cutting blade feels smooth.
7. Finish with a Sealant
It's important to finish up your sharpening project by applying an anti-rust sealant or protection to your shears. This will help preserve the quality of the shears and protect them from the elements.
Even if you store your shears indoors – which you should – shears can gather moisture when cutting through natural materials. This moisture can turn into rust later if you're not careful.
We live in Florida so everything stored outside rusts within a couple of weeks if not properly protected. The Boeshield T9 rust and corrosion protection spray is a great product. I use it on all my carpentry tool blades and all my gardening tool blades.
While it is more expensive than other products, it's worth the price for the amount of money it has saved me in replacing rusty hand tools.
8. Clean Up
It's important to remember to clean up your work area when you are done with this project. As mentioned earlier, tiny metal shavings will be left over from the process of sharpening your blade.
Wiping the area down with a damp cloth or sponge should be enough to make sure all of these micro shavings are removed.
Conclusion
With these steps, your shears should be nice and sharp and ready to work on your next project!