When it comes to staining a fence, the project can seem overwhelming, but there are simple and easy steps that can make the task simple and leave you with a beautiful fence!
There are several factors that you need to account for when staining a fence. Read on to discover what necessary things you need to do and supplies to buy when starting your project!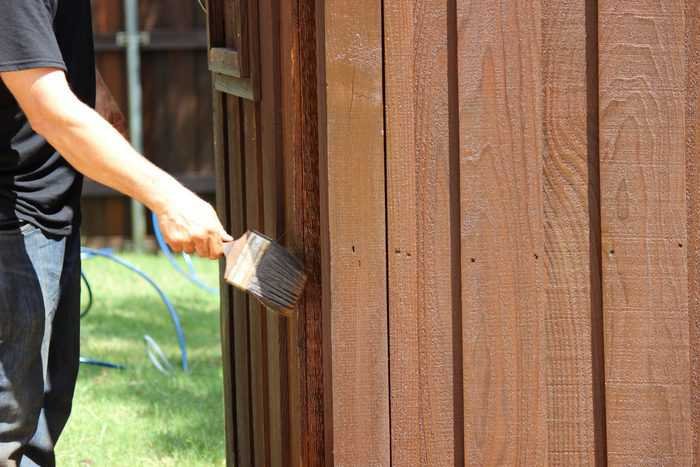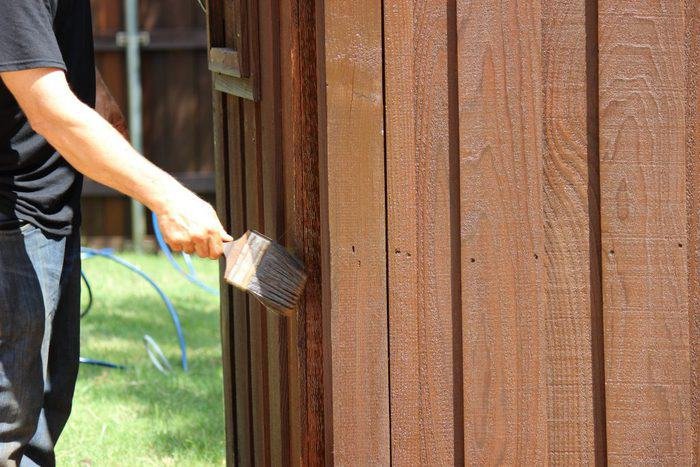 Pay Attention to the Weather
Deciding when to stain your fence is a crucial decision and the first step you need to take. Check the forecast regularly to make sure the day you choose is precipitation-free and ranges in temperature between 50 and 80 degrees. This will make sure your stain has plenty of time to dry.
Humidity is another essential weather condition you need to look out for. Too much moisture in the air can make the time your fence takes to dry longer. While too little humidity can make your stain dry too quickly and leave painting marks on your fence.
Prep the Wood for Staining
Before staining the wood, you need to inspect it. Make sure you eliminate any inconsistencies, such as broken fence pieces, nails, screws, or even staples. These things can cause problems and uneven coats on your stained fence.
After inspecting the wood, you need to sand areas that may be rough or could cause problems. It is an even safer bet to sand the entire fence, so you have a smooth surface for staining.
If your fence has already been stained or painted in the past, you will want to apply a wood stripper and scrape the fence to loosen the old varnish. That will help to create a smooth and even finish over the whole fence.
Taking these preliminary steps can save you time and resources when you begin staining!
Clean the Fence
After preparing the wood, you need to clean the fence. Cleaning the fence with a power washer can save time, and make sure you remove the light to moderate dirt, including the sanding residue. Make sure you are using a power washer with a lower psi to not warp or bend the wood.
If you notice mold or mildew on your fence, prepare a cleaning solution of bleach and water, or use a wood cleaner, to get the debris off before staining. Apply the solution to the fence using a garden sprayer and let it soak into the slats. When you are done, make sure you power rewash it to get rid of the chemical solution.
Fix the Fence
When cleaning and preparing the wood, you may have noticed the fence needed holes filled, or a piece was broken. After cleaning the fence and allowing it to dry completely, you can fix these fence's inconsistencies.
If the holes are small, you can use wood putty. The wood putty will fill the gaps and allow you to paint over them.
If the slat in the fence is broken, it may be worth replacing the entire piece before staining. This allows an even coat of stain to go on the whole fence and make sure everything is even.
You'd probably already know it by now, but if there's too to fix, it might be better to build a fence altogether.
Prepare the Area for Staining
After your fence has dried and you have decided to start staining, you need to prepare the area first.
Suppose you are only staining a portion of the fence and using the painter's tape to tape the area. This will make sure the stain won't get on the other parts of the fence.
Also, to protect the grass and landscaping around your fence, use drop cloths to cover these areas. The chemicals will harm the plants and cause them to die.
Stain the Fence
There are a couple of different options when staining a fence. You can use a brush, paint roller, or even a paint sprayer. Each of these options has its benefits and drawbacks but make sure you are using the right one.
We showcase our recommendations for best stains for pressure treated wood.
Use a Paint Brush
If you use a brush, make sure it is made of bristles. This helps spread the wood stain evenly over the wood and permeate the grooves and recesses.
When using a brush to stain the fence, coat the brush's tip and then go in one direction painting each slat from top to bottom. This will ensure there is an even coat across the slat, and it will all be uniform. Ensure the brush tip stays wet with stain; if not, it can dry out and cause an uneven coat!
Using a paintbrush can be a laborious process, and once you start staining, you cannot stop. If you do, you may end up with an uneven coat due to changing weather conditions or humidity.
Use a Roller
Using a roller to stain a fence can be a less time-consuming process, but it can still require a brush to get the stain into the grooves and recesses.
Choose a roller with a medium thickness roller cover and then saturate it with the stain. Paint the fence with the roller in small sections, making sure to go over spots a few times. Also, use a brush to get into the holes and grooves of the wood that the roller may gloss over but not fully cover.
Use a Paint Sprayer
A paint sprayer can be a quick way to stain your fence. A paint sprayer requires less labor-intensive activity, making the process go quicker.
You can rent a paint sprayer from a home improvement store for an affordable price if you do not have your own. The stainer can tell you what size sprayer nozzle you should use when using that product, but you can also use a smaller one for less blowback.
Like the paint roller method, you need to paint the fence in small spots and go over the place multiple times, but you need to stand a comfortable distance away from the fence.
This will eliminate puddles and ensure an even coat is applied over the whole fence. You still made need to brush the sprayed fence to make sure it's embedded into the fence wood and stop runs from happening.
Inspect Your Work
After staining the fence the first time, see if there are any run marks or puddles of stain. Use a brush to even out these areas to make sure the entire area is even.
Let the Stain Dry and Apply More Coats As Needed
Now you need to let the first coat of stain dry. This can take a while, depending on the weather. Make sure you accept that crucial first step, check the weather, and ensure your stain will dry as quickly as it can, without ruining the wood.
After applying the first coat, use as many more coats as needed to achieve your desired color. Make sure you are following the steps above to ensure each coat is even.
Apply the Sealer
Your stain will protect your fence from everyday wear and tear but ensure durability; make sure you are applying a sealer. A sealer will keep the stain from being ruined and make your fence last longer.
A sealer can be applied using any of the staining options, brush, roller, or paint sprayer. Follow the directions that you used when using the stain to keep the fence looking its best.
After the sealant is applied, let it dry, and then your fence is ready to go.
Note about Time
A good stain can last for 2-5 years under fair conditions. But extreme temperatures and weather can age and damage the finish. Ensure you are re-staining your fence every 2-3 years to keep it in the best shape possible.
Be sure to checkout our other fence articles such as how you can extend the height of a wooden fence post, were we teach you step by step!