Are you looking to start your snowblower? It's not always easy and can get frustrating in the cold.
In this article, we'll walk you through how to start your snowblower so you can get going quickly and get back inside.
What You Will Need:
Snowblower
Operational Manual
Paper Towels
Oil
Gas
Step-By-Step Instructions:
1. Assemble Your Supplies
To begin, clear a space in your garage or shed where you can pull out your snowblower and have enough room to move around it. You'll want to make sure you have good lighting so you can read all of your settings and adequately check your fluid levels.
This guide will be most useful to you if you read it with your snowblower in front of you. This is because there are many different kinds of machines with different types of buttons and knobs. This guide will give you enough general information to help you turn on any kind of snowblower, but it will be easier to understand what is being talked about if you can consult your own machine.
2. Read the Safety Precautions in Your Manual
Before you do anything else with your snowblower you should read all of the safety precautions that apply to your specific machine. Some basic safety concerns will be the same for all snowblowers such as being careful with flammable gasoline. There will be some safety features, however, that will specific to your machine. This could include voltage or electricity precautions or procedures if you have an electric start machine. Make sure you know what steps to take if you have an issue with your machine before trying to start it.
3. Check the Oil Levels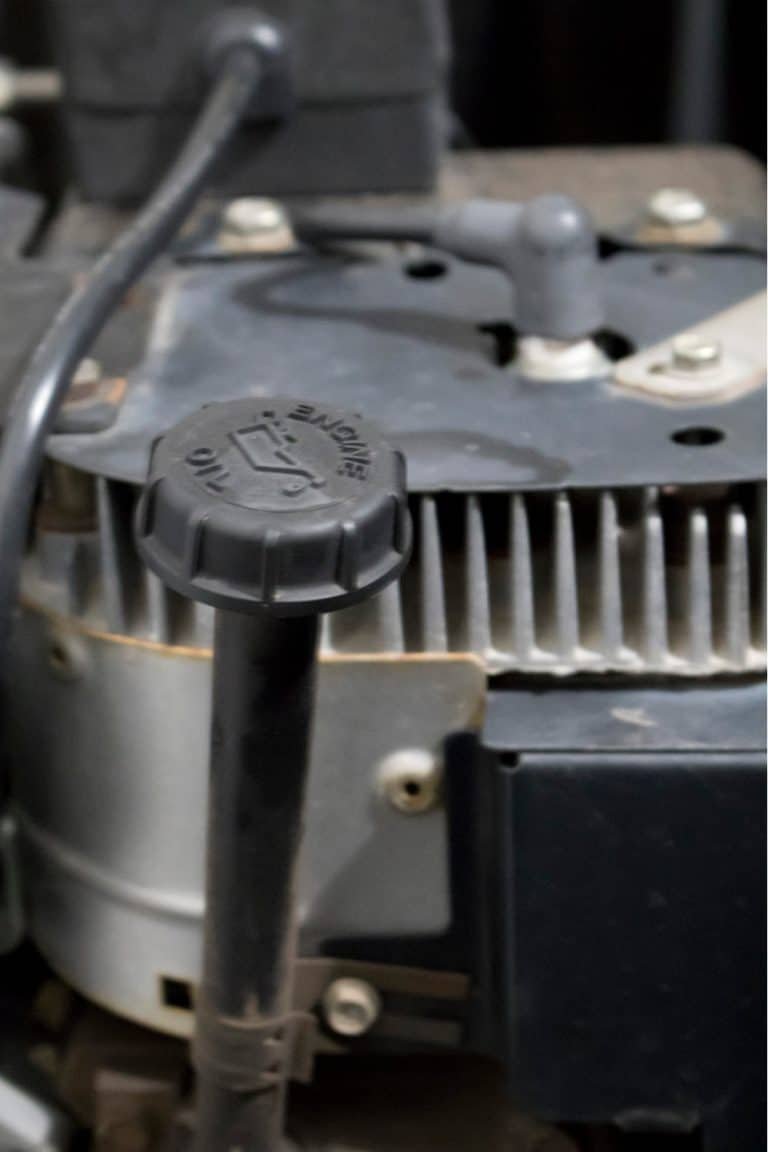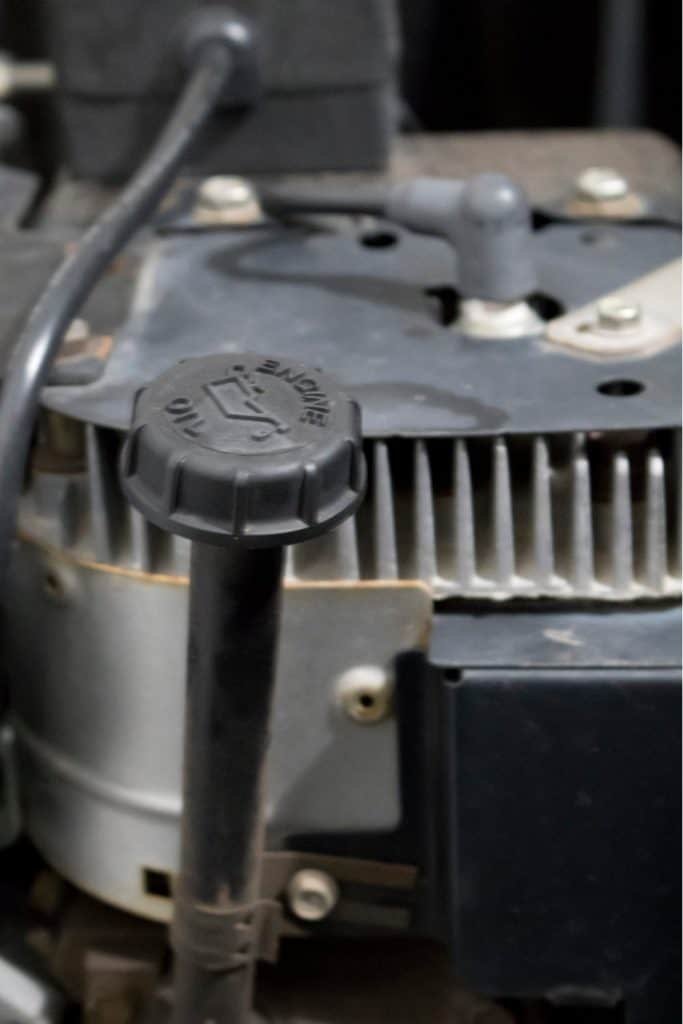 It is important to make sure your snowblower has enough oil in it and that the oil doesn't need to be changed. If your machine doesn't have enough oil, the engine can become seriously damaged. The oil in your machine will also need to be changed every so often. This is another place where having your operational manual on hand will help, as it can tell you how often your oil needs to be changed and what kind of oil should go into your machine.
To check your oil, you'll need to locate the oil lid and dipstick. The exact location will depend on the type and model of machine you have, but the lid should be marked with the word "oil" or the picture of an oil can and is often yellow.
Once you locate the dipstick, unscrew or unfasten the lid and pull the small stick out. In order to get an accurate reading, you should wipe the stick off with a paper towel and re-insert it into the oil chamber. You may need to screw the lid back on to make sure the stick is inserted far enough to get an accurate measurement.
Pull the stick up again and check where the line of the oil ends. It should fall between the top and bottom line on the stick, though your manual will tell you more accurately where the line should be and what the oil color should look like to ensure it's still good and doesn't need to be replaced.
4. Check the Gas Levels and Replenish as Needed
You'll also need to check your gas levels before you use your snowblower to make sure you don't run out of gas halfway through your task. If you do, you can always add more, but the need for a snowblower likely means it will be very cold and you don't want to be fumbling with gas cans and fuel lids with frozen fingers while trying to get your driveway cleared.
Your manual will help you locate the right lid and tank to check your gasoline. There should be a built-in stick or line on the inside of your tank to indicate how high the gas levels should be.
Some tanks shouldn't be filled all the way, so be sure to check the requirements for your particular machine. Don't just fill the tank up to the top and call it good.
Another important note about gasoline in your snowblower: it's important to use fresh gas. If your snowblower has been sitting for a long time, especially if you haven't used it since last year, you need to drain the gas and replace it with fresh gasoline.
Stale gas can cause serious damage to your machine. If you're not sure if the gas is still fresh enough or not, it's best to err on the side of caution and go ahead and replace it.
5. Put the Controls in Neutral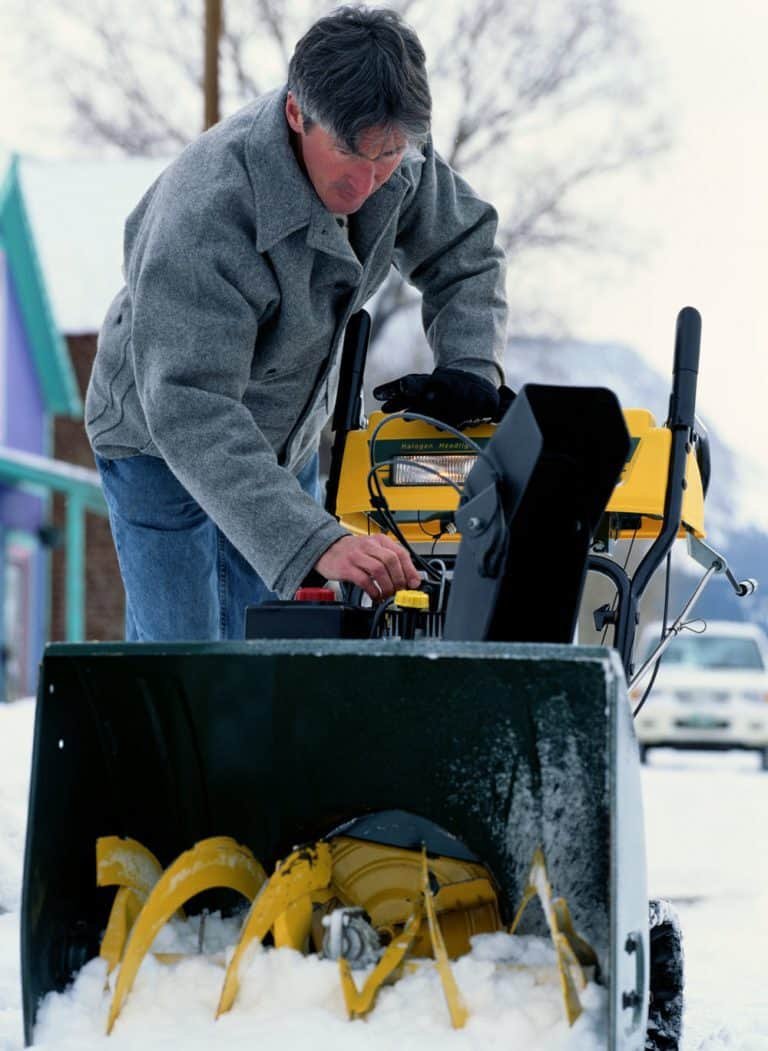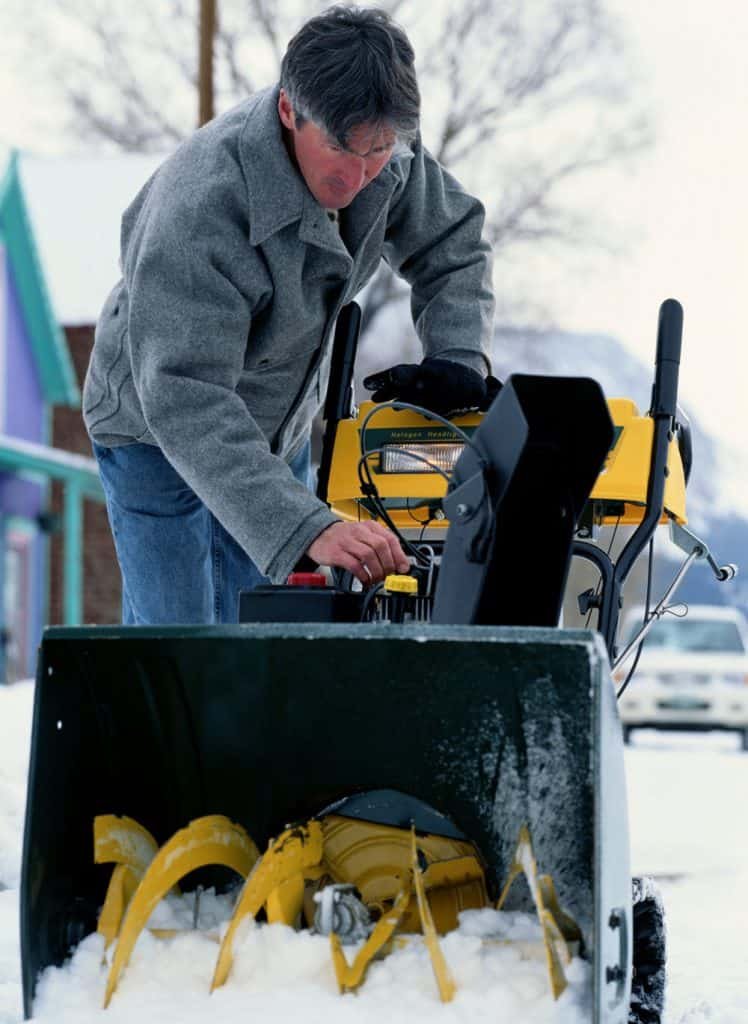 Disengaging the drive controls while you are getting your snowblower started will help ensure there are no accidental operations while you're getting things going. To make sure your machine doesn't start moving on its own once it's on, set your drive controls to neutral.
6. Set the Choke
Most snowblowers have a choke that will help your engine start and run properly when it's cold. If your snowblower has been sitting in a garage that is heated or otherwise stored where it's warm, you probably don't need your choke.
If your machine is cold or hasn't been used in a while, you'll want to set the choke on full, which conversely closes the choke entirely. This will close off the air supply to your carburetor which will help your engine fire correctly even when it's cold.
7. Increase the Throttle
Next, turn the throttle on your snowblower to "fast" or "full". The speed on most models will be indicated by a slide between a turtle and a rabbit. In this case, the slide should be moved all the way to the rabbit side.
You should always have your snowblower on the "fast" or "full" setting when you first turn it on. You should also run your snowblower on the fastest setting whenever possible as this is the most fuel-efficient way to operate it and will help stretch your gas further.
8. Open the Fuel Valve
Every snowblower should have a fuel shutoff valve that will help prevent leaks when the machine is in storage. You'll need to locate this and turn the nob to "open".
Your manual will help you know where this is located and what it will look like, though most will have a picture of a fuel pump and a long wedge shape to indicate how much fuel is flowing. Be sure to turn this off again once you're done with your machine.
9. Hit the Ignition
The ignition usually looks like a basic on/off switch. It should be called either the run, rocker, or ignition switch. You'll need to flip this to the "on" position.
10. Insert the Safety Key
Not every snowblower has a safety key. If yours does, however, you'll need to insert it at this point. This will allow you to start your machine. If you need to stop your snowblower in an emergency, pulling this key will shut it down immediately.
11. Press the Primer
The primer should be located on the side of your machine near the engine and will look like a soft bubble. Press this once or twice if your snowblower has been stored in a warm environment. You may need to press it 3 or 4 times if it's very cold outside. Don't use this at all if your machine is already warm and has been used in the last few minutes.
12. Start it Up!
Finally, it's time to start your snowblower! What this looks like will depend on what kind of starter your machine uses:
Pull-Start Motors
If your snowblower is a pull-start or recoil, there will be a handle attached to a pull rope. Grab this and pull the rope out slowly until you feel it meet some resistance. Once it does, pull the rope in a swift, hard motion. This should get your machine up and running! You may need to pull the rope a few times, though, to get the engine going.
Electric Start Motors
An electric start mower will need to be plugged into the wall before it can start. There should be a power cord included with your model. First, plug this cord into the appropriate spot on your machine, then plug it into a wall. Make sure the voltage of the outlet is the same as your snowblower. Once it's plugged in, press the "on" or "start" button. This should get your engine going, and you can then unplug the power cord, first from the wall, then from your machine.
13. Close off the Choke
The last step to getting your snowblower running properly is to close the choke. Be sure to let your snowblower run for a few minutes first, though, so it is properly warmed up. Once it is, slowly turns the choke to the "off" or "run" position. Your snowblower is now ready to go! There are many snowblowers to choose from, here's our review on Ego Snow Blowers.
We hope this article helped you learn how to start your snowblower. You may also want to see our guide on if your snowblower won't start as well as making sure you know how to cover outdoor faucets for winter.
If you want to see more backyard projects, follow us on YouTube or Pinterest to see the latest projects.