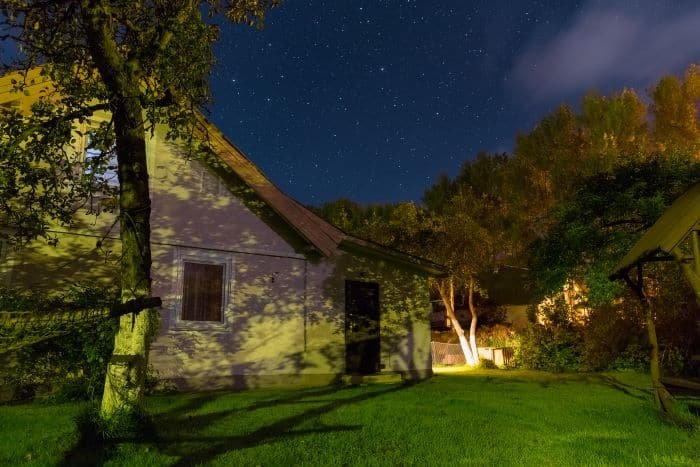 Being able to look up into the night sky and spot patterns, specific stars and planets, and track the lunar phases sounds pretty cool. The night sky is something that has been piquing the interest of humans for thousands of years, and if you too have found yourself drawn to the expanse of space, you may be ready to start up backyard astronomy.
The night sky is big and there is a vast amount of resources and information available. Knowing where to get started with backyard astronomy can be tricky and even overwhelming. This article will work you through the basic steps for becoming an amateur astronomer in your own backyard!
Pick a Spot
You may want to run out and buy a telescope immediately, but your new hobby will have a much greater chance of success if you take things slow. Before you invest in equipment, star guides, or any of that stuff you are probably eager to get to, there are a few other things you need to do first.
The absolute first step is to pick a spot. Will you be doing your stargazing in the middle of the backyard, from the porch, or maybe even from the roof (be careful!)? Picking a single spot will allow you to track the movements of the night sky better.
What makes a good astronomy spot anyway? Here are the things you want from your chosen stargazing location:
Easily accessible
Unobstructed view
Free of light pollution
Room to maneuver and change viewing angles
Depending on where you live, finding a spot that meets these requirements could be a cinch or quite challenging. If you live in the city, light pollution can be a real problem. In some cases, you can find parks outside the city to do your stargazing or you can focus on the things you can see, such as the moon.
Wherever you live, explore your options a bit to find the most ideal spot to which you have access.
Learn Your Bearings
Once you have picked a spot, it can be helpful to orient yourself. Learn where north, south, east, and west are from your position. This will make it much easier to read any maps or guides you pick up.
Get a Map
You can spend hours staring at the night sky without learning the name of a single star or how to find the first constellation. If your goal is to be able to identify what you are looking at, you are going to need some help.
Luckily, thanks to smartphones, you have a ton of free resources at your fingertips. There are plenty of apps you can download which can show you what you can see from your location. They can point out constellations and particular stars and planets.
Here are some great apps to check out, but play around and find one that works for you. There are a lot of options for both Apple and Android users. You may also want to download a couple to get all the resources and benefits you want.
SkyView Lite
Stellarium
SkySafari
Nasa App
Night Sky
Start with the Naked Eye
Now that you have a spot, know which way is which, and have a good guide to help you identify what you see, it is finally time to start looking at the night sky! However, this does not mean that you should go buy a telescope now.
You should start your stargazing with nothing more than your own eyes. There are a lot of things you can see in the night sky with the naked eye. You can learn to track the phases of the moon, identify constellations, and even spot some planets. Before you start delving into the deep reaches of space with upgraded equipment, see how much you can find with your eyes alone.
Move Up to Binoculars
Once you feel you have exhausted what you can explore with just your smartphone app and your eyes, it is time to bring in some extra vision help: binoculars! While you may think that a telescope should be the logical next step, there are several reasons that binoculars are a better first choice.
Binoculars will give you a view that is more similar to what you see with the human eye than a telescope. Telescopes zoom in a lot, which means you are looking at a very tiny portion of the night sky. Binoculars give you a wider view that is still much better than what you can see on your own.
In addition, telescopes often invert the view, so that you are looking at things upside down or at a right angle. Binoculars take much less time to adjust to and require less technical know-how. They are a logical next step for the amateur astronomer, which will both greatly expand what you can see and begin teaching you how to look for things through equipment.
Pick a Quality Telescope
If you have stuck with your backyard astronomy through both the naked eye stage and the binocular stage, and you are still eager for more, it is a good indication that a telescope would be worth the investment for you.
Now is not the time to skimp. Do your research and pick a quality telescope. You want the telescope to maneuver easily and give you a clear view, but there are other things you may want to consider such as portability and automatic settings. Some telescopes can find things for you in the night sky, but this may stop you from learning to find things on your own.
When it comes to telescopes, there is an enormous range. You certainly want a quality telescope (don't get one from the toy department at a department store), but you also don't need the absolute best for your first telescope. Pick something that is reliable and which you feel you can use effectively.
Celestron, Orion and Meade are telescope manufacturers that consistently come up as the best telescopes. They all have a wide variety of models to choose from that are great for beginners. Below are three examples of each that are ranked highly for beginners.
Find a Community
You can only learn so much on your own, and you are not the only person interested in the night sky. Check into any local astronomy groups in your area. You can attend events, share your findings, and get tips and tricks from your fellow astronomers.
A community is also essential for whenever you run into roadblocks. Sometimes you will have problems finding things, difficulty working your telescope, or simply have miscellaneous questions. When you need some help troubleshooting the support of a group can go a long way in making sure you don't give up.
Do Your Research
These next two tips aren't vital, but they can take your backyard astronomy to the next level. If you want a real in-depth knowledge of astronomy beyond being able to identify objects in the night sky, then some research is necessary. Your public library is a great place to start, and you can also reach out to other astronomers in your community for tips.
Doing a little research can greatly expand how much you get out of your backyard astronomy. It can give you ideas about what to look for and the significance of what you are seeing.
Keep a Logbook
One fun part of astronomy is noticing how your night sky changes. The constellations you can see in the summer differ from what you can see in the winter. Keeping a logbook is an excellent way to track what you can see. It can also be a way to monitor your progress. You will be amazed at how much more you can see as you practice and learn!
Be Patient
The final thing to remember when starting with backyard astronomy is to be patient. Finding stuff in the vast blackness of space is a tricky business. You will fail sometimes and have to learn from your mistakes.
However, if you are willing to work at it, you will be amazed at how much the sky has to offer! Be sure to check out our article were we go over more ideas you can do in your backyard! Also with for the spooky season you may enjoy our list of the top Halloween decorations. We also have a backyard games that are sure to improve any get together!