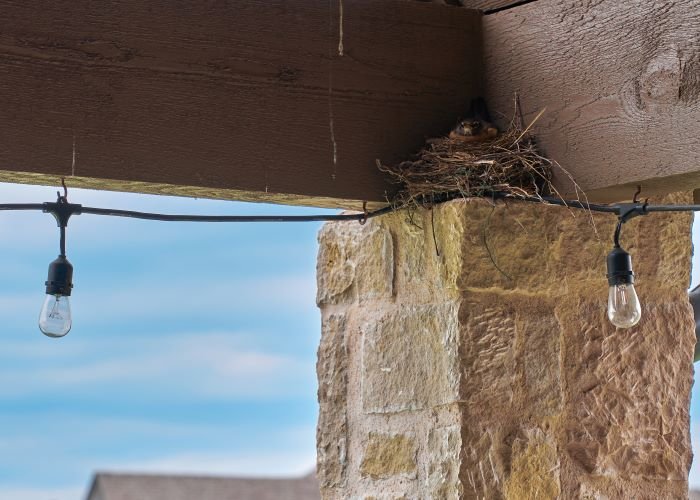 When you are sitting on your porch, the last thing you want is to be dive-bombed by a momma bird because you were too close to her nest. Birds that are forming nests are also very frustrating as they can make a big mess all over your porch.
To stop birds from nesting on your porch, you may need to do a couple of things such as:
Use products to scare away birds
Keep removing their nests
Deter them with a bird feeder placed far away
If they keep coming back, you may need to take more extreme measures to make sure the birds stay away. 
There are many products on the market that you can use to not only deter birds but keep them away permanently. Birds can destroy porches with the mess from their nest, and they can also leave droppings everywhere.
The worst problem is an overprotective mother that tries to attack you. Read on to find out just what you need to do.
Deterring Birds From Landing on Your Porch
This is the first step when dealing with a bird that wants to build a nest on your porch. You want to make your porch very uninviting for birds.
If you stop the birds before it comes to an issue, you will save yourself a lot of stress. Now let's look at a couple of ways to deter birds.
Depending on your porch setup, this could be an option. They are flexible stainless steel spikes with a plastic base and long thin stick-like points. These stop the birds from landing wherever they are placed. Bird spikes can also be found at many local stores.
These are very nice products to buy because they look fairly neutral and work very well. The metal reflects light and moves as the wind blows. The birds get confused as the light moves around. People use these in vegetable and flower gardens every day. They will work perfectly for your porch, too.
Birds are very leery of owls. That's why these make the perfect bird deterrent. They can be placed anywhere and will look like a simple decoration, all while scaring away any potential birds.
It is important to move the hanging or owl deterrents around often as birds are fairly smart and will catch on that those objects are not any danger to them, and they will come onto your porch anyway.
If you move them around, the birds will still assume they are a predator. The spike is a different story as the birds will not be able to land anywhere they are placed.
What to Do if You See Evidence of a Nest Being Built
If you keep finding yourself sweeping debris off your porch that seems to come out of nowhere, you may have a bird that is trying to nest on your porch. One very simple way to help deter them from building a nest is to remove the makings of a nest every time you see them.
The momma bird will keep coming back to add to the nest, and if you continue to destroy it, she will not feel your porch is safe and will move on. If you were to let her build a nest one year, chances are she will try to come back every single year, so it's best to stop it before it starts.
Also, don't feel guilty about taking the parts of a nest down as the birds can move to a tree. It is ok not to want your porch to be destroyed, and you should be able to sit and relax without a bird attacking you because you have walked too close to her nest.
Should a Fully Formed Nest Be Moved?
Many people may feel too guilty to remove a fully formed nest because, after all, the momma bird worked so hard on it and may not have time to make a new one.
If you find a fully formed nest on your porch, you can try to gently move it to a tree. If you are not able to, simply take the nest and set it away from your porch.
The bird will need to rebuild it, but she will have all of the supplies right there. If you keep them close to your porch, she may bring them right back to you.
Birds in nature can have their nest destroyed by several things, so if you need to remove it before it has eggs in it, that's the perfect time for a relocation. When a nest has eggs, you have a bigger issue.
What to Do With a Nest if You Find Eggs Inside
There is a lot of conflicting opinions when it comes to moving a nest with eggs inside. Many people believe that a nest should not be moved. If a nest is moved, the chances of the eggs being broken are high, but that is not the worst part of it.
Chances are, you will not be able to put the nest in a safe and stable spot. The momma bird will most likely not go back to it, and the eggs will most likely not hatch.
If you choose to leave the nest where it was built, you will have to deal with the overprotective mother. Sometimes she becomes used to humans on the porch and will only fly away if you get too close. Other times the mother will not want anyone near her nest.
If that is the case, you may need to move her nest no matter how bad you may feel about it. If you or your family is at risk of being attacked by the bird, it is perfectly fine to choose safety for yourself and your family over the bird and its nest.
Handling a Relentless Bird That Is Nesting on Your Porch
It can be very frustrating when a bird keeps landing on your porch and leaving not only parts of their nest but their droppings. This can cause issues if you have young children or pets that may accidentally get into the bird droppings.
It can also cause damage to your porch, and at a minimum, you will be sweeping nonstop. Hopefully you'll be able to stop a bird nesting in your porch based on some of our recommendations.