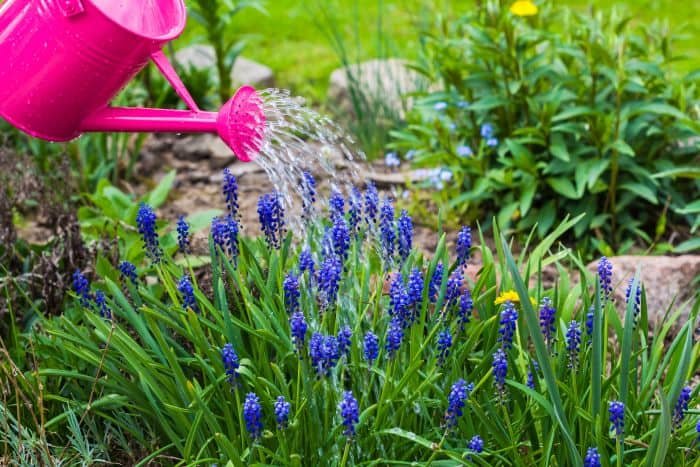 Hydrogen peroxide is not just for cuts and scrapes; it can be used in your garden! In addition, hydrogen peroxide is a cheap and effective tool that can be sitting in your medicine cabinet for years.
Finally, if you are an avid gardener, you can use hydrogen peroxide for your plants for quick and easy solutions.
Yes, you can use hydrogen peroxide on plants to help them grow. Hydrogen peroxide is seen as a corrosive acid that cleans and can destroy growth. The chemical compounds found in hydrogen peroxide are very close to water and are found in natural rainwater.
Your plants can flourish by using hydrogen peroxide. If you want to know how you can use hydrogen peroxide to help your plants, read on.
How To Use Hydrogen Peroxide On Plants
There are so many different things you can use hydrogen peroxide for in the garden. The natural hydrogen peroxide compounds help them to grow and flourish, unlike regular tap water.
Rainwater is better for your plants because of the hydrogen peroxide found in the water, and by using hydrogen peroxide, you mirror that.
How to Create a Hydrogen Peroxide Solution
There are some things you need to do before you can pour hydrogen peroxide into the plants.
Steps to create a hydrogen peroxide solution:
Mix 1 cup of hydrogen peroxide with 32 cups of water. (This will make sure the water dilutes the acidity and makes it safe for your plants.)
Use a large bucket to mix them all and make sure they combine thoroughly.
Pour the hydrogen peroxide solution on the roots, not the leaves of the plant.
How to Use Hydrogen Peroxide
Hydrogen peroxide is used as a great way to get rid of fungal or root rot. Create the hydrogen peroxide solution and then pour it on the roots and soil at the base of a plant. Each plant should get about a cup and a half of the solution, and it should be lightly poured over the plant roots.
Soaking overnight is optimal to make sure the fungi and roots are saturated in the solution.
When pouring the solution, it is also essential to pour them on the roots and soil and not on the leaves. If you pour it on the leaves, it will destroy the ability to make food for the plant.
You can also soak the seeds in hydrogen peroxide. You will need a more robust solution than the roots soak. Use one ounce of hydrogen peroxide to two cups of water and then soak the seeds in the solution. It will help them to grow stronger and faster.
Ways Hydrogen Peroxide Helps Your Plants
There are many ways that hydrogen peroxide can help your plants and your garden grow and flourish. Using the solution in these multiple ways will help your plants grow and your garden remains healthy.
These are the ways hydrogen peroxide can help your plants:
Eliminate fungus and root rot
Help with soil aeration
Disinfect tools and supplies
Clean and sanitize potting soil and fertilizer
Disinfect seeds
Accelerate germination and root growth
Eliminate Fungus and Root Rot
Root rot and fungus can be detrimental to your plant growth. The fungus can become parasitic and take more of the nutrients from your plant. In addition, root rot on a plant will make your plant unable to absorb nutrients.
Both of these problems can be avoided by putting the hydrogen solution on the roots of the plant.
If you pour the more comprehensive solution on the plant's roots, it will avoid these issues. You will want to use the solution with one cup of hydrogen peroxide to thirty-two cups of water.
This solution will attack the fungus and root rot and not damage the nutrients and ability to grow.
Help with Soil Aeration
The ground needs to have air pockets to allow the roots to grow and not become a tangled mess. To help aerate the soil, you can use hydrogen peroxide to create more oxygen in the ground.
Pour the hydrogen peroxide solution into the soil and allow it to soak in. The hydrogen peroxide will create air by breaking down and releasing oxygen into the ground.
The oxygen levels in the earth will be higher because of this solution and can make healthy soil for plant growth.
Disinfect Tools to Stop Disease Spread
You can use hydrogen peroxide as a cleaning solution for your tools and pots. However, plants can spread fungal diseases and other diseases between them. One of the ways this can happen is through the devices you use.
If you clean your tools with hydrogen peroxide between uses, the hydrogen peroxide will kill any diseases on the tools. This will help eliminate the spread of diseases between the plants and avoid plant growth.
First, wipe down your tools with a wet cloth. This will get all the excess debris off of it. Then, take your tools and place them in the hydrogen peroxide solution.
The solution should be made with two cups of hydrogen peroxide and one gallon of water. Only dip the metal parts in the solution because it will damage the other wood or plastic pieces of the tool.
After dipping them in the hydrogen peroxide, you need to dry them with a clean towel. If you do not dry them, they will rust and can cause your plants to gain disease.
Disinfect Your Seeds
When growing any plant, you should soak the seeds in water. They will help them to grow stronger and start getting the nutrients to grow. You can disinfect the seeds with a hydrogen peroxide solution to eliminate any disease the sources may have.
You can add a little bit of hydrogen peroxide to your water and place the seeds in an airtight container. The hydrogen peroxide will disinfect and clean the seeds and help them germinate quicker.
There will be more oxygen in the water to help them grow faster. Only leave your seeds in for four hours to make sure they don't get damaged.
After they have spent some time in the solution, you need to let them dry. Then, you can pat them off with a towel and let them dry overnight to be ready to be planted.
This can especially be helpful for seeds you may have been given by other people. For example, their gardens could have diseases, eliminating them by soaking them in the solution.
Accelerate Germination and Root Growth
Finally, hydrogen peroxide can help your plants grow faster and healthier. For example, if you place your seeds in a water and hydrogen peroxide mixture, they will germinate faster and grow to have roots before they are placed in the ground.
If you place your seeds in a sieve and then pour the water over them to clean them, it will help with the germination process. Then use a seed tray and place it in a hot moist environment. The moisture will build up and help them to grow at a higher rate.
Roots will also be formed quicker with the solution and will not become tangled in hard, compact soil. By using the peroxide solution, you will help your plant grow stronger while allowing it to take to being planted quicker, speeding up growing time.
Wrap-Up
Hydrogen peroxide can be a great tool to help your plants grow big and strong. There are so many things you can use it for to keep your plants strong and eliminate any disease. So now that you know the benefits of hydrogen peroxide in your garden make sure you are never without it!
Did you know that coffee grounds can be a great resource for your plants? You can also use hot tub water for watering your plants, which is a lot better than just draining the water. Also, if you're looking for what else you can do for your backyard, you can check out our article where we go over cheap landscaping ideas that are affordable!