Miter saws are one of the most versatile power tools you would come across in a homeowner's tool collection. A miter saw is a powerful woodworking tool that is specially designed to make cuts at various angles. It usually has a blade mounted on a swing arm to pivot right or left to make specific angle cuts.
Miter saws are useful in home and backyard projects. Depending on the quality and type of the miter saw, it can make angle cuts on various materials, including hardwoods. It is useful in making cuts for door frames, window casing, crown molding, as well as deck framing and decking.
One of the major challenges of homeowners is getting the right miter saw to suit their needs. There are different types of miter saws from different manufacturers. Acquiring the best miter saw to suit your needs is essential to get the desired results.
Based on my experience as a trim carpenter, I'll go through the different types of miter saws, which ones I've used, and the ones I recommend either through personal experience or through other personal reviewers. Hopefully this will assist potential buyers to make the best decision for their own needs.
12″ Sliding Miter Saw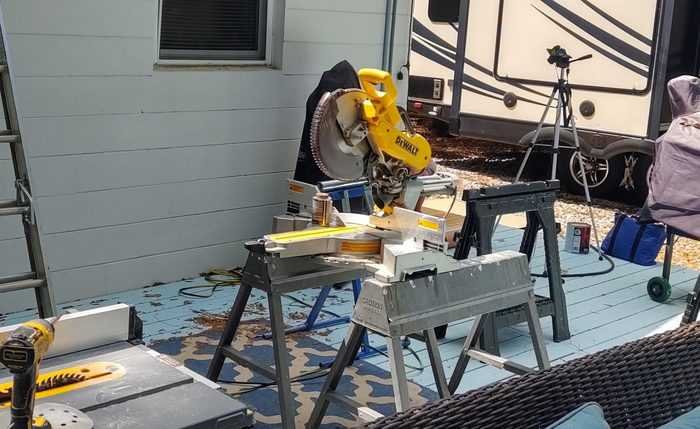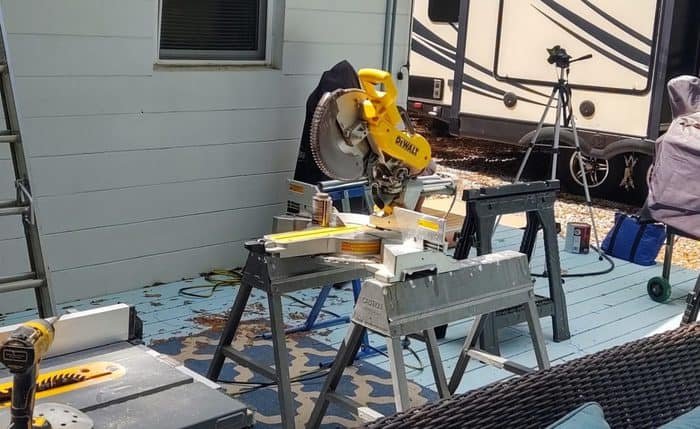 A 12″ sliding miter saw is one of the biggest miter saws on the market. The sliding action lets you cut bigger, thicker wood than regular miter saws. The 12″ blade can also cut the tallest wood standing up against the fence. DEWALT DWS779 is a great miter saw that allows you to handle any project you can throw at it.
This is my current miter saw after I finally decided to upgrade to a larger sliding miter saw. As a trim carpenter for many years, I have gone through several different types of miter saws usually based on budget at the time.
I would only recommend this type of saw if you plan on doing a lot of DIY projects around the house and backyard. It's big, heavy to tote around, and the most expensive saw on this list but will last you many years. I've used mine for baseboards, door trim, deck framing, cutting decking, cutting 4×4 and 4×6 posts.
Dual bevel means you can swing the saw on both sides to cut at an angle. A single bevel saw means you can only swing the saw in one direction. A single bevel can make things complicated when you are cutting crown molding since you will have to remember which side you need the cut once you turn the crown molding upside down.
The substantial size makes the saw feel hefty and able to cut through hardwoods easily. I installed a small deck using a tropical hardwood that had my circular saw stalling through barely able to cut it. I used this miter saw on the cumaru and it cut like butter.
This DeWalt sliding saw can cut through a 2×16 thick piece of wood at 90 degrees and a 2×12 piece of wood at 45 degrees, as well as 5.5 inch tall baseboard standing up. I recommend a good set of sawhorses or stand for this type of saw. If you plan on doing a lot of projects requiring cutting wood, you can't pick a better saw.
Another top brand that has a a great 12″ sliding miter saws is Bosch.
10″ Sliding Miter Saw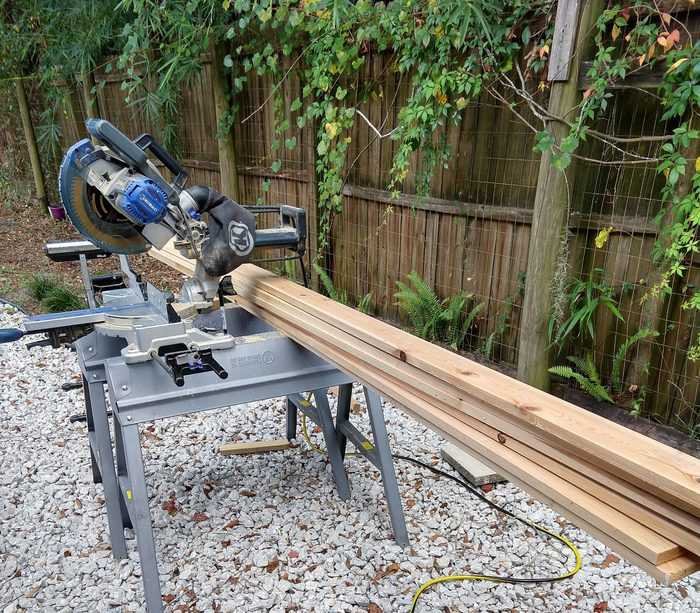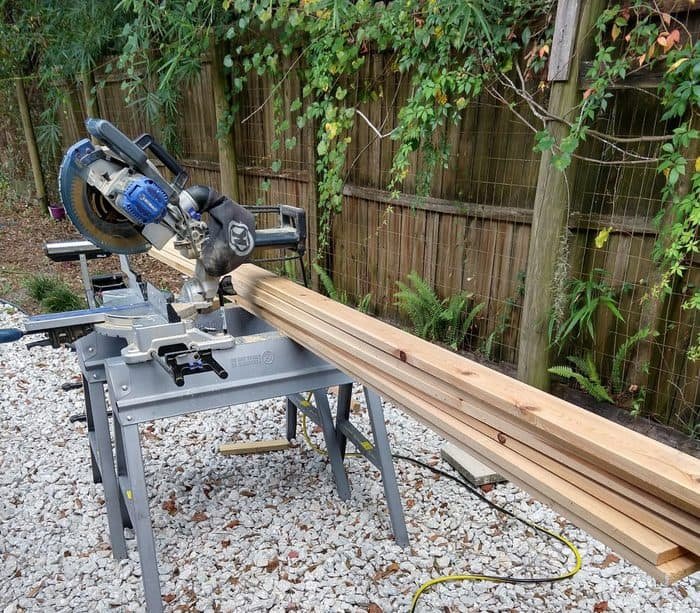 If you're looking for a lower price and smaller sliding miter saw, the Kobalt (Lowes Brand) miter saw is a good buy. This compact model is a corded single-bevel sliding miter saw with impressive cutting ability, durability, and efficiency.
It takes up less space than the 12″ miter and is half the weight, making it easier to move around. It's also half the price of the DeWalt. This was my first sliding miter saw and made a huge difference going through bigger material than a regular miter saw.
The Kobalt cut capacity is 2×12 at 90 degrees, and 2×8 at 45 degrees. Standing up, it can cut 3.5 inch tall baseboard. The standing cut capacity was the biggest reason I moved from a 10″ slider to the 12″ slider. I use to install tall baseboards all the time and the 12″ slider made it much easier but I miss the ease of use of the Kobalt for everything else.
If you want to stay under $300 for a 10″ sliding miter saw, this Kobalt as well as Ryobi and Craftsman make a decent saw. If you're going to spend $500+, I would recommend going with a 12″ sliding miter saw.
12″ Dual Bevel Miter Saw
Ridgid R4123 is one of the most versatile miter saw with it's 12″ blade and dual bevel. I had this tool in a home garage workshop, setup within a large bench area. I chose this tool over the DeWalt 12″ version because it has dual bevel instead of single bevel at the same price.
This Ridgid miter saw model has a powerful 15amp motor to make it powerful enough to cut through most any wood possible. The cut capacity is 2×8 or 4×6 at 90 degrees, 2×6 at 45 degrees and 4 inches vertically against the fence. It delivers a no-load speed of 4000RPM on its 12″ blade.
The 43lbs model has an adjustable stainless-steel miter detent with 16 positive stops that enhance productivity by increasing its cutting accuracy and precision. At $250, it's less than a sliding miter saw and more than a 10″ non sliding miter saw.
Overall, it offers practical solutions to homeowners with various woodworking applications. This power tool comes with other accessories that enhance its functionalities and performance. These accessories include; dust bag, blade wrench, vertical clamp, comfortable side handles in the base and carbide blades.
10″ Single Bevel Miter Saw
Metabo HPT C10FCGM is a lightweight miter saw that is most suitable for homeowners who want a basic miter saw to handle small DIY projects. This was my very first miter saw purchase, though at the time it was called Hitachi, not Metabo. Even for a beginner it will handle everything you need it to do.
It has a powerful 15-amp motor that delivers a no-load speed of 5000RPM on its 10" blade to make smooth cuts even on the toughest materials. At $100, it is one of the best saws you can buy for the money, especially if you're new to DIY.
It is useful for flexible applications because of its easy angle adjustments. It also includes adjustable bevel stops that enhance precision. The inclusion of a laser marker system improves the cutting ability of this power tool.
The 24lbs miter saw is lightweight and easy to handle. The integration of a horizontal vibration reducing handle further eases its easy and comfortable use.
Frequently Asked Questions
What to look for when choosing your miter saw?
The factors to look out for while choosing your miter saw include:
Cutting capacit

y

Dual or Single Bevel

Weight

Durability

Cost
Which is better; 10" or 12" miter saw?
The better miter saw between the 10″ and 12″ miter saws is dependent on the specific applications. The 10″ miter saw is better for small to medium scale application while the 12″miter saw is better for more rigorous and larger applications.
How high should a miter saw table be?
The miter saw table's height depends on specific applications, and sometimes the preference of the user. On average, the best height for a miter saw is about 30-34 inches.
Do I need a stand for my miter saw?
The best action would be to optimize your miter saw to suit your applications. The decision to use a stand for your miter saw is dependent on your scale of usage and needs.
What is the difference between miter and bevel?
To be precise, a bevel is an angled cut relative to the material's face while a miter is an angled cut relative to the square side of the material.
What are the best miter saws under $200?
The best miter saw under $200 is the Metabo listed above.
Conclusion
Miter saws are one of the most essential homeowner tools for their DIY projects. As you see from the list above, you have essentially 4 different choices of miter saws. Which to choose depends highly on your experience level and budget.
I started small since I didn't want to spend a lot of money on a tool that I might use once. That obviously wasn't the case for me, but it might be for you. Why purchase a $600 saw that you rarely use? Hopefully we've given you the information you need to purchase your next miter saw.