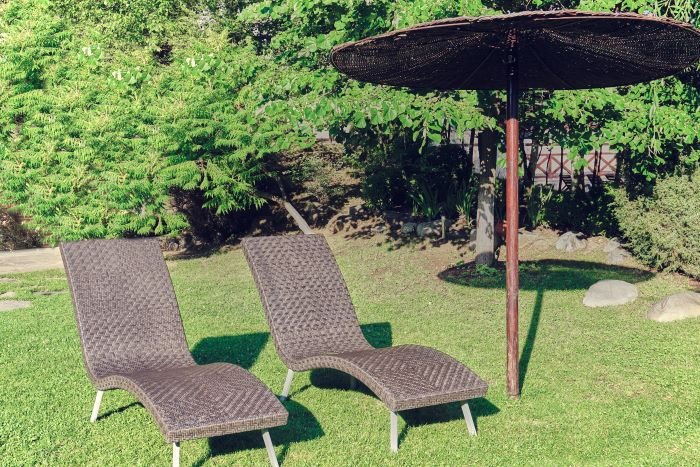 Comfort is essential for everyone. It is especially important when considering what type of chair you like to sit in. If you go a step further, it is crucial to find a chair you are excited to sit in during the warmer months in your backyard.
Lounge chairs are notorious for being comfortable, and you want to find something that will allow you to relax on a bright sunny day. Comfortable may mean different things, but it is still a universal concept. Read below to learn about the most comfortable outdoor lounge chair.
What is the Most Comfortable Chair for Every Situation?
Outdoor lounge chairs are some of the most comfortable chairs you can sit in. They were designed that way because most people who sit outside seek chairs that are relaxing. Below are the best chairs made for each type of person or situation.
Best For Sturdiness: Outdoor Wicker Recliner Chair
This outdoor wicker recliner chair is made from a 100 percent white powder-coated aluminum frame with handmade resin wicker. The chair was created to safeguard against the following:
The covers, made from soft-sponge foam, are not difficult to maintain. The weight of the chair is 60.7 pounds. The overall weight that it can hold is 330 pounds.
Best Chair for Long Day: Kozyard Maya Outdoor Lounge Chair
The Kozyard Maya Outdoor Chaise Lounge Chair is great for a long summer day spent reading a good book. It has weatherproof stain-resistant cushions. These chairs will look brand new long after the initial purchase.
The chair's weight is 31 pounds, and it can hold up to 250 pounds. It also has five adjustable back recline settings.
Best Chair for Poolside: Goldsun Aluminum Lounge Chair
The Goldsun Aluminum Lounge Chair is great for lounging by the pool. It is lightweight, and the aluminum frame prevents rust. It is portable, can easily be moved from the poolside to the deck, and has seven different back adjustments for maximum comfort. Plus a removable side table for drink and phone.
The chair weighs a meek 20 pounds, and it can hold up to 350 pounds. It is made of water and oil-proof material. The only con may be that it doesn't lay flat.
Comfortable and Classy: Bluu Chaise Lounge
The Bluu Chaise Lounge is comfortable and classy. It is adjustable and has four different positions and a fully-reclined option. It is made with polypropylene resin frame that looks like wood for weather resistance and has a classic lounge chair design.
The chair is easy to put together and looks great in any outdoor setting. It is an excellent chair for taking an afternoon summer nap. It can hold up to 350 lbs.
Best for Balcony: Christopher Knight Teardrop Wicker Chair
The Christopher Knight Teardrop Wicker Chair is comfortable especially for small spaces like a balcony. The teardrop design makes it usable even in the tightest spaces. This chair will make your balcony look stylish and modern.
The chair is reasonably lightweight at 35 pounds and can hold 250 pounds. It is rust-resistant and has a steel frame. It is an excellent chair for you to look down from above and watch the world go by on a lazy summer day.
Best for Bigger People: Safeveih Newport Chaise Lounge
The Safeveih Newport Wood Chaise and Cushion Set is comfortable and classy and most importantly can hold up to 700 lbs. It is adjustable and has four different positions and a fully-reclined option. It is made with eucalyptus wood frame for sturdiness. Slide the wood tray out on either side for your drinks and phone.
The chair is easy to put together and looks great in any outdoor setting. It is an excellent chair for taking an afternoon summer nap. The back wheels make it easy to move it around your backyard patio or pool area.
Best Overall Chair: 2 set Outdoor Wicker Chaise
The Outdoor Wicker Chaise Lounge is the most comfortable chair for everything. These chairs come in a set of two. The cushions are ultra-soft, and your body will sink right into them. This chair is fantastic for overall general use and has side trays for drinks, books or phones.
With 5 different reclining positions, you can nap, read, enjoy a beautiful sunset or even a rainbow from this seat. The chair weighs 60 pounds and can hold up to 350 pounds.
How Can I Choose the Most Comfortable Outdoor Lounge Chair?
When searching for the perfect lounge chair, there are some things you need to keep in mind. First, make sure that the chair falls within your budget. Second, you want to find the right type of chair for you and your backyard setting. Third, and probably most important overall, is, of course, comfort.
You can hardly beat a chaise lounge as far as outdoor chairs go. A chaise lounge with an extended seat will allow you to sit back, relax, and enjoy a good book until you fall asleep. You can birdwatch and kick back and relax. If you want to sit up, you can enjoy your iced coffee or sangria if you are of age. The right outdoor lounge chair will typically be the most comfortable chair for your personal needs.
You will also need to sort out the little details of what you want for a chair. This list includes whether you want a single or double chaise. Additionally, you want to choose a chair made from suitable materials, and you want it to be as practical as it is comfortable.
Cushioned chaise lounges are generally the most comfortable. If you purchase a chair without cushions, you can always purchase the cushions separately. Outdoor chaise lounge chairs are available in different materials. These include:
Wicker
Resin
Teak and hardwoods
Aluminum
Plastic
The prices vary depending on what type of material the chair is made from and how it is set up. You may need to sit in many seats before choosing the right outdoor lounge chair. Most of these seating options shown above are somewhere between $200 to $400. A chair made out of sustainably harvested teak or ipe will cost 2-3 times as much but will also last a very long time.
Conclusion
Choosing an outdoor lounge chair can be a fun and rewarding experience. Getting the right style for your backyard setting while also being uber comfortable is the goal. Hopefully we've given you a few choices to decide between and you'll find one that's right for you.