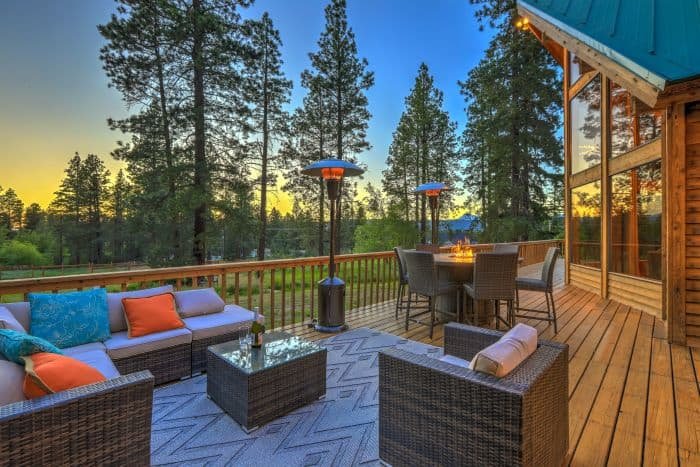 Are you looking for that perfect outdoor rug that will complete your outdoor look?
I used to think that rugs weren't really necessary outside.
Until.
We found one that works perfectly on our deck and I love it. In this article, we'll look at some amazing outdoor rug ideas that can work for any large or small outdoor area.
I'll also show you the one we got and where you can find it as well.
What Size Rug Should I Get?
Ideally, you get a rug that can cover the deck or patio and allow you to put your furniture on it with room to breath.
Most people get rugs that have 6-18 inches room around the rug for the furniture. And usually you want 18-24 inches around a table. Whether that's a coffee table or a little bistro.
The more popular sizes are the 5×7, which is a simple size that will do well for a bistro style setting or a small loveseat area.
The other popular size is the 8 X 10 and that's the size we have and I love it. It feels large enough to handle our loveseat and our chairs. It's also plenty of room for our coffee table.
You could also choose a round rug, which would be perfect for a bistro sitting area or something in front of a cozy chair for reading.
You really can't go wrong with any of the sizes.
For our favorite, we chose this rug.
Modway Cerelia Moroccan Trellis
It works well with our color scheme outside and we love the pattern as well. It's really easy to keep clean. It's also fairly lightweight if we need to move it around.
I also like it because it's hefty enough that the wind doesn't pick it up and blow it around when the furniture isn't on it.
The thickness is perfect if you're walking around barefoot or just take your shoes of while sitting around the backyard. It just feels good on the feet.
If your looking for something with more color, then you'll want to go with something our best friends have in their backyard.
What Type of Fabric Should I Choose
There's a couple of different types of fabric out there. When we traveled in our RV, we had a great, lightweight rug that was reversible and it was made of a synthetic material.
This was great to let the dirt go right through the rug when we picked it up to go. If you have high foot traffic in an area and high likeliness that it will get a lot of dirt, then you might want to consider getting a lightweight synthetic rug.
You can also choose a rug that's made of polypropylene, which will help with keeping mildew and mold out of your rug, even if you lay the rug over grass.
If your outdoor area is under roof or is more of a sunroom, you can choose to go with a fabric rug. This will be fine if it's not exposed to the elements as much as if your rug is outside. In this article we talk about if outdoor rugs can get wet.
You'll also want to know how to clean outdoor rugs. For most, you can just take a power washer to it and clean any dirt off. Now, when you do use the power washer, you'll want to be in the lightest setting so you don't ruin it.
If you have the light synthetic type like we did with our RV, those are super simple to clean. Just spray it down with a water hose and let it dry in the sun.
For the fabric types, you'll have to treat it like you would indoor rugs or carpet and get it steam cleaned. You can do this annually or as often as you need to.
Conclusion
We hope this article helped you pick the perfect outdoor rug for your backyard. If you're still looking for lighting ideas, check our deck lighting ideas article as well.
If you liked this article, then please subscribe to our YouTube Channel for Backyard video tutorials. You can also find us on Facebook.