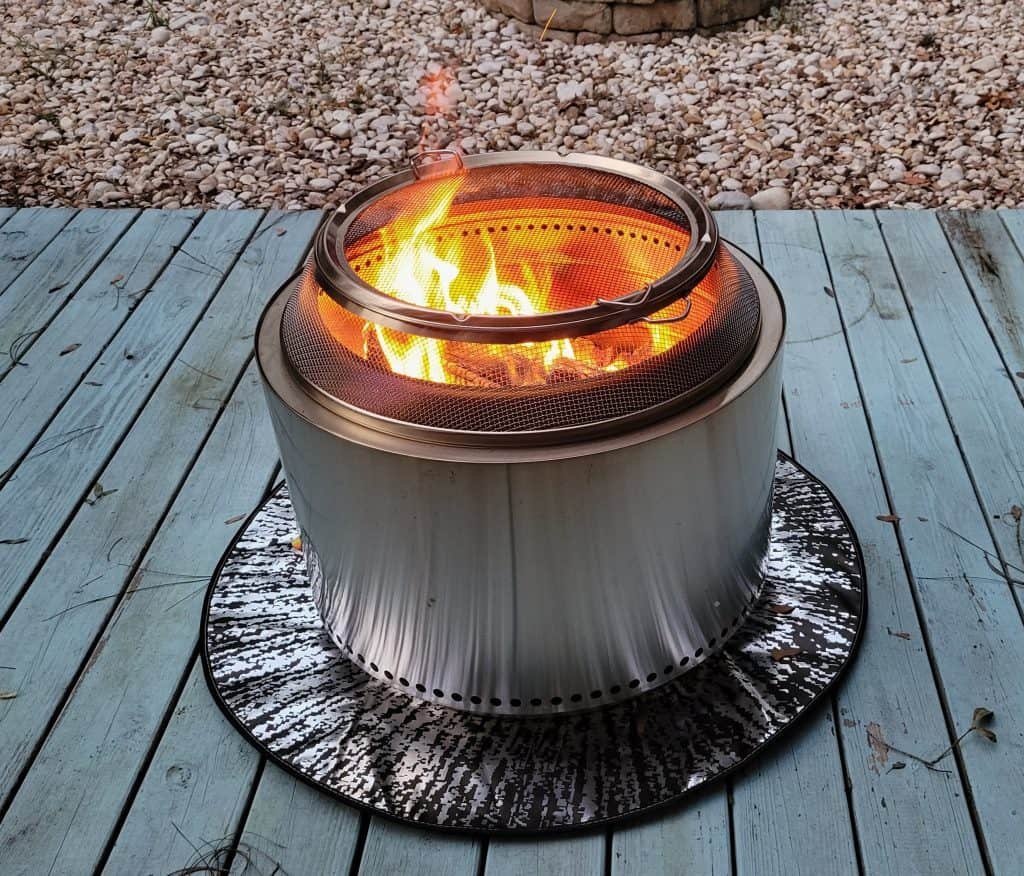 As you might tell from our website, we love firepits. We have three in our backyard, no, I'm not kidding. As much as we love sitting and watching the fire flames on a cool night, we've both gotten more sensitive to the smoke that firepits put out.
Because of this, I was super excited when I first heard about the possibility of a smokeless fire pit. The more I read about how Solo Stove worked the more I wanted one. So we bought the Yukon ultimate bundle on black Friday at a huge discount.
Buy On Solo Stove's Site
We've had a couple of hiccups along the way but finally getting around to write a thorough review about our Solo Stove. In short, we love it and love the ability to sit around a fire again without the excess smoke giving us headaches or breathing difficulties. Read below to find out what we like and don't like about our Solo Stove.
Out of the Box
The 1st hiccup we had with Solo Stove was the fact that it was dented out of the box. A pretty big dent that couldn't be explained since the outer packaging wasn't damaged in anyway. I called customer service and showed them pictures.
They said no problem, they would send a new one and gave us a shipping label to send the old one back. We never had to pay a dime to ship anything and the new one was delivered before we even sent the old one back. For that alone, Solo Stove got a big thumbs up before we even had a chance to use it.
The Yukon Ultimate Bundle
The Yukon is the largest Solo Stove fire pit. We wanted the large version for our backyard setting and to be used on our large ground level deck. The yukon bundle came with the yukon stand, yukon shield, yukon shelter and some fire pit tools.
The stand is necessary if you plan on using the fire pit on grass or on a deck so it was one of the reasons we got the entire bundle. The shield is also in my opinion necessary for using the fire pit on a deck since it helps keep sparks contained.
The last big accessory was the shelter "cover" since we live in Florida and I wanted to keep it clean even in our humid wet weather. What I have been pleasantly surprised with is how good the fire pit tools have been at moving logs around to the right spot inside the fire pit.
Is it Really Smokeless?
I'm happy to report, yes it is smokeless. There are some caveats to the smokeless part that has nothing to do with the actual fire pit. We watched the video from Solo Stove on their recommended way to stack the firewood when starting a fire in the Yukon.
They used (3) small fire starters with kindling arranged in a square and then firewood stacked on top of all that. So the first time we actually started our Solo Stove it was full of black smoke. I actually had a brief moment of what the hell…
But, then I realized that the fire starters we used were full of fire accelerant which was causing the black smoke. After a few minutes the smoke subsided tremendously since the wood we were using was very dry.
Which brings me to the second caveat about it being smokeless. If you use wet wood or softwood like pine, your Solo Stove will smoke. It has nothing to do with the Solo Stove design and everything to do with the wood. We always recommend using kiln dried hardwood in your fire pit for the best experience.
The Solo Stove design makes for a very efficient burn which is why there isn't much or any smoke coming from their fire pit. We have been able to sit for hours next to our fire pit without any issues which is new to us.
All that is left in the bottom of the Solo Stove is ashes, rather than large chunks of wood, because how hot it gets inside the Solo Stove due to its design.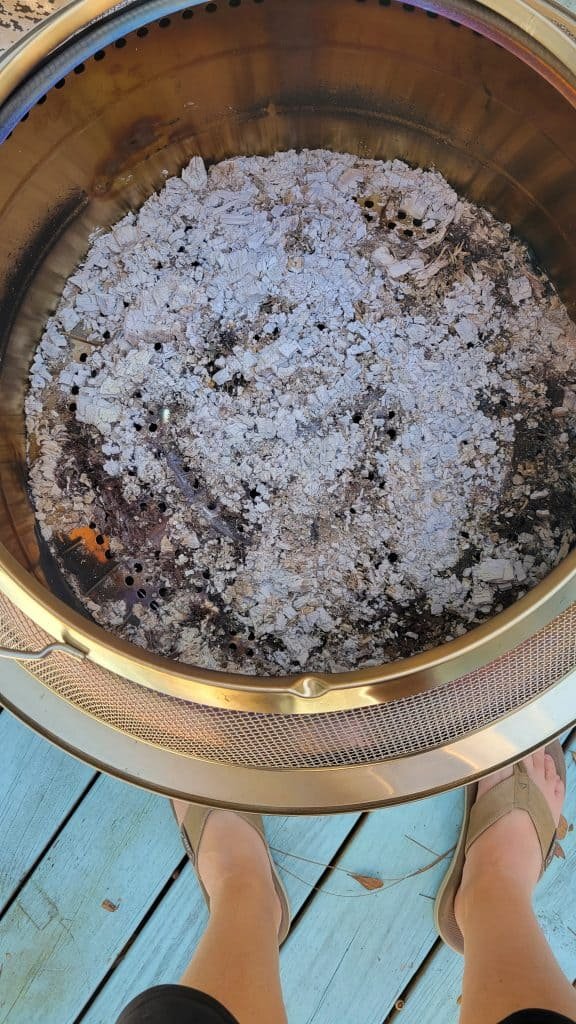 Solo Stove Heat Output
Have you ever sat around a fire pit and can't really feel much heat unless you get really close? Yeah, me too, but that's not the case with the Solo Stove. We actually had to move our chairs back a little since it was so hot right next to the fire pit.
Granted, we do live in Florida so we're not testing our Solo Stove when it's snowing but when we have used it, it's kept us toasty warm.
Final Thoughts
While we have loved using our Solo Stove, we realize why they changed the design recently and added a removable ash pan. With ours, the only way to remove excess ash is to turn it upside down. That's not always easy since there's very little places to easily grip the Yukon.
The only other thing I don't like about our Solo Stove is how easy it is to dent it when moving it. Be very careful moving it any distance since the sides are very vulnerable if anything hits it. Ask us how we know….
Other than that, we still love our Solo Stove and have actually used it more than our built in paver fire pit. With the changes, the new Solo Stove is well worth the price! We can't wait to use the new cast iron grill top and hub.