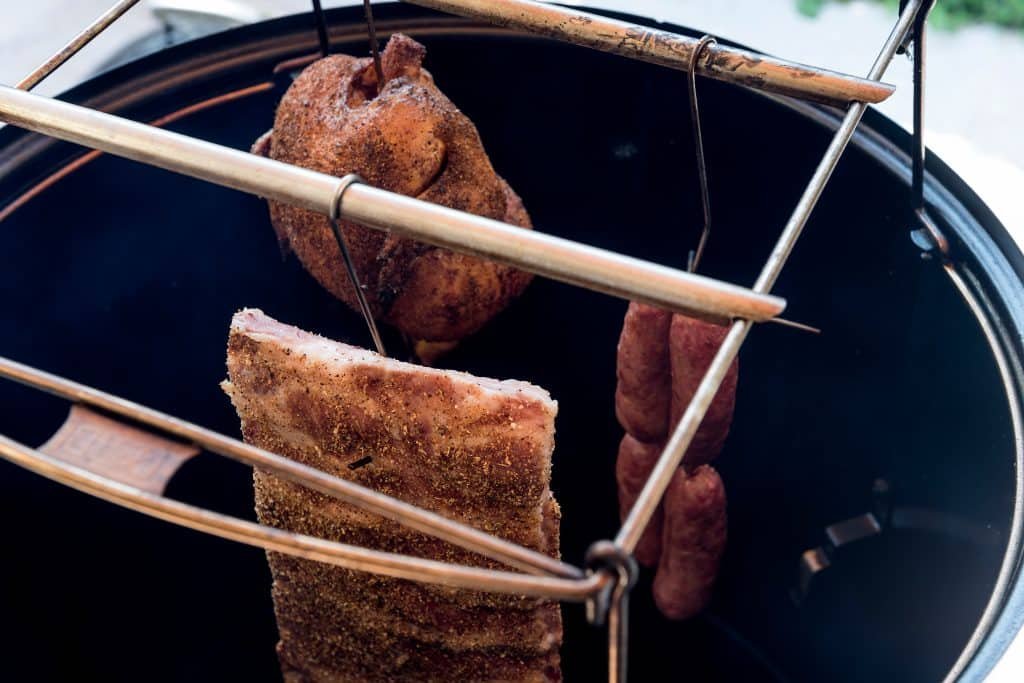 Outdoor cooking has evolved from an activity of necessity to a form of entertainment and source of pride for many outdoor BBQ chefs. In Texas and some select parts of the country, smoked meat is a serious subject and you will be judged harshly if you don't smoke your meat properly for a backyard celebration.
BBQ grilling is way different than BBQ smoking. BBQ grilling is quickly grilling meats that are already tender and you're just adding some smoked flavor to them. Think, hamburgers, hot dogs, chicken breasts, tender steak and veggies. BBQ Smoking is taking a very tough piece of meat, like brisket and making it more tender than a piece of filet mignon.
It makes many hours to break down a tough textured piece of meat like brisket, ribs, pork butt etc. And to do that well, you need a charcoal smoker. We say charcoal but you can smoke with wood or charcoal.
Charcoal smokers remain one of the vital equipment for smoking meats at lower temperatures for long periods of time. A good charcoal smoker will allow comfortable use, ensure reliability, and offer a solution to various outdoor cooking problems.
It is not enough to understand the need to use the best charcoal smoker; knowing the type to get is also of paramount importance. Below is a review of some of the best charcoal smokers that can meet your smoking needs. It includes specifications, features, strengths, and the weakness of each product.
The Masterbuilt MB20041220 is regarded as one of the best charcoal smokers because of its impressive features and ease of usage. This charcoal smoker can reach 225℉ in just 10 minutes and 700℉ in about 15 minutes. This feature allows for faster food preparation. It also has an enormous cooking space of 1050 square inches.
This Masterbuilt charcoal smoker will help you reduce costs while still maximizing output. The Gravity Fed hopper feature of the model holds 10lbs of lump charcoal and 16lbs of briquettes allowing the smoker to cook uninterrupted for up to 8 hours. Besides limiting the cost, you spend on charcoal and briquettes, it also saves you the stress of constantly refilling.
The Digital Fan feature of this Masterbuilt charcoal smoker allows easy temperature regulation. It has folding shelves and foldaway racks for space conservation and easy storage.
| Pros | Cons |
| --- | --- |
| Easy temperature control | Heavyweight and difficult to move around |
| Easy storage and space conservation | |
| Extensive usage and fuel efficiency | |
| Large cooking space | |
| Less stressful to maintain | |
Weber Smokey Mountain 18″ charcoal cooker is another impressive charcoal smoker model. It has porcelain-enameled steel to ensure durability and longevity. It has rust-resistant legs that prevents rust even when exposed to moisture.
It has two nickel-plated 18-1/2″ wide cooking plates that can accommodate a whole turkey and a pork butt at the same time. This smoker is lightweight and compact, weighing only 39.1 pounds for easy mobility.
The Weber Smokey Mountain smoker has a built-in lid thermometer that allows you to monitor and regulate the cooking temperature easily. It includes components like a water pan, individual vents on the bowl and lid, and a heat-resistant nylon handle.
| Pros | Cons |
| --- | --- |
| Allows multiple cooking at the same time | Requires frequent refilling of charcoal |
| Relatively affordable | |
| Compact and lightweight | |
| The sturdy buildup for increased durability | |
| Built-in thermometer for easy temperature control | |
Dyna-Glo DGO1176BDC-D has a vertical design that allows it to give off rising heat for better efficiency and versatility. The offset design also keeps your food away from direct heat, thus, allowing slow but efficient cooking.
The dimension of the Dyna-Glo offset smoker makes it suitable even for a large number of people. It is also flexible because it includes six height-adjustable cooking grates that accommodate varieties of food sizes.
It has a 784 square inch smoking area and an 1176 square inch total cooking area, and the capacity of each grate is 25 pounds. Dyna-Glo smoker has a sturdy and well-designed build. The Porcelain-enamel steel ensures durability and the compact design ensures that the charcoal and briquettes are tightly packed.
It has an in-built thermometer for easy temperature control and follow-up. Dyna-Glo offset smoker includes several components such as a removable steel ash pan for easy ash management and cleanup.
| Pros | Cons |
| --- | --- |
| Easy charcoal and ash management system | The firebox is a bit small |
| Flexibility to allow you to customize your cooking | It is not easy to move around |
| Large smoking and cooking area | |
| It allows you to cook with precision | |
| Inbuilt thermometer for easy temperature control | |
Dyna-Glo Signature Series DGSS1382VCS-D is another Dyna-Glo offset smoker model with loads of impressive features and efficient performance. It is suitable for heavy-duty cooking because its body construction is from heavy-gauge steel. The cool touch spring lid provides you safe access to food while the cool to touch handles offers easy access to fuel and food safety.
It has a massive cooking space of 1382 square inches. It also features five chrome-plated cooking grates for extensive and heavy-duty cooking tasks. The temperature control and follow-up of this Dyna-Glo offset smoker model is quite easy with the inclusion of a stainless temperature gauge with a "smoke zone" that indicates the ideal temperature for perfect meat smoking.
The mobility of this Dyna-Glo smoker is enhanced with the inclusion of oversized sturdy wheels that allow you to move the charcoal smoker without stress. It also includes a removable offset charcoal ash pan for easy cleanup and ash management.
| Pros | Cons |
| --- | --- |
| Analog temperature gauge for precise cooking | Not easily adjustable |
| Cool touch spring handle and lid for easy access | Heavyweight and requires large space |
| Large cooking space | |
| Easy mobility with the sturdy wheels | |
| Suitable for heavy-duty tasks | |
Masterbuilt MB20040220 Gravity Series 560 is a charcoal smoker grill with innovative digital features at a lower price point than it's 1050XL cousin. Just like the larger 1050XL model, this Masterbuilt charcoal smoker also has a rapid temperature rise optimized for your cooking, reaching 2250F in 7 minutes and 7000F in 13 minutes.
The good news is that you don't have to worry about your food getting burnt with the massive and rapid temperature increase. Masterbuilt MB20040220 Gravity Series 560 allows you to control temperature and cook time with the included digital control panel or smart device control with Wi-Fi or Bluetooth.
Another impressive feature of this Masterbuilt charcoal smoker is its ability to efficiently and judiciously utilize fuel. This charcoal smoker allows you to use 10lbs of lump coal and 16lbs of briquettes for 12-15 hours.
It has a total of 560 square inch cooking area, and the inclusion of reversible smoke and sear cast iron grates allows high heat searing, as well as low and slow cooking.
| Pros | Cons |
| --- | --- |
| Digital Fan for precise heat and cook time control | Heavy |
| Efficient fuel utilization | ​ |
| Rapid heat production | |
| Easy maintenance | |
Aside from the fact that Char-Broil Bullet Charcoal Smoker is a vertical smoker, it is one of the lightest weight charcoal smokers available. It has a cooking area of 370 square inches across its two porcelain-coated cooking grates. This coating ensures durability and prevents rusting.
This vertical charcoal smoker's design allows an innovative airflow control system that enhances heat sustainability, regulation, and optimization. It is also made easier with the inclusion of numbered damper settings. It also has a removable ash pan that enhances easy cleanup.
The height of the Char-Broil Bullet Charcoal Smoker is conveniently accessible with its tubular steel legs. It includes tow chamber-lift handles and a temperature gauge mounted on the lid of the product. The inclusion of a high-quality fire access door also enhances effective smoke management throughout the entire smoking process.
| Pros | Cons |
| --- | --- |
| Effective smoke management | Limited cooking space |
| Quick and easy temperature monitoring | Limited temperature level |
| Innovative airflow control | |
| Durable construction | |
| Portable and lightweight | |
Realcook Vertical Charcoal Smoker is the most versatile smoker on our list as well as one of the lowest priced smokers. You can use this smoker as is, or it comes apart to serve as a single fire pit or as a BBQ grill. Being able to serve multiple uses as well as it's price point makes it one of the best buys on our list.
As for it's smoking capacity, it has a two-piece cooking grid that offers 453 square inches of cooking space. It comes with four hangers and crossbars inside the lid. This feature allows you to smoke different types and different sizes of meats.
It has a built-in thermometer that gives you an exact and accurate temperature reading to ensure proper temperature control. The inclusion of adjustable air supply vent on the lid controls heat sustainability and allows you to control the temperature. On top of all that, it is easy to assemble.
The durability of this model is enhanced with the inclusion of a latch locking system. The two doors provide easy access to your food and to add charcoal as needed.
| Pros | Cons |
| --- | --- |
| Two doors for easy access | Difficulty in maintaining the temperature |
| Multifunctional cooking ability | Lacks a suitable handle |
| Latch locking system for stability | |
| Detailed temperature monitor | |
| Lightweight and portable | |
Accessories
After purchasing a charcoal smoker, choosing the type of charcoal/wood to use will be the next biggest choice as that will have a huge affect on the taste of the meat. Other accessories shown below will make your cooking sessions easier, faster, and hazard-free.
Frequently Asked Questions
How long will charcoal burn in a smoker?
The duration charcoal burns in a smoker is not precise. It varies with the charcoal quantity that will fit into the charcoal box, the burning temperature of the smoker, and the burn efficiency.
How do you get rid of white smoke from a smoker?
White smokes from smokers are a sign of incomplete combustion. To reduce the amount of white smoke coming from a smoker, you should remove all the wood components or particles hidden within the charcoal. Likewise, you can create a coal bed before adding charcoal to the smoker.
What is the healthiest charcoal to use?
The best charcoal to use for smokers is the cleanest version of briquettes. This type of charcoal uses a sugar-based natural binding agent that burns clean.
What do I do if my smoker is too hot?
The best step to take if your smoker is too hot is to regulate the temperature. You should work with the temperature regulator of your smoker if it has a temperature regulation feature. Alternatively, you can limit the airflow or reduce the amount of burning charcoal.
Can you smoke meat with charcoal?
Definitely! The smoked meat is one of the best delivered products when using a charcoal smoker.
Can you use wood chips in a charcoal smoker?
You can use wood chips in a charcoal smoker but you must ensure that you follow the right process.
Conclusion
Charcoal smokers have become a backyard staple as much as a regular BBQ grill. It can be used by anyone with little cooking experience and still get competition worthy tasting meat with the right equipment.
The right smoker will take your outdoor cooking to a higher level and have everyone swooning at your perfectly smoked ribs. The list above contains some of the best charcoal smokers that will enhance your smoking endeavors and keep everyone coming back to your backyard soirees.
If you're researching other ways to cook in your backyard, check our Top Charcoal Grills and Top Gas Grills.