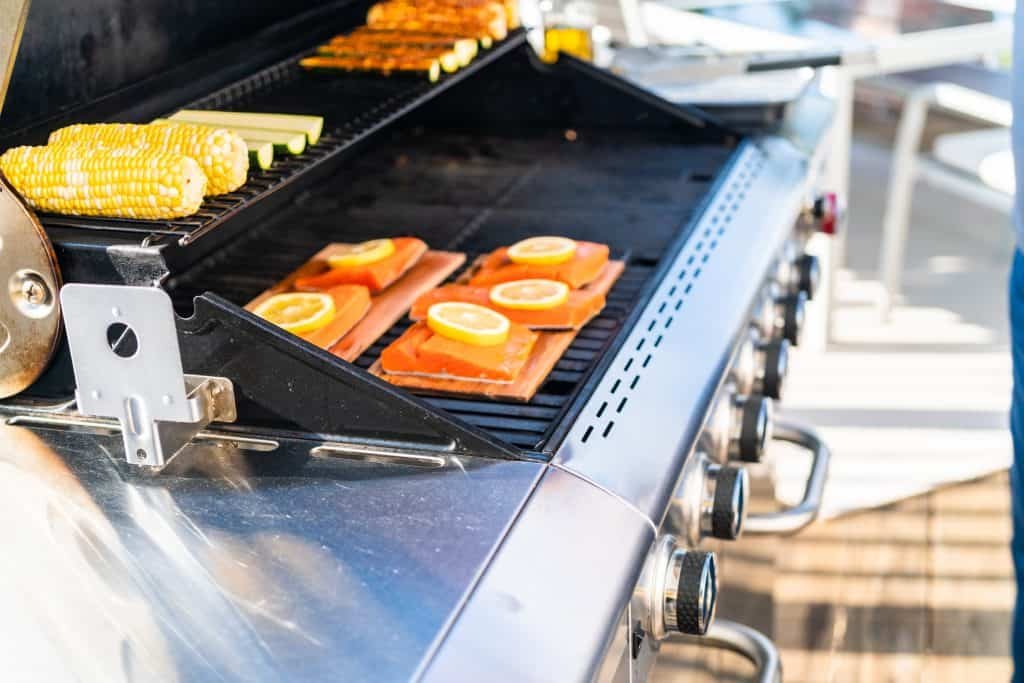 Outdoor cooking at its simplest form is a grate over a fire, and at the polar opposite is a beautiful gas grill. It is the quintessential backyard accessory for any outdoor gatherings like birthdays, 4th of July celebrations, etc. Gas grills are considered a premium outdoor cooking tool because of it's versatility, quick lighting and faster cooked foods.
Backyard enthusiasts and food lovers enjoy outdoor cooking, this is why gas grills are often considered a must. Gas grills utilize gas fuels that radiate the heat necessary for fast consistent cooking. The gas fuels can either be liquefied petroleum gases like propane or butane, and it can also be natural gas.
Regardless of the gas fuel in use, gas grills are a great way to prepare delicious meals in backyards or camping spots. Gas grills are more popular than most other grills because it is easy to clean up, heats up quickly, and ease of use. No worrying about adding charcoal or wood to maintain the required heat.
However, if you are interested in outdoor cooking, you should get the best gas grill that is optimum for your situation. No matter if you're getting a small gas grill for small gatherings, a portable gas grill for camping, or a giant gas grill to feed an army.
This review aims at highlighting some of the best gas grills on the market today. We'll look at different types of grills from various reliable manufacturers. The features, specifications, costs, and versatility of these gas grills were considered, some put to use, and different customer reviews were evaluated.
Weber Summit S-670 is a versatile gas grill model that uses natural gas or a 20 lb. propane tank and has an LED fuel gauge to show how much fuel is left in the tank. It has an extensive primary cooking surface of 624 sq. inches to fit up to 24 hamburgers with a 145 sq. inches warming rack.
Weber has included several features on this grill that makes it very versatile for cooking pretty much anything. It includes a sear station burner, smoker burner with wood box, side burner, and rear-mounted infrared rotisserie burner.
The snap jet individual ignition system of Weber Summit S-670 allows you to control each burner independently. This feature makes the product easy to use. It has a cook box that houses the cooking system components like the burner tubes, cooking grates, and flavorizer bars.
Weber Summit S-670 includes two stainless steel work areas, six tool hooks, and room within the cabinet to keep accessories. For night grilling, Weber has included two grill lights and control knobs that light up with a push of a button.
| Pros | Cons |
| --- | --- |
| Large cooking area | Heavyweight |
| Fuel gauge for easy monitoring | Has lots of bells and whistles which might be confusing for new buyers |
| Made from high grade materials | |
| Multiple burners for precise application | |
| Easy to use and several storage features | |
Weber Genesis is another weber gas grill with impressive features and optimum performance. It includes four stainless-steel high-performance burners that enhance flexibility and versatility. It also has 1 side and one sear station burner that provides enough heat output for various cooking purposes.
Weber Genesis has ample cooking surfaces up 844sq. inches, and it also includes the tuck-away warming rack. It is compatible with an iGrill 3 automatic temperature monitoring system. The iGrill 3 will help you monitor your food from start to finish and notify you once your food reaches the appropriate temperature.
The heat retention of this propane grill is impressive. Weber Genesis has 7mm diameter solid stainless rod cooking grates that equip the model with superior heat retention property. It has an enclosed storage system that is large enough to accommodate all essential tools. The fuel gauge also permits the easy monitor of the fuel level.
| Pros | Cons |
| --- | --- |
| Superior heat retention property | Heavyweight |
| Premium quality sturdy buildup | The burner control is somewhat complicated for new users |
| Includes a temperature monitoring system | |
| Four stainless steel high-performance burners | |
| Large cooking space | |
While Weber makes several types of outdoor grills, the Weber Q1200 is its best portable, low-cost model. This product has enough space to serve up to three people at a go. It comes already assembled for faster cooking right out of the box.
It includes an easy-start electronic ignition system. You also have full control over heat with the infinite control burner valve settings. It uses disposable LP canister gas.
This portable gas grill is built with cast aluminum to ensure durability and efficient heat distribution. The shape of the cook box also provides proper air circulation for even heating. It also features a sturdy large side fold-out tables to help with prep while cooking.
| Pros | Cons |
| --- | --- |
| Durable and sturdy buildup | Does not come with LP cylinder |
| Proper air circulation for easy distribution of heat | Limited cooking area |
| Portable and lightweight | |
| Relatively affordable | |
| Electronic ignition for easy startup | |
The Char-Broil Cart Style Grill offers another impressive propane grill option for those interested in having lots of family BBQs. This gas grill model has an exclusive stainless-steel finish for increased style and enhanced durability without the expensive cost.
It has a reliable electric ignition to fire up the grill quickly to get those burgers cooked faster for the hungry masses. You have plenty of prep space with the inclusion of the two stainless steel side shelves. One of those side shelves include a side burner to prep side dishes while grilling.
The Char-Broil grill has an ample cooking space of 425sq. inches which is large enough to cook 20 burgers at once. It also offers four high performing burners with the primary cooking surface being 23 inches wide and 18.5 inches deep. Porcelain cast iron grates will last a long time and provide easy clean-up.
It also includes a 150sq. inches swing-away warming rack that offers you the option of a secondary cooking area suitable for side or low temperature foods. The lid-mounted temperature gauge ensures easy temperature control.
| Pros | Cons |
| --- | --- |
| Easy cleanup and mobility | Relatively heavyweight |
| Lid mounted temperature gauge | A little technical to use |
| Stainless steel for durability and reliability | |
| Easy ignition and fast startup | |
| Even heat distribution | |
Char-Broil Classic 360 is another great Char-Broil gas grill as the 4 burner above but just a bit smaller. If you don't need to feed as many people, have a smaller outdoor space or budget constraints, this is a good grill. Despite its small size, it still has a large 360 sq. inches cooking space, enough for 15 burgers.
This cooking space is over porcelain-coated grates for improved durability. Char-Broil Classic 360 also includes 17 sq. inches porcelain-coated swing-away rack for warning. It also provides metal side shelves that offer extra storage and prep space. Easy to wheel anywhere you want to fire up the grill.
Char-Broil Classic 360 has a fast and easy burner startup with the integration of a Piezo ignition. The Piezo ignition system is easy to control with a simple push-button. While the materials used aren't as heavy duty as other grills, the price point makes it a good starter grill for homeowners.
| Pros | Cons |
| --- | --- |
| Piezo ignite system for easy startup | Uneven heat distribution |
| Portable with ample cooking space | lower grade materials |
| Offers high to low heat control | |
| Stainless steel burners | |
| Inexpensive | |
If you've spent anytime in a RV campground, or a state or national park, I bet you've come across this grill at a campsite. With it's scissor action fold-up design, it is the epitome of portable, yet has a large grilling surface. This grill has an impressive 285sq. inches cooking space within it's small footprint.
The Coleman has 3 separately controlled burners so you can cook multiple items at different temperatures and he push button ignition makes for a quick start-up. It comes with porcelain coated cast iron grates but can also be upgraded with separate griddle and stove grates making this grill even more useful at a campground.
The side shelves provide easy prep storage while grilling and slide under the grill when transporting the unit making a smaller footprint for fitting inside a RV storage compartment. The locking lid keeps everything together to there's no messes while being stored horizontally or vertically.
| Pros | Cons |
| --- | --- |
| Built-in thermometer on lid | |
| Portable fold-up design | |
| Interchangeable cooking grates | |
| Push button start | |
| 3 Separately controlled burners | |
Flat-topped griddles for outdoor cooking have become a lot more popular in the last few years. The ability to cook small food items that won't fall through the grates makes them stand apart from other grills. Don't want to heat up your kitchen in the summer, cook everything outside on this Blackstone grill.
The Blackstone gas grill is a restaurant quality grill that is built for backyard use. It provides an enormous 470 sq. inch of the flat top griddle that has four separately controlled stainless steel H burners. The separate burners allow you the flexibility to feed a large party of just your family.
This gas BBQ grill comes with one side shelf to hold prep items or cooking utensils and a bottom shelf for even more storage space. It's also easily portable with two locking caster wheels to move it around anywhere you need it to be.
This grill not only cooks hotdogs and hamburgers, but can also cook your morning eggs, bacon and pancakes. How about Japanese inspired teppanyaki grilled veggies and chicken? Mexican fajitas can also be on the menu. The versatility of what this grill can cook is endless.
My friend owns the countertop version that she uses on her concrete countertops I built. She has a great outdoor gas grill, yet she mostly uses the Blackstone for her outdoor cooking due to its versatility.
| Pros | Cons |
| --- | --- |
| Easy to clean and move around | |
| Secured footing for stability | ​ |
| Four adjustable heat-zones | |
| Unique grilling surface | |
| Large cooking space | |
Accessories
After your BBQ gas grill purchase, we've listed some accessories that will make grilling easier and help keep your grill out of the elements.
Frequently Asked Questions
Should I get a charcoal or gas grill?
The choice of a charcoal grill or gas grill is subjective, depending on individual preference. A gas grill is easier to use and offers more cooking performance compared to a charcoal grill. However, it is more expensive to buy and maintain.
What happens if a gas grill gets wet?
It is almost impossible to keep your gas grill entirely away from water. However, you shouldn't be worried if your gas grill is a reputable brand with appropriate coating to prevent rust.
Is it OK to leave the propane tank attached to the grill?
It is not a bad idea to leave the propane tank attached to the grill to save the stress of installing each time you want to use it. However, if you leave it attached, you should ensure that you properly turn off the grill after use and your gas is turned off at the tank.
Is grilling healthier than frying?
With the fat content reduced by not using oil, grilling is definitely healthier than frying.
Can you grill bacon on a gas grill?
Yes, you can. Nothing stops you from grilling bacon on a quality gas grill.
Conclusion
A gas grill is an impressive cooking tool, particularly for backyard get togethers. You get the convenience of easy starting and ability to maintain consistent temperature just as if you were cooking inside your kitchen. Gas grills can be an expensive purchase so you want to get the best grill for your budget that won't fall apart after one season.
We've listed several different models that should fit in many different situations. Hopefully you can find one that fits your BBQ needs for the upcoming grilling season.
If you're researching other ways to cook in your backyard, check our Top Charcoal Grills and Top Charcoal Smokers.