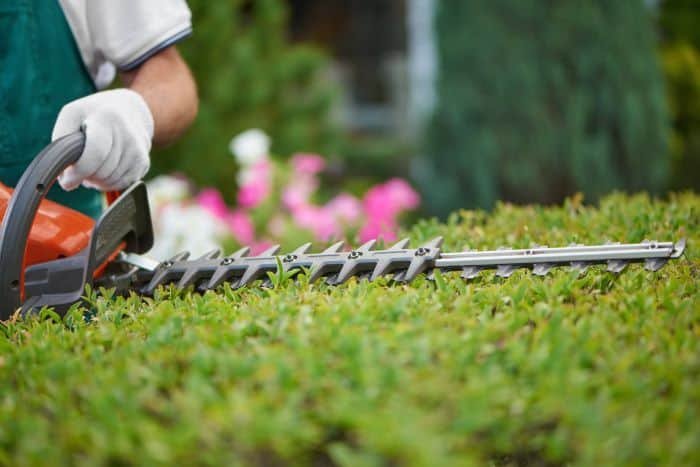 The beauty of a backyard is clearly seen when it is kept in order and great shape. Part of the process to keep your backyard looking tidy includes trimming, pruning, cutting, and plantings of trees and flowers strategically.
Back in the day when most yard work was harder due to it being extremely manual, the development of specialized hand and power tools made these chores relatively hassle-free.
A hedge trimmer, also known as a hedge cutter, is a yard tool that is primarily used to keep trees and shrubs in shape. It is particularly useful for trimming, pruning, and cutting solitary shrubs or edges to keep them in shape and attractive.
Several designs and models of hedge trimmers make it somewhat challenging for most buyers to choose the best product for their needs. Acquiring one of these hedge trimmers is a valuable addition to any homeowner tool collection.
Below is a review of the top 9 hedge trimmers that are versatile and useful for the most robust yard trimming. This review is based on a thorough evaluation of each product's specifications, features, reliability, and durability.
Makita hedge trimmer is an electric hedge trimmer that weighs about 8.4lbs, and the tool exhibits top-notch structural design that ensures its high performance. The hedge trimmer has a dimension of 49 x 9 x 8.5 inches.
The hedge trimmer has a large transparent hand-guard that provides a clear view of the work area. It also features an ergonomic grip design that ensures easy handling and comfort. The tool has a two-hand operation switch that makes the motor run whenever the operator holds the grip with two hands.
The corded electric trimmer ensures low motor noise for quiet and stress-free operations, and the trimmer exhibits high performance and large cutting capacity. The 25″ trimmer has a 4.6amp motor that delivers 1600SPM for fast trimming.
It has a cutting capacity of 25-1/2″ and 1/2″ for enhanced efficiency. The tool ensures the user's comfort and, at the same time, provides high efficiency by combining commercial-duty power and improved performance.
Black and Decker's BEHT150 electric hedge trimmer is lightweight and compact for better operator control. Featuring a 17 inch dual action hardened steel blade for less vibration. It's 3.2 amp motor can cut through 5/8 thick branches to give it more versatility.
The electric hedge trimmer has a design and structure that ensures less vibration and quiet operation. It has an ergonomic built in T handle and full length trigger design that improves control and ensures comfort.
The trimmer weighs 4.6lbs making it lightweight with less fatigue for the operator. A handy cord retention helps avoid accidental cord unplugging.
Toro's 51490 corded hedge trimmer with a powerful 4-amp corded hedge trimmer is designed to get the job done faster and easier. Ergonomic design and durability helps get the results you are looking for with reduced hand and arm fatigue.
Equipped with a powerful 4 amp motor, Toro's hedge trimmer features a 22-inch-long cutting bar with hardened steel blades that can easily cut through branches up to 9/16-inch thick.
It also provides a dual-action cutting system that reduces vibration, work grip handles for reduced hand fatigue, and a handy cord-lock system to prevent disruptive disconnects. The hedge trimmer measures 8 by 8 by 36 inches and carries a two-year warranty.
The trimmer has a 4amp motor that cuts through tough branches. It has a 22″ dual-action blade that has high cutting capacity. It has 3/4″ cut capacity making it capable of performing tough trimming tasks.
The corded hedge trimmer features a power-saw innovation cut of about 1-1/2″ thick branches. The hedge trimmer is highly affordable and weighs about 3.04lbs. It has a product dimension of 35.56 x 6.13 x 7.13 inches.
The tool displays high-efficiency value and performance and provides comfort for the user.
The cordless hedge trimmer makes use of a powerful 40V lithium-ion battery to power up. The hedge trimmer cuts branches that are up to 3/4″ in diameter.
It has a perfect grip handle and a low vibration enhanced system that ensure its comfort and maximum control. It has a 24 inches dual-action blade that guarantees less vibration while trimming. The trimmer makes powerful cuts that enable you to cut through tough materials with the push of a button.
The trimmer can trim as large as 6,000sq.ft of hedge per charge. The tool weighs about 7.1lbs and has a dimension of 8.03 x 7.6 x 38.86 inches. The trimmer is suitable for trimming shrubs, bushes, and hedges without an extension cord.
Craftsman CMCHTS820D1 is an affordable cordless hedge trimmer that offers impressive performance. It has 22" laser-cut blades that perform a dual function. It includes a full blade bale handle to ensure easy handling.
The inclusion of a ¾" blade gap that allows cutting on branches. It can also offer a power saw performance because it can cut branches with thickness up to 1-1/2″ thick. This feature improves the versatility of the tool.
This hedge trimmer model features a powerful motor that ensures impressive performances with its 20V motor backed by a high performing 2.0AH lithium battery. This motor and power setup provide long runtime for various applications.
WORX WG261 is a cordless hedge trimmer with a battery and charger included in its package. The 5.3lbs hedge trimmer is lightweight, making it easy to handle and maneuver. It also has the D-Grip front handle to ease its usage.
This cordless model has a powerful 20V motor, 2.0Ah MaxLithium power share battery that enhances its powerful application. It also includes a dual-action hardened steel blades that complements the powerful motor to ensure smooth and easy cuts through twigs and branches. This motor setup also reduces vibrations that often accompany other hedge trimmers.
The product's operational safety is top-notch, with the inclusion of a safety guard that keeps debris off your face and your hands. The design also reduces vibration, which in turn reduces operators' fatigue.
One of the impressive features of Makita XHUO2M1 is its 22 inch blade cutting capacity. To complement this feature, it also includes a powerful motor that delivers impressive cutting speed.
The cordless hedge trimmer includes a 18V LXT Lithium-ion 4.0Ah battery that delivers 2,700 SPM. Makita XHU02M1 can take 120 minutes of run time under no load with the lowest setting.
This model also includes an anti-vibration design that has five cushions within the motor housing. This feature minimizes vibration and operational fatigue.
The safety of Makita XHU02M1 is also enhanced with several alert systems. It has a battery capacity warning system that stops the motor and triggers an indicator light to indicate the product needs recharging.
If you have a very large yard where a corded or cordless hedge trimmer wont cut it, Poulan Pro's gas powered hedge trimmer is what you need. Even if you have overgrown shrubs, this powerful hedge trimmer will get everything back in order in no time.
Equipped with a 23cc, full-crank, two-cycle engine, it's powerful, easy to use, and perfect for trimming all sorts of shrubs and hedges around the yard. Featuring durable, stainless steel, dual-sided serrated blades, it cuts limbs up to 1" in diameter in swaths up to 22".
This lightweight trimmer features advanced anti-vibration technology for superior comfort and reduced fatigue, as well as a rotating rear handle with comfort grip for controlled cutting at any angle or orientation.
Frequently Asked Questions
What to look for when choosing your hedge trimmer?
One of the best ways to ease the rigor of getting the best hedge trimmer is identifying what exactly you want in a product. The essential features and properties to look out for in a hedge trimmer include:
Power source and motor
Length and overall dimension
Blade type
Cutting capacity
Ease of Use
Safety features
Purchase and maintenance cost
What is the best type of hedge trimmer?
There are several types of hedge trimmer with their unique features and cutting capacities. Hedge trimmers can be grouped into three major categories which are: cordless, corded and gas powered hedge trimmers. Selecting the best hedge trimmer is solely based on personal preferences and needs.
Can I use a chainsaw as a hedge trimmer?
First off, you should remember that a chainsaw is not a substitute for a hedge trimmer. However, you can apply a chainsaw for some tasks that would ordinarily require a hedge trimmer. Although chainsaws can make cuts through shrubs and branches, they do not make precise cuts, unlike hedge trimmers.
How thick a branch can a hedge trimmer cut?
The thickness of the branch that a hedge trimmer can cut is primarily dependent on the individual model's cutting capacity. This cutting capacity is primarily influenced by the blade type and power setup of the product. On average, a good hedge trimmer should cut through branches that are about ¾" thick.
When should you cut your hedges?
One of the qualities of a great gardener is identifying what to do at the right time to keep the garden in perfect shape. On a general ground, hedges should be pruned in late winter because the plants are dormant at this period.
What are the best hedge trimmers under $150?
The best hedge trimmers under a $150 budget can be found in various manufacturer models which are majorly products from Craftsman, Black decker, and Worx.
Conclusion
A hedge trimmer will certainly find its way on the list of the essential backyard tools. They serve cutting, pruning, and trimming functions. The best hedge trimmers are not just ones with enormous size; they are models with impressive features and cutting capabilities.
We have helped you with an explicit review of some of the best hedge trimmers that offer impressive performances. However, identifying your backyard needs will help you decide better on the hedge trimmer that best suits your needs.
If you just bought your home with a backyard, check out our other backyard lawn tool recommendations, best wheelbarrows, types of shovels, metal vs plastic rake, top leaf blowers and best reel mower.