Are you looking to purchase a home security system for your home?
New home security systems are much easier to install, have more versatility, and are more accurate than in the past. I was a 911 operator in the mid 90s and received so many false alarm calls from home security systems. People would be charged a fee after police or fire came out to investigate after continuous false alarms at their property and those fees were pricey.
Today's DIY security systems with alerts to your phone are much more accurate than security sensors from years ago and are way more affordable for the average homeowner. Selecting a good home security system shouldn't be difficult and to make the process easier, we have handpicked what we feel to be some of the best models on the market. Read on as we showcase the most popular options below.
First up on our list of the best home security systems is the 16-channel, 12-camera wired security system from the Swann brand. Swann has been in the security business for 30 years and helped pioneer DIY security systems. This system has gained widespread acclaim among security experts and users alike, and with its extensive range of features it is not difficult to see why.
Core features of this CCTV camera security system include heat and motion detection from the 12 outdoor cameras. The cameras' construction, according to Swann, is intended to be fully weather-resistant, with a 90-degree viewing angle. Each camera is equipped with night vision sensors that detect images up to 100 feet away in black and white, and 32 feet away in color. And you can add four extra cameras for a 16-channel feed.
Users can access and control the security cameras via the specially designed Swann app, and it is possible to live stream from multiple sites and cameras. Additionally, this home security system works well with Alexa-enabled systems such as Echo Show, Echo Spot, and 4K Fire TV, and you can operate it using simple voice commands. It is equally compatible with Google Assistant and Chromecast.
With the integrated Swann smart search technology, users can select a specific coverage area to monitor and detect movements within recordings. The security package also comes with an external 1TB drive that is adequate to save tons of footage at no extra cost. And if you desire a more secure way of saving security footage with the Swann system, you can just upload such to the cloud by linking your Digital Video Recorder to Dropbox.
Next up on our list, and with a valid claim as one of the best home security camera models around, is the Reolink 8CH PoE system. What sets this product apart as a top home security system? Why do we recommend you get these Reolink cameras to watch over your property? Let's get right into it.
For starters, each 5MP camera displays images in the 2560 X 1920 resolution, with 65 to 100 feet of night vision and an 80-degree horizontal field of view. Each camera contains a built-in microphone for better sound quality, and users get playback on four cameras playing simultaneously.
And with the free-to-use Reolink app, users can access these playback videos from their mobile devices anywhere and anytime. The Reolink cameras incorporate smart motion detectors that notify you via email or push notifications once there is an intruder in the area being covered to prevent false alarm triggers.
It is also worth noting that each Reolink camera comes equipped with 59-feet long network cables capable of stretching up to either 270 feet via CAT5 or 330 feet through CAT6 Ethernet wiring. Also, video, audio and power run through a single Power over Ethernet (PoE) cable; Consequently, you wouldn't need to purchase additional wiring, and you can set up your home camera system whichever way you want.
The Reolink security system also comes preinstalled with a 2TB hard disk drive to record as much footage as possible and view them whenever you wish. Additionally, this 8CH NVR security system is compatible with all Reolink 4MP,5MP and 8MP IP or WiFi cameras, thereby enabling you to set up in several ways.
If you're big on home security, then the chances are that, at one point or the other, you've either used or heard about SimpliSafe products. And if you have not, the 12-piece wireless security system is one product you should be actively looking to purchase.
First off, the SimpliSafe 12-piece system comprises motion sensors that detect movements from up to 30 feet away, and five entry sensors, along with a built-in 95dB alarm; This alarm runs on signal burst technology, and according to SimpliSafe, is loud enough to be heard from a distance of 1000 feet away. And while the surveillance cameras do not come preinstalled, it is not difficult to get them up and running.
It can get tiring getting your alarm systems triggered by everything that moves, such as pets. The good news is that the SimpliSafe system comes with precise sensors intended to differentiate between pets and intruders, reducing false alarms. The key fob that comes with the package is useful for arming and disarming your security system via the press of a button; hence you should take care to prevent it from falling into the wrong hands.
This CCTV camera system is powered by batteries and runs on a dual WiFi/cellular network connection. Additionally, users of this home security system have the option to subscribe to a 24/7 monitoring and cloud recording plan, along with police, fire and medical dispatch at an affordable price – you get one free month of this plan upon purchase and installation of the SimpliSafe CCTVs!
Next on our list of the best security cameras is the ANNKE 5MP outdoor camera system. When it comes to build quality, the ANNKE cameras can hold their own, with the IP66 waterproof build providing ample protection against harsh weather conditions. Additionally, the durable build quality offers reasonable scratch protection and quick cooling to prevent the cameras' overheating.
This security system comes with H.265+ coding technology that compresses data to a size that can be easily transmitted without compromising video quality. This H.265+ tech records longer than the rival H.264 system while using lesser storage space at the same time.
The system comes with eight 2MP waterproof cameras that display images in clear 1080p quality during the day, with a 100 feet view range at night. The security cameras for the ANNKE system and the Digital Video Recorder connect via a local area network. Still, you'd need an internet connection for remote access.
Besides, this home security camera system comes with a preinstalled 1TB external hard disk drive for storage of footage and unlimited remote live streaming on the ANNKE app for mobile and PC. Also, users get push notifications and email alerts once something out of the ordinary occurs, enabling them to alert the relevant authorities promptly. For enhanced data protection, the ANNKE security systems are protected by hack-proof encryption, passcodes, and two-factor authentication codes.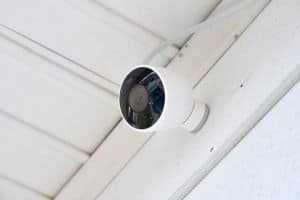 Nest, which is owned by Google, has a security system package that includes a wireless indoor/outdoor camera, the Nest Hub Max and the Nest wireless Doorbell. It's a simple package that allows you to monitor your front door, inside your house and wherever you place the outdoor camera. Like all the other systems, you can add more cameras to the system.
The new wireless Nest doorbell has a 3:4 ratio which gives you a bigger field of view than other doorbell cameras which are in 16:9. This larger field also allows nest to differentiate between packages, people, vehicles and animals giving you the proper alerts on your phone. Built in microphone lets you answer the person at your door from wherever you are, even it you're not home.
The indoor/outdoor camera is wireless allowing you to place it anywhere indoor or outdoor. The battery life depends on how much or how little activity it detects and records. If it detects activity often, it probably will only last 1 month before charging, but if it doesn't activate often, you can probably get 6 months before needing a recharge. It can also be wired with USB plugged into an outlet if that is more convenient for you.
It has HDR and night vision to give you crisp details of activity and just like the doorbell, can distinguish between person, animal and vehicles to give you the proper alerts. It has 130 degree viewing angle and (1920×1080) video. Also like the doorbell, it has speakers to listen and to talk through the camera.
The last part of the package is the new Nest Hub Max. This thing does it all. Stream movies, play music with upgraded speakers, make Zoom calls, integrated nest cam to watch your house and lastly, facial recognition for personal notifications and upcoming events.
The best part of the nest package is that it integrates with all the other google and nest products to fully protect your home. Since we are a google home family with Nest wifi, Nest thermostat, Nest Smoke Alarm, Chromecast, Nest Audio and mini speaker, we decided to purchase 1 outdoor camera and 1 indoor camera to control through the google home app while we were away for 5 weeks. We were able to keep an eye out on our property and talk to our cat to make sure she was okay. We have been very happy with all our google products and love the security the cameras give us.
Smart home camera company, Blink, was recently purchased by Amazon. And the all-new wireless security camera, one of the first offerings of this rebranded model, is a product worth looking at.
The Blink outdoor setup comprises five wireless HD cameras built to withstand harsh weather conditions. Regardless, you should offer the camera a certain degree of protection and cover if you're using it outdoors. The cameras run on two AA lithium batteries, and it is claimed that these can last up to two years before they are due for a change.
The Blink CCTV camera features an intelligent motion sensor. Real-time alerts are sent to a linked mobile device once this sensor is triggered. And the two-way audio design means you can both hear from and speak to people on the other end of the camera. This security system is also compatible with Alexa-enabled devices, and you can operate it using voice prompts and commands.
Blink offers a cloud storage subscription plan for those looking to record, save and view events securely. And if you'd rather store footage locally, the Blink Sync Module 2 is there for just that. The camera gives users access to a 110-degree diagonal field of view, with video resolution in 1080P HD during the day and infrared night vision in the dark.
The final product on our list of the top security cameras for home is the eufyCam 2-Cam security system, an affordable yet feature-rich package that contains tools to help you secure lives and property.
The product package contains two small, hidden cameras that display images in the 1080p capture resolution and a 135-degree field of view. Each camera comes fitted with motion sensors, a microphone, a spotlight, the lens and a daytime/night viewing mode that aids visibility in different lighting conditions. You could also purchase additional cameras for your security system if you're not okay with the 2-cam setup.
The eufyCam security cameras can withstand harsh weather conditions, no thanks to a durable IP67 waterproof build. And the cameras are equally functional outside, as they are adept inside a building. Also, this 2-Cam kit system comes with a HomeBase unit that you plug directly into a router using the accompanying Ethernet cable.
We particularly like this setup because of the automatic video recording that occurs once human motion is detected. By default, these clips are 20 seconds long, but you could adjust the length, and you also receive notifications on your phone that you can tap to view these recordings.
The eufyCam smart cameras are app-compatible, and they work with a specially designed app that is available on both the Android and iOS platforms. Once set up and connected to the internet, you can access your cameras and recorded security footage from anywhere via the app. We also like the 2-way audio feature and the fact that you can adjust the volume via the mobile app. It is also claimed that this product offers 180-days of battery on a single charge, although that remains to be seen.
Frequently Asked Questions
What's the difference between surveillance cameras and security cameras?
The major difference between a surveillance and security camera lies in the mode of data transmission. While surveillance cameras work by transmitting video and audio signals to a wireless digital video recorder (DVR), security cameras convey signals from a specific place to a specific monitor. Also, in terms of functions, both camera types are security-focused. But while surveillance cameras are used to detect and record unwanted activities, security cameras work to prevent these criminal activities from taking place by alerting the relevant authorities on time.
Which is better, wireless or wired security cameras?
The choice between a wired or wireless camera security system depends on several factors, including your budget, property size, and security needs.
As the name suggests, wireless security cameras transmit audio and video footage over WiFi and might or might not need to be plugged into a power source. On the other hand, wired security systems connect to the internet and the power source via cables.
And while wireless security cameras are easier to set up and install, they are usually more expensive and dependent on the internet connection strength. Wired cameras, on the other hand, require professional installation most times. Still, they are generally more reliable and secure to use.
What should I look for when buying outdoor security cameras?
Important criteria you should look out for before purchasing wireless outdoor security cameras include:
display resolution
storage capacity
compatibility with apps
build quality
proximity from power source etc.
How much does home security cost a month?
While we cannot outrightly state what home security costs per month, as there are tons of security providers, the average monthly cost for monthly monitoring services range from between $25 to $50.
Do you have to put up signs if you have security cameras?
Generally, you don't have to get legal consent or put up signs if you have security cameras in and around your home. However, it would be best if you familiarise yourself with the laws of your area before installing CCTV systems.
Where is the best place to put security cameras?
Generally, the best locations to set up house cameras depend on your property's structure and design. But some of these optimal locations include:
Front, back and side doors
Driveways
Stairways
Common areas such as the living room and the kitchen
However, you should take care not to install cameras in places that violate privacy, such as bedrooms, toilets and bathrooms.
Conclusion
From the above reviews, it is clear that the best home alarm systems do not necessarily have to be professionally handled, and the CCTV camera price doesn't have to be exorbitant. Most of the models on our list can be installed with little to no prior knowledge about security systems. Some even come as plug and play.
Too busy to constantly stare at the monitors? These apps come with triggers that send instant alerts and notifications to your mobile devices. If you desire a security system that constantly watches over your property while you go about your daily business, you can't go wrong with any of the products reviewed above.
Now that you have your security system installed, you're ready to install some outdoor speakers and see if you can use an indoor TV outdoors.