Several tools make keeping your backyard clean, and leaf blowers are one of them. With Fall just around the corner, leaf clean-up is a lot easier with a leaf blower.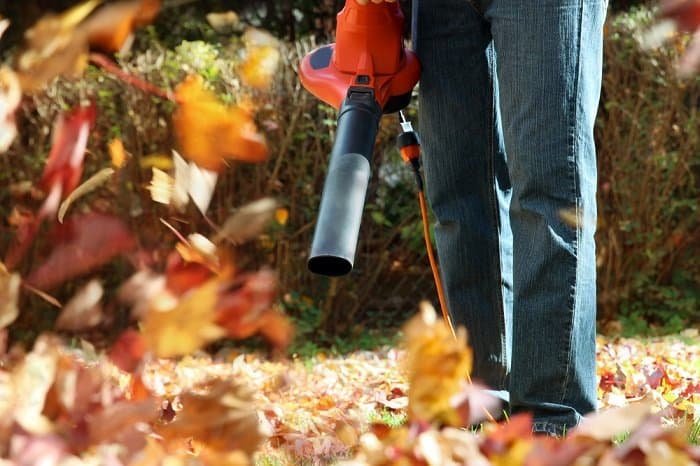 A leaf blower, otherwise called a blower, is a yard tool that assists in moving debris like grass cuttings and leaves by propelling air through its nozzle. The propelled air from blowers needs a power source. Therefore, leaf blowers are either powered by electricity or gasoline motors.
Leaf blowers have several uses, so it is considered one of the essential yard tools. Some of the uses of this power tool include moving leaves, eliminating shallow snow, cleaning rain gutters, clearing puddles, drying surfaces, cleaning dryers, dusting, etc.
Considering this tool's versatility, getting it will be a valuable addition to the lawn care tool collection of any home owner. However, getting a suitable or an impressive leaf blower might not be an easy task with the numerous models and brands present in the tool market. Well, you might not have to worry much after going through this review.
Below is a review of the top 8 leaf blowers that are suitable for various crafts. These reviews are based on a thorough evaluation of features, reliability, and application of various leaf blowers from different manufacturers. Many user reviews were also evaluated, and some models were tested for quality assurance.
MAKITA XBU02PT is an efficient leaf blower because its solid power buildup includes a BL brushless motor that delivers up to 473CFM. This motor offers it enough power to produce up to 120MPH air velocity for effective and diverse applications.
This model is one of the top choices for battery powered leaf blower category because it has features that make it easy to control. It has a variable speed control that allows you to optimize the speed for specific applications. Regardless of the speed you are working with; you might not have to worry about the run time because it includes two 18V LXT Lithium-ion batteries.
MAKITA XBU02PT does not use oil or gas, only electric recharging, so you might not have to worry about the regular cost of fueling or refilling gas. The absence of brushes in its setup limits the possibility of overheating for cooler operations.
Pros
Zero emissions and low noise
Increased power and speed
Durable with diverse applications
Easy to use and control
Cons
Expensive
Not suitable for extended use
Makita UB1103 is a corded Makita leaf blower with impressive ability. This power tool is preferred because of its ability to function as a two in one tool. Aside from functioning as a leaf blower, you can also use it as a vacuum.
Makita UB1103 is suitable for larger space because of its air volume delivery. It has a maximum air volume of 145CFM that allows faster and more efficient cleanups in larger areas. Similarly, the air speed of this leaf blower is as impressive as its air volume.
Makita UB1103 has a maximum airspeed of 203MPH that facilitates faster cleanups on Jobsites, gardens and lawns. The variable speed control of this model also supports easy usage and effective performance. It has a variable speed between 0-16,000RPM that allows you to choose the best speed for the right application.
The control of Makita UB1103 is also enhanced by including a large trigger and a conveniently located lock-on button.
Pros
Easy to use and operate
Dual functionality as vacuum and leaf blower
Affordable
Suitable for fast cleanups on large jobsites
Cons
Limited air speed
No power back up
If you desire a cheap, yet effective and efficient leaf blower, then WORX WG520 should earn a place on your priority list. The good news is that the price of this model does not limit its functionality. It is more intriguing to know that it has some special features that are not common in other models.
WORX WG520 includes a TURBINE fan tech that optimizes its performance. Despite the performance of the fan tech, it comes with low noise. Another remarkable feature of this leaf blower model is that it leverages the turbine tech system to produce a twice as pro blower's speed.
WORX WG520 can effectively make 600CFM volume capacity that is facilitated by its large mouth nozzle. Overall, it produces a wide path, strong air that allows you to work on large areas with few passes.
With its 6.4lbs weight, WORX WG520 permits one-hand operation. This one-hand operation is also enhanced with its ergonomic design. The length of its cord (11-1/2″) with a retainer also limits disconnection.
Pros
Highly affordable
Turbine fan tech for improved speed
Lightweight and one handed operation
Inclusion of extension retainer to limit disconnection
Cons
Need a long extension cord for backyard use
Limited variable speed control
Poulan Pro PR48BT 48cc is a 2-cycle full-crank engine gas-powered backpack leaf blower. The technical setup of this model enables it to deliver quick and efficient air blows with air volume up to 475CFM /200MPH.
This model is easy to use because of its comfortable backpack design that distributes weight evenly and comfortably between the shoulders and hips for comfort and extended use. It also features an easy to pull start, and the inclusion of electric start capability makes it even easier.
You can enjoy full operational control because this model is designed with an ergonomic tube mounted lever and variable speed throttle. Users also get to enjoy a 2-cycle engine oil package addition for enhanced convenience.
Pros
Electric and easy start capability
Powerful engine and high air volume
Controlled operation
Comfortable backpack design
Cons
Can be loud
Slightly higher maintenance cost
Stihl BG 56 C-E is a popular gas blower among homeowners because of easy2start feature making it one of the easiest gas blowers to start. It has a stop switch that automatically resets to the on position for an easy start as well.
The high-performance, low-emission engine makes quick work of leaves and other yard waste. Another great feature is that it's Made in the USA. It's lightweight and balanced feel allows you to carry it around the backyard for extended use without arm fatigue.
We personally own this blower and can't say enough good things about it especially since we have a ton of trees that drop a lot of leaves all over our backyard.
Pros
Easy2Start feature
High volume and velocity
Balanced and light-weight
Auto return stop switch
Cons
Louder than electric blowers
Oregon BL300 might be all you need to secure the service of a lightweight and effective leaf blower. One of the most outstanding features of this cordless leaf blower is its high power. It has a 6.0Ah Lithium-ion battery that can work up to 2 hours when it is fully charged.
This model includes a brushless motor that can deliver up to 507CFM, considerably high air power. Oregon Cordless BL300 also features a variable speed control that allows you to optimize the blower's speed for specific applications. With its variable trigger control, you can operate the blowers at variable speeds up to 131.5MPH.
This battery powered leaf blower also has an ergonomic design that allows comfortable use for a long period without operational fatigue. The product comes almost fully preassembled, making it ready to use on the go.
Pros
Easy to use and assembly
Lightweight and ergonomic design
Variable trigger and turbo button
High performance with low noise
Cons
High cost
Limited safety features included
Greenworks 2400802 is a battery-powered leaf blower that is reputable for its high power and effective performance. It has a 2.5Ah battery that provides enough power to give an air velocity of 390CFM and 110MPH that power through even the toughest debris. The 2.5Ah battery provides 14 minutes runtime on high-power for smooth and fast execution of projects.
It also includes a rapid charger that can restore the battery in 75mins and get you back to work. You can also be confident of retaining full control of Greenworks 2400802 leaf blower because of variable speed trigger, cruise control, and overmold grip. These features reduce fatigue and allow specific applications.
Pros
High performance with low noise
Lightweight and easy control
Soft grip and less vibration
Fast Recharge
Cons
Might not be suitable for extended use
Low runtime compared to other similar products
Frequently Asked Questions
What to look for when choosing your leaf blower?
Buying the best leaf blower might be difficult, particularly if you don't know what to look out for when you get a new product. Some of the factors and features to look out for when choosing your leaf blower include;
Cost
Ease of application
Airspeed and air velocity
Weight/Overall dimension
Cubic feet per minute (CFM) delivery
Miles per hour (MPH) capability
Emissions and noise
Cost of maintenance
What is the best type of leaf blower?
There are different types of leaf blowers, with each of them optimized for specific applications. The major categories of leaf blowers are; cordless (battery-powered), corded (electric-powered), brushless motor, jet, backpack, hand-held and gas leaf blowers. Your selection will be solely based on your needs and purpose of use which can be personal, commercial, or industrial.
What is better in a leaf blower CFM or MPH?
Both MPH and CFM are essential in a leaf blower. The more the MPH, the faster the leaf blower will work, and the more force it will propel. CFM, on the other hand, determines to what distance it will push the debris. However, a high MPH rating can cover up for a low CFM rating but not vice versa.
What is a good CFM for leaf blowers?
The specification of CFM varies with leaf blower models and brands. However, for a good leaf blower, the CFM must fall within 350 to 600CFM.
Are Electric leaf blowers quieter?
One of the myths about leaf blowers is that electric leaf blowers are quieter than the gas or oil-powered. In the real sense, electric leaf blowers are not in any way quieter than other types of leaf blowers.
What are the best leaf blowers under $200?
Several leaf blowers are available for under $200. These include the gas Stihl blower, corded Makita, corded Worx all located above. These brands offer some of the most affordable models of leaf blowers with optimal performance.
Conclusion
Leaf blowers are one of the essential backyard tools. They particularly serve the purpose of clearing leaves and other debris around the backyard landscape. We've given you several different versions of the most popular leaf blowers that will fit your specific needs. Be sure to checkout our list of the best leaf vacuums top hedge trimmers, and learn how to cut metal roofing for your patio!