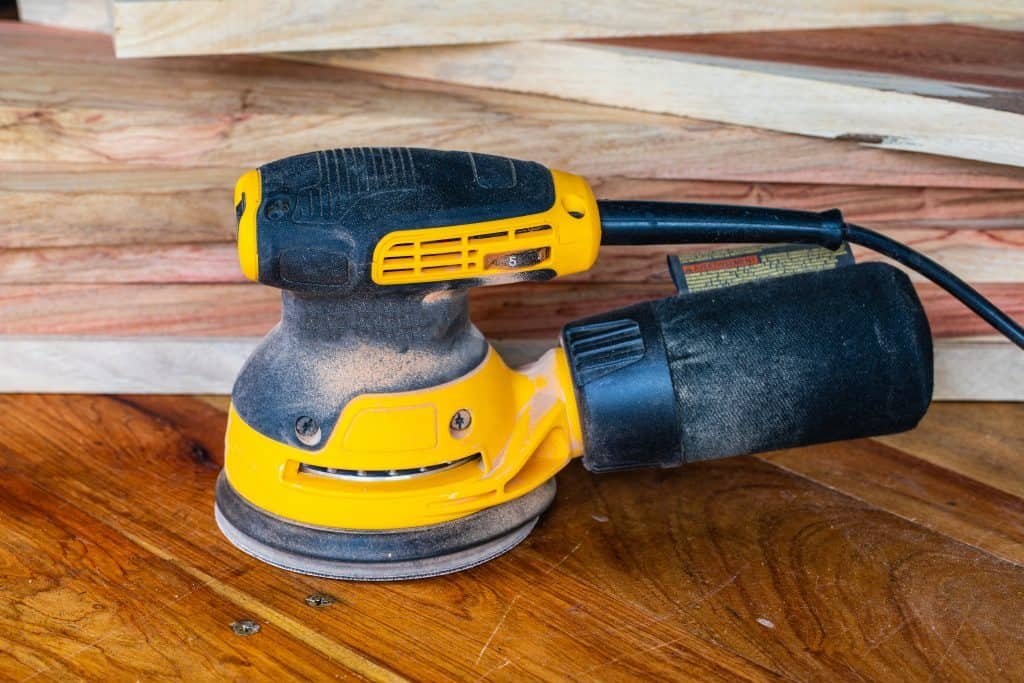 A random orbital sander is an essential tool for DIY projects around the house or outdoor projects you plan on building. I'm in the process of building by outdoor kitchen and will be using my orbital sander to make there's no rough edges or sharp corners on the wood.
If I had to sand all my wood for my outdoor kitchen by hand, it would take me several hours and a very sore arm. The same task with an orbital sander will take between 30 minutes to an hour and no application of bio-freeze on my arm.
For the price of an average orbital sander, it is well worth the time savings, and as homeowners get older, like myself, it it much easier on the body than hand sanding. We've listed several different models below representing lower end entry models to more expensive models that you plan to use regularly.
This review highlights some of the best random orbit sanders for various DIY applications. The features, versatility, and specifications of these products were evaluated. Various customer reviews were also considered.
BLACK+DECKER model BDERO100 is one of the most reliable random orbit sanders from a company that has been around a long time. This model has a 2amp motor that delivers an orbital speed of 12000 orbits per minute that can handle removing paint, stain and varnish from wood, metal or plastics.
It includes a loop and hook system that allows fast and easy paper changes. It also includes a dust-sealed switch that effectively keeps out dust and debris which is key to a longer life motor and a 2 year limited warranty. This BLACK+DECKER orbital sander is lightweight weighing only 3.16 pounds.
The compact size of this random orbit sander also allows you to get closer in hard to reach places for sanding, but won't get into corners. The dust collection works ok for catching dust but should be used outdoors if possible. This model includes the following; a dust bag, sanding sheets, and sander.
| Pros | Cons |
| --- | --- |
| Efficient for a high-quality finish | Does not come with a carrying bag |
| Compact and easy to use | Dust collection is minimum |
| Inexpensive | |
| Great for DIY beginners | |
| High orbit speed | |
This Makita orbit sander is another great sander from a reputable company that builds excellent tools. It has a 3amp motor that delivers a speed of 12,000 orbits per minute to ensure fast and smooth sanding.
The durability of this model is top-notch with its oversized ball-bearing construction for increased durability of the tool. It also includes a rubber-sealed switch that keeps dust away from the tool and comes with a 30 day refund or replacement and 1 year warranty.
This orbital sander model is also designed for comfort and convenience with the inclusion of a rubberized palm handle that fits your hand like a glove providing easy control and even distribution of pressure. The rubberized handle also reduces vibration and ensures low operational noise (80dB).
This Makita sander has dust collection bag though like with most other sanders, it should be used outdoors. It also uses 5″ (8-hole) hook and loop abrasive paper for easy changes.
| Pros | Cons |
| --- | --- |
| Low vibration and noise | Relatively difficult to maintain |
| Rubberized handle for even pressure and easy use | Neither comes with a sanding disc nor abrasive papers |
| Lightweight less than 3 lbs | |
| High orbit speed | |
| Hard molded case for storage | |
DEWALT DWE6423K is one of the most impressive DEWALT orbit sanders with lots of fantastic features and sturdy build up. This sander model features a 3.0amp motor that deliver a variable speed between 8,000 to 12,000 orbits per minute. This variable speed allows you to optimize the tool for specific applications.
DEWALT DWE6423K sander model is compact with a relatively short height that increases the operator's proximity to the work surface. Other ergonomic designs of this sander ensure comfortable use. The design reduces the vibration, and the rubber-mold mitigates the operator's fatigue.
It includes a dust-sealed switch that ensures dust protection for improved durability and cleaner tools. The dust-bag also includes a one-hand locking system for optimal performance.
| Pros | Cons |
| --- | --- |
| Short height for precision | Higher price |
| Variable speed control | |
| Dust-sealed switch | |
| Rubber over-mold grip | |
| Reduced vibration | |
DEWALT 20V DCW210D1 has a brushless motor that gets your job done efficiently and effectively. It includes a 20V max, 2Ah lithium-ion battery that delivers a variable speed between 8,000 to 12,000 orbits per minute for varieties of tasks and optimal speed control.
The sander is quite flexible with the inclusion of a one-handed locking dust bag or it can be attached to a dust collector. It also includes a rubber mold grip for comfortable handling and extensive use. It has a dust-sealed switch that limits dust getting inside.
This package comes with sander, battery, charger and soft sided carrying bag. If you can't tell already, I have a soft spot for DeWalt power tools. My tool bag and 12 foot trailer is full of DeWalt tools that I've used religiously for many years and they never let me down.
| Pros | Cons |
| --- | --- |
| Variable speed control | Relatively expensive |
| 8-hole hook and loop sanding pad | Relatively heavyweight due to battery |
| High precision and durability | |
| Textured rubber over-mold grip | |
| Comes with carrying bag | |
Milwaukee 2648-20 M18 is one of the lightest weight cordless sanders you would come across. This model weighs 2lbs without compromising other essential features. It uses an M18TM 3.0Ah battery that can deliver up to 35 minutes runtime. This power system also delivers variable speeds between 7,000 to 12,000 orbits per minute.
Its powerful motor allows operators to more material per battery charge. It has an impressive dust extraction and elimination system that ensures the product's cleanliness, durability, and efficiency. It includes a universal hose adapter, dust canister, and extension adapter.
| Pros | Cons |
| --- | --- |
| Lightweight | Relatively expensive |
| Variable speed control | Doesn't come with a battery |
| Efficient dust extraction | |
| Strong battery power | |
Other Sanders
I know we're talking about Random Orbital Sanders, but if you need to sand in tight corners, only one sander will do the job and that's a mouse sander with a triangle shape.
If you already own an oscillating multi-tool, it has a triangle sander kit that is great for also sanding hard to reach corners, and you don't have to buy another power tool.
Lastly, I use Gator sanding discs for all my sanding as they tend to last longer no matter what material I'm sanding. You can find them at Lowes as well.
Frequently Asked Questions
What to look for when choosing your random orbital sander?
The key factors to look out for a while choosing the best random orbital sander for you include:
Orbits per minute (OPM) rating

Power source (Corded-electric or battery-powered)

Cost

Weight

Operational safety

Power and performance

Ease of usage
What is the best sander for wood?
Most sanders can be used on a wide variety of surfaces. The most common is the 5″ orbital sander that is used with sanding pads ranging from 80 grit to 220 grit.
What is the best sander for refinishing furniture?
The best sanders for refinishing furniture are sanders with variable speed control. Refinishing furniture does not need many rigorous applications; you need a sander you can optimize its speed for this application.
What is the best sander for removing paint?
The best sander for removing paints is quite similar to that used for refinishing furniture. It would be best to have a sander that is easy to control and a model that has a variable speed.
Should you wet your wood before sanding?
No! You shouldn't wet your wood before sanding. Even if it is initially wet, you must leave it to dry for optimal results.
What are the best random orbital sanders under $70?
The best random orbital sanders under $70 are less expensive models from specific manufacturers such as; CRAFTSMAN and Black & Decker
Conclusion
Random orbital sanders are versatile and impressive power tools that are suitable for preparing various surfaces. This power tool plays an essential role in building and or maintaining backyard structures or inside furniture.
We've listed several different choices from reliable manufacturers. If you're just starting out on your DIY journey, don't spend a lot of money as all the sanders we listed perform about the same with just a few different features that would only help people who use them all the time.