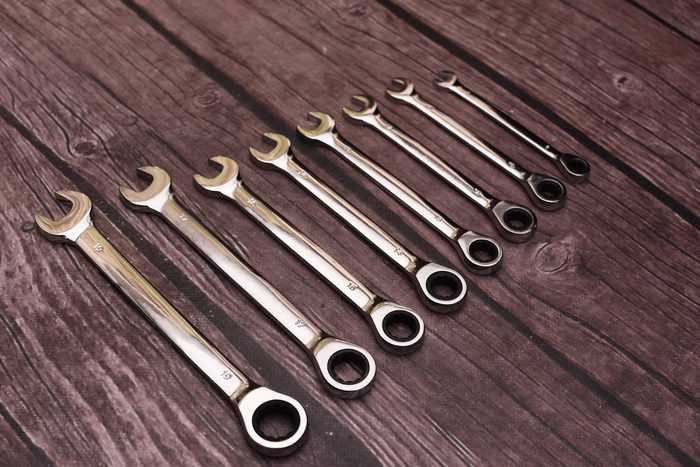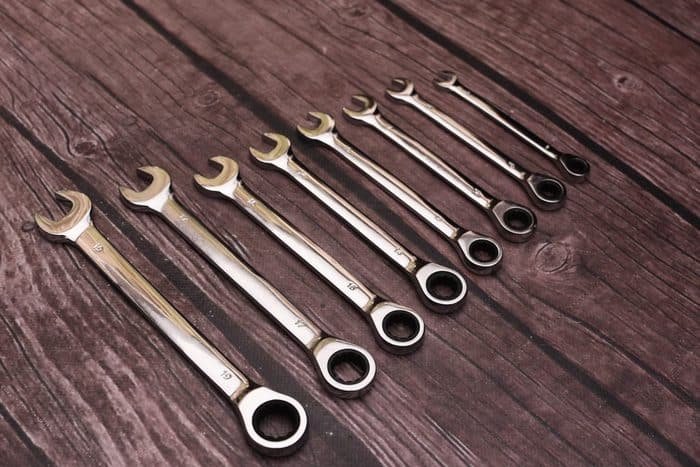 Are you looking for the best ratcheting set without much success?
Do you need a new ratchet wrench?
A ratchet wrench is an essential tool that is used to fasten or loosen nuts and bolts. They are useful for most manual activities including building hardscapes in your backyard, working on lawn equipment or your car.
Getting a high-quality ratchet wrench for your indoor and outdoor tasks can be daunting especially if you don't have a clue about the ratchet set. To help you overcome such circumstances, we have written this article to serve as a guide in purchasing your ratcheting set.
This article will offer you detailed information on highly recommended ratchet sets, and their pros and cons. These sets have been used by experts, therefore you can be certain of their quality.
Major Characteristics of a Complete Ratchet Wrench
Some of the major attributes of a complete ratchet include:
Fastening Bolts and Nuts – A complete set of ratcheting wrenches can tighten many different nut and bolt sizes, making them versatile and highly recommended.
Loosening Nuts and Bolts – A complete ratchet wrench can also loosen nuts and bolts when it is required.
Multipurpose Function – A ratcheting set can carry out several tasks. With even a single set, you can execute several tasks.
Top Ratchet Wrenches:
This is currently one of the bestsellers in power ratchet wrenches on Amazon. Milwaukee is one of the best tool brands you can buy and this ratchet wrench is no exception. It has high power, speed, and durability. If you need a ratchet wrench with heavy duty capabilities, this is the one to buy.
The ratcheting set uses a powerful 12-volts to generate close to 35 ft-lbs of torque and 250 RPM, which gives users the speed and power of a pneumatic ratchet without the air hose.
The tool is powered by the M12 REDLITHIUM. Battery Pack (sold separately), which delivers more work per charge and more work over pack life than the competitors, as well as best-in-class performance in extreme job site conditions.
The ratchet is lightweight and portable at just 10-3/4" long and 1.9 lbs. The variable-speed metal trigger and reinforced steel housing provide maximum control and durability for any application.
Other features include:
Recessed forward: Backward switch on the back of the head which protects you from accidental actuations in the course of an important job.
Low Profile Head Design: This enables you to work in small areas without issues.
Onboard fuel gauge: Lights on the side of the unit allows you to know the amount of power you have left.
The ratchet wrench also contains LED lighting on the front of the unit which enables you to view your job even in dimly lit places.
Redlink Intelligence: This is a smart chip in the unit that enables it to connect with the M12 battery plugged in it. It prevents it from getting overheated and saves it from unnecessary damage.
| Pros | Cons |
| --- | --- |
| Durable | Includes SAE wrenches only, no metric |
| Easy To Use | The tool is expensive |
| High Power Output | |
| Short Charge Time | |
| Versatile | |
| 25% more torque | |
| 144 Ratcheting positions | |
KIMO Cordless Ratchet Wrench is a great all around power ratchet wrench set. It delivers a max torque of 40 ft-lb at 400 RPM. It also has a non-slip ergonomic handle and ultra-slim head design which enables it to reach stubborn, hard to reach spots easily and smoothly.
Key Benefits
KIMO Electric Ratchet also has a low profile head that allows you to get in congested areas and spin lose fasteners powerfully. With this, you can easily change a spark plug, which is impossible with conventional wrenches.
KIMO Cordless Ratchet Wrench also has an effective inbuilt LED light that can illuminate your target in a dark working environment, and ensure specific control when the lighting is not the best.
Forward/Reverse Switch: It also has a forward/reverse lever for easy movements.
Has onboard fuel gauge, which shows the remaining run time for battery.
Variable Speed Trigger & Lock Switch: Kimo cordless Ratchet Wrench contains variable speed metal trigger from 0 to 400 RPM which provides ultimate control of the tool. Its lock-off switch also helps to prevent unintended triggering.
KIMO Ratchet Wrench also has an All-Copper Motor that guarantees stable operations and is cooler, lighter, and more efficient than an aluminum motor, delivering the best performance.
Ergonomic Handle: KIMO ratcheting set also has an ergonomic handle that not only provides comfort but is also resistant to common chemicals in marine, automotive, and aviation arenas. It can stay for long periods.
KIMO Cordless Ratchet works like your air ratchet without the annoying cords and the noise from the air hose. It has a max torque of 40 ft-lbs at 400 RPM and a variable speed trigger.
KIMO Electric Ratchet is compact and lightweight with a weight of 2.2 lbs with battery, and it's ultra-slim head design. Therefore, it can get to any tight spots to ratchet nuts and bolts easily. It is also perfect for any construction, home repair, and auto maintenance work.
| Pros | Cons |
| --- | --- |
| It is fast and flexible | Doesn't have enough torque |
| Compact and organized | |
| Safe | |
| Easy to use | |
| Easy to assemble and disassemble | |
TightSpot wrench set is a well priced, 5-degree ratcheting movement that is built to access places that standard wrenches do not have enough swing.
Key Features
Contains 24 piece Master Set sizes: 1/4″, 9/32″, 5/16″, 11/32″, 3/8″, 7/16″, 1/2″, 9/16″, 5/8″, 11/16″, 3/4″, 7/8″ & 8mm, 9mm, 10mm, 11mm, 12mm, 13mm, 14mm, 15mm,16mm, 17mm, 18mm, 19mm
Works faster in small spaces: TightSpot wrench is designed to reach spots that standard wrenches cannot have an adequate swing. The 72 teeth in the 100% steel ratcheting box end help to speed you through jobs fast without any need to lift.
Quick access wrench organizer: No messy rollup bags just to get a wrench out. The wrench organizer reduces this time down to seconds.
Reduce bolt rounding: The reinforced open end holds on tight to fasteners for reduced bolt rounding.
Made from the Strongest Steel Ever: The best strengthening tool, vanadium, was added to make this tool even stronger, and this hardened steel is 67% percent stronger than other steels. It is perfect for Electricians, Technicians, Home Projects, and Lawn Care Equipment.
Lifelong reliability: TightSpot wrench has a powerful 7 stage construction for lifelong reliability which includes dropping forging & heat treating our amazing steel alloy. Aerospace Grade Vanadium hardens our steel alloy even more, while chromium helps to prevent corrosion.
| Pros | Cons |
| --- | --- |
| Safe | Can break easily |
| Durable | |
| Comfortable | |
GEARWRENCH ratcheting combination wrenches are the original patented ratcheting wrench. It only needs about 5° to move fasteners compared to 30° for standard wrenches. The wrenches are also produced from strong alloy steel with a bright, full polish chrome finish.
Key Features
Enhanced productivity: GEARWRENCH ratcheting wrenches utilizes only 5° on the box end to move fasteners versus 30° for standard wrenches. They enable the user to move a fastener with the speed and ease of a fine-tooth ratchet.
72 tooth ratcheting box end that needs a minimal 5° to move fasteners compared to 30° for standard wrenches
Increased Strength: GEARWRENCH ratcheting wrenches have an off-corner loading design which offers a stronger grip on fasteners, and reduces fastener rounding.
Made to Save You Time and Effort: GEARWRENCH is focused on providing powerful, effective tools in your hands, with benefits such as our pass-through technology for fitting the ratcheting box end down over long threaded rods
Superior Accessibility: GEARWRENCH has a stubby version that allows for greater access in tighter work areas. The stubby ratcheting wrenches provide the same strength as the standard ratcheting wrenches. The GEARWRENCH 85034 set offers the most common sizes of both the original and stubby lengths in SAE and metric sizes.
| Pros | Cons |
| --- | --- |
| 34 Pieces | Doesn't include a storage bag |
| Includes both metric and inch wrenches | Potential issues with chrome finish peeling |
| Made of durable steel | |
| Completely meets ASME and ANSI specifications | |
| Off-corner loading design | |
The Tool Guards Ratcheting Set contains 26 piece ratcheting wrench set with a mirror finish that contains Sae and Metric combination wrenches. It quickens the work with the master set that is bigger and more versatile than other 20 piece sets.
Key Features
It also has a slimmer profile that helps you to get into tight nooks and crannies.
Manufactured from high strength Vanadium steel and then chrome finished for long-lasting durability.
| Pros | Cons |
| --- | --- |
| Has a slim profile and handles repairs in nooks and corners easily | |
| Needs only a 5-degree arc for the 72 tooth ratchet | |
| Excellent quality at a great price | |
| Handy durable roll-up pouch | |
| Comes even in smaller sizes like 1/4" | |
| Lifetime warranty to ensure that your tool guards wrenches purchase against manufacturer defects | |
As a bonus pick if you need an all around took kit that also includes ratchet wrenches.
It is a unisex 205-Piece Hand Tools Kit and is ideal for home and lawn equipment repairs. It is heat treated and chrome plated to resist corrosion.
It is also securely housed in a handy blow-molded case.
CARTMAN Tool Set 205Pcs Red entire tools meet or exceed ANSI critical standards. It also contains the tools needed for most small repairs around the house.
| Pros | Cons |
| --- | --- |
| Tools are well made | Case quality can be better |
| Competitive price | |
| Useful and versatile set | |
Frequently Asked Questions
What is a 100 position ratchet?
A 100 position ratchet is a ratchet can swing in tight spaces, with as little as 3.6° arc.
What is a 72 tooth ratchet?
A 72 tooth ratchet's tooth refers to ratchets with 72 teeth on the drive gear, which translates to how far you need to move the handle to engage the next tooth. A 72-bolt ratchet requires a 5 degree arc for the swing arc for the pawls to catch and allow you to turn your bolt.
How do I choose a ratchet?
You need to consider these factors before choosing a ratchet:
Ratchet Head Style: This is based on the shape of their head. There are two major types and they are round head and pear head.
Ratchet Tooth Count: A ratchet's tooth count refers to how many teeth are on the drive gear, which translates to how far you need to move the handle to engage the next tooth. Low-tooth ratchets generally range from about 20 teeth to as high as 40 teeth. Fine, or high-tooth-count, ratchets range from about 72 teeth to 160 teeth.
Power: Air and Battery powered wrenches are mostly used for industrial applications, while Manual ratcheting wrenches are used for around the home.
Durability
How much torque can a 3/8 ratchet handle?
A 3/8 ratchet can handle 130 foot-pounds of torque at least at 3/4″ or 19mm. also, a lot of 3/8″ drive sockets, ratchets and breaker bars are at that size or larger that can handle even more torque.
What's the difference between ratchet and socket wrench?
A ratchet allows you to reposition the handle just by moving it backward whereas a socket wrench without a ratchet means that you must lift the socket of the bolt/nut and move the whole tool combination to reposition it.
Should you grease a ratchet?
Don't use grease as you lubricate. It will attract dirt that builds up and turns into a grinding compound, wearing the ratchet out shortly. Simply use a lubricating oil.
Conclusion
When you need a ratcheting wrench you want one that can handle the task at hand. Whether that's taking off a rusty bolt on a lawn mower blade, tightening a bolt from a pergola beam or working on your car. Having the right set with the right size is crucial.
We've given you several great choices to pick one best suited for your needs.