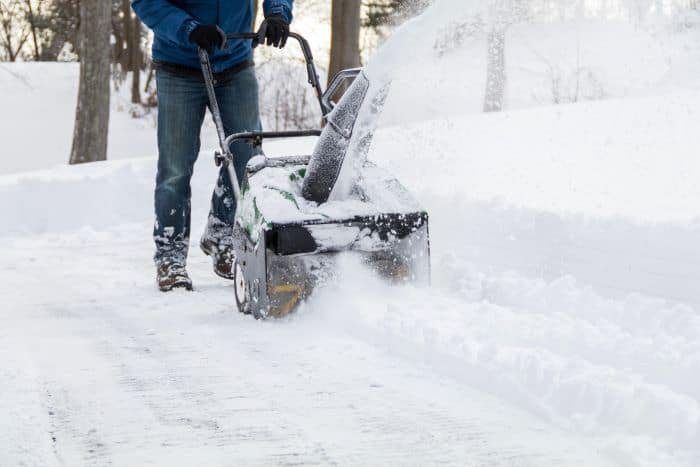 For some, snow is a curse as much as it's a blessing. Having to clear snow in our lawns, patios or backyards makes us have a love-hate relationship with snow. Fortunately, power tools to move snow has come a long way to being more affordable, more portable and easier to use than moving show with a shovel. Snow blowers or throwers, whichever term you prefer, is a yard tool that is as helpful as your lawnmower for the average homeowner.
The different types of snow blowers are electric, gas, cordless, single-stage, two-st​​​​​age, you name it. Because a snow blower is a big purchase for most homeowners, we'll point out the features to help you make an educated decision Thus, learn and discover the best snow blower below for your needs.
Best Electric Snow Blowers
The Snow Joe SJ625E electric snow blower shows off excellent features and performance in handling snow. The Snow Joe offers you maximum comfort with its features. It comes with 180° adjustable chutes, LED lights, and a two-year warranty, no questions asked!
Despite it being electrically powered, it manages to dish out powerful performance. Its 15-amp motor enables it to move up to 800lbs of snow per minute. It's also capable of swooping 21" wide by 12" deep flurries of snow. With the two rubber blades and steel augur, it also provides durability.
This makes the Snow Joe snow blower an exceptional electric snow blower and our choice as the best electric snow blower on this list based on it's features and very affordable price.
Next up, we have the Greenworks 2600502 snow thrower. It captures your heart by offering portability and convenience in it's small package. Greenworks offers several convenient features, such as a push-to-start button, LED lights for better visibility, foldable handle for easy storage, and finally, a chute that can turn 180 degrees.
With its affordable price tag, the Greenworks 2600502 offers ample performance. It supports a 13-amp motor with decent snow clearing capabilities of 20 inches wide and 10 inches deep with a discharge up to 20 feet. In short, this snow thrower is a decent choice for an electric snow thrower. It manages to deliver both quality and affordability in one.
The last electric snow thrower in our list is the Earthwise snow thrower. It offers features such as push-button activation, and a 180 degree rotating chute. All that at a bargain! The PowerSmart's overall build is robust with an ergonomic handle.
PowerSmart doesn't forget about its performance. With a 15-amp motor, this electric snow thrower could throw up to 750 lbs of snow 30 feet in one minute. It's capable of clearing snow within an 21" width and 12.5" depth of snow.
By far, we conclude that this PowerSmart snow thrower provides the best bang for the buck in electric snow blowers. It offers commendable performance without sacrificing durability and quality.
Best Gas Snow Blowers
Moving on, now it's time for the gas snow blowers! They are great for heavy snows and provide more power than electricity or batteries. PowerSmart gas snow blower is the first on our list.
PowerSmart offers an automated drive system with 6 forward and 2 backward driving options available. It also has both a push-button start and a manual start. Furthermore, a 13" inflatable tire enhances its grip on slippery terrains. The sheer power this gas snow blower offers is unrivaled.
The PowerSmart comes with a 212cc engine, which can clear up to 24" wide and 20" of snow with this machine. For a two-stage gas snow blower, the PowerSmart offers a reasonable price for the performance it provides and is our best gas snow blower.
Next, we have the YARDMAX YB4628. It's a smaller gas single-stage blower that clears small to medium snow without hassle. Like other blowers, it employs a rotating chute for easy snow removal. Though it's lightweight for easier maneuverability, it has an automatic drive feature. It can clear show 18″ wide and 11″ deep.
It's compact design is great for storage. Considering its cheaper price than its peers on this list, it's a great buy. This YARDMAX snow blower is practical in its use with adequate features.
The Briggs & Stratton blower offers a modern take on snow blowers. This single-stage blower is excellent for your lawn with hard snow with short to medium height. It also comes with a limited 3-year warranty.
For a single-stage blower, the Briggs & Stratton equips a 208cc engine for maximum efficiency. Its engine exerts 9.50 lb-ft of torque. With it, clear up to 22" wide by 12.5" deep snow without challenge.
The Briggs & Stratton comes with several features. There's an electric start for ease of use. Then, it uses wear-resistant rubber for its augers, an excellent material. Also, there's a large manual handle for its chute. The Briggs & Stratton blower justifies its premium price with its quality and investing in excellent yard tools is always worth it.
Best Cordless Snow Blowers
EGO's Power Peak technology enables the snow blower to deal with heavy, deep, and wet snow when powered with any 2 EGO batteries. You can operate it with one battery if it's light snow but adding the second battery will boost power and usage time. Moreover, you can adjust the power according to the depth of the snow.
The EGO Power+ Snow Blower is 38.2 x 23.9 x 19.6 inches and only weighs 60 lbs. Although it's mostly made of plastic and steel parts, the snow blower has a durable build. It has a brushless motor so it doesn't heat up as much as a brushed motor, making the blower perform better. An especially cool feature is the LED headlights at the front, which makes it easy to see where you're going.
The EGO snow blower is a significant investment but it's 5 year warranty helps give you peace of mind that your investment is protected. This is our choice for best cordless snow blower and one of the best snow blowers, regardless of power that you can buy. If you want a more detailed description of the EGO snow blower, click to read our in depth review.
The Snow Joe 24V-X2-SB18 comes with impressive features. It has the adjustable rotating chute, LED headlights, and comes with a warranty! This Snow Joe snow blower comes with a 1200W motor. The brushless motor can clear up to 14 tons of snow in one charge.
It has a 4-blade rubber-coated steel auger that gives both performance and durability. With its size, it clears up to 18" wide and 10" deep snow. The Snow Joe 24V-X2-SB18 comes with two 4.0 Ah batteries and a charger. Each battery runs up to 40 minutes per charge. Don't leave yourself hanging with a dead battery.
With its current price tag, this cordless snow blower is a solid choice. The strong performance, great features, and reliability is well-appreciated and worth the price.
The Greenworks Pro80 promotes a high-end cordless snow blower. It delivers exceptional performance accompanied by added comfort through its features. This Greenworks blower comes with a brushless motor that provides an efficient, silent, and maintainable machine. Clear up to 20" wide by 10" deep snow with this machine.
Greenworks provides well-received features on their blower as well. There's an automatic-controlled chute, LED light for night cleaning, and a push-button start. Their battery offers 45 minutes of run time and quick charging at 30 minutes. Greenworks prices this product with a premium price tag. Despite being an adequate quality blower, the price tag might scare some off. If you have no trouble with budgets, do consider it.
Frequently Asked Questions
What to look for when choosing a snow blower?
The important things to look for in choosing your snow blowers are: Is it a single stage or two-staged blower and is it powered by gas, electricity, or battery?
What is the best type of snow blower?
The best type depends on your lawn and snow. If your area is flat and hard (e.g. concrete), a single-stage blower is enough. For uneven land with gravels, having a two-stage blower is better. They are built to clear slopes and graveled lawns. The same goes for snow.
Single-stage blowers work best for lighter and drier snow. For heavy, wet, bulky snows, consider a two-staged blower. Gas-powered blowers are more powerful than electric and battery-powered blowers. Thus, it's recommended to opt for a gas snow blower to deal with thick and wet snows.
Which is better, a single-stage or two-stage snow blower?
If your lawn is flat with small to medium amounts of snow, a single-stage blower is perfect for you. Meanwhile, go for two-stage blowers if you're facing thick, wet, tall snows with slopes in your land.
How deep does snow need to be to use snow blowers?
In general, you can start using them on 1½ inches of snow. Keep in mind that taller snows require a bigger stage snow blower.
What is the best snow blower for the elderly?
For the elderly, the best snow blowers would be a single-stage, battery snow blower. It provides the convenience the elderly need while doing excellent work on the snow. Look out for a lightweight battery snow blower with 180° chute auto-turn, and an electric start. They are convenient to use, especially for the elderly.
What are the best snow blowers under $400?
Referring to our top pick, Snow Joe SJ625E Electric Single Stage snow blower provides the most value and quality under $400.
Conclusion
With all the different types of snow blowers on the market, choosing the best one will depend on your particular yard size and the amount of snow you're dealing with as well how much maintenance that you want to perform on your chosen snow blower.
We hope our list helped narrow your choice for the best snow blower and cheers to not having to shovel your driveway ever again! In case you're still not convinced to buy a snow blower, learn about snow melting mats instead.
When you're done cleaning the driveway, how about taking the kids to snow sled for some family fun.