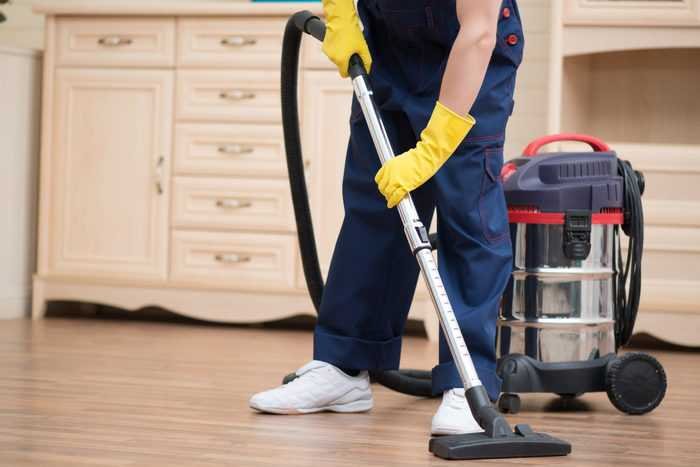 What is a Wet Dry Vacuum you may ask and what does it do?
Exactly like the name sounds, it's a vacuum cleaner that can suck up dry materials such as dirt as well as water. It's a very useful tool to cleanup water from a small plumbing leak or dust and dirt from a small house project. Many contractors use these vacuums or "shop vacs" on job sites.
These vacuums are more industrial and can pick up bigger wetter materials than a regular household vacuum. Also a regular vacuum should never be used to pick up anything wet. It could damage or completely break the vacuum. Every homeowner should own a wet dry vacuum. It's a tool that comes in handy when you least expect it.
Newer shop vacs come in many different sizes and can be corded or battery powered. This review provides an insight into some of the best wet dry vacuum cleaners suitable for various environments. It also provides explicit details on the features and factors to look out for when choosing the right vacuum cleaner for you.
The DEWALT wet dry vac provides you with powerful and convenient vacuum cleaning with a highly-efficient motor of 6.5 peak horsepower. It also has a large volume capacity of 16 gallons and three disposable filter bags that allow you to clean a large amount of dirt with ease. You also do not need to worry about noise pollution as the wet-dry vacuum has a silencing muffler that helps reduce the noise produced during usage.
You can also be assured of maneuverability as the shop vac has a 20" power cord that allows you to reach almost every corner you want to clean. The wet and dry vacuum also ensures organization and top-notch arrangement of tools using a storage bag attached at the backside of the vacuum.
The DEWALT shop vac features a sizeable built-in tank that helps you conveniently drain the liquids you picked up and a built-in blower port that allows you to blow away debris and sawdust from the workshop powerfully.
The portable XCV11Z Makita wet dry vacuum uses a powerful brushless motor that provides high water suction of about 27" water lift and 57 CFM. It uses an 18V LXT Lithium-ion battery that provides standby power and cordless operations. This can be used as a blower as well as a vacuum, increasing it's usefulness.
The HEPA filter captures 99.7 particulates from .3 microns and larger to help you get rid of even the smallest dust particles. The wet and dry vacuum has a LED battery indicator that helps you keep track of the battery charge by displaying the battery's charge level.
It has a portable and compact design, weighing only 10.1lbs, allowing you to carry and use it with convenience and ease. The 18V battery also ensures a 60-minute standby run time to enable you to work with an uninterrupted power supply.
The CRAFTSMAN wet dry vac has a large-capacity 20-gallon drum that allows you to clean up massive dirt without the need for regular disposal. The wet-dry shop vac uses a 6.5 peak horsepower electric motor that provides heavy-duty cleanup for various tasks in your workshops and other places. It also has a significant drain that allows you to conveniently empty and dispose of liquids.
The CRAFTSMAN shop vac includes several accessories that ensure its high-quality performance and provide you with convenient cleanup activities. The small shop vac also features a built-in blower port that provides quick cleaning off grass clippings and leaves in your workshop, garage, etc. The corded electric 120V vacuum cleaner provides powerful cleaning and the suction ability for your various cleaning tasks.
With a 6.5 peak horsepower electric motor, the Vacmaster wet and dry vacuum ensures powerful suction and cleaning abilities for your workshop, garage, and outdoor space. It is one of the best wet dry vacs with a highly efficient suction power and airflow that provides a perfect clean up in your workshop and environment. You can also work on over 27ft cleaning space using a 20ft power cord and a 7ft hose.
The wet-dry vacuum also ensures convenience and quick cleaning of your workshop as it features a 16-gallon collection tank that can accommodate a large quantity of dirt. You have versatility at your fingertip with this machine as you can quickly convert it to a blower when the need arises.
This DeWalt shop vac is one of the best wet and dry vacs with the ability to be plugged in or battery powered. Weighing only 8lbs for maximum portability and a compact design for easy operation. It has a 5 foot crush-resistant hose that provides you with top-notch wet vacuuming and also allows you an extended area to clean.
It also has a high-performance motor designed for quality and efficient wet and dry cleaning. The washable HEPA filter picks up particles down to .3 microns. The 2 gallon capacity is big enough to empty a toilet or clogged pipe.
The cordless shop vac uses the 20V battery system that can use different battery sizes for different potential run times. The smallest 1.5amp battery provides a run time of about 30 minutes. I personally use this vacuum all the time to pick up small messes inside and outside my home.
The AA255 wet dry vacuum is one of the best mini shop vacs with high efficiency and performance. It has a 2.5-gallon polypropylene tank that allows you to complete small clean up jobs with ease and enable quick tank emptying. It also has a 2 peak horsepower electric motor that provides powerful suction and blowing power.
The AA255 offers you a portable and lightweight version of a shop vacuum that you can easily convert from a blower to a suction vacuum. It also has a 10ft power cord with cord wrap and a 6ft long hose that allows you to work on extended work areas and spots.
It has an on-board accessory and hose storage that enables you to work conveniently. It weighs about 7lbs making it very lightweight, portable, and easy to carry around. Perfect for vacuuming out the small food particles from your car's backseat.
Frequently Asked Questions
What does a wet and dry vacuum cleaner do?
Wet dry vacuum cleaners help you eliminate wet materials and water would damage ordinary vacuum cleaners. They help to get rid of dirt, including DIY dust, broken glass, plumbing dirt and are even useful for unblocking drains.
Can you use a wet/dry vac on a carpet?
Yes, you can use a wet/dry vac on a carpet to pick up various types of dirt, as well as wet spills.
Can you shampoo a carpet with a shop vac?
No, it does not have the scrubbing rotating brushes that regular carpet cleaners have which it vital to cleaning stains from carpet. But, you can use it to suck up any remaining water out of the carpet afterwards if needed.
Can wet/dry vac pick up water?
Yes, wet/dry vac will pick up water and other liquid spills or leaks.
Is a shop vac more powerful than a regular vacuum?
Yes, a shop vac is more powerful than a regular vacuum, which explains why the former is more versatile. Wet/Dry Vac uses a more powerful suction force compared to standard vacuums.
How many amps does a 5 HP Shop Vac draw?
A 5HP shop vac will draw about 34 amps at 120 Volts. The higher the HP of a Shop Vac, the higher the amps it will require.
Conclusion
When life happens, a wet and dry vacuum can help you clean up any mess. It's uses are limitless, whether you're cleaning up after 3 kids or 3 dogs at home, in the garage, and even the minivan. We hope our review above will help you through the process of choosing the best wet dry vacuum cleaner for your cleaning needs.