Trees with red flowers can be a wonderfully bright addition to your backyard. The red stands out against the tree bark and green leaves like no other color. If you've seen trees with red flowers but didn't know what they were called, we're hear to help you identify them.
Let's discuss some of the most popular trees with red flowers below. Most of the trees below like hot weather, but we have a few that is suitable for colder weather as well.
Red Silk Cotton Tree (Bombax ceiba)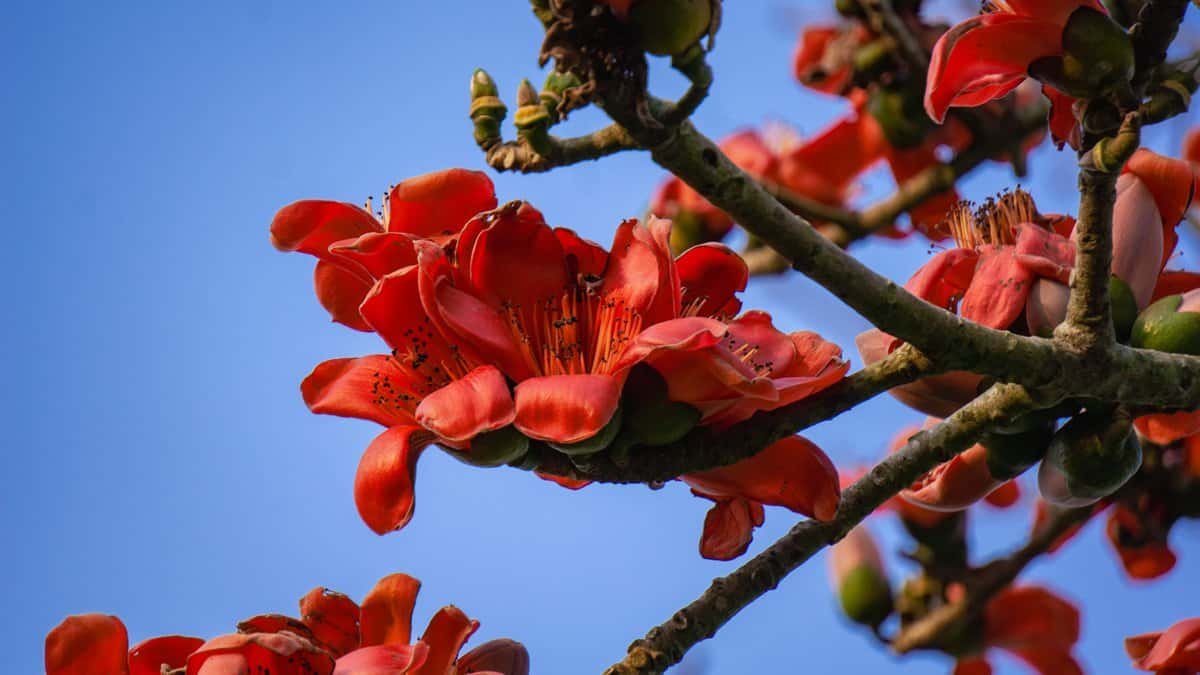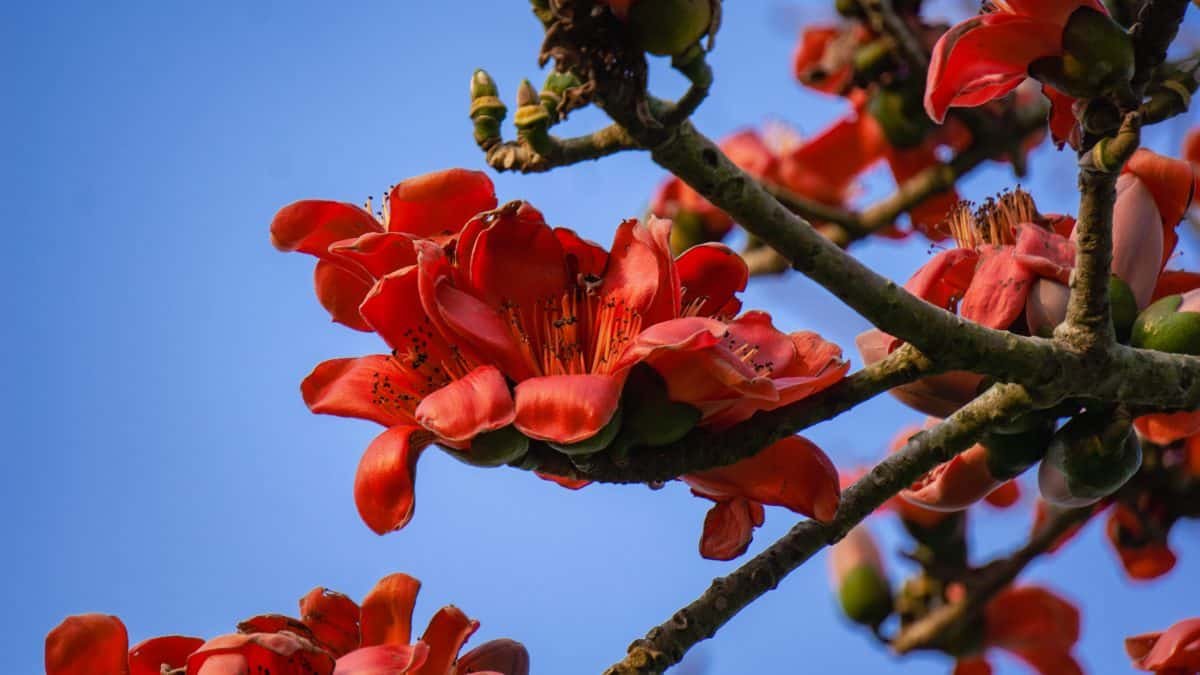 The red silk cotton tree, also known as the kapok tree, is native to Southeastern Asia. It is famous for its white fibers that are used for textiles in India and Nepal.
However, the red silk cotton tree is also known for its stunning red flowers, which bloom after the tree drops its leaves.
The red flower of the red silk cotton tree has five petals that glisten in the sunlight. The petals can have an orange tint that adds to the vibrancy of the flower. 
It can grow in USDA hardiness zones 10a-12b up to 40 feet wide and 60 feet tall. It needs 6 hours or more of sunlight daily.
Red Maple (Acer rubrum)
This tree is noted for its vibrant red foliage in the fall, making it photogenic all year round.
The red flowers of the red maple tree appear in dense clusters. They bloom during mid to late spring, eventually giving way to bright green leaves.
The red maple tree is native to eastern and central North America and can be spotted in deciduous forests near the eastern seaboard. 
Red maple trees grow in USDA hardiness zone 4a-9b. They can grow up to 75 feet tall and 35 feet wide when fully mature.
Pomegranate Tree (Punica granatum)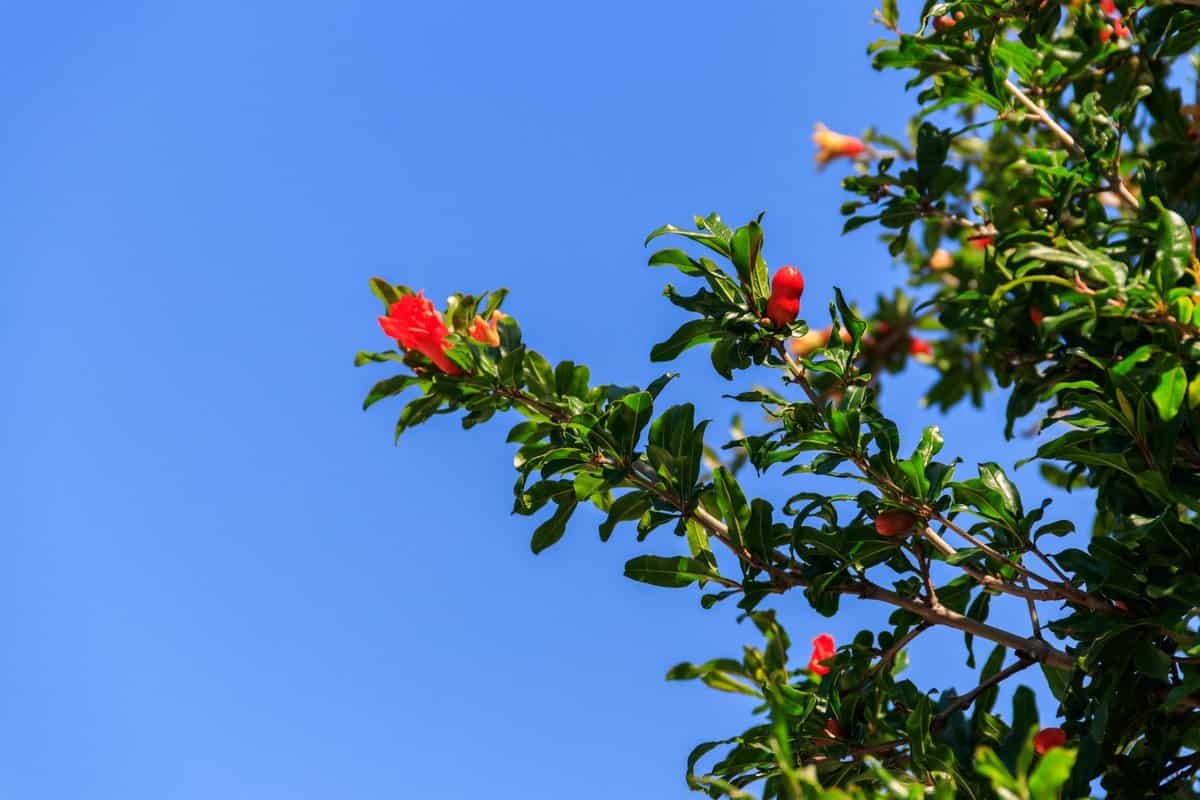 The pomegranate tree bears fruit and male and female flowers. The female flowers become fruit once they are pollinated.
In the summer, the flowers of the pomegranate tree become a bright, orange-red color – especially in sunlight.
The flowers of the pomegranate tree is native to central Asia and were cultivated in the Middle East and North Africa for thousands of years. In recent centuries, they have been cultivated in California. Pomegranate trees thrive in a Mediterranean climate.
The red pomegranate trees grow in USDA hardiness zone 7-10. While it is normally a large shrub, it can be trained as a small tree reaching heights up to 10-12 feet.
Bottlebrush (Callistemon)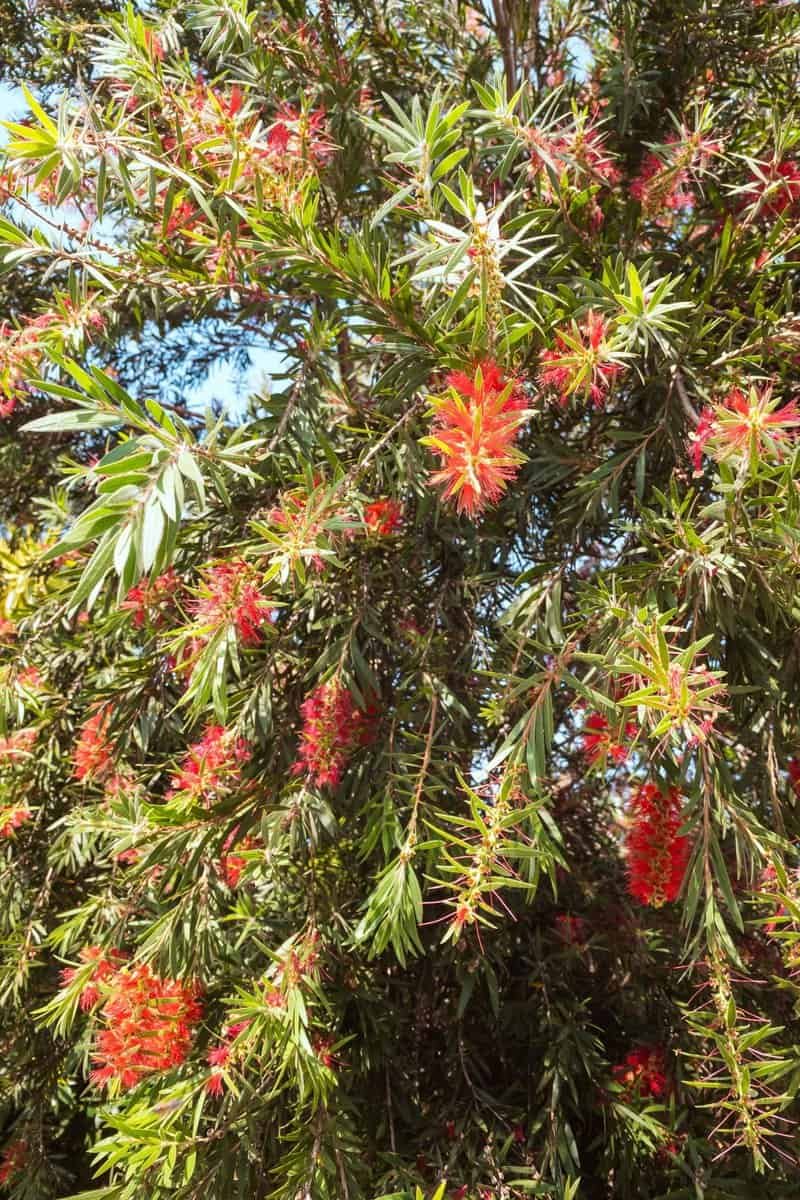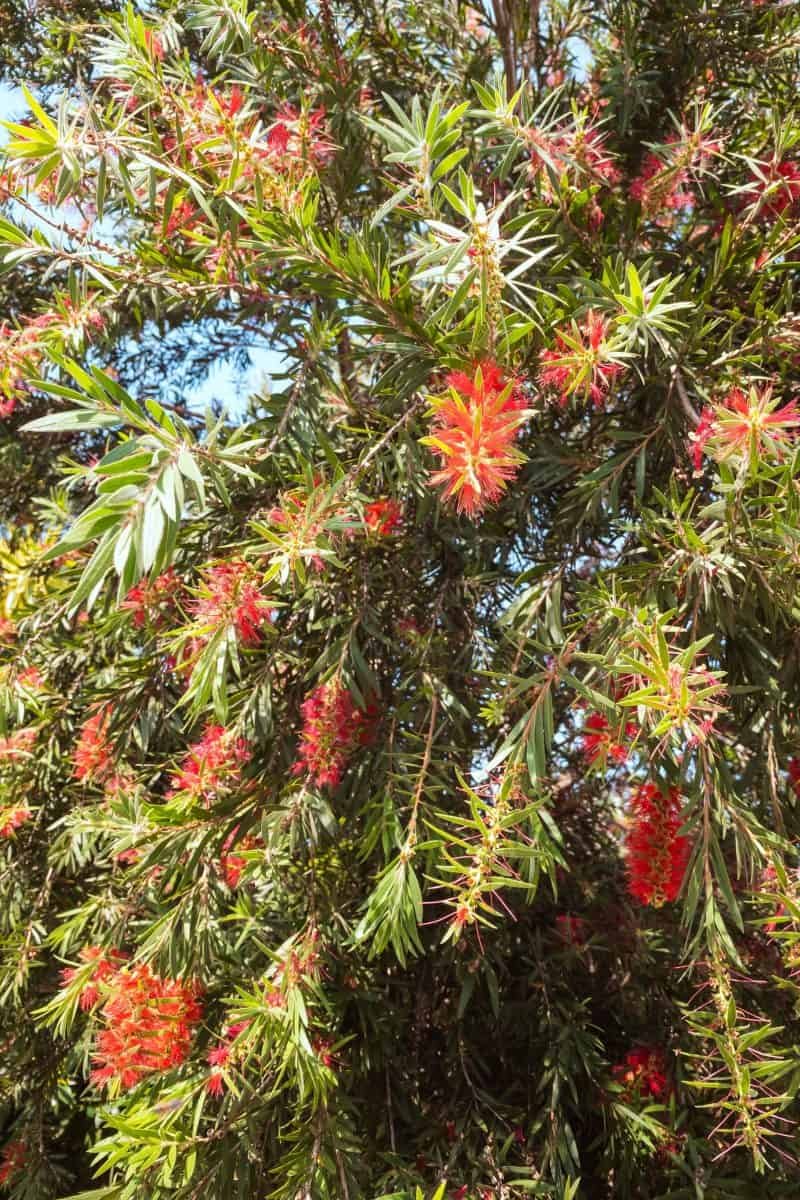 Though technically a shrub that can grow as a tree, the bottlebrush is a top choice for gardens that are designed to attract butterflies and hummingbirds. It is one of the few evergreens on this list. 
The bottlebrush has a distinctive bright red flower that resembles a bottle brush – hence the name. The bright flower creates a beautiful contrast with the dark green foliage of the tree.
The bottlebrush tree is endemic to southeastern and eastern Australia. They thrive in temperate climates and grow in damp conditions.  It grows best in USDA hardiness zone 9a-11.
Red Flowering Gum (Eucalyptus ficifolia)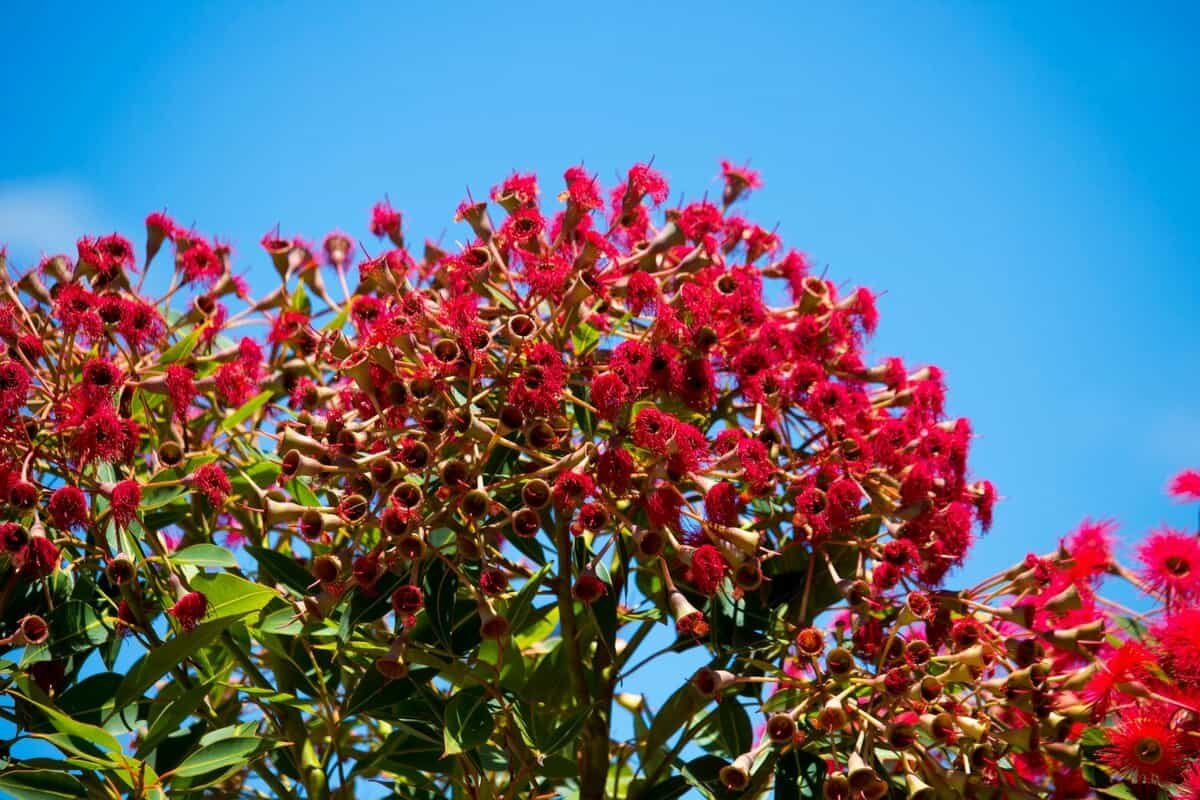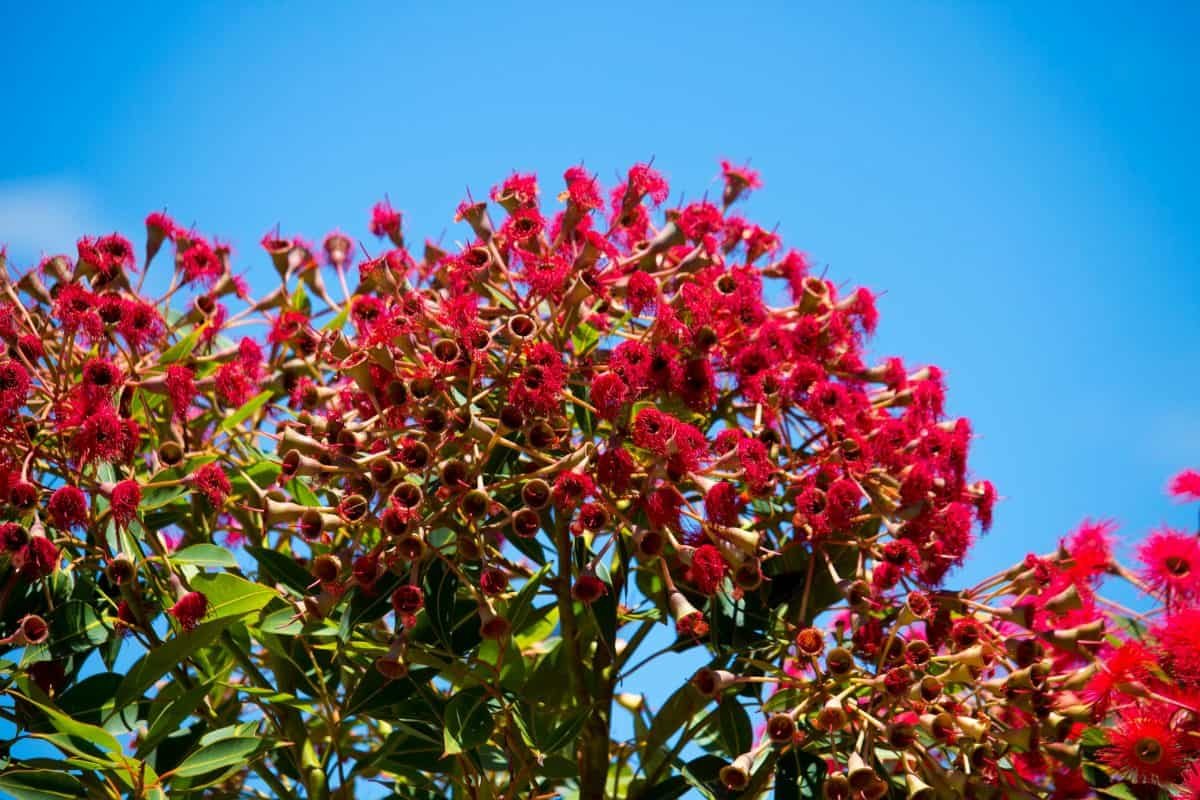 Red flowering gum (also known as scarlet gum) is a small, ornamental tree that is found in Australia. Its bright red flower clusters make it a top choice as an accent tree in a garden. 
Flowers of the red flowering gum are in bloom throughout the year, typically blossoming from December to May. They are predominantly red but can also be orange or various shades of pink. They are also quite fragrant.
Another notable feature of the red flowering tree is their wide tree trunks, which makes them less suitable for planting in dense urban areas with small sidewalks. They are also pretty high maintenance. 
They grow in USDA hardiness zones 9-10.
Crape Myrtle (Lagerstroemia indica)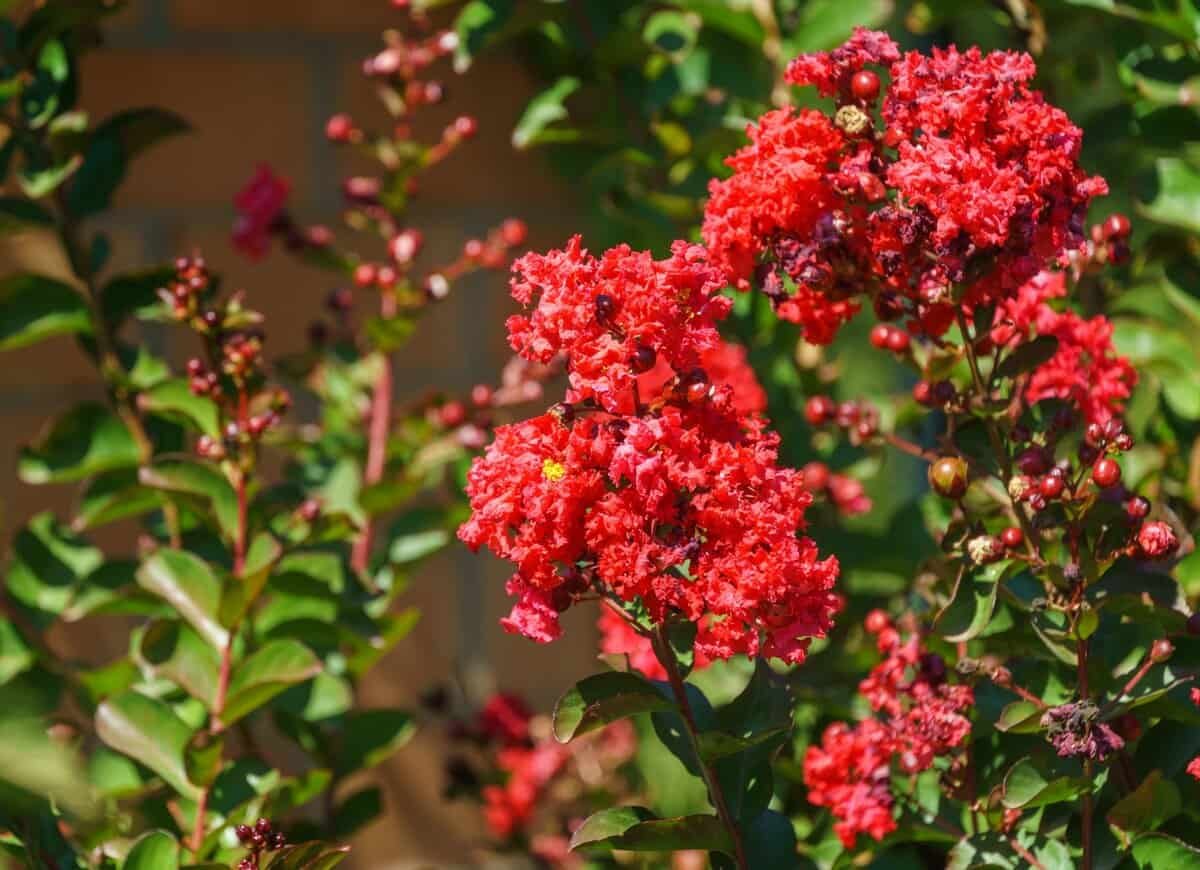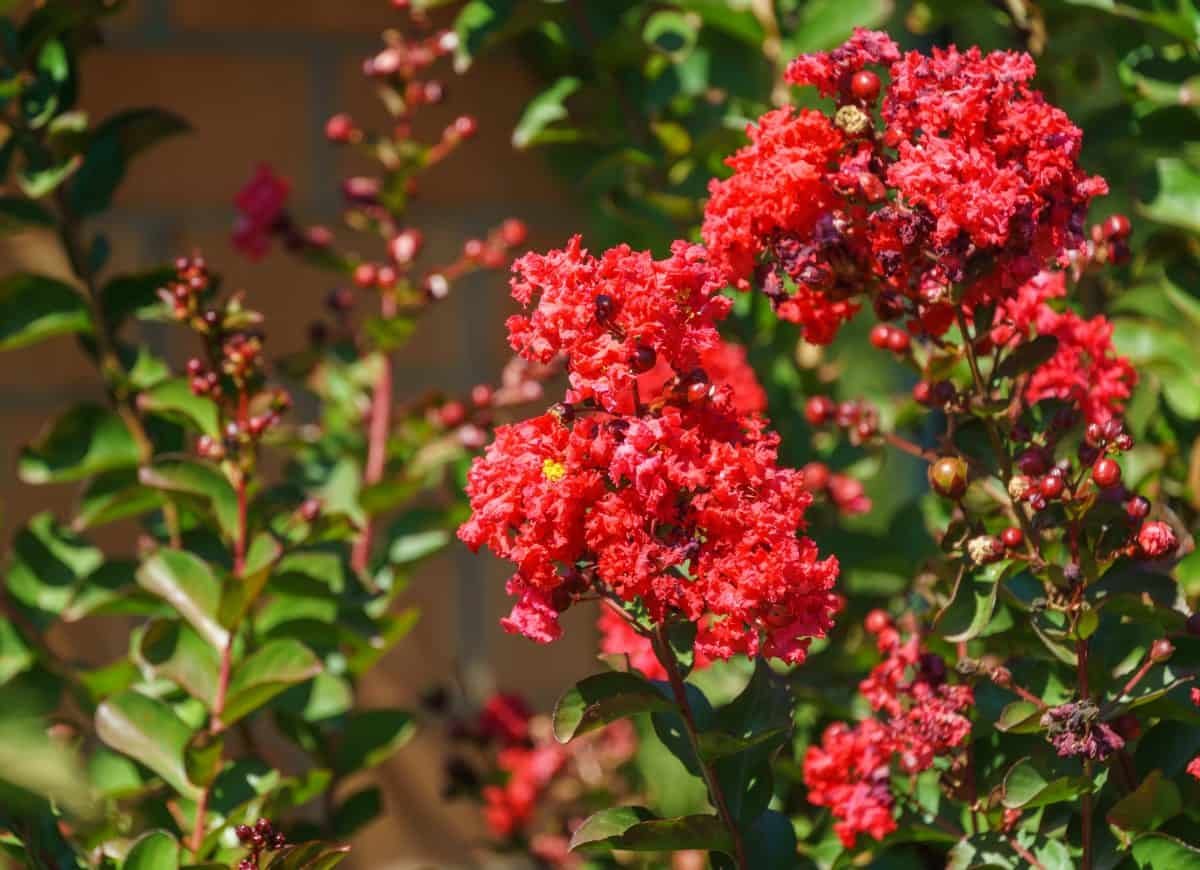 The crape myrtle tree was brought to England from its native China in the mid-18th century and eventually made its way to the US (turns out that it prefers warmer climates). They can grow in most parts of the US, especially the south.
Flowers of the crape myrtle tree can span the entire monochromatic, red palette, from red to magenta lavender, and pink. The flowers bloom, beginning in the summer and continuing into the fall. 
The foliage is just as striking, especially in the fall when they are a dazzling array of yellows, reds, and oranges. They grow well in USDA hardiness zones 7-9a and can reach heights of up to 30 feet tall and 25 feet wide.
Royal Poinciana (Delonix regia)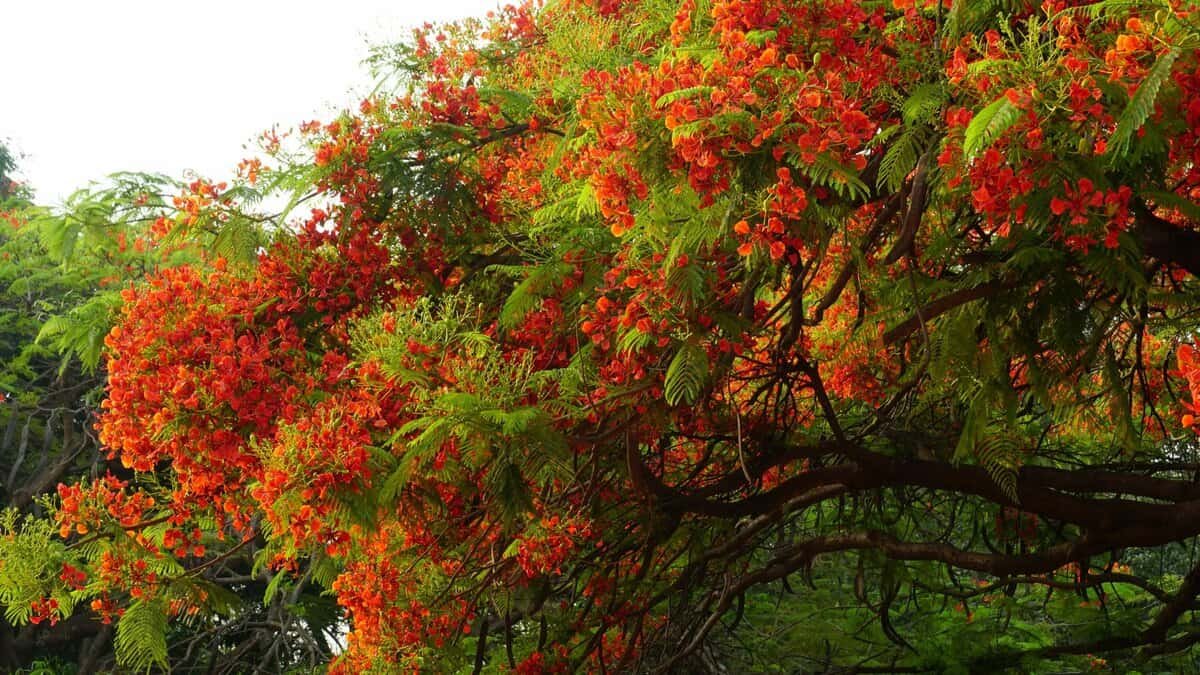 The royal poinciana tree is native to Madagascar and can grow in most tropical climates, where they provide ample shade.
Orange-red flowers, bright green leaves, and broad flat-top give the royal poinciana its distinctive appearance. It takes about 7 to 10 years for the flowers to bloom after a seed has been planted.
After their initial growth spurt, the royal poinciana shows off its brilliant red blooms from mid spring to summer. During this time of the year, the tree truly earns its nickname, "flame of the forest." The flowers eventually give way to fruit pods.
Best in USDA hardiness zones 10-12, can grow up to 40 feet tall and 60-70 feet wide.
Indian Coral Tree (Erythrina variegata)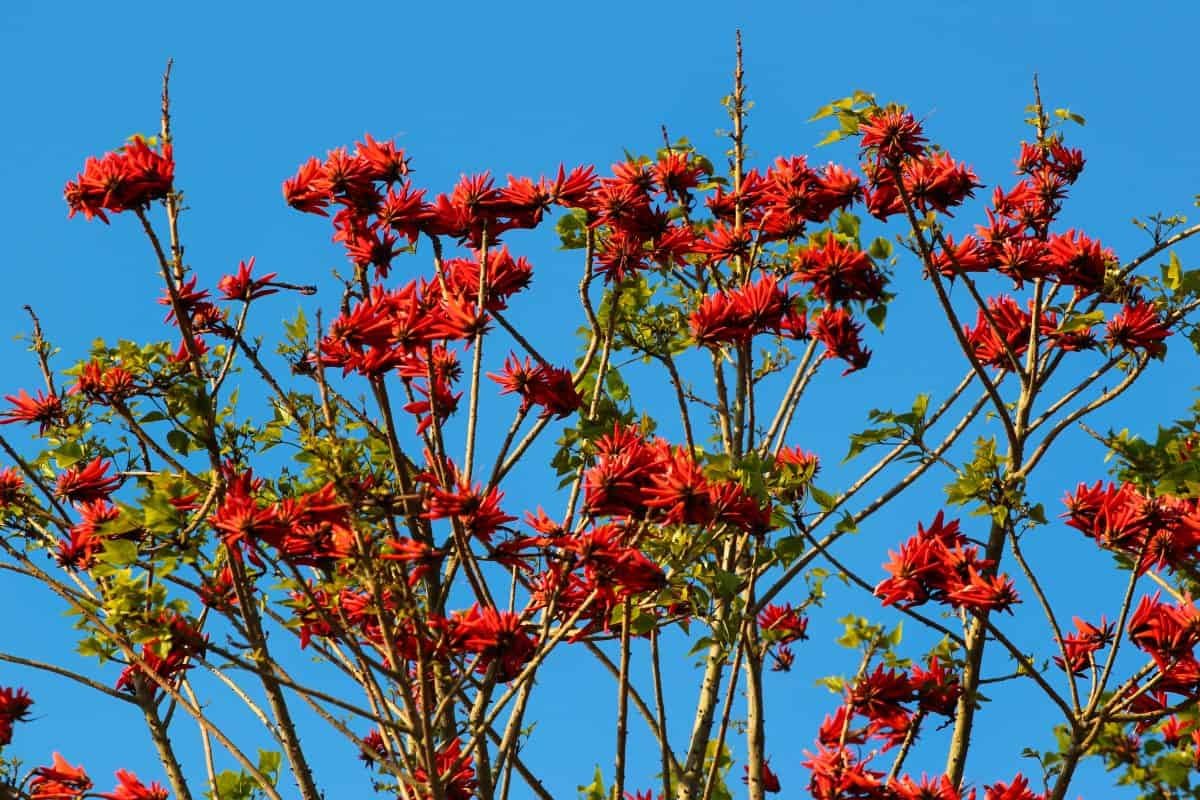 The Indian coral, also known as the Tiger Claw tree (because of the variegated green and yellow color of its foliage). The flowers bloom from March to May and then give way to their famed "tiger claw" foliage.
The striking color of coral tree leaves complement clusters of conspicuous, bright red flowers that make the tree internationally famous. In fact, it is the national flower of Argentina and Uruguay – and the official flower of Los Angeles. 
The Indian coral tree is native to eastern Africa, northern Australia, and India. They are frequently planted in parks, gardens, and along sidewalks. USDA hardiness zones 10a-11b
Conclusion
We've listed 8 beautiful trees with red flowers that will look amazing in your backyard. Always verify which hardiness zone you live in to match the correct trees to your area.