There are many types of landscaping edging, and there are multiple factors that go into choosing the correct one. Landscape edging is great for looks and practical divide between different areas of your lawn, garden, or driveway.
When determining which type of landscape edging is best for you, be sure to consider what kind of edging will compliment your house and lawn. We'll show you which edging should blend in and highlight the best elements of your landscape.
Natural Landscape Edgings
A more natural edging will consist of, you guessed it, natural materials. These types of edgings will be a bit more organic in their appearance, blending in a bit more than simulated edgings.
Flowers, Shrubs, and Grasses
One of the more prominent types of landscape edging, plants provide the most natural look. This includes:
Ground covers or plants that will fill an area and keep weeds at bay. Examples of Ground Covers are: Basket of Gold, Bunch Berry, or Wall Germander
Flowers such as Alyssum, Thrift, or Barrenwort
Small Shrubbery, such as ferns or boxwoods
Shorter, low-growing ornamental grass such as Silver Grass
Taller, clump-forming grass such as Fountain Grass Ornamental grasses.
Mulch is Low Effort
Mulch is an incredibly effective, low-effort landscape edging. All this type of edging requires, is the removal of a strip of grass from the edges of:
Flower beds
Walkways
Lawn borders
Then replace that area with mulch. If you're going to change that area in the future – such as a garden or a walkway – this is an incredibly beneficial type of edging since it's so easy to adjust.
Gravel, Stones, and Rock Create a Natural Look
Rocks or stone edging can look as natural or as simulated as you choose. The benefit of rock or stone edging is its ability to conform to the curves of any boundary you might require.
You can either utilize a simple path of:
Gravel
Small rocks,
Row of cut stone
A stack of stones can create a nice contrasting retaining wall for flowerbeds. They can also be used to line a pool edge or garden ponds. Stone edging is weather resistant and extremely durable. They are heavy, however, and will require some labor to construct in addition to usually being a little expensive.
Wood Comes in Treated and UnTreated
There are two types of wood edging: treated and untreated. Though wood edging is a little more rigid when it comes to conforming to an area's curves, it creates a much more natural aesthetic, especially in a more temperate, forested area. Both untreated and treated wood tends to be more affordable than some other types of natural landscape edging.
Many people use treated landscaping timbers as edging for flower beds or walkways. Though it looks visually appealing and will last much longer than untreated wood, it is called treated because of the chemicals used in the wood such as arsenic, chromium, and copper.
These chemicals can and will leach into the surrounding ground after a year or two, affecting both the surrounding plant life, and beneficial insects that aid in decomposing plant matter, pollinating crops, and keeping away detrimental pests.
Untreated wood is much better for the environment, especially if you're using it as edging for a vegetable garden. Though it will need to be replaced, as untreated wood deteriorates over time, the decomposing wood will add nutrients to the surrounding soil.
Simulated Landscape Edgings
Simulated landscape edgings are not better or worse than natural landscape edgings; it's more about what style is more appropriate for the aesthetic you are trying to achieve.
There is a wide variety with these types of landscape edgings, as they can be textured, colored, and as vibrant or hidden as you choose to make them.
Metallic Edging Conforms to Curves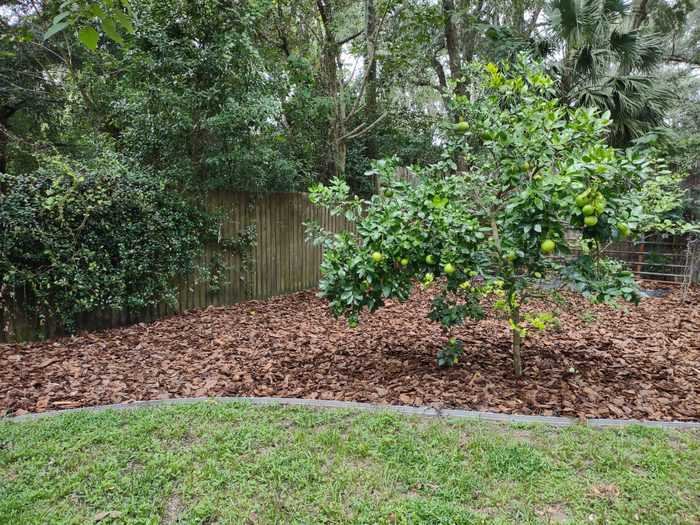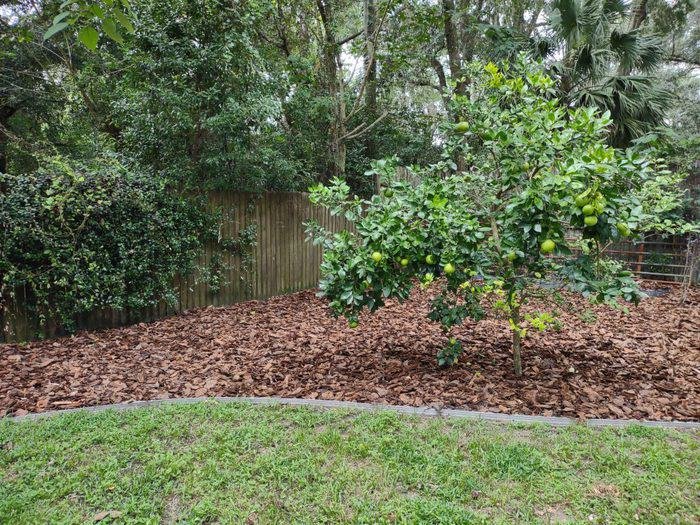 Metal edging is extremely long-lasting and provides a more commercial look. Metal landscape edgings tend to be made of aluminum or steel, malleable metals that can conform to any curves but can also be used in a straight line.
Over time, due to weather exposure, metal can rust, unless it's aluminum or stainless steel. Metal ranges widely in price, but more decorative versions can be expensive.
We chose the metal landscaping edging for our backyard shown above and really like how it looks. We show how we installed our metal landscape edging in this separate article.
Synthetic Plastics May Crack in Cold
Plastic edging is one of the most widely used types of landscape edging due to its ease of installation and affordability. You can either have plastic roll or fencing options to separate the various parts of your lawn. However, some gardening aficionados find plastic edging to look more unnatural and out of place than other options. It also has the potential to crack, especially in colder regions.
Concrete Can Match Surroundings
Concrete is an incredibly versatile type of landscape edging, as it can be colored to match its surroundings. You can either pour concrete by hand on your own, or have it done professionally using a curb machine to mold the edge as it is being poured.
However, concrete can get to be pretty expensive, especially when adding on the possibility of hiring a professional to do it. If you go this route, you might want to hire a professional though, since unlike the other options, once you pour concrete, it's more or less permanent.
Brick Works for a Rustic Appeal
Brick landscape edging has a very rustic, traditional aesthetic to it. Brick comes in a variety of styles and can be laid down in some very intricate patterns If you have the patience for it. Brick is an incredibly durable material, so you want to be sure you've placed it flush with any surrounding grass so as not to damage the blades on your lawnmower.
Non-Traditional Landscape Edging
You can really make anything you want into a landscape edging if you try hard enough. These can be customizable to what you and your family feel represent you the best such as:
Car Hubcaps
Seashells
Decorative Plates
And More!
What to Consider When Choosing Landscape Edging
With the many different types of edging, you need to consider what purpose you want your edging to serve, and what visual style you're trying to achieve.
Do you want the edging to be a feature of your yard, or do you want it to go unnoticed?
Are you highlighting a flower bed, or distinguishing a path?
Are the roots of your lawn grass superficial or deep enough to invade your garden/pathway?
What Are the Benefits of Landscape Edging?
There are many benefits that landscape edging provides when it comes to creating a visually appealing yard or garden that will raise your home's value. Additionally, there are many practical benefits to landscape edging:
Makes maintaining a lawn or garden easier in the long-term
Provides a more defined line when mowing or trimming your yard
Saves time when trimming or weeding
Prevents mulch from falling out of a garden or yard onto a walkway or driveway
Establishes a barrier against roots, stopping grasses from invading flower beds
Installing Landscape Edging
Overall, installing your landscape edging is a simple project once you've chosen your materials. If you're not choosing something that requires a professional, such as concrete, there are really three main steps to installing your landscape edging:
Make sure the ground is soft but firm. Do not try to install landscape edging in frozen ground, or when the ground is wet from a heavy rain.
Dig a groove into the malleable dirt, and place the edging in the trench you've created.
With some edging varieties, you can just push them into the ground, and they'll stay in place. With others like plastic or metal, you'll need to secure them with stakes.
Final Thoughts on Landscape Edging
Whichever type of landscape edging you decide to go with, whether natural or simulated, be sure to consider how well it visually works with the surroundings. Landscape edging is a highlighting feature of a lawn, not something that should draw attention away from your lawn or garden.
Be sure to checkout some shady landscaping ideas that we think you would enjoy. If you're needing any help with landscaping, there are software that is sure to make landscaping easier for you!