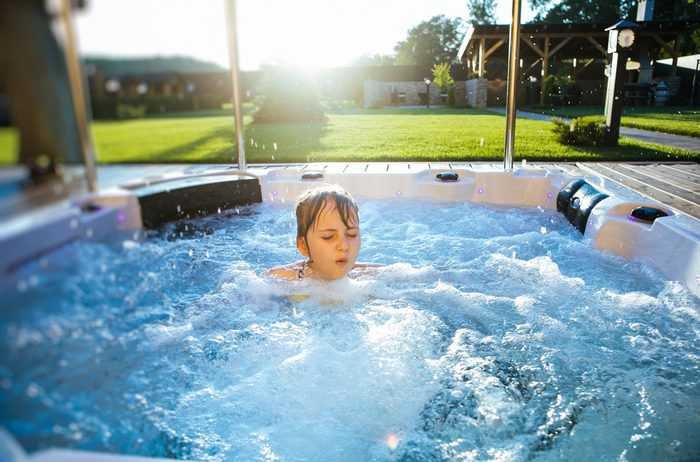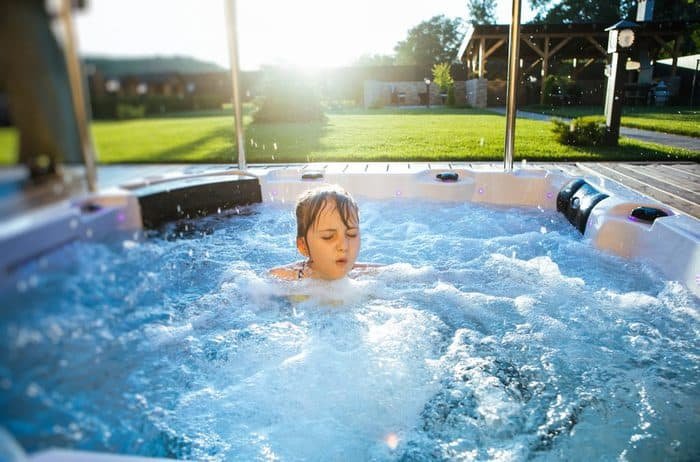 Hot tubs are fun and enjoyable for the whole family. But at what age is it safe to have your kids in the hot tub? There are a few things to consider before allowing them to join you for a soak.
What age is safe for hot tubs? Most public pools only allow children over the age of twelve to use the hot tub. Safety is key when deciding what age is best for your kids. Infants and toddlers should not be put in the hot tub due to not controlling their bodily functions and easily getting overheated. Plus, older children are more responsible for their safety than younger kids.
Accidents
According to the Consumer Product Safety Commission (CPSC), drowning is the main danger linked with hot tubs. Many of those deaths were for children five years old or younger. This statistic goes to show you that it is important to watch your young children at all times.
Due to this fact, a hot tub should be covered and locked when it isn't being used. Children should be kept away unless there is constant adult supervision. Accidents can happen such as getting their hair caught in the drain.
The CPSC reported that a mixture of accidents and even deaths in a hot tub were caused by people's hair getting stuck in the suction drain, which held their head underwater. This can lead to injury or death that could have been easily avoided if there was an adult present.
Because of this, people should be careful when going underwater in their hot tubs. It should be avoided if possible. You should also make sure the drain cover is in good condition, or even there, and turn off the hot tub or spa until the cover is replaced. This will protect you as well as anyone who uses your hot tub or spa from being involved in an accident.
Younger Children In The Hot Tub
Children will often play games with their friends in the water, whether it's at the pool or in a hot tub. They may try to see who can hold their breath the longest. Since there isn't a lot of space in a hot tub, the children don't have to go very deep to potentially get their hair stuck in a drain.
There are standards out presently that recommend that you get a hot tub cover lock that will prevent or lessen the chances of unsupervised children getting hair stuck in the drain. You should definitely invest in them if you have children of any age and a hot tub.
It is also recommended that toddlers and other young children should only go in the hot tub if their feet can reach the bottom of the tub. Or they keep their heads above the water on their own.
A parent may hold them while in the hot tub, but like any young child, they will want to swim on their own which can be dangerous.
Also, since toddlers and young children have very little control over bodily functions, spas can become unsanitary and even unsafe almost instantly when another type of "accident" happens. It is best just to not risk it and wait until your children are older to use your hot tub.
Temperature
Consider your hot tub temperature before going in for a dip. Being exposed to extremely hot temperatures (~110 degrees F) can even lead to death. High temperatures can cause drowsiness, which can lead to unconsciousness and result in drowning. This is also why there are time limits posted near public hot tubs. 
Additionally, increased body temperatures can lead to heatstroke and possibly death. Currently, there is a range of temperatures that a hot tub can be set to that help make sure hot tub water temperatures never get hotter than 104°F when in use. You can drop the water temperature to 98 degrees to allow for longer time in the tub— but try not to stay in for more than 15 minutes at a time.
When you are ready to introduce your children to the hot tub, make sure they stay in for short periods of time at first. Try five minute intervals to get them used to the hotter temperatures before allowing them to stay in for longer. Young children should avoid putting their whole body in the water, and should instead use the seats on the side that keeps the water at waist-height.
Older Children In Hot Tubs
There aren't any professional guidelines or regulations on what age is the "right" age to introduce the hot tub. It is your judgement call as a parent or guardian. Depending on the age of the child, we can suggest ranging the time between 5 and 20 minutes. The large time difference can be daunting when deciding how long to allow your child in the hot tub.
The best way is to trial-and-error how each soak goes with your child. If they love it and seem fine, extend the time. Decrease it if you do notice sluggish or overheating behaviors. Most hot tubs are set for 104 degrees, and children should use it at 102 degrees. Children should not put their heads underwater, because it can increase the risk for ear or other infections.
Warning signs: if you see red faces, tired/"out-of-it" behavior, or glassy eyes – get the child out of the hot tub immediately. Make sure to cover up your hot tub when you aren't using it. Make it an important rule that your child needs to find you or another adult to use the hot tub.
The most common hot tub injury in children 6 to 12 years old is related to diving or jumping into these "mini-pools". Many children may not think about how deep a hot tub is before jumping, so be sure to explain it to them thoroughly before allowing them to use it. 
Infections can also be transmitted due to untreated spa water. Fecal contamination of hot tub water – which can occur if infants, toddlers or anyone with diarrhea use the spa, can infect the water with Escherichia coli bacteria. It is essentially a bacterium that can lead to very serious infections.
So don't get lazy with the hot tub water care! 

CPSC Recommendations
The CPSC is an organization that helps control the safety of products that we use. Here are some of their recommendations when it comes to using your hot tub:
Hire a professional: Have someone well-trained in hot tubs to make sure your hot tub is up to code and safe to use and reduce the possibility of hot tub wiring mistakes.
Make sure to be aware what temperature your hot tub is at when in use. Change it depending on who is in the tub (child vs adult).
Keep your hot tub covered and locked when you aren't in it.
Children should always be with an adult in the hot tub – don't let them use it alone!
The dual drains should be in working order and have covers to prevent any accidents.
Know where the cut-off switch is in the hot tub, and let others know where it is. That way, you can shut off the hot tub in case of an emergency.
Stay hydrated: Drink lots of water while soaking so you stay do you don't get dehydrated in the hot tub.

Safety Reminders
Hot tubs should always have a fence around them, or a hot tub cover with a lock. This will prevent children or unwanted adults from using the hot tub without your knowledge. It will keep them safe and give you peace of mind.
Educate your children on how to use a hot tub safely. If they know how to be safe in one they can relate that knowledge to other hot tubs. Other hot tubs may be present during stays at hotels, motels, or resorts while traveling or on your family vacation. 
Another safety reminder is to be aware of the chemical balance of the hot tub. There should be a slight smell of chlorine in a well-maintained hot tub. A strong smell means there is too much chlorine in the water, which can be harmful. Pool and hot tub disinfectant test strips can also be used to check the chlorine levels in the hot tub. They are cheap and easy to use. It only takes a second to check!
Red Cross Recommendations For Hot Tub Use
The Red Cross recommends no children under 5 should go in the hot tub. Children this young cannot cope physically with the heat, which may cause hypothermia and other harmful effects. Small children have smaller bodies than adults and will overheat much more quickly.
Children should not spend more than about 10 minutes at a time in the hot tub. Watch for flushed skin and sluggish or sleepy behavior after they have been in the hot tub for a while and make sure they get plenty to drink! If they show these signs, get them out and put a cold compress on them to help cool them down.
Keep the food light or nonexistent before using a hot tub. Food and swimming don't mix well, and can cause you or your child to be uncomfortable rather than relaxed in the hot tub. If you are swimming in the summer, turn the heater off so you can "chill" in the hot tub with your kids! This will also help prevent overheating by not mixing the summer heat with the water heat.
Have Rescue material on hand this includes log pole, life rings, and such for an emergency.
Prepare for there to always be an emergency. Get to know the inner workings of your hot tub, so that you can turn it off if you need to in an emergency. This information may save your or someone else's life. Learn how to perform CPR. Keep a first aid kit close by.
Set Hot Tub Rules
Setting rules when using the hot tub with your kids can help keep them safe. Here is a list of some hot tub rules that you can share with your child:
Always closely watch children in the hot tub. Never let a child out of your sight — not even for a second. Never assume a child is safe in the hot tub alone, even if they know how to swim!
Always have them swim with someone. It will keep them and others safe when using the hot tub.
Talk to your children about safety. Make sure children get swimming lessons. Make sure they know how to wear a life jacket and use personal floatation devices.
Require good behavior from your kids. This means:

No pretend screaming, which may confuse others into thinking someone is in real trouble
No running or pushing near the hot tub
No toys like tricycles near the hot tub; they can lead to accidental falls into the water

Do not let kids with stomach problems in the hot tub. Stomach pains or diarrhea can make the hot tub experience more uncomfortable rather than enjoyable.
Reschedule for weather. Never swim if you hear thunder or see lightning. Just don't. You can always soak in your hot tub another day.
Limit alcohol. No under-age drinking allowed. Adults should limit drinking near the hot tub, too. Even a small amount of alcohol can slow reflexes or make you feel groggy or sleepy.
Hot Tubbing Away From Home
If you're traveling with your children, you should be aware that commercial places such as hotels may not be as careful as they should be about the safety of their spas. If you plan to use a hot tub on your trip, travel with a thermometer to check the water temperature. It sounds tedious but will save you from overheating later.
You can also bring along test strips, which are available online, at home improvement stores, and pool supply shops.
When on vacation, don't allow yourself or your children to enter hot tubs with cloudy water or strong chemical smells. It's important to review the basics of pool and hot tub etiquette, like not swallowing the water or splashing. Share water and hot tub safety tips with your children before they go in.
To Summarize
Responsible adults around children using the hot tub is key to allowing them to use it safely. If you own your own hot tub, be prepared to keep up with the maintenance. It is a lot of work, but it will keep you and your children safe.
Hot tubs can be enjoyed if you have children. You just need to be vigilant in protecting them and the hot tub. By holding yourself accountable for knowing the potential dangers, practicing regular maintenance, and providing adult supervision when children are around, you'll be able to enjoy a soothing soak in the hot tub together!