Outdoor kitchens are a fantastic way to extend your living space and enjoy your meals al fresco! But building an outdoor kitchen takes lots of time, and careful planning since the materials used must be able to withstand whatever elements are characteristic of your local climate.
Outdoor kitchen cabinets are most commonly made from these three materials:
Wood
Stainless steel
Masonry
Polymer is another option, although not as common as the other three listed above.
Each material provides for beautiful designs that adhere to your styles and tastes. Choosing which one is best for you will be the hardest part. From there, you will be able to create your unique kitchen. Here is more information about each to help you ease your decision.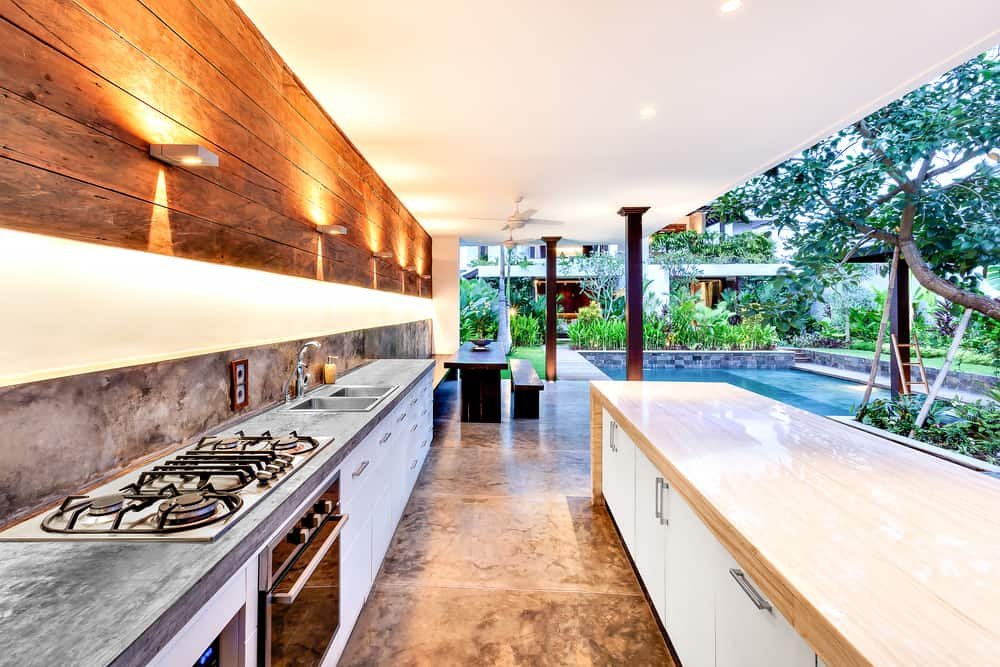 Wooden Outdoor Kitchen Cabinets
Wood is one of the more common choices for outdoor kitchens because it is cheaper than other materials, and you have so many options to choose from.
Each material will have its pros and cons. Here are the pros and cons for wood:
| Pros | Cons |
| --- | --- |
| A classic style | Will need upkeep more often |
| More options and colors to choose from | Not as weather-resistant as other products |
| Can be eco-friendly | Will degrade in harsh climate conditions |
| Allows a higher level of detail | More expensive for the more weather-friendly wooden cabinets |
The Best Types of Wood to Use for Outdoor Kitchens
There are many kinds of wood to choose from. You may not even see a type of wood you're interested in even mentioned here. The great thing about choosing to use this material is that you have so many options.
There are some better types of wood than the common ones, like cedar or oak. Those types are as follows:
These seemed to be on many people's lists when searching what would be the most durable material for an outdoor kitchen cabinet.
Teak
This wood material is your best choice. It is naturally resistant to water, unlike some of the others. It also has quite the appeal. It is classic and elegant, but a major downfall is that it is quite expensive. And because it is wood, it will eventually fade and degrade as time passes.
Ipe Wood
This material is usually made for decks, so this wood is meant to be strong. It is quite versatile as well and has been known to last up to 75 years! It's also great against bugs. The wood is tough, so the bugs can't chew through it like other materials.
Cumaru Wood
This one is a very popular option. It is a type of teak wood, so you get the weather resistance that teak has to offer! Its color is very appealing, which is why it is so popular.
Best Treatments
If you choose wood, you already understand that you will have to treat it regularly to maintain it so that it will last years. With most of the choices, they are already water-resistant, so you will not have to treat it and seal it like other woods.
You will have to treat it regularly. It is suggested that you should recoat every one to two years.
For wood, it's best if you have the kitchen in a covered area or somewhere out of direct sunlight. This will add to the life expectancy of your beautiful outdoor kitchen.
Stainless Steel Outdoor Kitchen Cabinets
Using stainless steel for your cabinets will give you a more modern look. This is the best option if that is what you are hoping for. Although the colors and styles are limited, you can change the bold stainless steel look with a powdered coat.
Here are the pros and cons if you decide to go with stainless steel for your outdoor kitchen cabinets:
| Pros | Cons |
| --- | --- |
| Will not corrode with proper treatment and installation | Expensive |
| Can incorporate grills more easily | Steel can get hot easily during the summer |
| Longer lasting than wood | Not as many different styles or color options |
| | Can rust over time |
If you have the option to buy this and can afford the upfront costs, this is a great option. It lasts longer than most of the other materials as well as offers less likely for corrosion and degradation. You'll still have to know how to clean stainless steel to keep it looking good.
Brick or Stone Outdoor Cabinet Frames
Masonry material for kitchen cabinets is using field stones or a stone veneer for your outdoor kitchen. This style is unique, and you will not find a single kitchen with the same look.
This is because it is made of stones shaped in multiple way. There are many different types of stonework to choose from.
You can use brick as well for this type of outdoor kitchen, and it makes for quite a beautiful and country style. But with this unique style and material, you will find there are great benefits, and then there are some downfalls.
Here are the pros and cons:
| Pros | Cons |
| --- | --- |
| Resistant to all types of weather and environments | More expensive |
| It will not wear and tear as easily as the other in extreme conditions | This is not ready-made. Longer timeframe to build |
| This kitchen is sturdy and will be built to last | Quite a bit of manual labor hours |
| | The setup of the kitchen will be bulkier than the other materials |
This is best for people who want to stand out from the rest because you can put your unique personality into the kitchen. You can also show off that you have the patience to wait for what you want as this does take longer to build and will not be on the go for you to buy at any time.
Polymer Outdoor Kitchen Cabinets
While these are a less common option, polymer cabinets are used in some outdoor kitchens. The polymer has become more common as it is a sturdy type of plastic, and it is much cheaper than many other options.
Here are the pros and cons of using polymer to make outdoor kitchen cabinets:
| Pros | Cons |
| --- | --- |
| Cheapest option compared to other materials | Limited colors to choose from |
| Easy to clean | Not eco-friendly because it's made from petrochemicals |
| Water and weather resistance | The plastics are combustible The polymer can transform under extreme heat |
| Stain-resistant | |
Final Thoughts
Each type of material can make for quite a unique outdoor kitchen. It depends on what you are looking for and what best fits not only your home but yourself.
You don't want to buy a polymer kitchen if you would rather get a more modern look from the stainless steel kitchen. Do what is right for you.
Be sure to checkout our articles for best countertops for your kitchen.