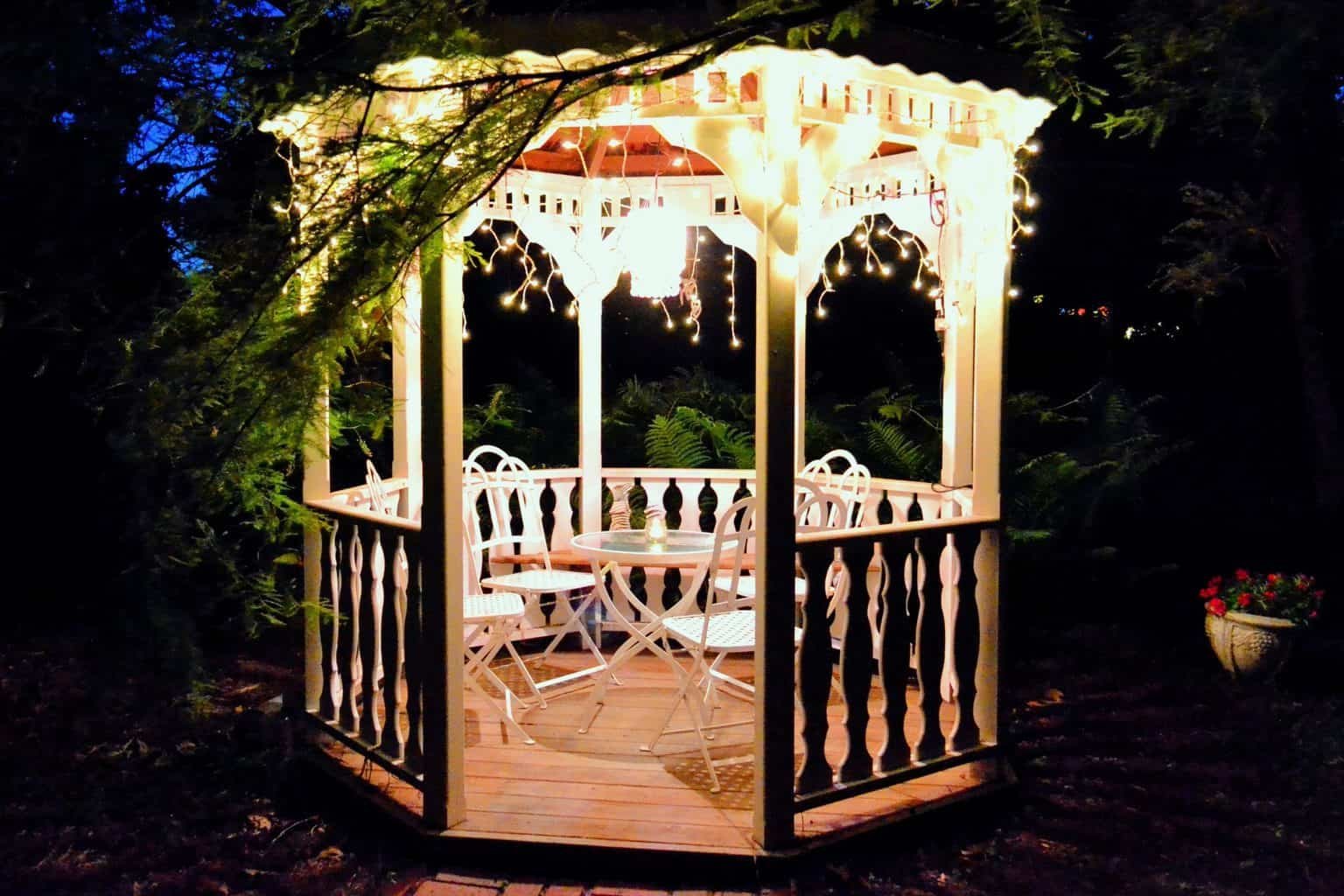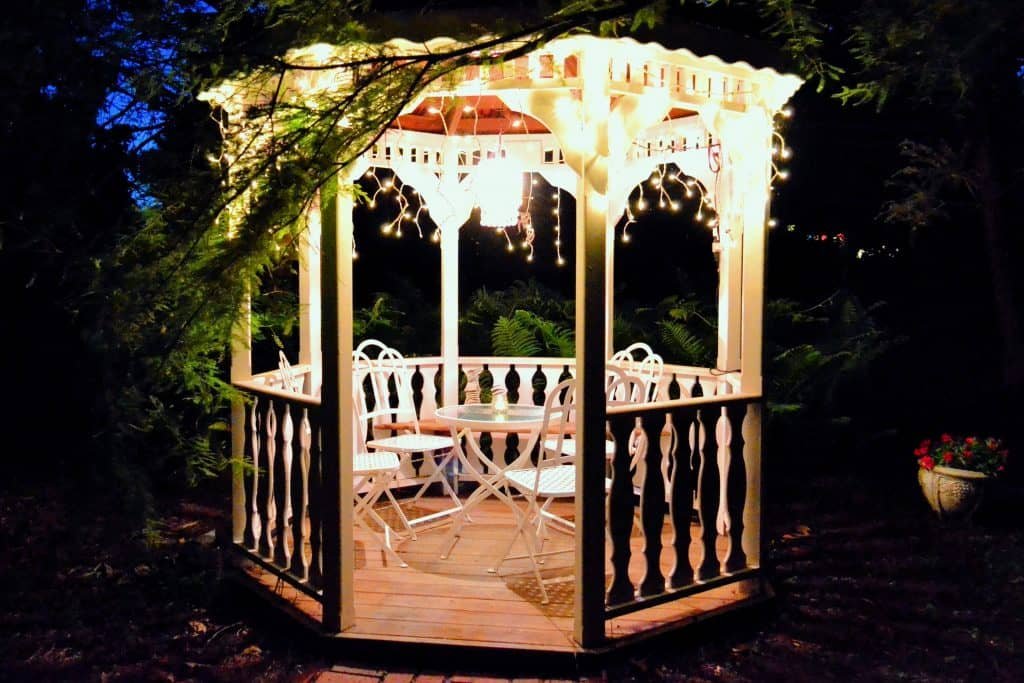 When it comes to architecture, few things are as universally well-liked as gazebos. However, there's a bit of confusion about what a gazebo is, especially when compared to other similar structures. What exactly is a gazebo?
A gazebo is an outdoor structure with a roof fixed on columns usually in an octagonal shape. The term comes from the word "gaze" plus the Latin suffix (ebo), meaning "I shall". You'll usually find them in gardens and parks.
There's much more to gazebos than their roofs and lack of walls, however. They are a fascinating piece of architectural history with unique traits. So let's dive into the specifics.
Characteristics of a Gazebo
Gazebos have many unique characteristics. They contain a fence wrapped around the posts and usually have a base of five to eight sides. They're usually made of wood, although metal and stone gazebos exist.
Inside most gazebos, you'll find benches around the perimeter providing 360-degree viewing. If you look up, you'll be able to see the inside of the roof along with the beams.
The location also plays a big role. Gazebos are intended to complement visually pleasing areas. Ideally, you should be able to look in any direction from the inside and see something pretty. This is why they're usually built in or around gardens.
What are Gazebos Used For?
Gazebos are used primarily for two things. Firstly, they provide shelter from rain and shade. Secondly, they are an aesthetically pleasing addition to parks, gardens, courtyards, and other outdoor areas.
If you look back at the definition, the Latin suffix "ebo" plus the word "gaze" form the word "gazebo". This translates to "I shall gaze", which indicates another major function of these structures. While being protected from rain, people inside will still be able to view the surrounding area.
Ultimately, gazebos provide a way to be outdoors and indoors at the same time.
What's the Difference Between Gazebos and Pergolas?
The tricky part about defining gazebos is the existence of similar structures. First, pergolas are another type of outdoor structure you'll often see in gardens. Technically, a pergola is a type of gazebo but with key differences.
Chiefly, pergolas provide shade but not much shelter from the rain. This is because they consist of wooden beams bridged across columns, not a solid roof. So instead, pergolas are made for vining plants to climb onto so that whoever goes inside receives natural shade.
Additionally, pergolas are usually rectangular instead of having more than four sides like gazebos do. This makes pergolas great for walkways and outdoor dining areas when the weather's nice.
What's the Difference Between Gazebos and Pavilions?
The next structure people often mistake for gazebos is pavilions. In many ways, a pavilion is a hybrid between a gazebo and a pergola.
Pavilions are much larger than gazebos and are strictly rectangular. They lack the fences and benches of gazebos and have flatter roofs. However, they have solid roofs that provide both shade and shelter from the rain (unlike pergolas).
While gazebos are dedicated to viewing, pavilions are built for dining and recreation. They can accommodate more people than gazebos with room for tables and chairs. Be sure to check out our article were we provide more information about the differences between these structures as well as others!
What's the Difference Between Gazebos and Cabanas?
Cabanas serve a similar purpose as gazebos, to provide shade and shelter. They're also about the same size as gazebos, but this is where the similarities end.
Location is the biggest difference between gazebos and cabanas. People usually build gazebos in gardens, while most cabanas are found by swimming pools and beaches. Gazebos protect against rain first and sun second, while cabanas chiefly provide shade.
Gazebos are usually made exclusively of one material like wood. Cabanas typically have frames that hold up a canopy, usually made of fabric or straw. While cabanas made only of wood exist, they're an exception rather than the rule.
How Much do Gazebos Cost?
Generally, a gazebo costs between $1,500 and $10,000. Costs depend on size, materials used, and construction labor. Buying kits save time but are often more expensive than doing it yourself.
Here's a quick cost comparison of some popular options but if you want more detailed info on gazebo costs check out our gazebo cost article.
Adding a gazebo to your backyard space can increase your home's value. Thus, many people earn money by strategically adding a gazebo. This is because a gazebo that costs $5,000 now could increase your property's closing price by $10,000 later.
Gazebo Maintenance
Gazebo construction costs are only one part of the picture. There are other things gazebo owners must do to keep them strong, clean, and lasting for years. Routine maintenance is a critical responsibility.
Wood gazebos require the most maintenance. To combat decay and faded paintjobs, you must:
Clean the gazebo with a brush and general-purpose cleaner every month
Sweep the insides to prevent decay
Trim weeds off the side when needed
Use a ladder to remove debris and mildew from the roof
Apply a new coat of paint every two years
Coat with waterproof sealant every two years
Note that these are general guidelines for the average wood gazebo. Proximity to trees, sun exposure, and wood type affect how often you need to do these things. As long as you're attentive and fix minor issues as they appear, a gazebo can last several decades.
Where do Gazebos Come From?
Based on tomb murals, gazebos first appeared around 5,000 years ago in Egypt. Royalty had them built in gardens, believing that they'd let them reach paradise in the afterlife. This is because they symbolized paradise on earth.
The Greeks and Romans refined gazebos by building them out of marble. In the 1st millennium B.C.E., wealthy people built them along the Mediterranean coast in their summer homes.
The modern wooden gazebo came about in France in the Middle Ages. They exploded in popularity in the 18th century, around the time they got the name "gazebo", meaning "I shall gaze".
Conclusion
A gazebo is a freestanding, outdoor structure that provides shelter from the rain. But there's more to these charming structures than keeping dry. They allow folks to relax and get a panoramic view of their lovely surroundings.
More importantly, gazebos are architectural jewels that remind us of past times and give our eyes something pleasing to look at. They give us outdoor privacy, a place to hang out with friends, and increased home values. What's not to love about gazebos? Find out how you can anchor your gazebo, without having to drill, here!