The outdoors can be a tricky area to design. However, there are plenty of small items you can add to make your exterior a place worthy of gathering. One such structure, simply designed and ready to fit any outdoor needs, is a pergola.
A pergola is a pillared structure with a lattice or roof-type top. Placed as outdoor decoration, a pergola can be used to shade a seating area or passageway. Other uses include decoration, privacy, and access to luxury features like cooling and heating in various climates and weather conditions.
Whether at home, a business, or a hotel, a pergola can shift any outdoor space from ordinary to extraordinary with a pergola. Having countless possibilities for decoration and placement, a pergola can easily add beauty and scenery to space. Read on to learn all about what pergolas are used for and how they can elevate a space.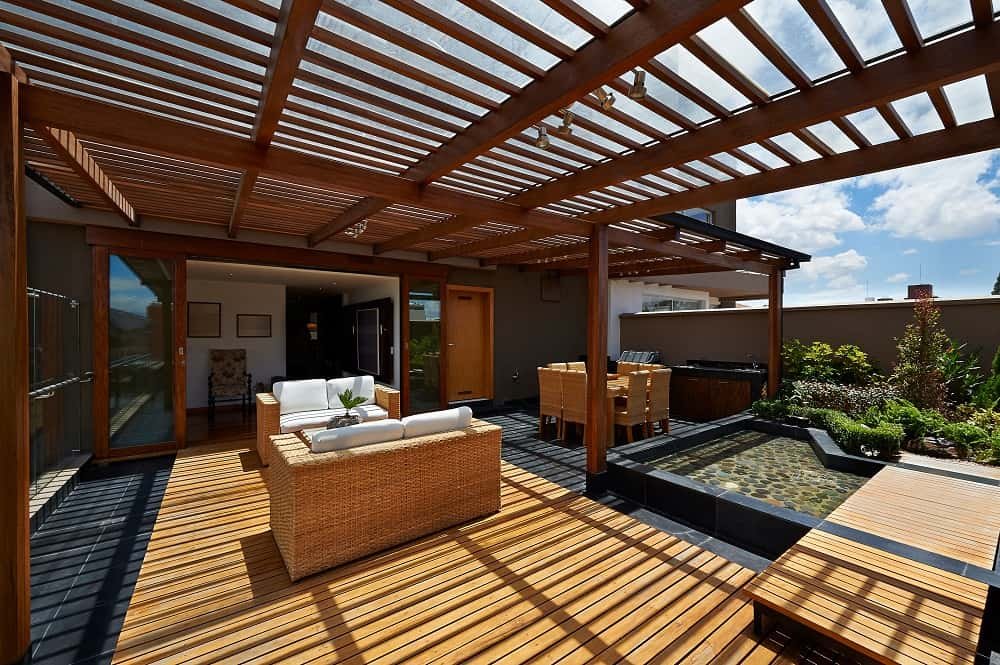 Useful Pergola Placement
A pergola, being a versatile structure of various styles, uses, and sizes, can be placed virtually anywhere outside. Often placed outside of homes, pergolas can be used for varying areas around the home or other types of establishments. Commonly, pergolas are placed around a pool, a deck pergola ideas, or over outdoor seating areas. .
Odds are, you may have passed by or even sat under a pergola at least once in your life without realizing it. Even if you may not personally own a pergola for your home, here are some other places you can often find pergolas used in decorative and shade-inducing settings:
Hotel balconies or rooftops
Restaurant patios
Walkways
Apart from the placement of pergolas, these unique structures have particular uses that may determine where they are placed outdoors. While they can look very modern or even fancy, pergolas are useful beyond just making a space look elegant and put together. There's a few differences between pergolas, gazebos, arbors, and pavilions.
Uses for Pergolas
Though a cool, decorative object to place on your patio or to spruce up an outdoor space, pergolas offer pretty useful features. Ranging from shade to luxury additions for comfort, pergolas are a great way to reap the benefits of any outdoor setting while also relaxing in an enjoyable area with reliable features to keep you comfortable in various weather conditions.
Scroll through to learn about the wide variety of uses pergolas have and the features that help these structures to provide such utilities.
Shade
Having mostly open or slatted rooftops, pergolas usually do not entirely block out the sun and its heat. While this can be a great thing for anyone who wants to bask in the warmth of the sun's rays without overheating, during summer, this may pose a problem in some regions. Luckily, there is a wide variety of pergola shade ideas to choose from.
Slats: Slatted roofing is most common in traditional pergolas. These slats only partially block the sun for anyone or anything underneath and do not provide an overwhelming amount of heat protection, though this may be perfect for a pool.
Solid: This roof can be colored or transparent in design. While letting light in, this type of top works more to block out any harmful UV rays from the sun while also offering protection from the rain. A good choice for those living in wetter weather conditions.
Canopy: A canopy top can block the sun. These tops are strung along each pillar by cables, so they remain sturdy against any outdoor weather conditions. Though offering more coverage than a slatted top, the canopy's thinner allows more light through than a solid roof would permit.
Retractable: Retractable roofs offer the best of both worlds. These retractable roofs can be made from fabrics and metals, and other materials. While each may retract differently depending on its type, some may be better choices for colder climates versus hotter atmospheres.
No matter the roofing option chosen, there are plenty more features to assist in achieving your intended use of a pergola. Some other ways to mitigate the sun may also provide ways to avoid bugs or nosy neighbors.
Privacy
Pergolas can offer a lot of options to make visitors of all types comfortable in its space. However, privacy is not always one of those options. Due to the way pergolas are built, with somewhat of a roof and pillars, guests are often left out in the open.
While some people and establishments may prefer this style, others, like homeowners, may not be so pleased.
Screens, which can be added to a pergola, wrap around the pillars and fill in the open sections of the structure. This can be helpful in lessening heat, blocking out some sunlight, keeping bugs out, and preventing strangers from peeking inside. Screening might also aid in keeping any furniture or other object from weather damage.
Additionally, there is the option of curtains. Curtains on a pergola can be tied to the pillars or left to cover the wide-open spaces between each. While not quite as secure as screening, the curtains offer a bit more style to the pergola, which can be used for shade and decoration, as well as privacy.
Housing Luxury Features
Uses of pergolas can vary from practical, such as shading over pool lounge chairs, to luxury with the add-on of items like fans, heaters, or speakers. Each of these objects can aid in the use of a pergola by providing means of comfort to individuals. Though not a necessity, these features can allow the use of a pergola to better suit its setting.
The luxury amenities below can be housed inside a pergola:
Fans allow for cooling in hot climates when roof coverage or curtains may not suffice.
Heaters combat the cooler temperatures for placement in colder areas.
Speakers can play music or any sound necessary to provide relaxation or to get people up and to dance in party or event settings.
Pergolas provide many uses like bringing comfort to a patio or deck, providing a warm place to sit at outdoor events, giving a restaurant's outdoor guests some shelter, and allowing a break from the sun during pool days. Sometimes, pergolas can be used for something as simple as décor to an outdoor space in need of design.
Décor
Pergolas come in various different styles and colors, from a contemporary white to a traditional brown. Some can be custom-built and attached to buildings or walls, while others stand alone and can be purchased from home improvement retailers. Check out this website to browse through a list of functional pergola designs.
One such feature that offers just as much practicality as it does design is lighting. This décor can extend the time period of your pergolas availability into the evening. Due to the illumination's assistance, the pergola could then be used for after-hour events, like parties or more formal occasions.
Below are a handful of pergola light ideas to help your pergola light up the night:
Chandeliers
String lights
Up-lighting
While lighting can make a pergola perfect in its setting, poolside, or backyard, the wrapping of plant life around the pillars of a pergola can give it an added texture of greenery for a more eco-friendly feel. Often, climbing-type plants, vines, and vegetation alike can be added to create this naturistic feel to most pergolas.
For some of the best plant options, check out this website to make the most out of your pergolas decor. While nature may not be everyone's cup of tea, the designs and features of a pergola can be customized to fit many uses.
Whether needed for something more practical, like shade, or for something as beautiful as an aesthetic, a pergola and its variety of uses is a worthy investment.
Conclusion
Pergolas not only offer homeowners and businesses added beauty and elegance for their outdoor spaces, but they also create useful spaces. Pergolas are used as decorative spaces, housing for outdoor amenities, social spots to hang out, shelter from the sun, and private quarters.