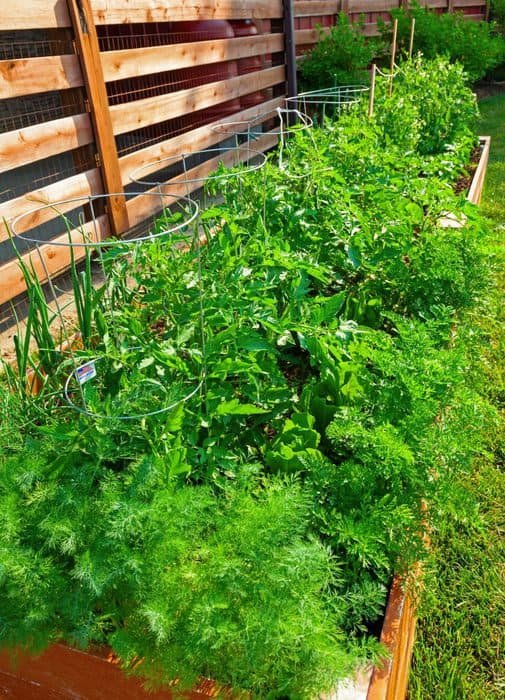 It's tough to decide which type of fencing will best suit your garden. There are many wild animals and pets that you need to defend your plants against, all of which can either leap over or dig under garden barriers. When you factor in the weather and your budget, you may still be left wondering which of the thousands of fencing options will offer the most protection for your plants.
The best garden fences typically measure around 5-6 ft in height and are often made of either wood, metal (aluminum or iron), vinyl, or masonry materials such as brick or cement. The fencing type you choose will depend on whether you're seeking general protection or defense against a specific type of wildlife or pet.
Since people often either build fences themselves or hire professionals to install these barriers, there is no single product that one can point to and say, "this is the best fence for your garden." Instead, a fence can be crafted to your specific needs and legal requirements with high-quality materials that should last for years. For more on what elements comprise the best garden fencing, see the overview below.
What to Consider When Shopping for Garden Fencing
There are so many garden fence ideas to choose from. The most suitable type of garden fencing for your outdoor space depends on where you live, what you're growing, and the types of critters you're trying to keep out of your space. Additionally, you'll need to consider whether you are trying to protect a small container gardening area or a large crop on a homestead.
You may even have to consider your city's ordinances before installing the new fence, as there may be laws about the following details of the fence:
Material. You might only be allowed to install fences composed of specific materials. For instance, in Colton, CA, fences should only be made of cement or other traditional masonry materials, iron, woven wire, or wood. (Source: Colton, CA – Code of Ordinances)
Height. Where are you planning on installing your fence? Depending on whether you'll be placing the fence in the back- or front yard, you'll need to check your city laws for the maximum height allowed. For instance, in Phoenix, AZ, front yard fences can only be 3 ft in height at most, while backyard fencing is allowed to reach heights of up to 6 feet tall. (Source: City of Phoenix)
Location. As mentioned above, you'll need to think about where you want to install your fence on your property and the type of property you have. Is your garden located on a separate lot from your home, or is it in your yard? If you're gardening on private property, ensure that your chosen fence can be installed the appropriate distance away from the street. (Source: Gold Bar, WA – Code of Ordinances)
As you learn more about the fencing types available to you, keep these factors in mind. Although your preferences and specific applications are crucial to the kind of fence you'll ultimately install, the law has the final say in what you'll be able to buy to protect your plants.
Fencing for Defense Against Wildlife
Deer are some of the most common animals that cause extensive damage to gardens throughout the country. Unfortunately, once they've got your garden in their sights, they're highly likely to return for seconds.
The most common types of damage that deer would inflict on your plants include uprooting plants, breaking branches, and stripping foliage, so you'll want to do all you can to keep them out. (Source: Chatham County Extension, North Carolina State University)
When selecting fencing to exclude deer, keep in mind that they can leap over heights of about 8 ft. (So, check your local ordinances to make sure you can get a fence this high!) However, they can't jump very far. So, the best fence you can get should be slanted at a 45֯ angle. When slanted like this, you can compromise to about 6 ft in height. Electric fences and slatted wooden fences are best for this.
You should also consider adding strands of monofilament twine to add just a bit more of a deterrent, as the deer may bump into it and run off. Tying it between posts at least 30″ off the ground would produce the best results. Barbed and smooth wire between fence posts can be quite effective as well. (Source: University of Vermont, Department of Plant and Soil Science; Habitat Extension Services, Wyoming Game and Fish Department)
Fencing to Keep Out Other Wild Animal and Pets
Unfortunately, deer aren't the only animals that can be found sneaking into your garden or orchard. Other types of animals that can harm your garden space (and the appropriate fencing to keep them out) include (Source: National Pesticide Information Center):
Birds: You might catch birds eating your plants' foliage and flowers, stealing fruit and vegetables or causing terrible aesthetic damage to trees. Unfortunately, it's a bit tougher to keep birds out of your garden, as they're not restricted to traveling on the ground. The best solution is to install netting in addition to your fencing, as they can't easily make their way around this. (Source: University of Arizona Cooperative Extension, Yavapai County)

One of the most dependable types of netting is the Aspectek Bird Netting Protective Fencing. You can drape it directly over fruit trees or attach it to fence posts to somewhat enclose the garden space.

Rabbits: The damage inflicted by this animal varies by season. For instance, you can expect them to eat up your fruits and veggies in the spring and summer. In the fall and winter, they'll destroy shrubs and other woody plants. Luckily, a simple woven or welded wire fence with 1/4-1″ mesh that's only 2-3 ft in height will do just fine to keep them out.
Coyotes: Although most people associate coyotes with eating meat, they also have a taste for plant material. They're known to swoop in after heavy winds to pick up fallen fruits and vegetables, as well as digging up the soil around trees and shrubs. The best coyote fences should be at least 5 ½ ft tall and made of wood, cement, brick, or wire. (Source: University of Arizona Cooperative Extension, Yavapai County)

"Coyote rollers" offer an additional source of protection that will reliably keep coyotes out of your garden. If they make it to the top of the fence, the roller will send them falling right back to the ground since they can't get a grip on the moving metal.
Note that many of these solutions are great for pets as well. The same items you use to keep wild animals out will be just as effective in keeping pets from wandering into areas they don't belong. However, when protecting your garden from your plants, please refrain from installing electric fencing or barbed wire, as this may result in traumatic feelings for your pet in their home.
The Best Standard Fence for General Protection
You may not be looking to defend your garden against any specific animal or pests, but instead, just want to make sure that your property line is clearly marked. In this case, you won't need to consider any particular animal behaviors. Still, you should definitely look into the fencing material's durability and longevity.
The best types of reliable materials for building a garden fence include the following (Source: Fence Supply Online):
Vinyl: This is a lightweight material that is easy to install and can withstand many different types of environmental conditions.
Pressure-treated wood: This is one of the best choices for protection against unwelcome garden guests, in addition to degradation as a result of mold or environmental pressures.
Metal: Aluminum and iron are some of the most popular and dependable choices for fencing material. You'll need to pay close attention to the metal's quality; otherwise, you run the risk of the fence rusting.
No matter what material you choose, just make sure that it meets the height and positioning requirements imposed by your city or county. This way, you can ensure that not only is your garden protected, but that you won't have to perform any avoidable repairs down the line to meet the local legal standards.
In Conclusion
There are many different types of reliable fencing to protect gardens; however, the specific type that will work for you depends on the wildlife that pose a threat to your plants and the laws in your city. The best materials to get for garden fences include:
Masonry materials such as cement and brick
Wood (especially pressure-treated wood)
Metal, specifically aluminum and iron
Vinyl
You can further modify your fence by adding features such as coyote rollers, barbed or smooth wire, or ¼-1″ mesh to defend against unwelcome pets and wild animals. For the best protection against animals, your fence should measure about 5-6 ft in height. Be sure to checkout our other gardening articles such as, our garden trellis ideas and our top list of garden benches!